When sweet southern Beth emailed us some pictures of her newly spruced sliding doors (she implemented one of our favorite tricks that we love to recommend for dressing up sliders) we couldn't wait to share the eye candy. Here's her letter:
Hey there Youngsters! Just wanted to share with you what I copied from ya'll to dress up our sliding glass doors! Thanks so much for sharing this wonderful idea (I love how it looks in your living room and your den). When it came to our sliders, the existing hardware had been attached to our wall since the 70s, so sanding and spackling (and a new coat of light blue paint for the whole room) was necessary to make it look cleaner since the wall wasn't being covered up by a HUGE valance anymore. All my friends come over and ask how I did it, so I'm sure this window treatment will be applied to many homes here in Atlanta very soon. Thanks again for your inspiration! And another big thank you for the Behr "Paint Project" post. With that application, I tried out the blue paint for the living room online first and then applied it to my room the next week! You guys ROCK! -Beth

Here are those sliding doors before…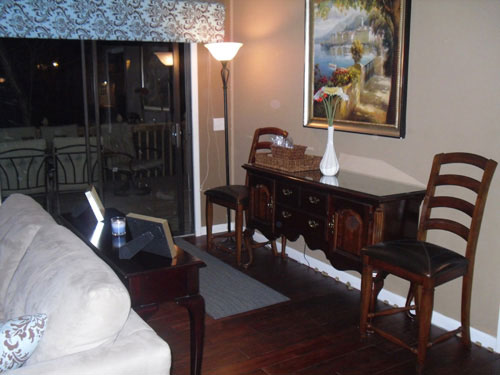 …during…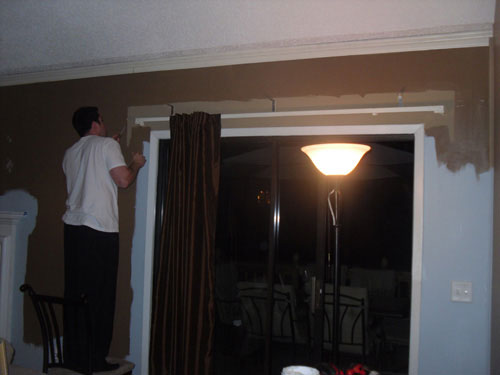 …and after: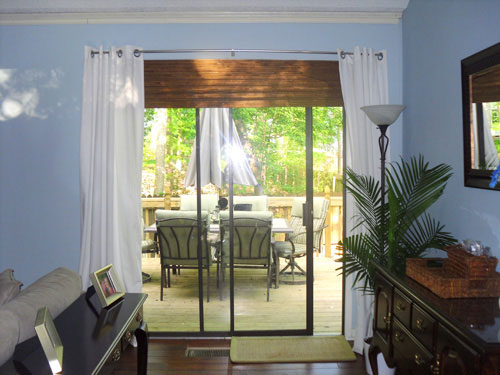 Lovely transformation Beth! Thanks so much for sending the pictures our way. Of course the wall color really lightens things up but those breezy curtains and bamboo blinds definitely contribute to the crisp and airy feel in your fabulous Atlanta living room. What do you guys think about Beth's fabulous sliding door do-over? Oh and be sure to drop in on her blog to see what else she's up to!