Everyone already knows that besides paint, we think curtains are the number one way to add polish and style to any space! It's a super simple way to add height, drama, and billowy softness, so we finally got around to adding some long floor length $5 Ikea curtains on either side of our bamboo shades in the den- just like we did in our living room a while back.
Here are our boxy den windows before, just calling out for some soft and serene floor length beauties (don't mind John in the corner taking some measurements). Sure the room looked clean and "craftsman" without them, but something was missing…
Just look at the difference a few inexpensive white panels can make (oh and check out our curtain-hanging tutorial for a few tips and tricks):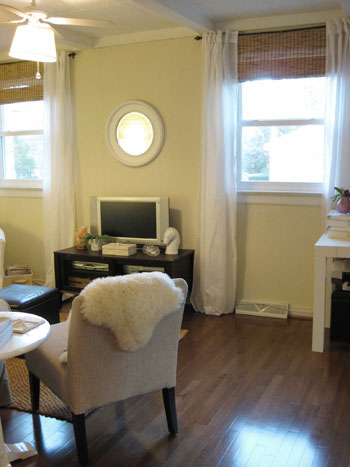 Of course we're all about hanging them high and wide, to make the window appear even bigger than it is and ensure that they don't block an inch of light (which always makes a room feel open and airy). Our white curtains of choice are always Ikea's Vivan panels (at just $9.99 for two, it doesn't get much better than that). We also love that they come in two lengths (98″ and 118″), so even those with taller ceilings can snag the longer versions (which will only run you $14.99 for two) and achieve the same breezy and inviting look on the cheap and in an afternoon. Look, even Burger's a fan.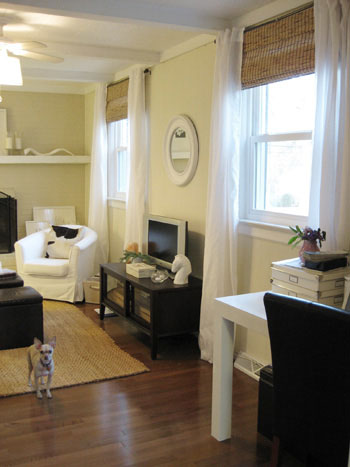 The bamboo roman shades are actually from Walmart since they always seem to have an affordably priced selection in a bunch of standard (and non-standard) sizes right in the store. We've even hung two of them next to each other in the living room to mimic the look of one long blind without spending a huge amount on a custom, oversized roman shade.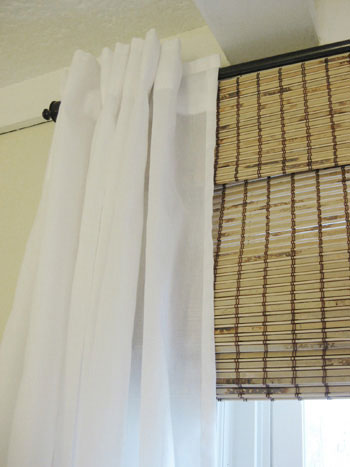 We also love to get our oil-rubbed-bronze-looking rods from Target. They're understated and simple so the curtains get all the attention- just the way it should be. And the standard ceiling in the den feels so much taller thanks to our new additions, which introduce breezy vertical elements to add to the illusion of height.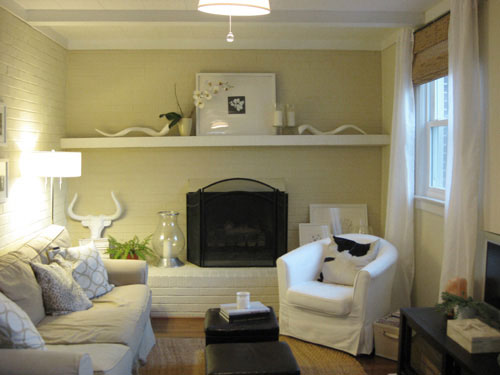 I can't believe it took us so long, especially since we've been so quick to suggest curtains to anyone who will listen! The lesson: convince your husband to take you to Ikea far more often. And even if he groans about hanging more curtain rods around the house, bribe him with a trip to Taco Bell and get on with it.
What about you guys? Do you have any rooms that could use the polish and added height that floor length curtains can bring? Any other totally overdue decorating tasks on your to-do list? Do tell.
Update: Check out the comments on this post by clicking the voice bubble next to the title to see a plethora of curtain related questions and a bevy of helpful hints and simple solutions.
Psst- Wanna know even more about finding the right window treatments for your home? Check out this exhaustive answer.