When I was recently flipping through old albums with a friend (ah, college reminiscing…) I was seriously shocked and majorly grossed out by my grade school, dorm and first-apartment decor (not to mention my taste in clothing). And I'm pretty sure it'll have you guys reeling too. Especially since most people think I'm the super neat folds-my-underwear type (fyi, I ball 'em up like everyone else). Ok, are you ready? This is my bedroom in 8th grade: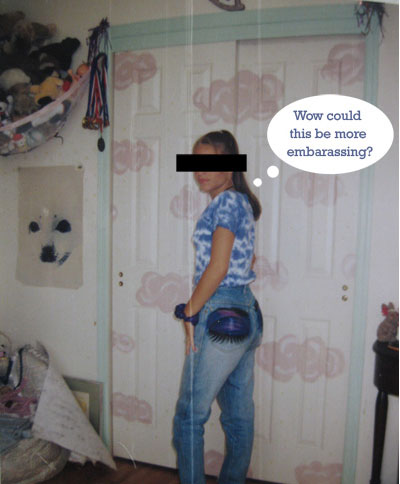 Granted you'll have to look past my high-waisted airbrushed winking jeans (yes the other cheek featured an eye that was open), tie-dyed shirt and scrunchie. I have no defense. Except that I was born and raised in New Jersey and I got those jeans custom made "down the shore" and thought they were all artsy and cool. Yeah, I might severely regret posting this picture on the internet, huh? But let's stop hysterically laughing and look at the background for a moment. Growing up I always wanted to be an artist so I guess it's no surprise that I painted clouds on my closet doors and rejected crisp white trim for something a little more unexpected.
It should also be noted that I did all these DIY projects when my mom was working late so she'd come home to find my masterpieces (she was pretty good at feigning pride instead of horror, I'd give her a C+). So we can tell from the painted trim and closet doors that I'd grow up to love paint (check). But what does the beanbag in the corner and the stuffed animal hammock mean? Well I have floor pillows in the sunroom and a big hammock in the woods behind our house so maybe there's a loose correlation. And we're not even going to go into the seal poster. Not Seal the singer, an actual baby seal. Maybe that evolved into my love of white ceramic animals? Hmm.
And then there's my freshman dorm room at FIT in NYC (holla). I'm super proud of my New York art school resume but I can't say the same thing about my room. Sheesh.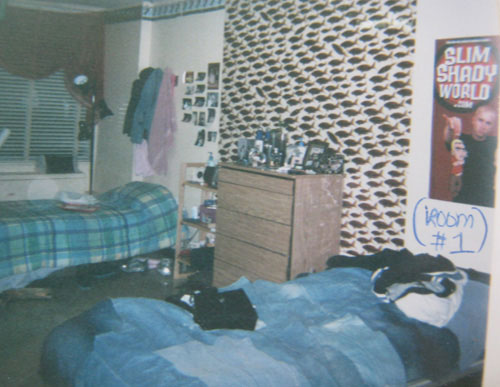 If you look beyond the Slim Shady poster (again, I have no defense) and the fact that I apparently used to write on photos (hence the "room #1" label in pen above my bed), you'll see a few interesting items like my denim bedding (yup I sewed a blanket with a bunch of old pairs of jeans that I saved up for years) and my fish shower curtain that I hung on the wall (I thought it was mural-like at the time, and I actually think if it went wall to wall it would have been amazing… for a dorm room). I also created a faux-crown molding effect all around the room with those free postcards you find next to bathrooms in NYC bars. I'm a total weirdo, huh? Maybe it was foreshadowing for this artistic crown molding creation years later…
But at least I was starting to repurpose things (something that definitely still makes me giddy)- and it's a trend that continued in my very first solo apartment in Brooklyn (can you believe at 20 I was living alone in Brooklyn?):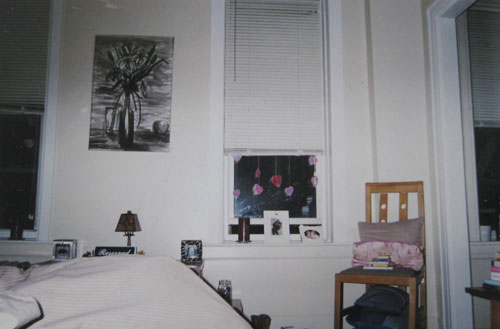 Can you tell what happened to my beloved denim blanket? Well, when I upgraded to a bona fide duvet I turned it into pillows (see them stacked under my curbside-find chair?). And see that weird little pink lumbar pillow on the chair? I made that from an old pink satin sleep camisole. It was actually pretty cool up close but very strange none the less. This is when I really started to embrace home-related projects and I made those hanging hearts in the window with wax paper that I colored with red and pink crayons and baked in the oven for a stained-glass effect on the cheap (and I'm still pinching pennies almost ten years later, some things never change). Of course there's the weirdly dark still life that I painted for wall art (how Adams Family of me). Although I've certainly lightened up over the years, I'm still making art all the time (from the stuff in our shop to the "Artsy Ideas" category on our How-To page). Maybe there are a few patterns after all.
So what's the verdict? Are you guys appropriately shocked and skeeved? Are you still stuck on the airbrushed jeans? Yeah, me too. Did you think my dorm room would be all preppy and whitewashed and clean? I bet you did. How about what your rooms looked like back in the day… notice any patterns or trends that are still popping up today in your home? Did anyone else have that baby seal poster? Do tell.