I'm not obsessive about making the bed with hospital corners or even making it as soon as I get up (Burger sleeps in a little and I usually get around to it in the early afternoon). But I am a maniac when I can feel the featherbed slipping around under me, or worse- resting about a foot out of alignment with the bed (gasp).
We already posted a few other ways that we whipped our bed into shape (so easy, still loving both methods!) but when it came to our slippery featherbed mattress topper we were stumped for a while. I tried alligator clips (no dice), clothespins (negatory), and other clipping devices (argh) in a desperate attempt to secure the sides of the featherbed to the trim around the mattress, but everything popped right off with the slightest pressure (as soon as we climbed into bed… snap!). And then my darling husband had an idea.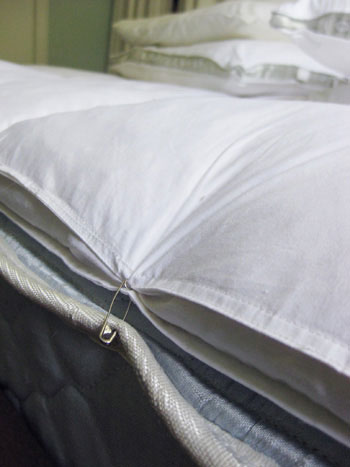 Safety pins! I was originally convinced it would result in a shredded featherbed or a ripped up mattress but three months later (we waited to post about 'em just in case…) everything is still secure and tear-free. The key is grabbing enough of the featherbed and the mattress to be certain that they won't easily rip and dispersing enough pins around the perimeter of the bed so there's not too much pressure in one area. We used three across the head of the bed and three across the foot. And that's the story of how my man MacGyvered our featherbed into submission with a few household items that we already had laying around. Best zero dollars we ever spent!