When Blayne came to us a month ago for an elegant and subtly exotic bedroom makeover with a hint of Moroccan flair, we had no idea she'd get everything together so quickly! Here's her letter:
Well, my room is done and it looks amazing! Even better than I expected. I followed your design plan pretty much to a T (although I found similar chocolate curtains at JC Penney for half the price and I used a slightly different medium brown color behind the bed on the accent wall). Half of the pictures on the walls are actually the same art I had in the room before, I just cut them down and put them in new frames. I love your idea of using the 8 frames on the facing walls and I was able to put a lot of different pictures in them but they still have a cohesive look because they're all in the same frame. My husband and I are both just thrilled with how it came out! So are you two ready to swankify my living room and kitchen next? Thank you so much for your help! – Blayne
Here's the split personality before: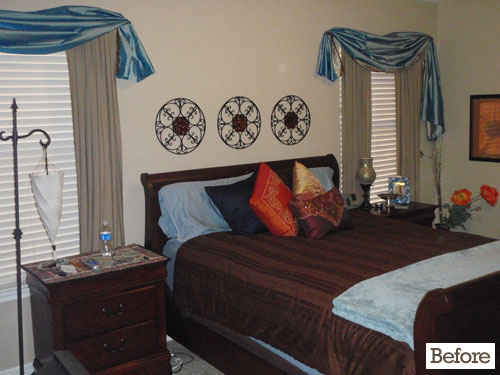 The mood board we whipped up four weeks ago (click here for the details):
And of course the gorgeous and inviting after pics: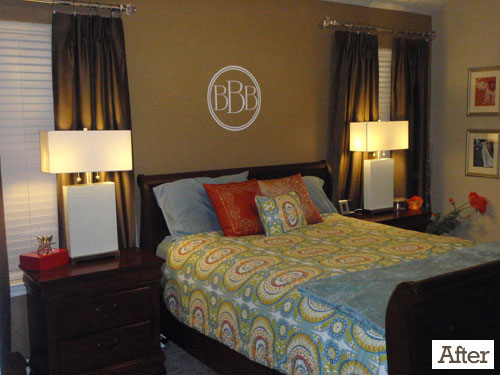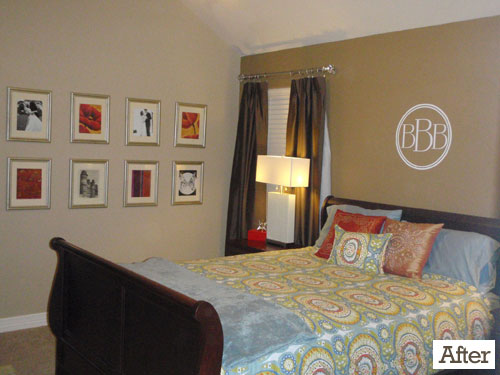 Lovely, no? We would totally stay at Casa Blayne, and we're so happy she sent us such a fast and fabulous update. What do you guys think?
Update: We sadly can no longer find the time to take on client commissioned mood boards (we now whip up general inspiration boards instead) but if we ever reinstate them we'll make a big announcement!