Mission: Finish installing crown molding around the rest of the house (with the nursery done, we still had the guest room, the playroom, and the hallway on our list).
Status: Complete.
And thanks to the magic of the internet, something that took us about two weeks on and off, will appear to have been done in two seconds. Behold.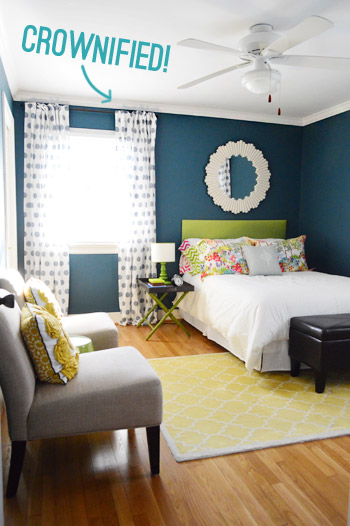 Yep, as I mentioned in this post about hanging crown in Clara's nursery, it ignited a burning desire to install crown in the other main areas of our house that were oddly missing it (our bedroom had it but the other bedrooms didn't, one hallway had it but the other one that was connected to it didn't, etc).
So we finally got it done in the guest bedroom (see above), Clara's big girl room (see below)…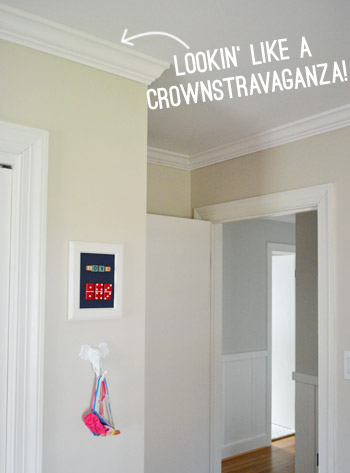 … and even the recently-board-and-battened hallway that connects them all (which was especially helpful since it leads to another hallway that has crown already).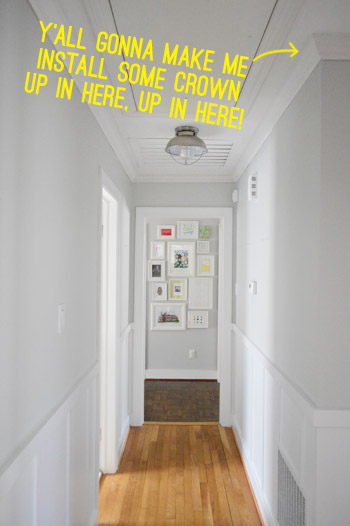 Although it took us about five days of on and off work to install, once we got the hang of it, it wasn't nearly as mentally strenuous as it was physically (arms over your head holding an eight foot board up for a few days in a row = tired). Our total cost for all four spaces (guest room, Clara's nursery, playroom, and the hallway) was $218, including the pack of nails for our nail gun, which breaks down to $54 per zone, although some areas like the hallway were cheaper than the bigger rooms.
And while it's kind of hard to illustrate the difference in pictures, in person it's easy to see that all the time, arm-fatigue, and loot was worth it. Every room looks noticeably more polished, but in that "I can't really put my finger on what's different" sort of way. In fact you saw a lot of the molding installed in our recent house tour video, it just wasn't painted yet, so we finally got around to that. Which involved a lot more of the whole arms-over-our-heads things, but it looks great now that it's done (we used Benjamin Moore's Decorators White in a semi-gloss finish).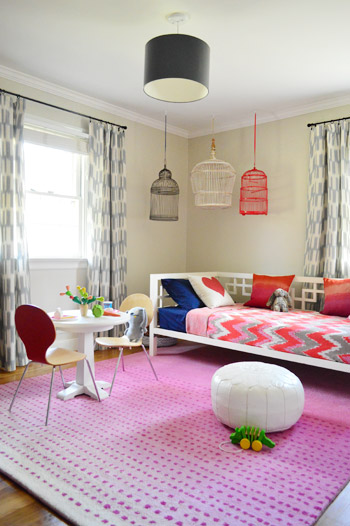 Since we already did a photo tutorial of the crown installation process, we decided to use this portion of the project to make a video for you guys (sometimes DIY videos can be less intimidating than trying to digest typed out words and pictures that can't always show every last angle like a video can). We tried to cover every single step and cram in as many little tips and tricks as possible along the way for you guys. Seriously, you can do this. So from measuring your angles all the way to caulking the gaps, it's all here:
Does anyone else smell Oscar? No? I'm not talking Best Picture – I mean Best Supporting Actor for the role of "intense bird screaming in the background while filming" during the outdoor sequences. Ah, spring.