We were busy bees this weekend. And as some of you noticed in yesterday's post, in the picture where John was playing the role of the deck, we had already started to clear out the liriope/weeds/bushes that were going on in our future-deck spot.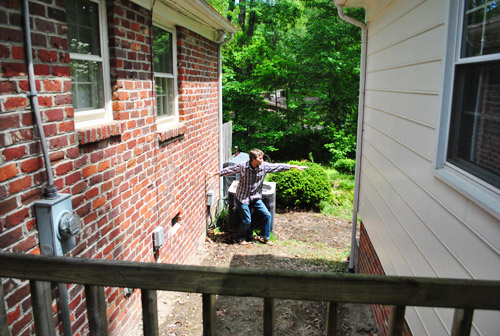 You might remember that we started with this: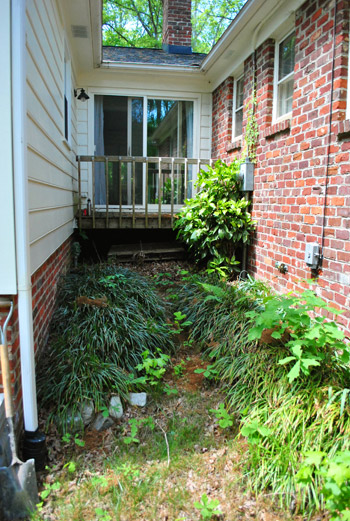 The first step was to call Miss Utility to make sure digging things up and building a deck wouldn't endanger ourselves (or our house) by potentially hitting an electrical line or a water pipe or any other booby trap that might be lurking below the dirt. Thankfully we got the all clear. So we transplanted that big bush (seen above hugging the side of the house) to a spot in desperate need of some greenery: the left side of our house. It looks kinda lonely by itself, but right now we're filing this under "it's better than nothing." Someday we'll get him a line of friends (the same bushes – called Gold Dust- grow along the bedroom addition and look great, so we have high hopes that this spot works for them too).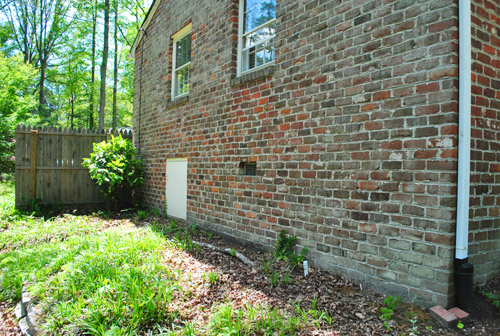 Next up, digging up liriope. Our favorite thing! Not. But at least we had our favorite thing to cheer us on: Burger. Here he is giving the "glad I'm not the one who has to dig up all that liriope" look.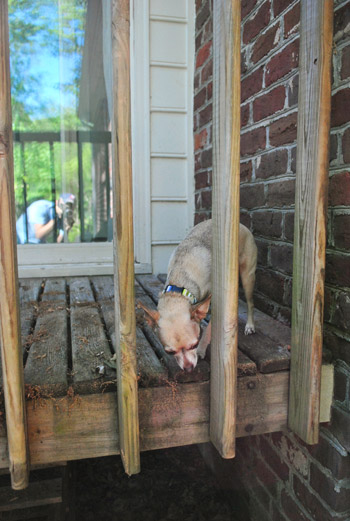 I think it took a little over an hour of digging (with Clara inside napping with her monitor on blast by the door) for the space to go from this…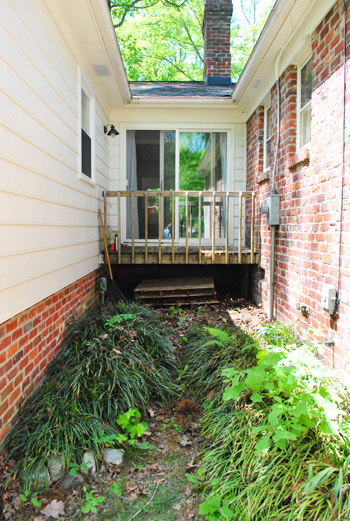 …to this.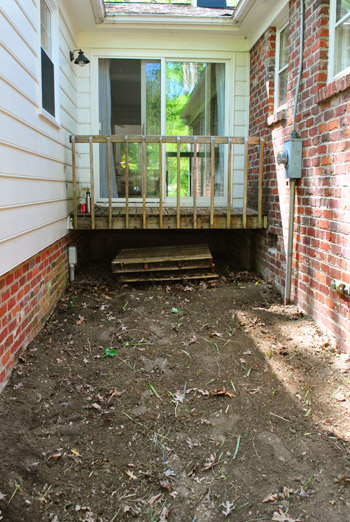 We dumped the dug-up monkey grass on our side yard in hopes that some of it will survive and fill in (that stuff is crazy-hardy). Also, under the balcony are pallets that we'll get rid of when we demo that thing out.
Unfortunately the clearing task didn't end there. We also had to take care of this weird assortment of bricks, weeds, and lawn ornaments that we lovingly call "the AC shrine."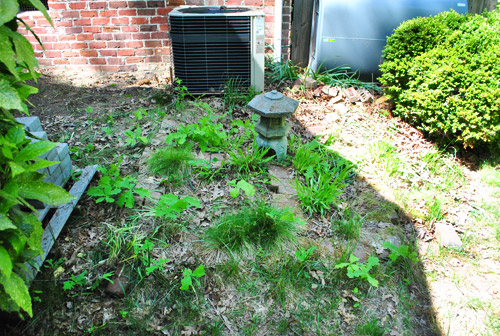 We can't quite figure out what its purpose was – besides maybe putting some leftover bricks to use. They were arranged kind of like some permanent four-square game, with the stone pagoda in the middle. It earned the name "the AC shrine" because between the mini-temple and unusual layout we decided it must have some greater, cosmic meaning while being located right in front of – you guessed it – the AC.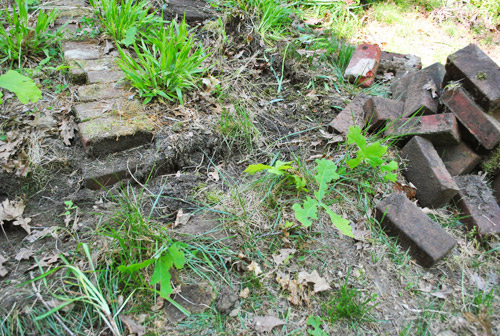 In digging it up we didn't find sacrificial animal bones, but we did discover that the bricks were laid two levels deep. Awesome. It gave us flashbacks of this and this. Yes, we've done our fair share of brick-digging-up around here.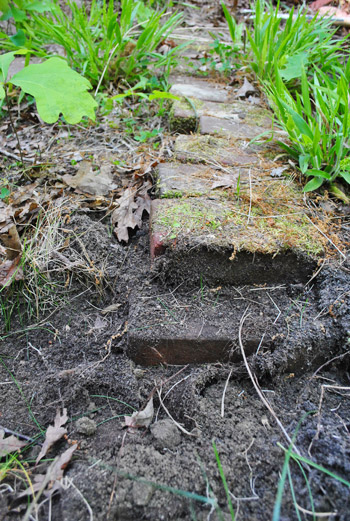 Around 160 bricks later, we had everything dug up. Oh yeah, don't mind the pile of paver stones in the background. Those were leftovers from the patio project. Guess now you know where we've been hiding them for the past 12 months. But we've got plans for them someday…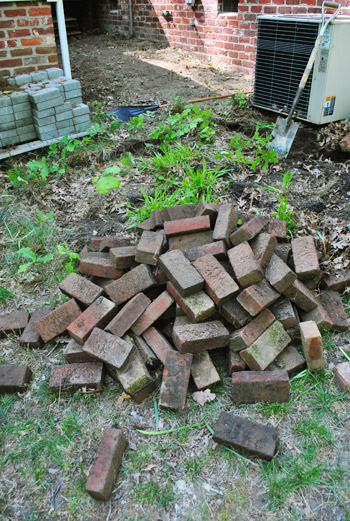 Several sweat-inducing wheelbarrow loads later, to take them to our brick stockpile next to our carport – future use still unknown (but possibly for when we convert the carport into a garage), the area was officially clear. Well, clear of bricks at least.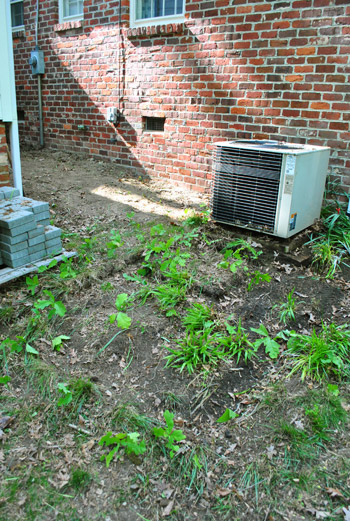 A bit more digging later, and it was also mostly clear of weeds.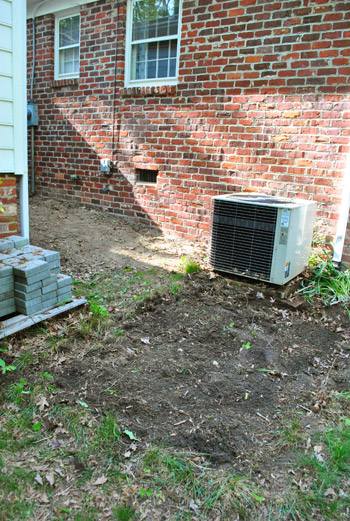 We still have to move our paver collection, demo the existing balcony, and get rid of the pallets it's shielding – but the area is much more ready for a deck than it was last weekend.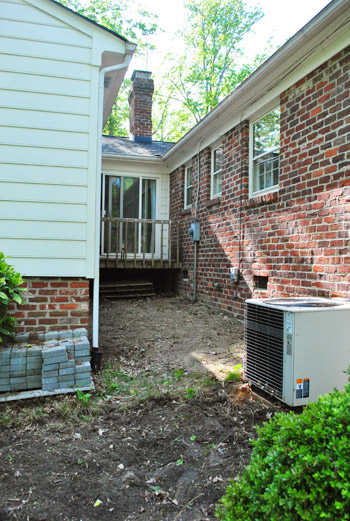 Now we just have to:
continue weighing the pros and cons of different decking materials (we'll share a lot more on that when we make a final decision)
get some estimates for our materials
get that dang permit thing taken care of
Oh yes, and then we have to actually:
Haha. You know we'll keep you posted! Oh and speaking of keeping you posted, we called our power company to make sure those electrical meters on the side of the house won't sabotage our deck plans (we have heard in some places they have to be at a certain height so people reading them don't have to crouch – which would mean no deck) but thankfully our meter readers are happy to crouch, so there's no issue with them! Wahoo! One of them is actually not active anymore (the extra low one) and the other one will be about 2.5′ above the bottom of the deck (and since they do most of their reading remotely now, it just needs to be accessed to be serviced, which they say is no problem at that height). Whew. And we'll paint it to blend in like we did at our first house.

Have you guys been clearing things or digging up any areas around the house? Did you find anything cool while digging? We once found an old milk bottle cap at our first house…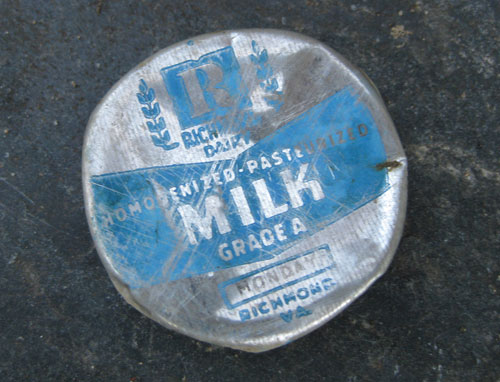 … and actually hung it up on our gallery wall to commemorate it.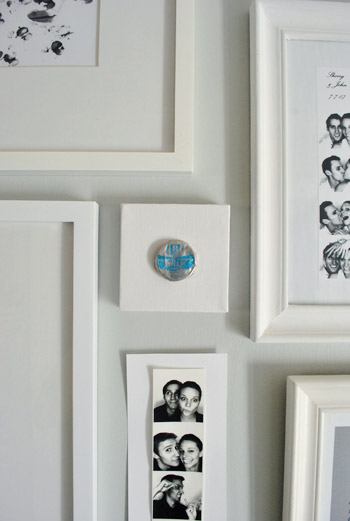 Someone tell me they found a box full of money or gold bars or something. Or a dinosaur bone.
Psst- In one of our quickest giveaways in history, we hit 10,000 entries within six hours of posting it, so we've already announced this week's winner here.