Part of the fun of owning an older home is uncovering random pieces of "ancient treasure" (ok, we realize 50-year old trash barely qualifies as a historic artifact). But from the papers hidden behind our old kitchen cabinets to the vintage users manual for our old dryer, we still get excited when we discover markers of home's past. So check out this little gem that we (literally) unearthed in the front yard a few weekends ago while planting some bushes: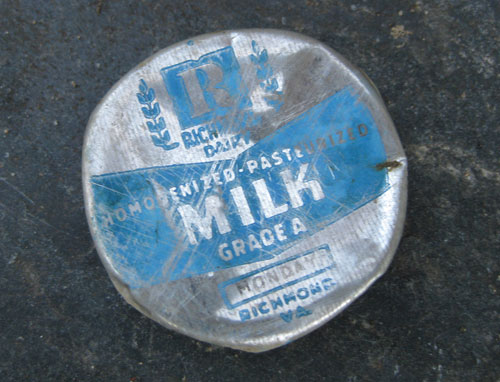 It's an old milk bottle cap from back in the day when milk was delivered to your doorstep. It paints such a quaint little Pleasantville picture of our neighborhood. We love how it's even printed with "Monday" on the bottom to indicate the delivery date (or maybe the day it goes bad?). And in scouring the net for some indication of what year it might be from, I stumbled on this funny piece of our milkcap's family tree – the Richmond Dairy building: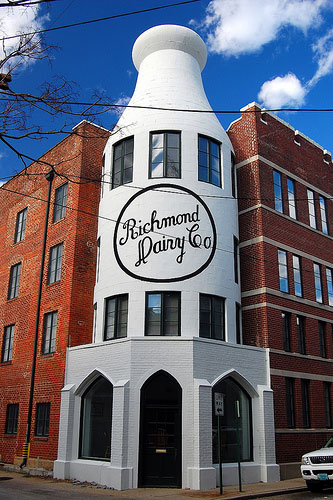 It turns out our little milk cap hails from here. Sherry and I had driven by this building in Richmond's Jackson Ward neighborhood before, but didn't immediately connect it to our newly discovered treasure (thanks internet!). The Richmond Dairy building is now the Richmond Dairy Apartments, so if you're looking for a unique address you can always try to grab one of the units in the four 16-foot milk bottles on each corner. Oh how we'd love to check out the interior of one of those guys…
'Til then, we're trying to figure out what to do with our milkcap. We're thinking it might look fun in a small shadow box in the kitchen (maybe on some textured linen for a shabby and worn effect). Any other ideas? Any other good "ancient treasure" discovery stories from your own home? Tell us all about it.
Image courtesy of rvaphotodude's Flickr stream.