As we mentioned for a hot minute back in this post, Clara picked her party theme this year. What does she love more than monkeys, ice cream, firetrucks, and the mailman? Worms.
So the first thing on the party agenda was settling on a date (this Saturday the 12th, two days before her actual b-day on the 14th) and figuring out the guest list (our closest family and friends totaling about 30 people, ten who are kiddos under the age of four). Then it was the fun part. Invitations! We made three versions of them before picking our favorite (yes, making invitations is our idea of a good time). For the first one we used some shots from her 22 month photoshoot and although we loved the shapes and the fabric and that cute smile, it just didn't have any worminess.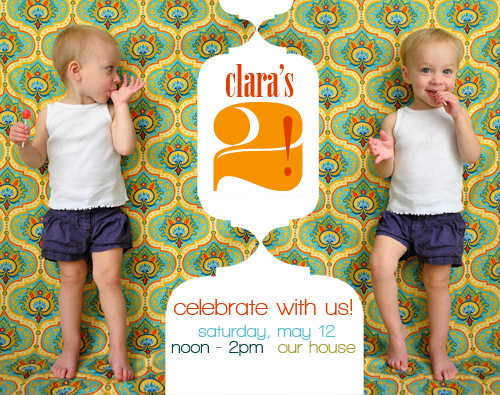 So we played around some more and came up with this guy, who runneth over with worminess: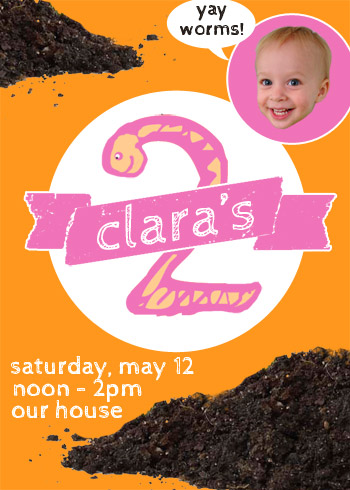 As cute (and worm-ish) as we thought it was, we just kept playing around (yes, we're nerds, and we only get to do it once a year) and came up with this more graphic – and just as wormy – alternative: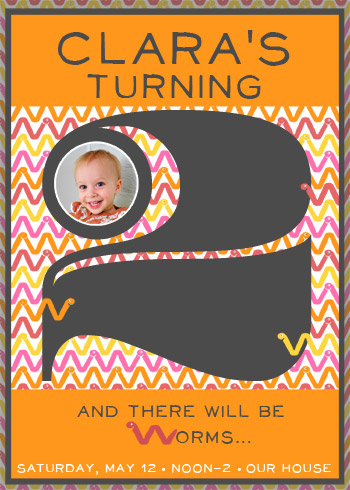 Third time was the charm. Yes, we made chevron worms (maybe worms are the new chevron?). Of course we thought any of the options above would be great (and some folks might prefer #1 or #2 more), but we just loved those three little worms inching their way onto the number two with our smily girl in the middle of the number and the promise that "there will be worms."
So we ordered just enough to send out to our crew, and even saved $15.77 thanks to googling around for a Winkflash coupon code: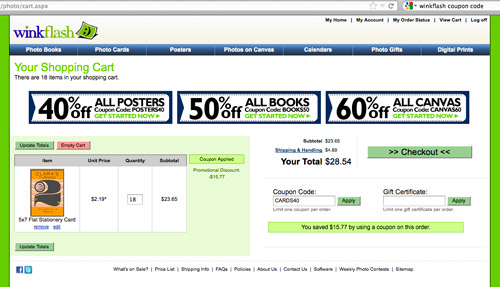 It ended up being $1.58 per invite including an envelope ($28.54 for eighteen 5 x 7″ invites on matte card stock – not photo paper). Which isn't pennies, but definitely was a nice discount from the original price of $2.19 per invite. As for why we went with Winkflash, we used them for last year's invite and were really happy with them. A lot of services offer templates for folded cards but it's hard to find postcard-ish offerings that are completely blank (so you can upload your entire design without them putting a frame or some type around it).
And when they arrived? Love! They do such a good job- no weird printing lines or cheap-o feeling – we liked going with the larger size (5 x 7″) and the thick matte card stock paper. So that's probably more than you've ever wanted to know about a two year old's party invitation, huh? Haha.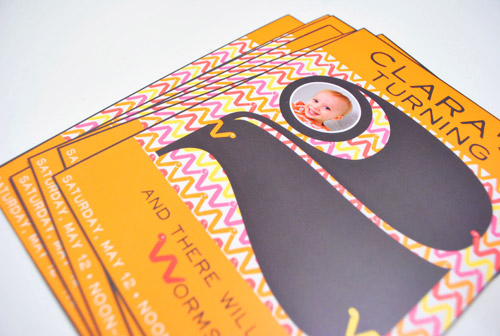 But now for the party deets. Of course we'll be back with a post after this weekend's festivities, but just like last year, we thought a little sneak peek of our supplies might be fun (here's last year's). This is our table o' stuff, some of which we had around already, like the yellow napkin dish ($2 from a thrift store a few years back!) and the fabric banner I sewed for Clara's first birthday (we'll re-use the runner I sewed too) along with a paper one I made for that party as well and some cute bird napkins we grabbed from Ikea about a month ago (birds like worms, right?). Some of the stuff is new of course, like the plates, worm-ish candles, some balloons and streamers, some paper lanterns, etc (all hailing from Party City or Target).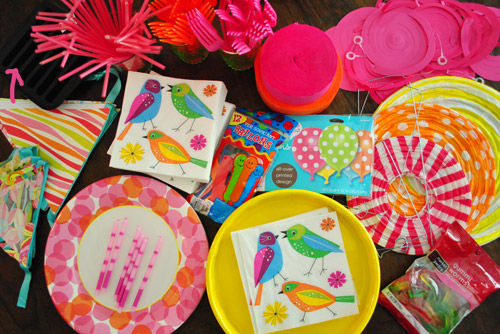 Oh and see that pink arrow in the top left corner of the picture above? It's pointing to this ice tray that we picked up at Ikea last month, because we thought we could even make some worm-ish ice. Or fill it with jello and make little jello worms.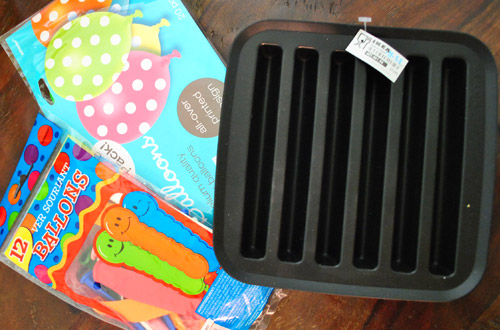 So that's on the agenda along with blowing up some polka dot balloons and some worm ones too (there is close to zero actual worm paraphernalia at Target and Party City, so when we saw worm balloons we couldn't believe it).
As for all of the worm-related ideas, here's what's on our crazy brain dump list:
Make pipe cleaner worms to hide outside for a worm hunt
Make a grass runner with gummy worms (or plastic worms) on it
Collect paper towel rolls for some sort of worm craft…
Use streamers taped in little swags to look like worms (maybe across the beams in the living room and out on the patio somehow)
Serve apples with a gummy worm coming out and other worm-ish snacks
Cut peppers, cucumbers, and cheese into worm-like sticks and serve with dressing (worm crudité? how fancy)
Skewer grapes or other sliced fruit onto straws (less pokey for the kiddos than skewers)
Worm pizza (we'll serve regular pizza for adults but put some cooked spaghetti on the slices for the kids)
Worm dogs (these are just hot dogs, haha, but we could make ketchup or mustard eyes and a smile)
Make white frosted cupcakes with oreo "dirt" sprinkled on top with a gummy worm (we thought about "dirt cake" or "dirt pudding" in a mason jar but it's just too messy and hard to eat for all the 2-3 year olds)
Worm jello (we could just toss some gummy worms into jello sort of like a jello mold but instead of fruit it's worms…)
Who knows what we'll end up doing (definitely not everything!) but it's fun to write down a bunch of things to see which ones stick. Oh and check out the favors I love so much that I assembled them a full week before the party. Nerd alert.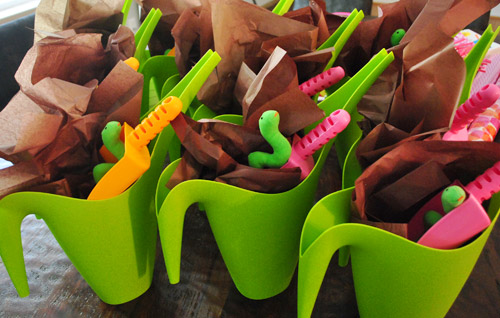 One of Clara's favorite things to play with outside is our watering can (filling it with leaves, rocks, sticks, you name it) so when we saw cute green ones at Ikea for 99 cents we grabbed one for each kid (hoping they'll like them just as much as our girl does). Then in the toy aisle we came across tiny stuffed worms for 49 cents each! Just kidding, they were snakes, but we cut off the pointy red tongues and voila: happy little worms. We also tossed a bottle of bubbles in each watering can along with an orange or pink scoop from Target (50 cents each). Brown tissue paper (aka: dirt) finished things off and gave us a spot to stick our scoops full of worms. We're so excited for Clara to see hers. We've been hiding them all (I made them during a nap and stashed them all in the guest room) so it should be a pretty good time when she realizes that everyone gets a watering can, bubbles, a scoop, and a worm of their own at her party.
Oh and look at these candles we found at Tar-jay. Wormy, right?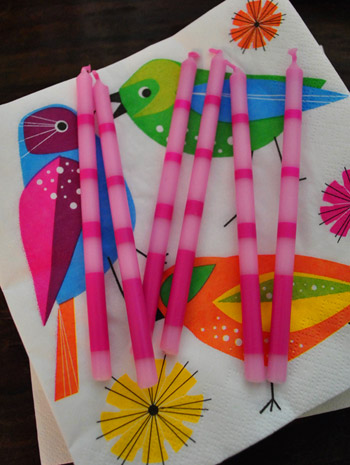 This = a typical trip to Target. We thought grabbing two outside balls for kids to play with on the patio might be a good idea. And of course Clara picked her two favorite colors (orange and pink – which are one of the reasons we picked those colors for things like her invitations and her streamers).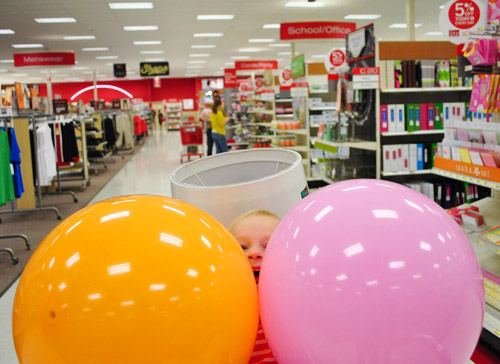 So that's the deal with party planning. The basic gist is that I'm wishing we bought one more watering can, scoop, and stuffed snake worm so I'd get one of my own. I'm totally 30 going on 2.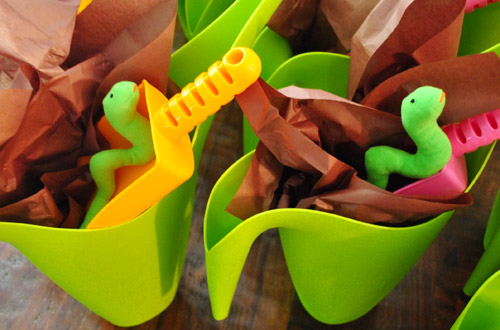 Any party prep going on for you guys? Do you have any tips for keeping it simple and fun? We generally like to order food (something inexpensive but crowd-pleaser-ish, like pizza) so we're not slaving over the stove all day. But cooking is my mom's favorite thing, so she'd rather cook for thirty people and just grab ready-made invites. So there's definitely more than one way to get your par-tay on. Can't wait to share pics from this Saturday! And we're building Clara something for her b-day. Something big. Ok, I'll just tell you – it's a dollhouse!!!!!!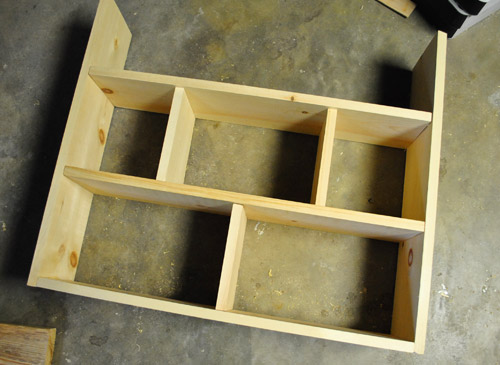 So excited to share the breakdown with you guys when it's done (as expected, we're just getting started so we'll be working overtime!). And now for the general trite mom statement (but it's painfully true). Oh my gosh, how is my baby two already??? Dude, she was just turning one like three months ago.
Psst – You know $herdog loves her some Eminem, Snoop, Dre, and Biggie, but the new Karmin CD is uh.mazing. Seriously. Anyone else in love? I've been "YouTube in love with them" for a while (since this) and adored when they were on Ellen. Their new songs make me want to finish that dollhouse double-time (while pausing for a few obligatory dance breaks).