Clara's big birthday shindig is tomorrow! Along with her actual birthday. It seems utterly insane to think that this time last year she was just arriving. Oy, how time flies. And since so many of you were asking for par-tay details I figured I'd toss up a quick little pre-party-prep post about all of my "supplies" for the bean's big day. You'll have to excuse me if you think I'm going overboard. I'm just a little obsessed with our girl and we're so honored and excited to celebrate her first year here (more on the reasons for my über appreciative b-day behavior here).
First I made these easy paper poms with tissue paper and some string in our three main party colors (blue, green, and pink- just like her nursery).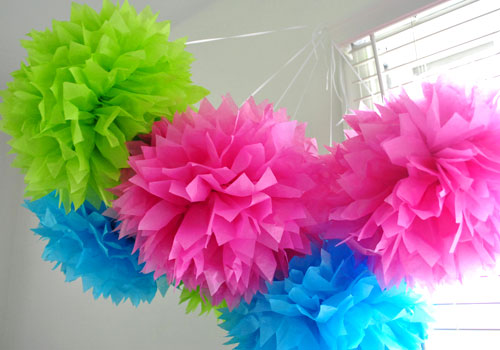 You'll probably remember those colors from her invite (which we made here). Those hues are based on her bedroom- she just loves blue, green, and a hint of pink. At least for now. She'll probably go through a goth black-loving phase someday so I'll take pink, blue, and green while I can.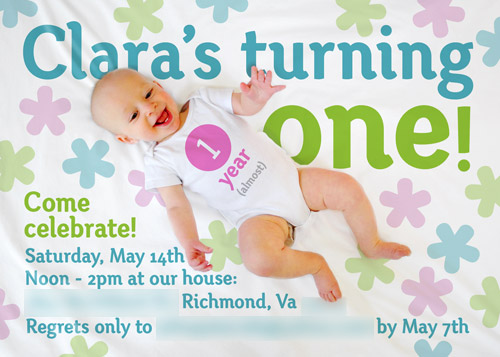 Now we have a handy little numbered photo. Because we all know I like listing stuff. Explanations below.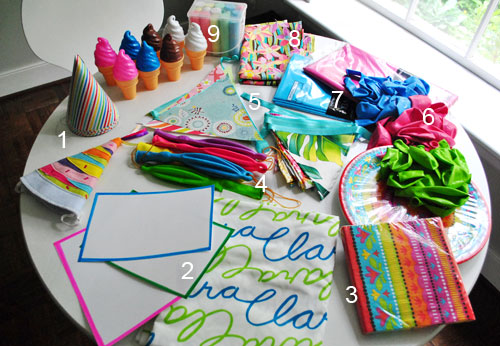 This is a cloth party hat that gets passed around our entire family for every child's birthday. It was last worn in October by Clara's older cousin Emanuel on his first birthday and she's been eying it ever since.
This is the birthday fabric that we designed on Spoonflower for Clara's 52 week photo. We also plan to use that as a backdrop for a little photo station where everyone at the party can stand and hold those white pieces of paper with colored borders while they pose for a pic. We plan to take each photo and add the person's name on the blank piece of paper in Photoshop and make a little album for Clara so she can start to learn and see names like "Granny" and "Nona" (her two grandmas) and look back to see everyone who came to celebrate her.
Here are the fun patterned napkins and plates that we got from Party City on sale. Since our party's "theme" is based vaguely on Clara's weekly photos (which inspired her invitation) we thought the patterned napkins and plates looked like a background we would have chosen for one of her weekly shoots.
Those are giant punch balloons that we grabbed from Target (I thought they'd look fun hanging from the trees on the patio if it doesn't rain on my parade party).
These are the two banners I've made (one a long time ago with paper, and one recently with my stubborn sewing machine) full of fun patterns and colors that also remind us of backdrops for those weekly pics.
Here we have piles of pink, blue, and green balloons from Target that I'd love to blow up and make into huge balloon garlands to be swagged around outside (or inside if it rains).
Those are two tablecloths in pink and blue. Just to cover things like odd outdoor tables that don't match and to add more pops o' color.
This is a festive table runner that I made with some of Clara's weekly fabrics (just like her quilt, but it was way faster and easier- I'll post the detailed instructions for ya soon).
Then we have some sidewalk chalk to entertain the kiddos out on the patio. And next to that are little containers of bubbles shaped like ice cream cones (from Target) that will serve as favors for our wee guests (I want to personalize them with each of their names).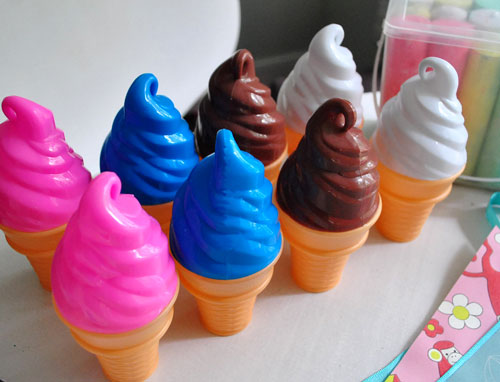 I still have to make her smash cake and arrange for the rest of the food, but that shouldn't be too hard (famous last words?). Oh and we're going to make a little time capsule that guests can add stuff to for her to open when she's 18. That should end up being hilarious. I hope.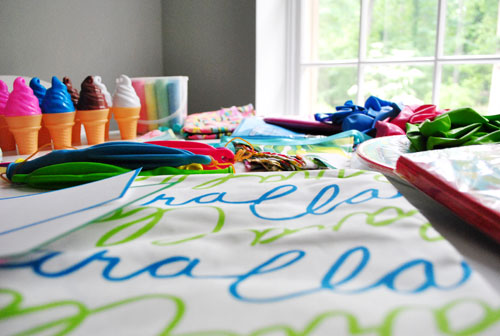 Operation Start Blowing Up All Those Balloons is about to commence.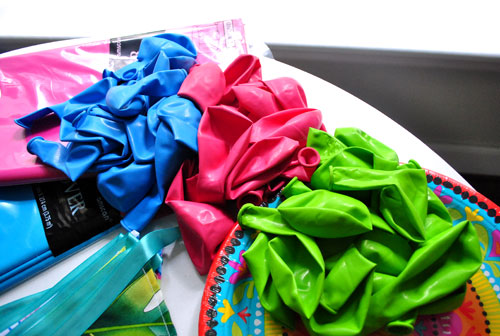 We also mentioned that we wanted to DIY a piñata a while back, but the jury is still out on whether it's going to work. So far I made paper maché (mixing approximately two parts water to one part flour)…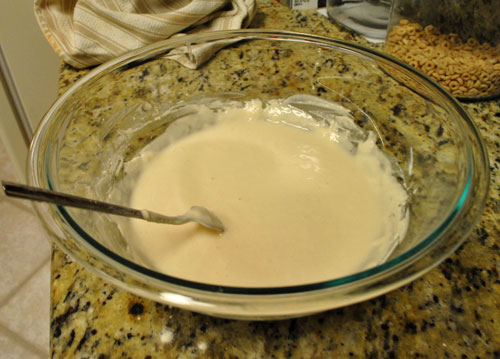 … and blew up one of those punch balloons from Target that wasn't in our color scheme (the orange one)…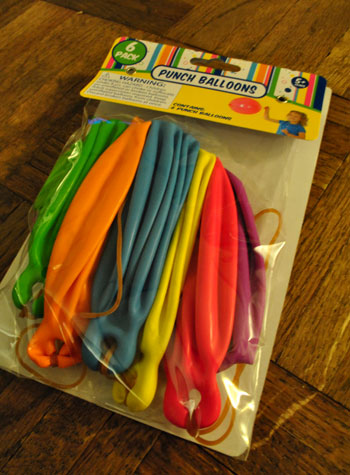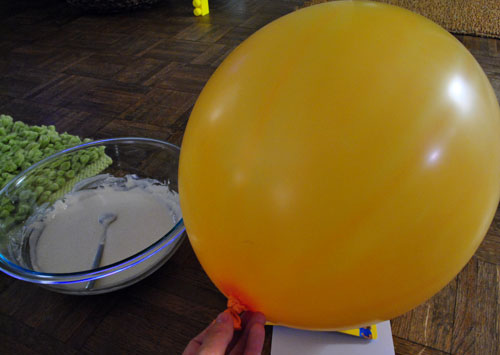 … and cut a bunch of newspaper strips…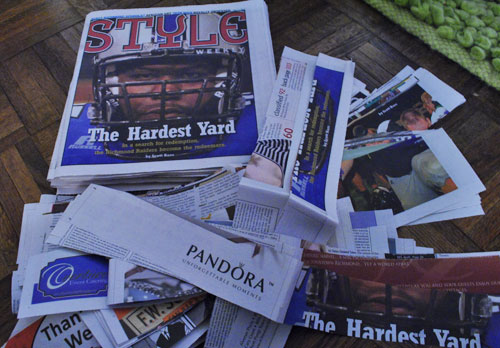 … which I paper machéd to the big balloon…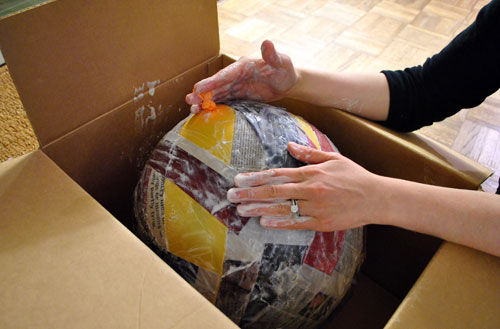 … which I then let dry a bit overnight and then hung outside this morning to hopefully speed up the drying process (since it was still soggy and looking a bit – uh – questionable). Might be a womp-womp project. We'll have to see.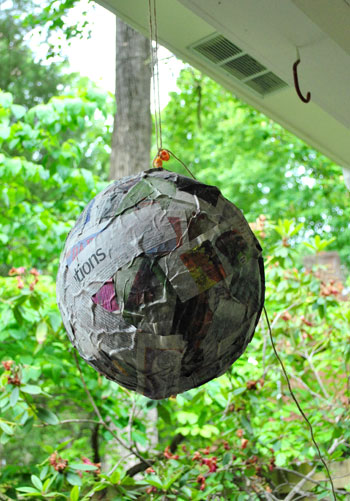 I still have to let it dry, pop the balloon, fill it with little toys or candy, and add ruffled tissue paper all over it so it doesn't look like a big goiter (we actually want to make it a pull string piñata since that works well for smaller kids but we'll have to see how it goes and post details if we get 'er done).
But more nerveracking than my homemade piñata's fledgling looks is the forecast. Boo. What's the deal with the whole scattered t-storms thing?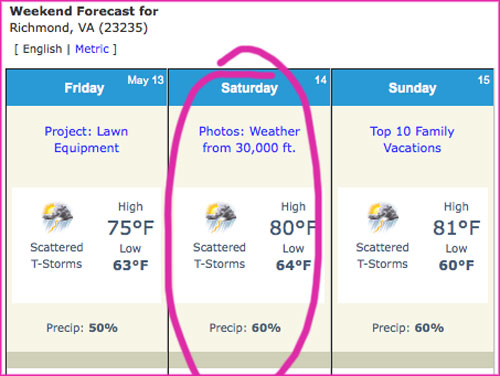 Please for the love of balloons in trees and bubble yielding ice cream cones, let it be clear and sunny-ish for just two early afternoon hours. Then it can rain cats and dogs all night.