Before the Homearama show concluded this weekend, we slipped through on Friday with Teddy strapped into our baby carrier (Clara was with the grandparents) so we could check out the homes with visitors in them. It was fun to chat with show-goers, see our pantry getting filled up with food donations, and we even spotted a note someone left us on a notepad in the girl's room of our house. But perhaps the most exciting thing we got to see in person was the People's Choice Award that our house won! The votes were very close, and all of the other homes were so well done. It's hard to put into words how much we've learned from this year-long experience. It has been such an honor to be involved.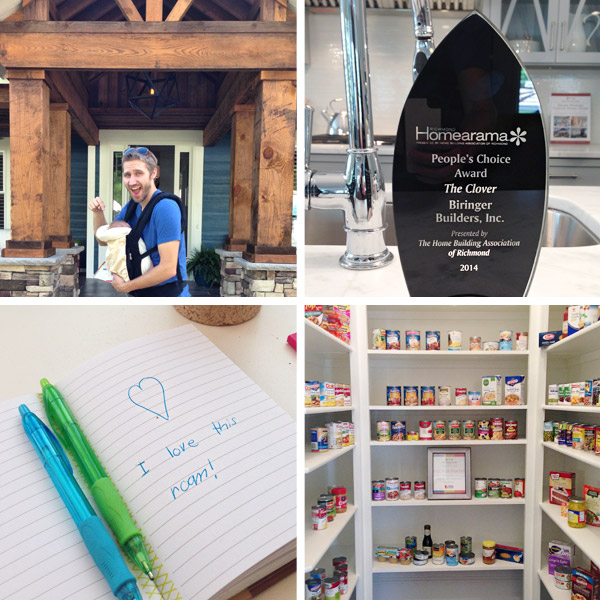 Even though the show is over, we've still got more of our virtual tour to complete. Today we're tackling the most playful spaces in the home: the kids' bedrooms, their shared bathroom, and the playroom/reading room.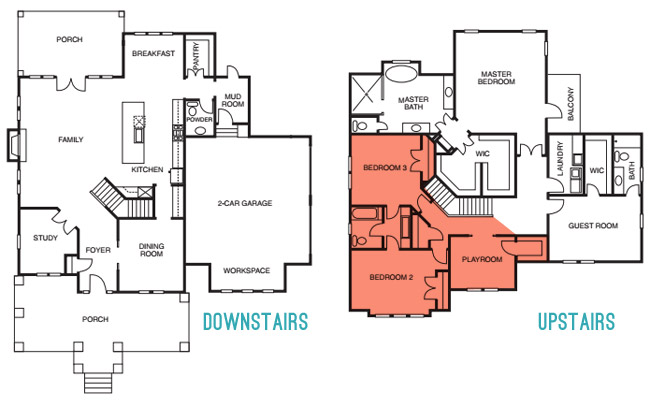 Let's kick things off in the boys room (i.e. "Bedroom 3" on the floor plan). The walls are Moonshine by Benjamin Moore and the major focal point of the room is the built-in bed area. As a reminder, the show was really all about showing what the builder and his team could do (so specific carpentry updates were encouraged, just to keep the show interesting and showcase the possibilities to customize each home – even though they're hardly one-size-fits-all modifications). This built-in fits a twin bed, which we covered with Target bedding, plus a couple of pillows from Ikea. If the future homeowner eventually wants a larger bed, a full or a queen could stick out into the room with the addition of a simple platform – and some rolling under-bed drawer storage could be added to offset those two drawers under the twin mattress that would no longer be accessible.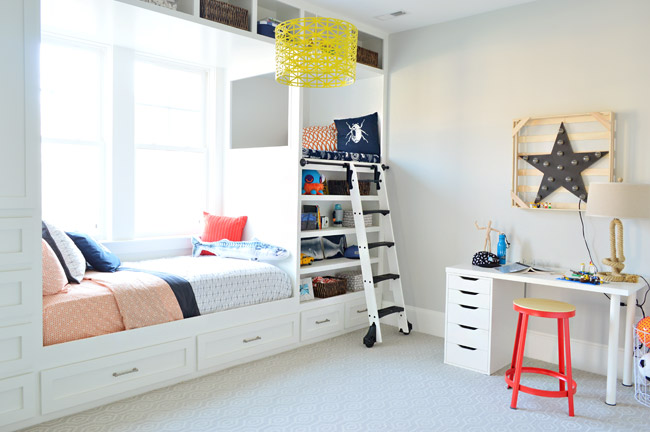 This desk is from Ikea but we scored it second-hand thanks to craigslist. The orange stool and wire basket are from Target (we wish the stool were a little shorter, but since it's for an imaginary kid and we loved the bright color we let it be). The rope lamp and the star light are both HomeGoods finds – and the Legos throughout the room are from my own childhood collection (thanks for saving them all these years mom!).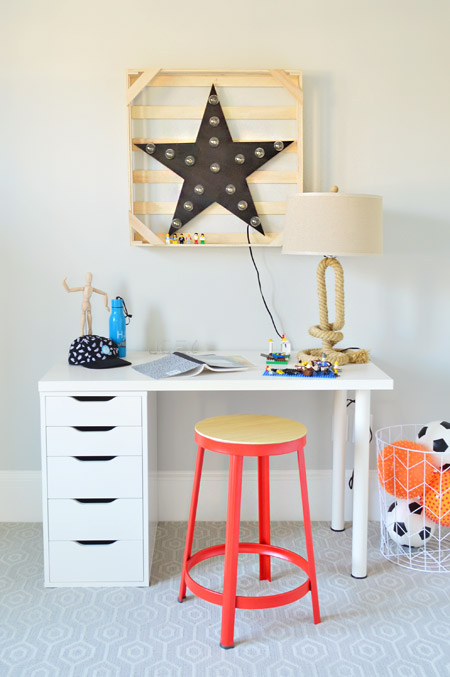 The wood crate around the star was actually just its packaging from HomeGoods, but when we held it up we liked it there so we kept it. It filled out the space more and created a little ledge for a Lego meeting.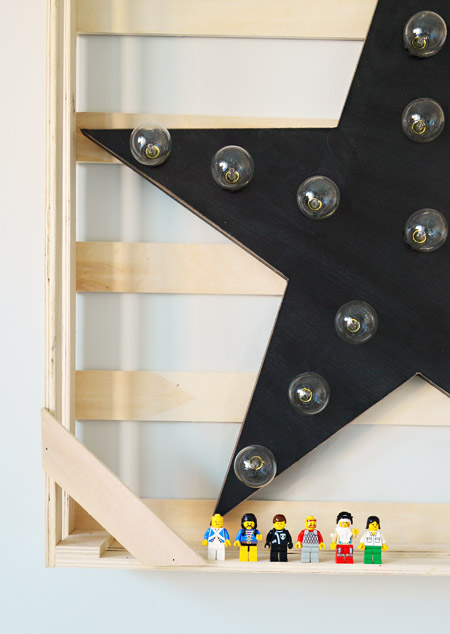 Our favorite part of the built-in bed was this raised nook area, which we all started calling the "Crow's Nest" for some reason. We brainstormed these built-ins with John the Builder and John the Carpenter (not to be confused with me, John the Lego Hoarder) and they were instrumental in making it happen. Seriously, John the Carpenter and his crew are amazing. In fact, he found the rolling library ladder online somewhere and even used some old pipe fittings when we learned that top rail was going to put us over budget. The bug pillow and blue fabric up in the nook are both from Ikea. We didn't have a chance to get something custom upholstered for that space, but a dog bed at HomeGoods miraculously fit the area nearly perfectly (which we wrapped in that Ikea bug fabric). The overhead light is from our Shades of Light collection.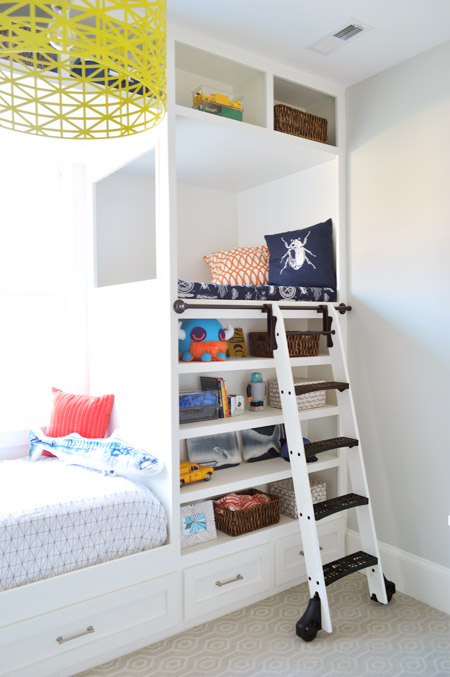 We stocked the bookshelves with random stuff, but my favorite was the "Viking Octopus" plush toy that was loaned to us by our friend Phil Barbato. Because why wouldn't an octopus also be a bearded viking?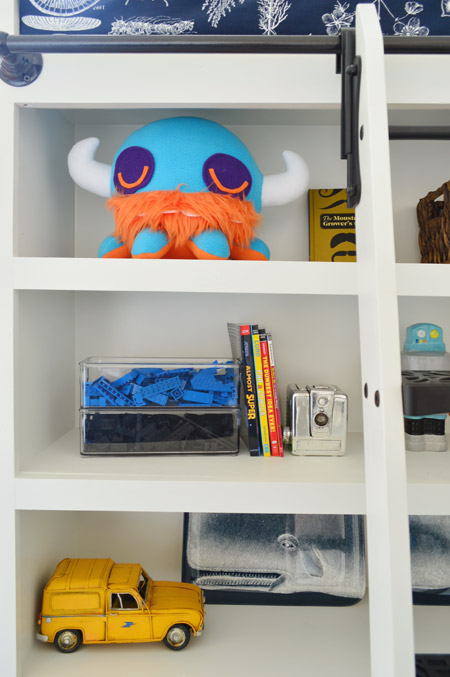 You can see our fun patterned carpet pretty nicely in this shot. It's from a local place called ProSource, but the style is Stanton's Revere in Silver. We thought it'd be fun to do something interesting with the carpet in at least one of the rooms since most of the spaces had hardwoods except for a few of the bedrooms (John the Builder said his average buyer seems to prefer that mix).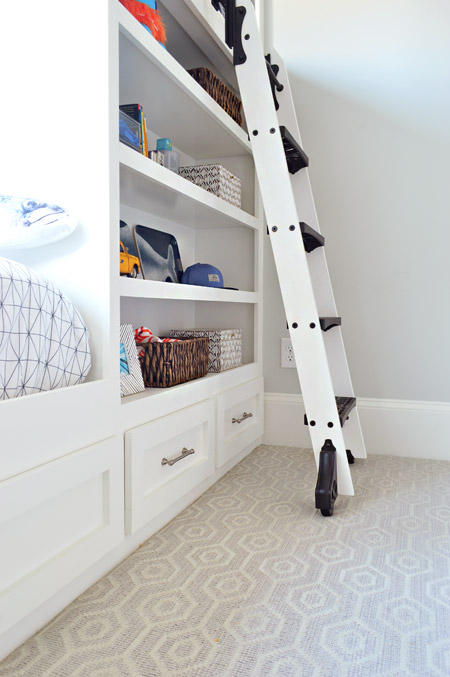 On the other end of the bed there's more drawer storage, plus a big wardrobe. We left it empty so the future owners could decide if they wanted more shelving in there or an extra clothing bar. There's a closet on the other wall, so it's bonus storage space either way.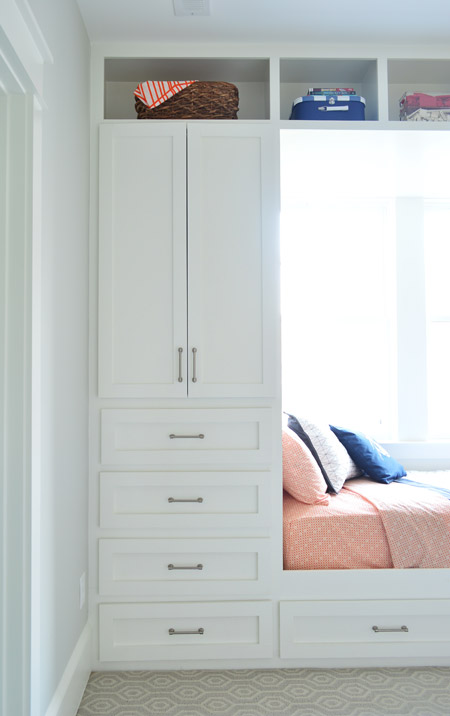 The two kids bedrooms are connected by a shared Jack-and-Jill bathroom, which is pretty light/neutral itself (so that it flows between the two distinct bedrooms without feeling too disjointed). The walls are Simply White, the floors are a white lantern tile (found locally at a Mosaic tile) with gray grout so they hold up to kids a little better, and our colorful "moment" in here was the big vanity cabinet which was painted Courtyard Green by Benjamin Moore.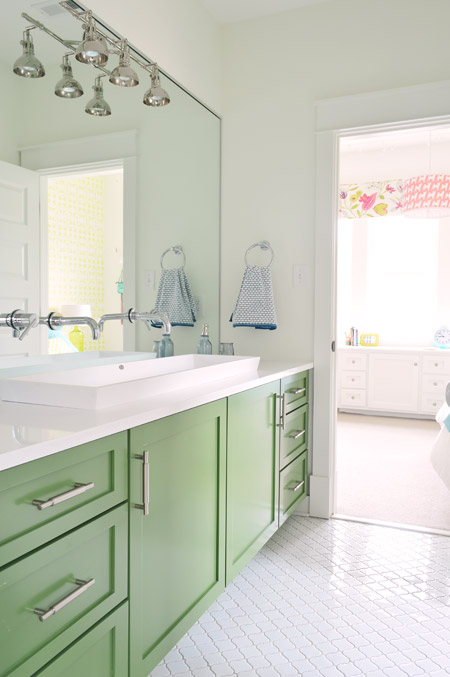 There's also a wall-to-wall mirror with the light fixture and faucets coming through it. The faucets sit above a double trough sink that's recessed into the white corian counter top (which makes it look shallow in this photo, but it's plenty deep). It was awesome to hear from a bunch of show-goers that the big sink and those mirror-mounted faucets were their favorite things since they were definitely one of the more specific choices we made. Oh and the towels and bath accessories are from Target.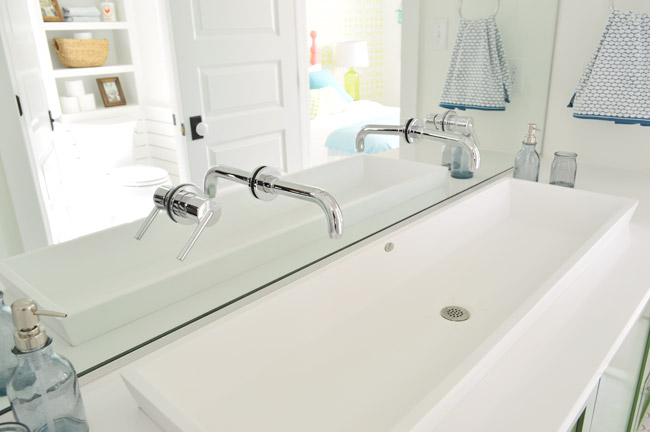 As you can see reflected in the picture above, behind the sink area is the bath/shower/toilet part of the bathroom, and we added some bonus storage via this shelf above the toilet. Once again, it was built by John the Carpenter (way back when the house was being roughed in last fall we had to plan for this shelving and have them set the toilet plumbing further from the wall to make room for it). The framed poster is from Help Ink.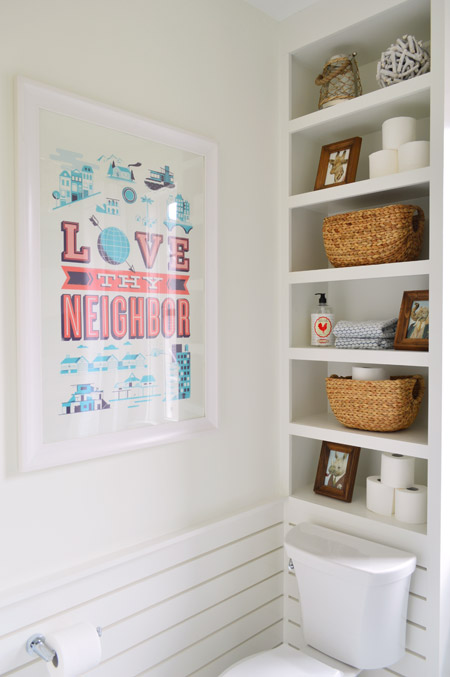 John also added this slatted wainscoting for us, which we thought contrasted nicely with the more ornate tile floor.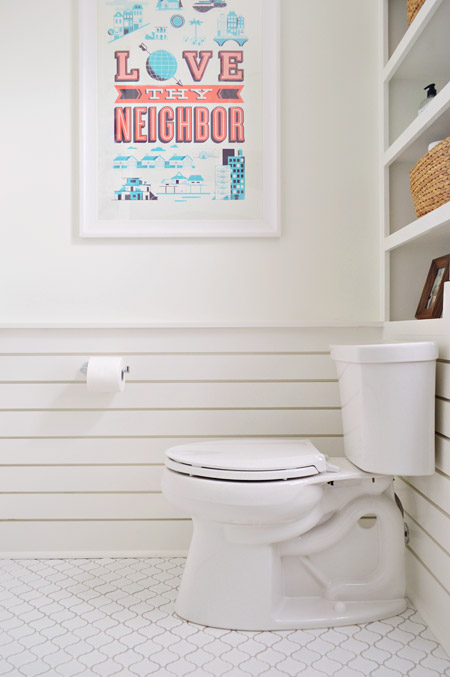 You saw a sneak peek of the shower back when it was half done, but we use two colors of glass tile (Snow Glass and Glass Winter from The Tile Shop) to create chunky stripes. The showerhead is one of these bluetooth connected speakers from Kohler since we figured kids would get a kick out of that. Heck, now we want one.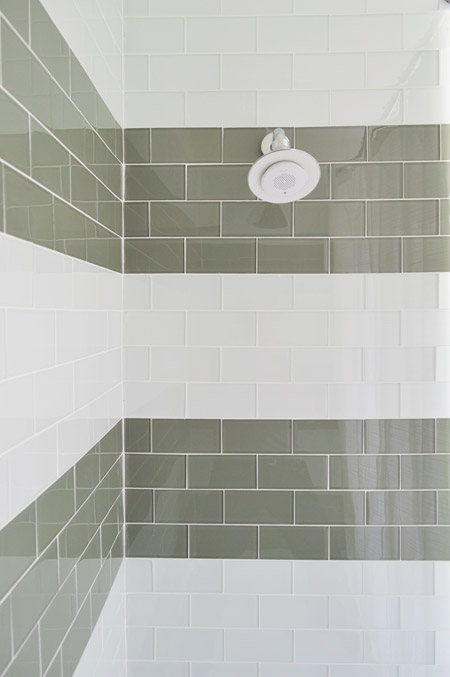 Here's the other added sliver of storage that we worked into the room: a little towel nook behind the shower that we filled out with some rolled Target towels.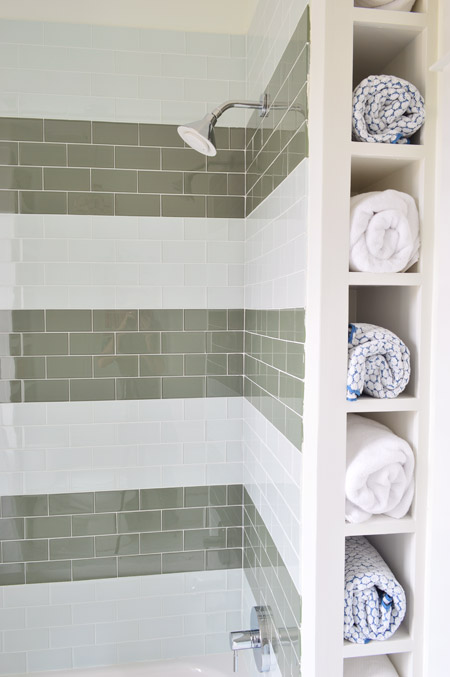 Let's move on to our girls room. Fun fact: one of the most interested buyers for this house has two sons, so they'd adjust this room to work for a son instead of a pretend daughter (and you know Sherry will beg them to let us house crash them down the line). Anyway, we got our big window cornice installed, which was built by U-Fab in this fabric. We also mixed up the beside table situation (going for a blue Target side table and a yellow garden stool from HomeGoods), scooted the bed further into the middle of the room, added more pillows and a blue throw to the bed, hung some casual art, and even added some surprise string lights (more on those in a second).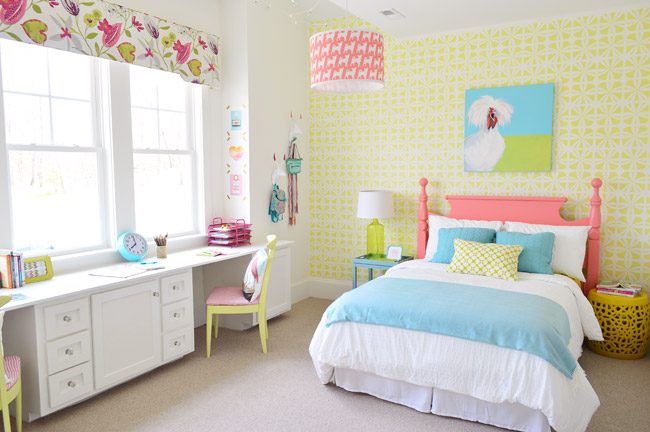 We can't forget "Princess Truthful" (the chicken painting loaned by our friend Lesli Devito) who is perched above the thrift store headboard (painted Hydrangea Flowers by Benjamin Moore), which is all against the Royal Design Studio stenciled wall (it's Hibiscus over Simply White walls). Here's a closer shot of the wall pattern, plus a glass based lamp from Target.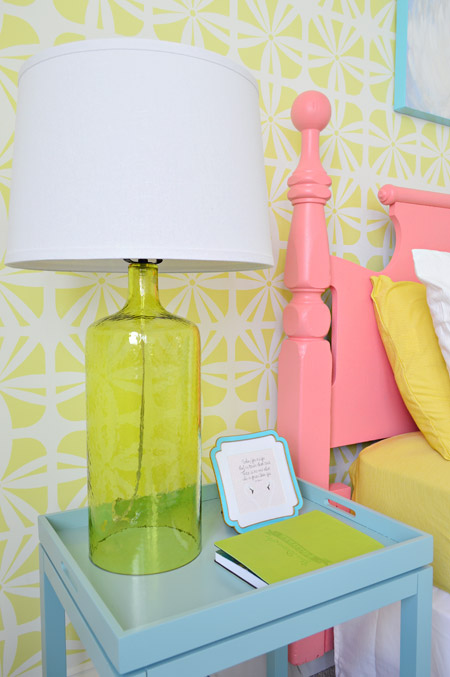 Now let's shift over to our double desk. Not only does it add some nice concealed cabinet storage to the room (along with a big double closet that's on the wall across from the bed) but it's a nice big work surface. A lot of you weighed in on which two stations we should style it with (people tossed out things like a makeup area, a spot for art, a sewing zone, a homework area, etc) and we settled on an art station on one side (complete with a terrible tree painting by yours truly) and a homework side with notebooks and room for a laptop or desktop monitor but it's really flexible so we're interested to hear how the future owners use it down the line. You might remember that the chairs were rescued from a thrift store (we painted and upholstered them) and the pillows were from HomeGoods.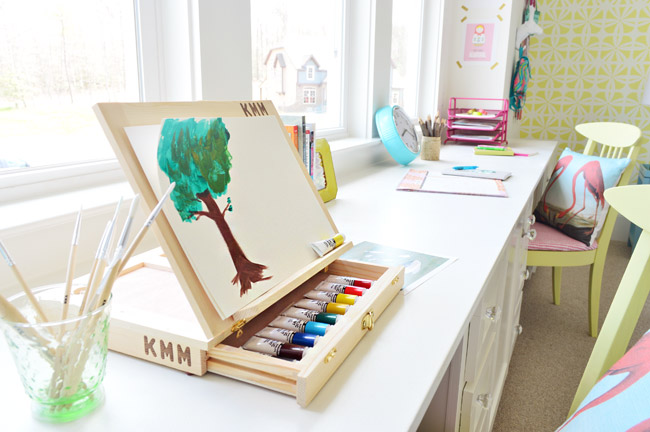 Now let's get into the string lights. We wanted to do something with the small vaulted area of the ceiling above the desk, so we ordered a 50-foot strand of white cafe lights and strung them up on white cup hooks.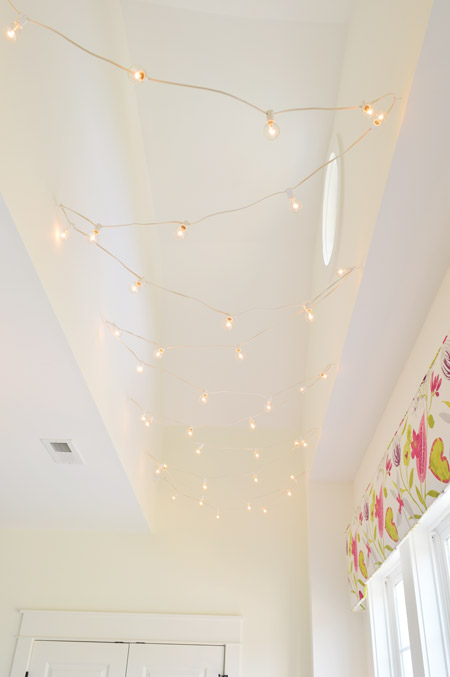 We had the electrician add an outlet up there for them to plug into, which connects to a switch by the door. They're barely noticeable when they're off, but are a fun surprise when they're turned on. It was awesome to hear people's reactions when they stepped into the room and noticed them during the show.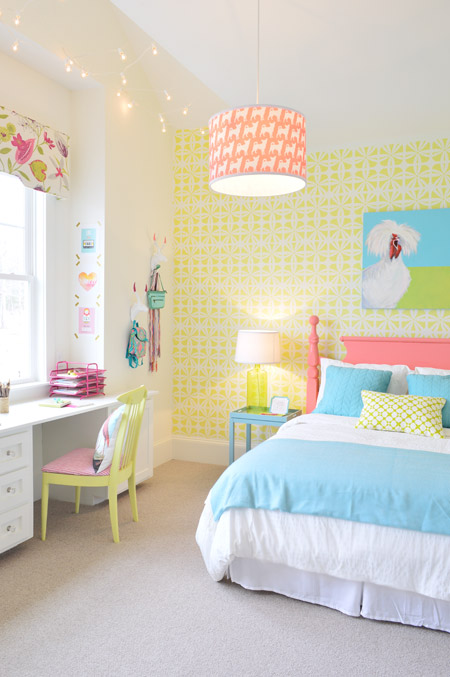 Speaking of the door, here's a quick shot of that side of the room. It has some casual art taped up with washi tape, a framed poster from Ikea over the dresser, and one of our rail hooks from Target that we customized by the door.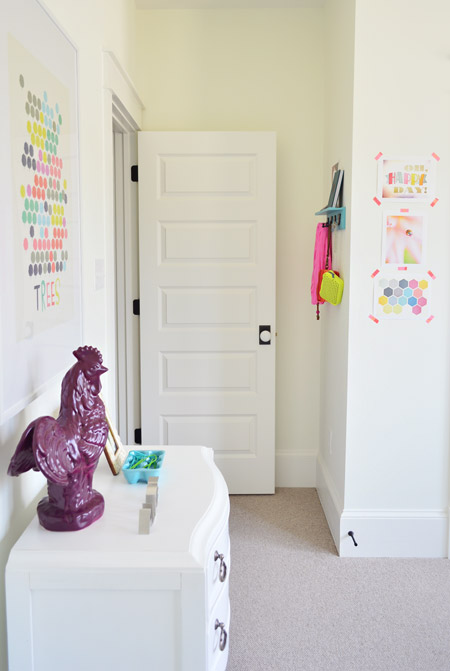 When you head out that door, you end up back in the hallway near the playroom / reading room which sits behind two sliding french pocket doors. That way it can be an open family space when needed, or it can be closed off for quiet reading.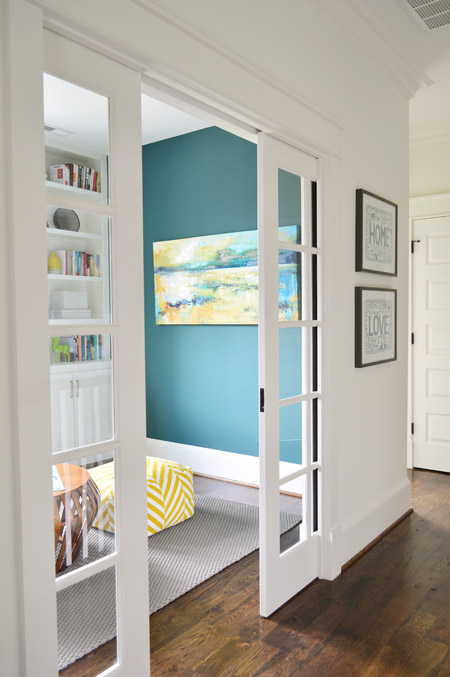 The prints in the hallway next to the door are from Ikea (they came in a pair).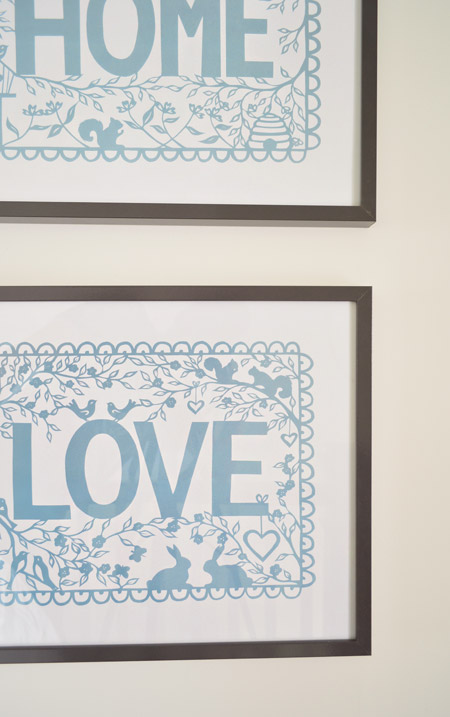 The playroom walls are painted Dragonfly (by Ben Moore) and we originally planned to have the built-ins that were made by John the Carpenter painted that color too, but the painters missed that memo and they ended up white. When we walked though we decided the room felt good that way, so in the end it was a happy accident. The art on the wall to the right is from World Market and the wood plaque on the left is a thrift store find.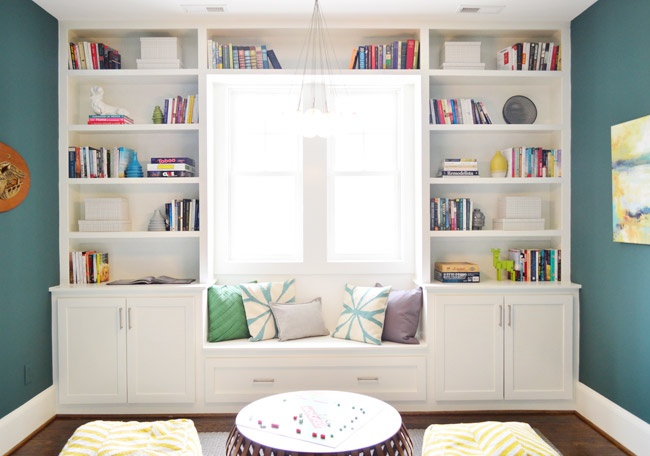 We also contemplated staging this space with a media console to look like a video game room, but decided to keep the layout a little simpler – just a low table (this one donated by West Elm) and two poufs that we bought from Target for playing games of the non-video variety. The rug in here is from Dash & Albert.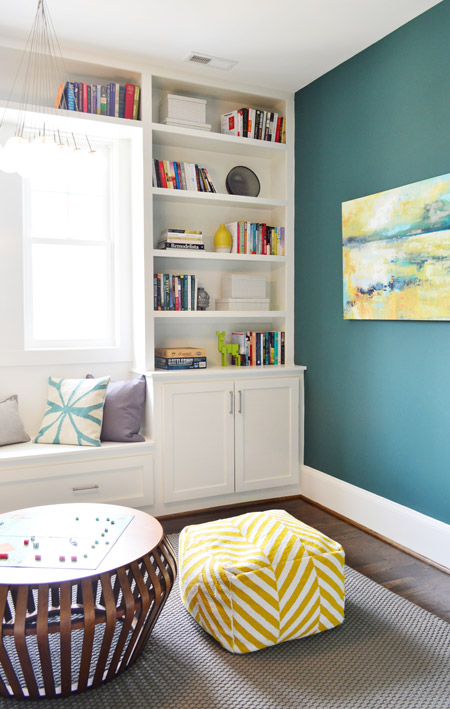 Fun fact #2: we actually crazy glued the Monopoly pieces down after worrying that small kids might end up swallowing them (a prospective buyer with four kids came through before the show and her youngest daughter "taught" us that lesson – thank goodness she didn't actually succeed in her mission to digest a few houses).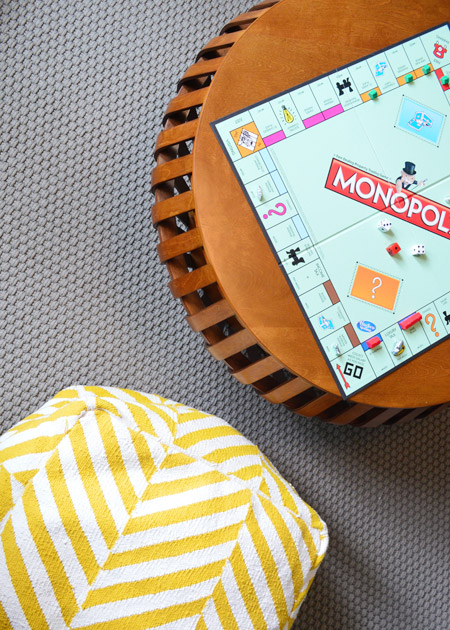 This room also has a big shelved closet off to the left-hand side for game storage and what-not. Clearly we went light on the styling, but we clutter up enough closets in our own house that I didn't feel the need to demonstrate that "skill" here.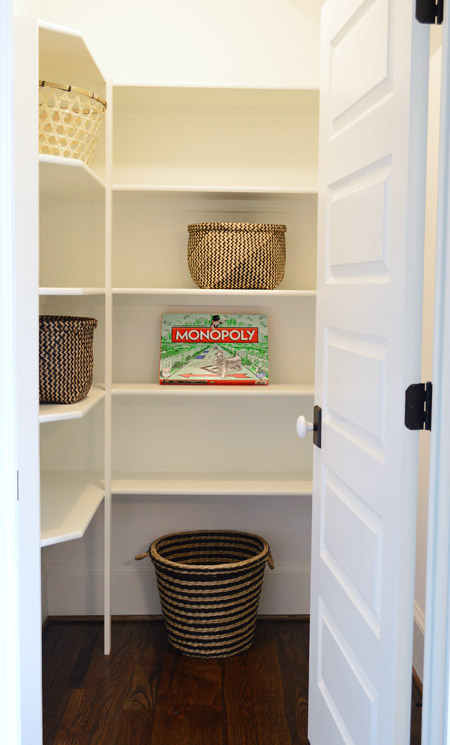 And with that dramatic game closet conclusion (I kid) we'll end this 30-picture post. We hoped to include the other six remaining spaces, but we're 2,000 words in and it's clear that we need one more post to wrap this thing up – so that's coming up for you next week, along with a video walk-thru that we shot.
Thanks to everyone who came to check out the showhouse in person, donated money to Habitat, left canned goods in our pantry, and cheered us on during this decorating marathon of sorts. Couldn't have done it without you. Oh and as for what Teddy thought of the showhouse when we took him to check it out for the first time outside of the womb… the kid slept the whole time.
Psst – Wanna see more showhouse info & photos? Click here for Our Full Showhouse Tour, which includes final pictures of every room, the floor plan, budget info, a video walk-through, and shoppable showhouse furniture & accessories.