Remember when Clara was queen of the jellyfish? Good times. The girl definitely has fun with pretend play, and we like to make things for her, especially on occasions like birthdays and Christmas (like this play kitchen, this dollhouse, this latch board, this figurine cubby, this patterned doll cradle, this colorful quilt, this cuckoo clock and this beanbag pouf) so with yesterday being her fourth birthday (HOW DID THAT HAPPEN?!?!) I thought some pretend pastries would be fun.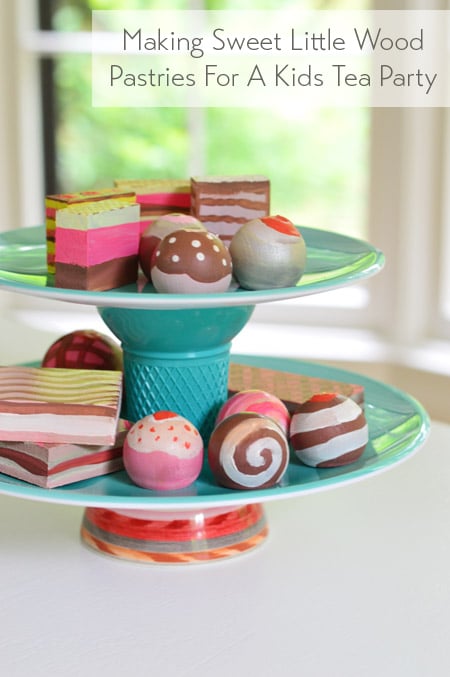 I know, it sounds like a cruel joke. "Happy birthday! Here are delicious sugary things you can't eat because – surprise! – they're made of wood!" But lately she has been loving tea parties (here she is having one with Nonna the night before her brother was born). She loves pretending to add lemon and honey to her tea, stirring everything up, and then repeating that about five times since she doesn't have many other tea-related things to do beyond that…. hence the idea for some teatime treats.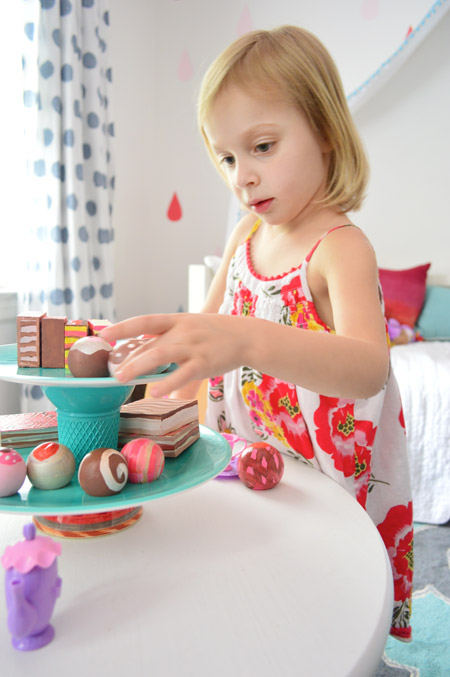 I liked the thought of making these for her because it meant I could use her favorite colors and include references to specific treats she likes, so they'd be personalized. I'd seen a few pre-made wooden pastry sets you can buy, like this one and this one – and after staring at a few small scrap pieces of wood on the floor in the garage I thought I might be able to use them to make some of mine.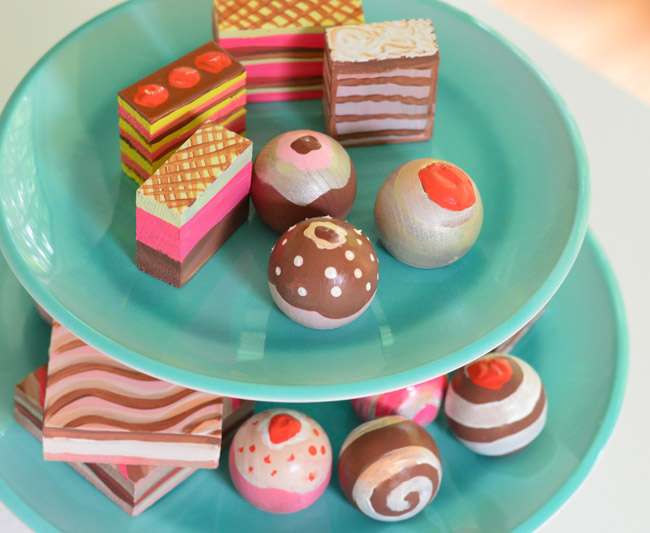 Here are the materials I started with: a bunch of scrap pieces of wood from the floor of the garage (those are the rectangular shapes) along with some wooden spheres with flat bottoms (those were from JoAnn in the craft wood section for around $5). I grabbed those because they looked like little truffles or bon-bons.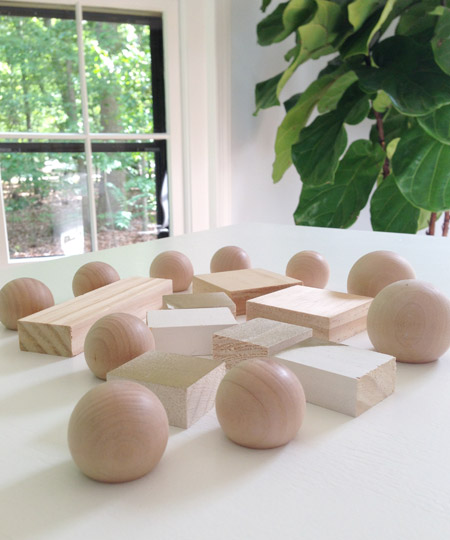 I used craft paint and a small brush to paint them and then brushed on a few thin coats of Safecoat Acrylacq to add a nice glossy finish and more durability (it's non-toxic in case they touch Clara's mouth during fake-eating). It only took one Clara-nap to complete all of the painting, and I did it with my man Teddy right next to me. There was one nursing break in there and a little bit of burping and rocking, but he was pretty chill for the most part. Maybe he'll grow up to be a painter. Or a professional pastry eater.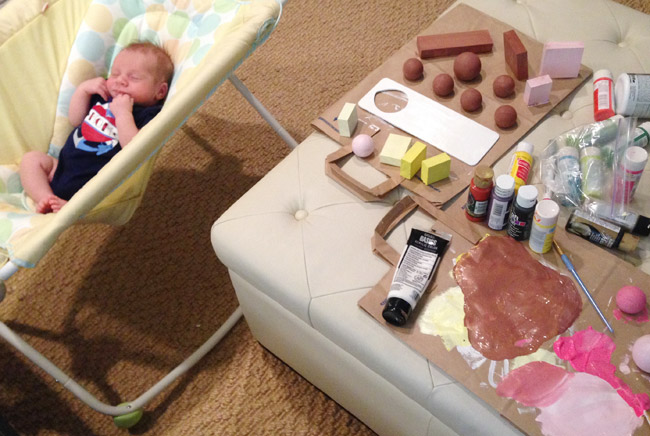 Here they are all laid out so you can see some of the random patterns and designs I had fun with. They're definitely not hyper-realistic, but they're full of bright pink (Clara always calls the pinkest donut or bonbon in the store) and I added in some stripes, swirls, zigzags, crisscrosses, and "sprinkles" (those were just dots I made with the back of my paintbrush).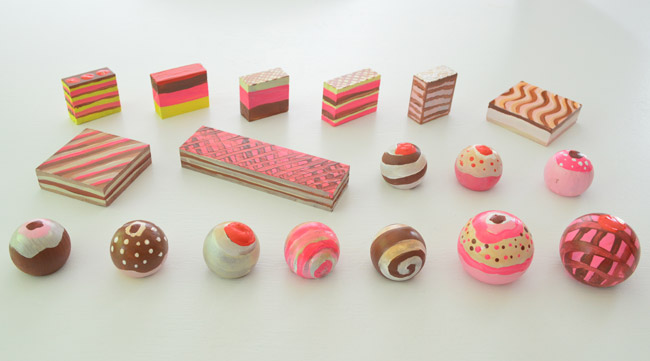 I also made the stand using two plates (a big one and one smaller one) along with a small bowl and an ice cream cup holder thing (all plastic, and all from Target).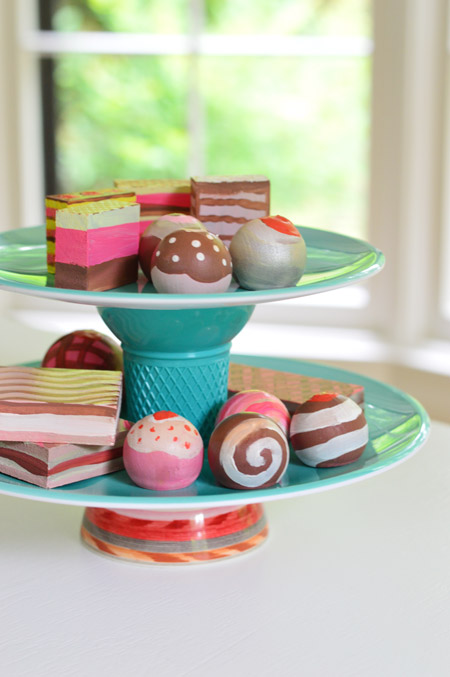 I turned bowl upside down to make the base, glued that to the larger plate, then glued the ice cream cup on top of the plate in the center, and glued the smaller plate on top of that.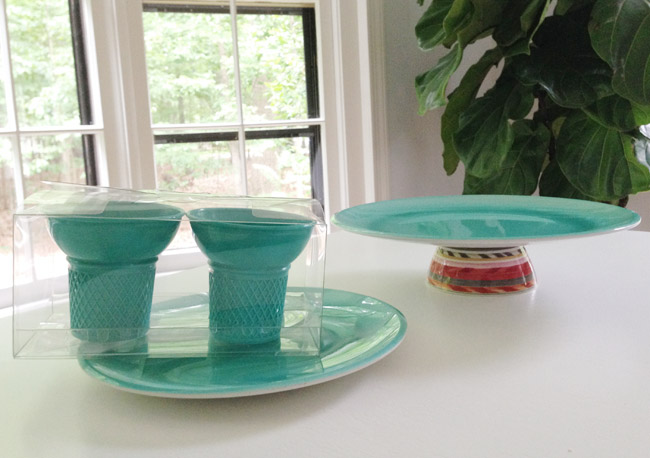 In short: it was a fun little while-the-baby-sleeps project and I'm so glad that big girl of mine loves them. She even got to give them a spin with Nonna thanks to her being in town for her birthday. I cried like a baby when she said "You did such a good job painting them mom… BRAVO!" When are these crazy hormones going to level out?!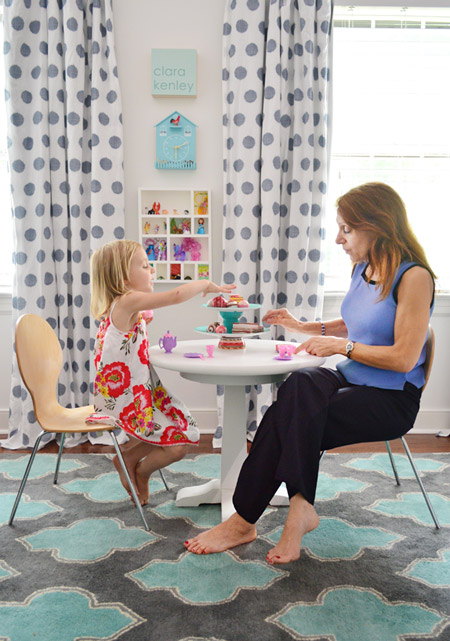 Clara's birthday was also full of a bunch of edible treats – like these four pink and purple pancakes that she requested for breakfast. In case you're wondering, she said the purple one tasted the best.
Now I'm off to feed this baby of mine (he's ten pounds already!) and to try to squeeze in some party prep for Clara's bash here this weekend (I have about thirty pounds of laundry to do along with a pretty chaotic house to clean). Oh who am I kidding, I'll probably just end up cuddling the baby.
Psst- Wanna know where we got something in our house or what paint color we used? Just click on this button: