Things are about to get more action packed than a Matt Damon movie. BHG has opened the voting for everyone's favorite outdoor transformation. Of course you all remember that we gussied up our front porch as part of their 48-Hour Challenge, and now there's a $5,000 bonus on the line for the blogger who earns the most votes for their project. Imagine how many home improvements we could take on with that chunk of change!
Needless to say, we would love love love your vote but the competition is fierce, and frankly we're just happy to be included in the challenge at all. We're glad to report that voting is a super easy process: just follow this link, click the Young House Love porch image at the bottom, register (just once and never again) and vote each and every day if you so desire. That's right, everyone can vote once a day until June 12th. And since they update the voting tally each day, it's safe to say that this could get exciting (and nail biting)!
Because we're such suckers for before and after pics, we'll remind you what our sad little porch looked like before the big transformation: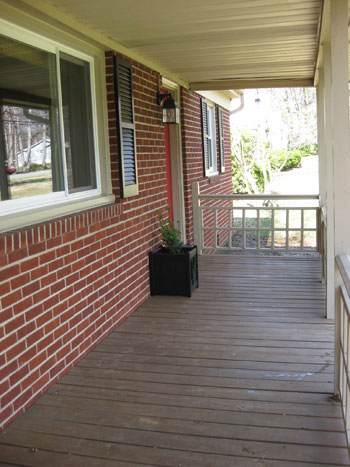 And what it looks like now, after painting porch stripes, bringing in a bench, making a side table out of a planter, turning light bulb covers into hanging lanterns, creating a food & water station for Burger, cutting a lounge chair cushion to make two floor pillows for the pooch, and adding some cheerful foliage for a fresh new feeling: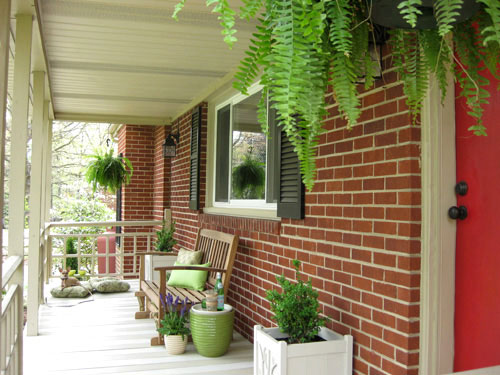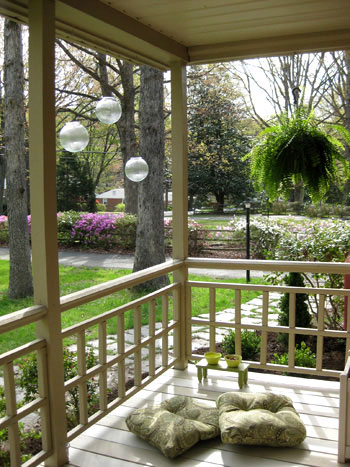 Oh and here we are now putting the new porch to good use (this is our best don't-look-at-the-camera-Domino-esque-pose):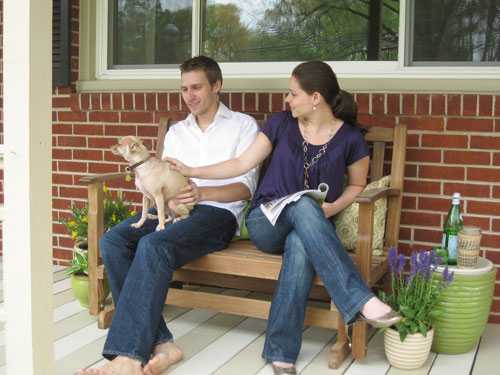 In short: vote for your favorite project over on BHG.com! It doesn't have to be ours (but we'd jump for joy if it was). And good luck to the four other fabulous bloggers who also took on the challenge- we're definitely in good company. Everyone worked their tails off and I really wish we all could win!