While we wait for our primed and painted open shelves to dry (ahhh, tomorrow is H-Day, aka: haaaanging day!) we realized that we've been waaaaay overdue for a budget blooms post. Remember when we used to do them every month? Yeah, we fell off. Oops. And a few of you have actually requested them, which is just what the doctor ordered since book chaos + kitchen chaos = a hankering for a sliver of beauty in a completely trashed house like ours. Seriously, it looks crazier than it did the day we moved in. Bed in the living room? Check. Painting and repainting a five foot swatch of wall in the playroom different colors every few days? Check. Photography equipment filling up our dining room? Check. But six bucks at the grocery store later, and I had me these beauties – and a small slice of gorgeousness in this crazy house full of people, projects, and other miscellaneous craziness.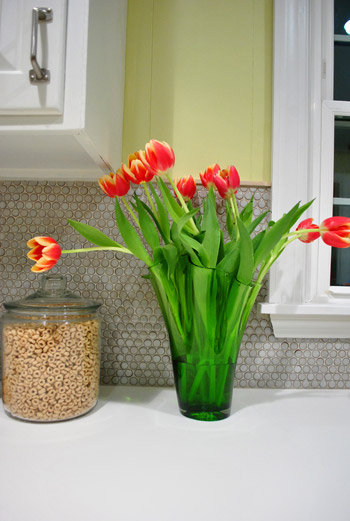 I love this vase from Crate & Barrel (a gift from John's older sister for my birthday a few years back) and it looks especially good with floppy flowers sort of splayed out around the wiggly perimeter.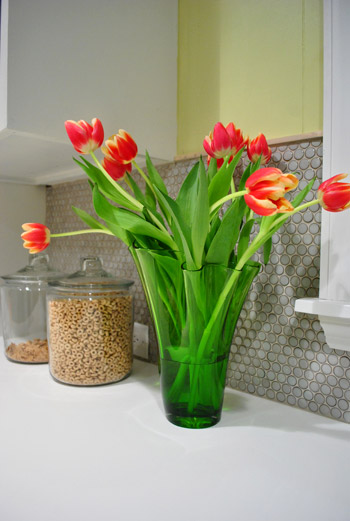 And I love the two-tone tulip action going on. The prettiest color combinations are always found in nature, huh? Buttery yellow + poppy reddish pink + fresh green = yes please.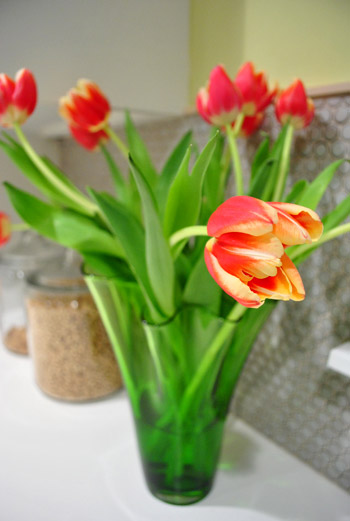 I like how they're leaning out like they're growing towards the sun in our natural-light-less kitchen. Oh the irony. These guys have actually been alive a few days now, so I guess they only need water but not too much sun (since they have yet to fall to pieces). Whew.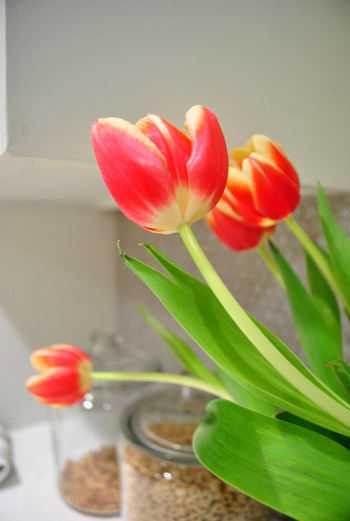 Oh and just for fun, I played around with them in another vase. Well, I guess it's not really a vase (it's a seeded glass hurricane meant for a candle that I grabbed at HomeGoods a few years back). Just as pretty, huh? Oh and I got us a kitchen radio on clearance from Joss and Main about a month ago (and we finally plugged it in after staring at it on the counter for a while). Let me tell you, it's novel. We've actually never had a radio in the kitchen but since we log so much hangout time at the peninsula these days (doing blog stuff/book stuff/projects/eating) we thought it would be nice. And it is. Especially with pretty tulips next to it.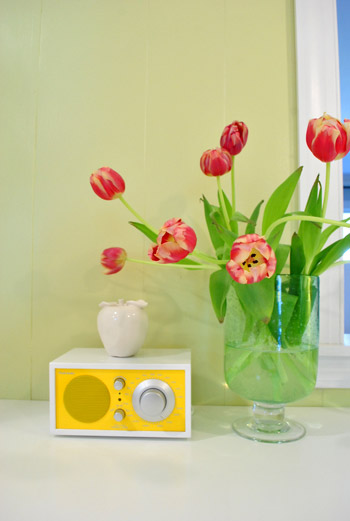 The hilarity of this photo is that if I were allowed to share behind-the-scenes book pics, the next photo would be what you see if you swing the camera about six inches to the right. A shot of our monstrous dining table that sits just beyond this half-wall and is completely full of lamps/ceramic things/paint cans/fabric/baskets/bottles/books/frames/etc. Seriously, you can't even see the tabletop anymore. So when I say there's a sliver of beauty in our completely trashed house, I really do mean it. And the juxtaposition is hysterically funny to us. So just know that the over-sharer in me is dying to slather chaos pics all over this end of this post to balance the sweet charming "moments" in the kitchen. Oh well, when the book is out we're allowed to share it all, so we're counting down the months.
Anyway, back to the kitchen and our little budget blooms. I now firmly believe that every kitchen is made better by three things: flowers, a radio, and a white ceramic tea kettle (of course). Closely followed by a giant ceramic rooster. And a wall full of penny tile doesn't hurt either. Have you guys been buying flowers or other greenery lately? Have you played around with a few different vases just for fun? Do you have a kitchen radio? Do you even listen to the radio anymore? Oh and what are three things that you think makes any kitchen better?
Psst- Check out a whole mess of Budget Bloom posts from over the last few years here.