Goin' to the chapel and we're…. gonna have a bay-yay-yay-by.
Ok, so that's not how the song goes, but it is the paint color that we chose for the walls of the nursery (which is pretty sweet considering the name of the paint that we used in Clara's nursery in our last house was Proposal). Honestly, color names don't sway us. We're pragmatic pick-our-favorite-swatch-not-our-favorite-name folks. But it's always nice when they're not something ominous. You know, like Sleepless Nights or Zombie Spawn.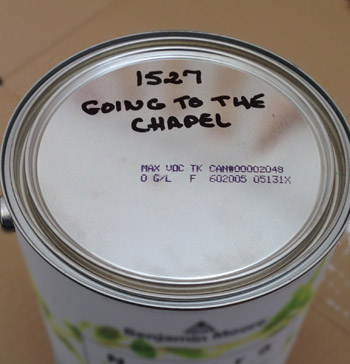 Back when we shared our plans for the room with this makeshift mood board of sorts, a few commenters asked if we were going to paint the walls that bold green tone. We explained that we were planning to use that more for accents around the room (like a bold green closet door, a chair cushion, some art, and maybe a crib skirt) and were leaning towards a soft neutral color for the walls. Just so we can layer a bunch of colors and patterns on top of that as the little guy grows, according to his preferences – like we've done in Clara's room.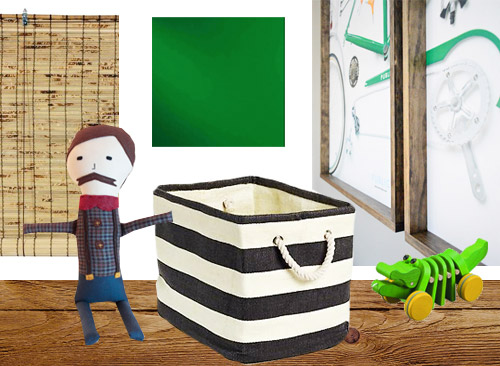 We've really appreciated that Clara's walls are a completely goes-with-anything tone, so that as she grows we can switch things up without clearing and painting the entire room, but it's still far from colorless or devoid of personality.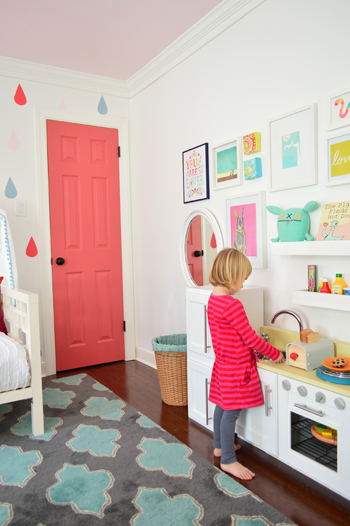 But "something neutral on the walls" can still mean a whole lot of things. White? Light gray? Soft tan? Even a muted tawny-green or blue-gray can qualify. So we considered a few color pairings like…
a moody deep-ish gray ceiling, white built-ins, a colorful closet door, and light gray walls
a bright white ceiling, moody built-ins, a colorful closet door, and soft taupe walls
a colorful ceiling, white built-ins, a white closet door, and soft tan walls
And the winning combo was… #2. We just really liked the idea of some mushroom-toned built-ins (with a stained wood top for a little bit of added interest). Like this photoshopped rendering from last week…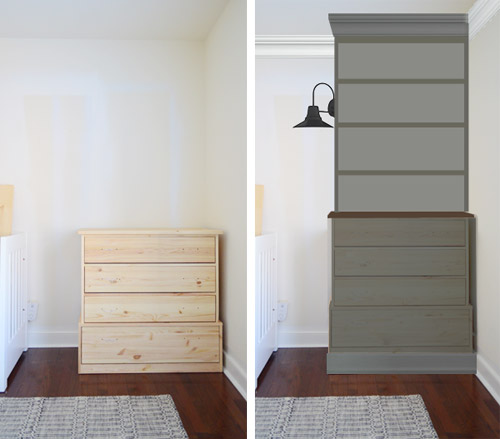 … along with a bold green closet door.
So we just held up a bunch of swatches and considered things like the rug, the built-in colors we liked best, and some possible bold greens for the closet door. In the end it was between some more gray-based tones (on that bottom swatch) and some more mushroom-ish tones (on the top one). See how the darkest color of that top swatch is brown while the other swatch is closer to charcoal gray? We decided we liked the ones with brown undertones a little better than the cooler gray ones, so that's how we chose Going To The Chapel for the walls, and then slid three tones deeper for our built-in color (Senora Gray). We opted to go with plain white for the ceiling (Simply White in a flat finish) just to tie into the white trim (since the built-ins won't be going white) and for some nice contrast.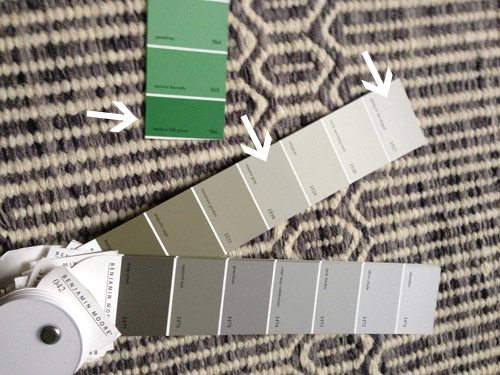 As for getting it done, we just removed the rug, and pushed everything else into the middle of the room.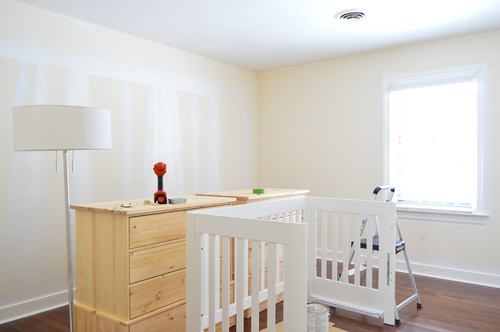 We covered it with a dropcloth when we tackled the ceiling – and we ended up going with two coats, just to be sure we had good coverage. As usual, John rolled and I cut in around the edges – although I didn't have to be perfect since we're going to add chunky crown around the room, so that corner where the wall meets the ceiling will be covered.
Then it was onto the walls, which also took two coats. It's harder to pick up in photos than in person, but the whole room had an obvious yellow tint before. You can see the difference most when you look at the areas that I cut in vs. the walls around them. This is before the paint was dry, so the difference got more obvious a little later, but I didn't get a picture of that since we had already covered most of the walls by the time they started drying.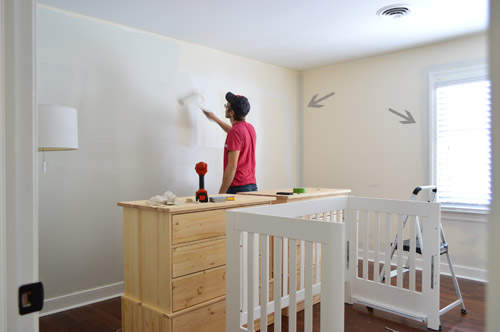 But speaking of comparisons, here's the room "before" (let's go way back into the mauve trim days, shall we?):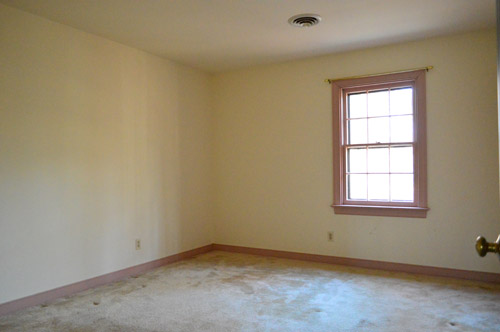 And here it is now (thanks to ripping up the old carpet, spraying the trim and doors white, laying some hardwood floors, and freshening up the walls and ceiling).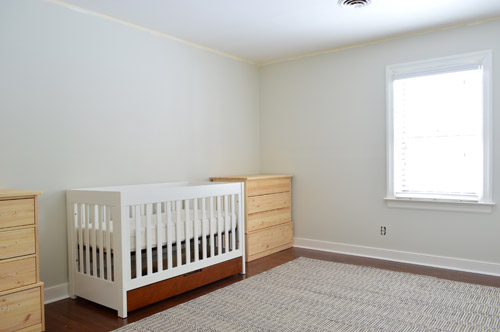 It's hard to tell in photos just how different it feels in there! But just the fact that those door overspray marks are finally gone (you can see them in the first picture of everything pushed into the middle of the room) is music to our ears – er, eyes. If only they weren't still in the guest room…
And here's the room with some other elements that we're hoping to work in later.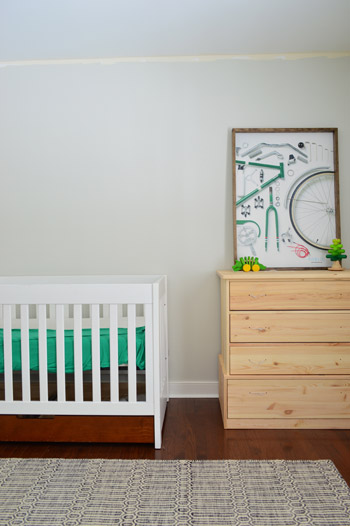 That's our bike art (which will be hung somewhere else, since the shelves of the built-in will go there) and the slice of green on the mattress is just a long cotton dress of mine that I shoved in there. I'm a weirdo, I just wanted to see what a green sheet might look like. Of course the built-ins will be painted our mushroomy-brown-gray color and those bare walls above the crib won't be bare when we really get things going. And that slice of old paint around the ceiling will be covered with chunky crown molding. Details, details.
We also brought up our armchair from the corner of the office when we realized that it would be great for the nursery – and once we redo the office there most likely won't be room for a big plush armchair anyway. It's still looking crazy stark in here, but it's better than that pink-trimmed before – so we'll take it!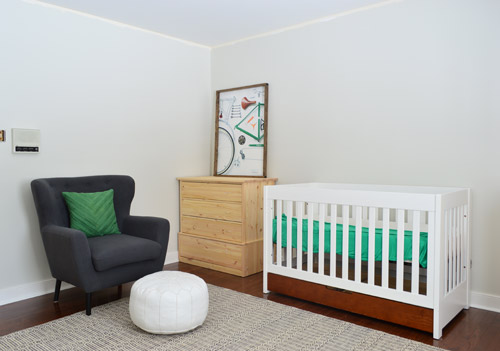 Here's our to-do list with around 11 weeks before this baby's here:
clean out the room
get a rug (more on those two here)
research & buy dressers or cabinet bases to create built-ins along the crib wall (more on that here)
paint the walls and ceiling

find an armchair for all that late night nursing
build-in and paint/stain the dressers we bought last week
add chunky crown molding around the room
address the window (bamboo blinds + blackout curtains?)
paint the closet door a fun color (bold green?) and redo the inside for tiny clothes (add a second hanging bar, cubby storage, etc)
add sconces to the sides of the built-ins
create some sort of slatted or trimmed out wall between the built-ins for interest?
get the ceiling wired for an overhead light fixture (none of the upstairs bedrooms have them)
bring in a dresser/changing table (we're 80% sure we'll use the wooden hand-me-down from John's dad that's currently in our closet)
build custom shelves (since John did this for Clara, he'd like for this to be a tradition)
make a woodsy little cuckoo clock (since I made one for Clara, I'd like to make a charming little rustic one for the bun as well)
DIY a mobile
make/hang art (at least one or two prints will have a sea-faring reference, thanks to Clara's baby boy nickname of "The Barnacle")
figure out bedding (make a crib skirt, etc)
Is anyone else painting walls or ceilings? Or planning to paint some cabinetry or built-ins in a non-white color? I gotta tell ya, it's more thrilling than it should be. #yolo