Two weekends ago we hit up the Richmond Craft Mafia's Spring Bada-Bing craft show (which we told you about via this giveaway). It was similar to their Handmade Holiday event that we checked out back in December, so since that post was such a hit with you guys, we thought we'd share all of the awesomely local craft-y goodness that we happened upon during this show too. Oh, and while we didn't leave with the bounty like we bought last year – we did purchase one of the many things we loved (times three, actually). So feel free to guess what it was as we lead you on a little craft tour de jour (and we'll spill the beans at the end).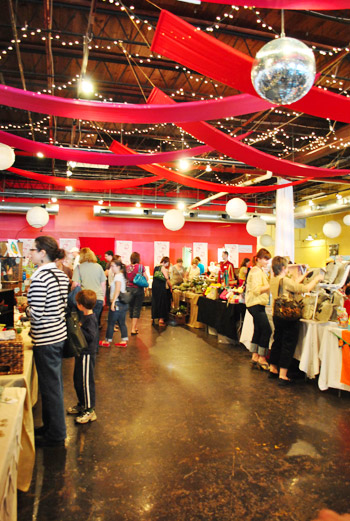 When we first stepped into the show space at Plant Zero, this print by Matt Butler met our eyes. Sherry immediately thought of her bacon-loving blog-compadre Katie B. I immediately thought of how I'd love to eat some bacon. We both knew the show was off to a good start.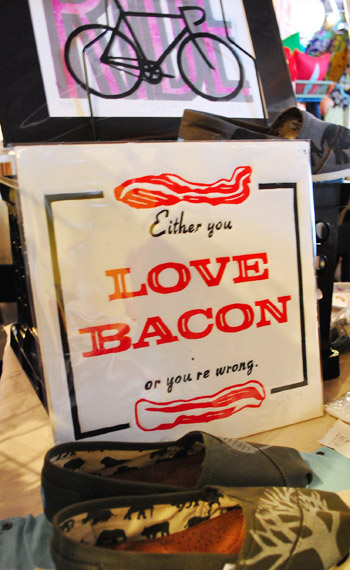 Matt Butler is not just a spokesperson for the bacon movement, but also does a variety of hand-carved linocut prints (and painted Toms shoes!) "made with tongue firmly in cheek" (to borrow a line form his website). Although our affection for bacon hasn't quite reached the level of a wall art declaration, we were eying this "Whale Love" print for a while.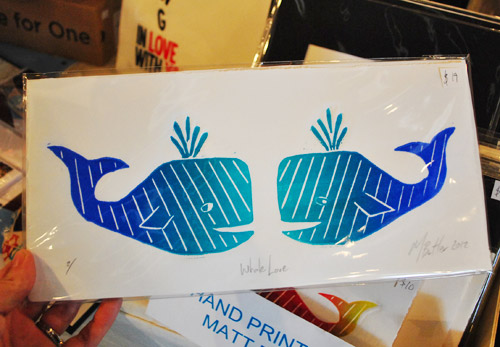 One artist who deserved my "Why didn't I think of that!?" award for the day was Articipe, who turns recipes into cheerful custom works of art. With my stomach now shifting from bacon- to cookie-craving mode, I started thinking of all of the people I could order a personalized version for (you provide her with the family recipe and she whips one up for you).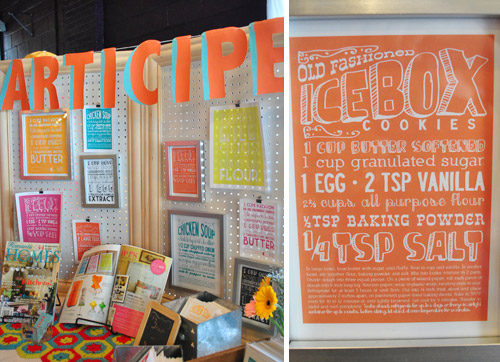 It's no mystery that we like state art, so of course Jennifer Allevato's embroidery hoop creations caught our eyes. You can order any state from her Etsy shop if you don't happen to live in the Mid-Atlantic region.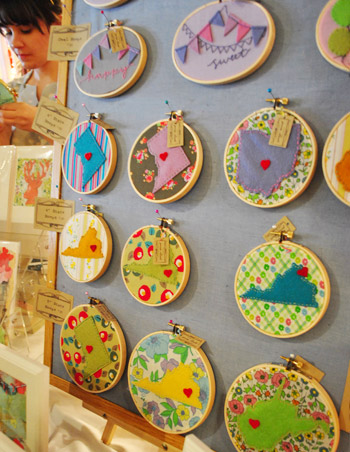 Nearby were some ceramic animals unlike any others we'd ever seen (and let's be honest, we've seen our fair share). The Runny Bunny creates figures with mis-matched head and body combos. Garden gnome on a bird body? Check. Rabbit head on an elegant woman's figure. Double check. Talk about a conversation piece, though! This booth had droves of people around it checking them all out the whole time. Sherry's favorite was a cute little finch with the head of a truck. Come to think of it, I think that was Clara's favorite too. Meanwhile, I was partial to the gentlemanly guy with a deer head.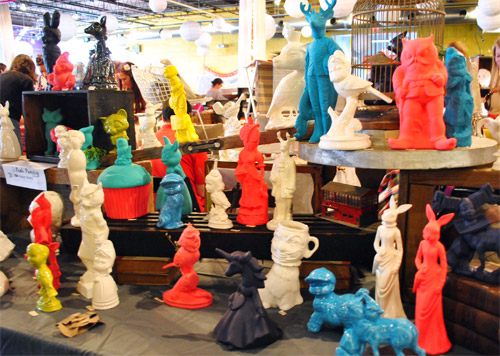 Given our recent adventures in succulent planting, these Terrariums by Rich definitely drew us in. Just like Helen Hunt made Jack Nicholson want to be a better man, Rich makes us want to be better at planting stuff. He even put little green martians and other tiny creatures in some of them if you don't like your terrarium to be too serious. Speaking of serious – check out how grand that one in the center is. Awesome.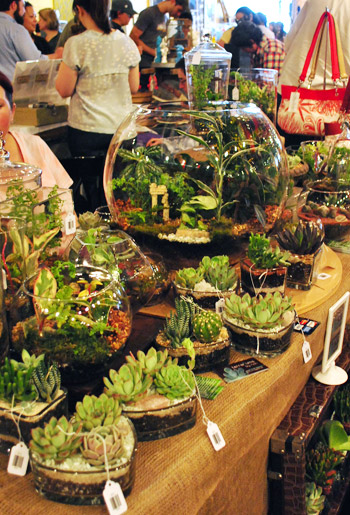 Modern June showed off this cool chalkboard rooster decal, which is great inspiration for a cool twist on a traditional chalkboard.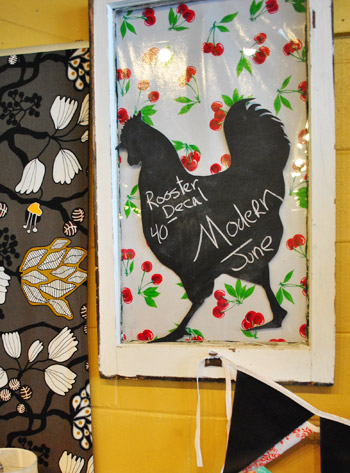 Across the way we spotted these cool bound books using Legos from Moonlight Bindery. They had small wallet sized ones, as well as some larger ones using those big green squares that I fondly remember from my Lego-playing days.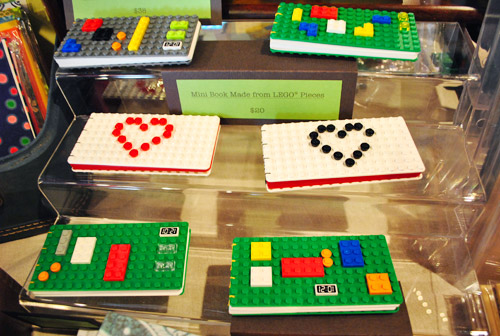 Sherry – always a sucker for a sentimental houseware – was ooohing and ahhhing (mostly the former; lots of oohs going on) over these hand-stamped silver utensils from Milk & Honey Luxuries. Me, I lean towards the quirky forks on their website that say "nom nom nom" across the tines.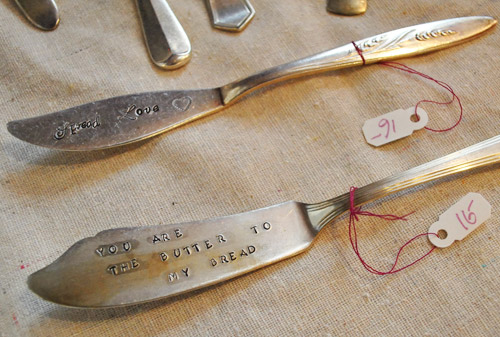 Speaking of houswares, the show wasn't strictly art and other home stuff. There was also jewelry, clothes, and body products – like these organic soaps from Whispering Willow. As good as the soaps smelled, we also really liked how she displayed them. Wouldn't a smaller slice of a tree trunk be a cool soap dish for your bathroom at home? You can even find them for a few bucks at the craft store – or hunt one down in your backyard.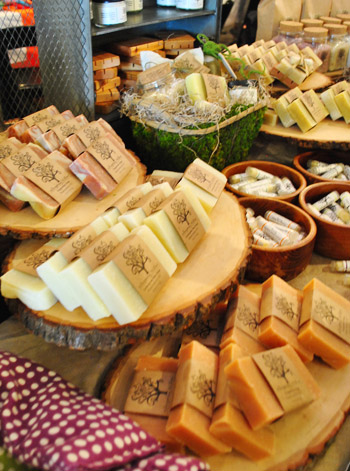 Another fun part of the show was checking out the booths of folks we were already familiar with (either though the previous show, other events, or our earlier giveaway) and seeing some of the wares in person – like these colorful Wisdom Cards from Silver Tree Art…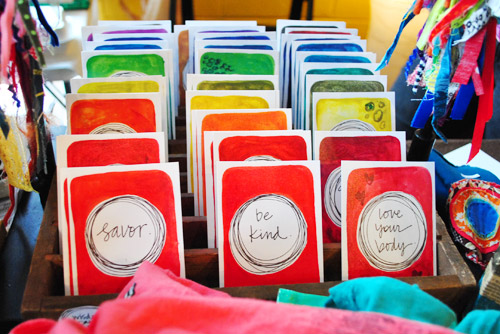 … and more of the nesting bird bowls given away by Tasha McKelvey. We loved the detail that as the bowls got smaller, there was one less egg in each nest.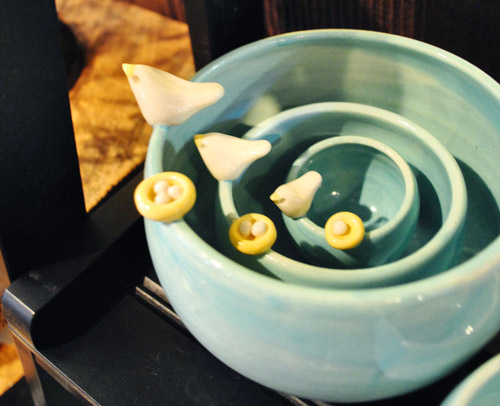 Last show we somehow bypassed the booth of our friend Karyn of KShonk Designs, so this time we were determined to say "Hi" (she hadn't met Clara in person yet) and Sherry of course wanted to get all sparkle-drunk over her jewelry. We house crashed her a while back, so we're old friends.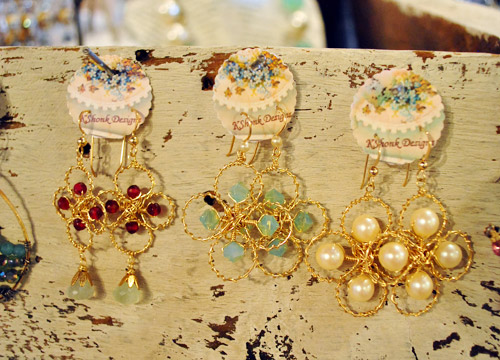 And it won't come as a shock that I gravitated towards the more tongue-in-cheek jewelry of Inedible Jewelry. What man doesn't need a pair of pork chop cuff links?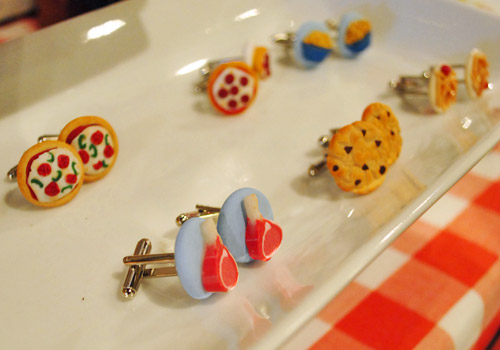 We also had fun seeing if some of our favorite booths from last time had any new stuff (or new-to-us stuff). Like Lazymuse Productions (whose cool crocheted jellyfish ornaments we previously shared). This time they had a cac-tastic display which just slightly overshadowed the funny cat toys shaped like rat heads, zombie fingers, and fortune cookies (for the knit-blood averse).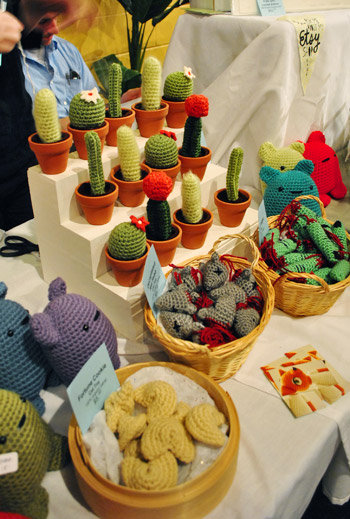 And Funnelcloud Studio had more prints that we loved. Man, maybe between these and the Matt Butler print we're entering some sort of whale phase. Anyone know where we could find a ceramic whale to officially kick things off?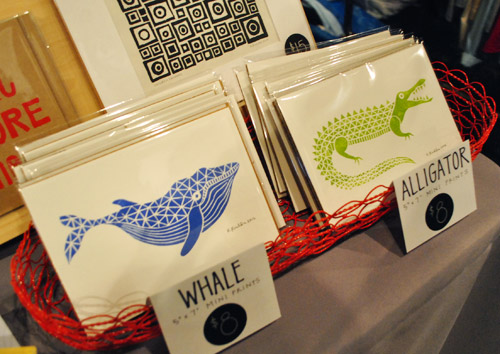 And Zou Zou's Basement, who created the pink rabbit print that we bought to hang outside Clara's room during the holiday craft show, had this cool Ostrich (Emu?) print that was pretty much in our favorite colors.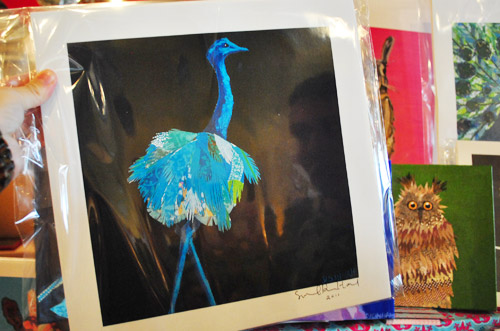 Sherry also had a momentary romance with this Turnerbot. While I was learning how Sarah crafts each one differently, Sherry was lost in its beady, glazed yellow eyes.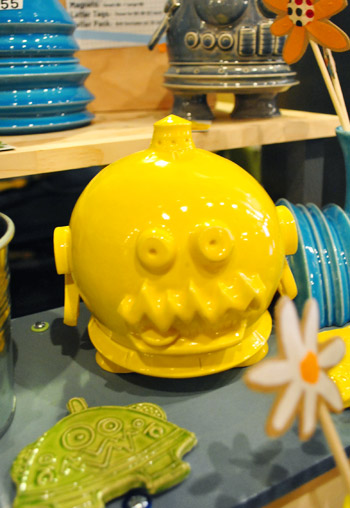 Speaking of colorful items, Sherry nearly took home one of these enameled penny necklaces from Lucky Accessories (who made the pea-pod necklaces we shared last winter).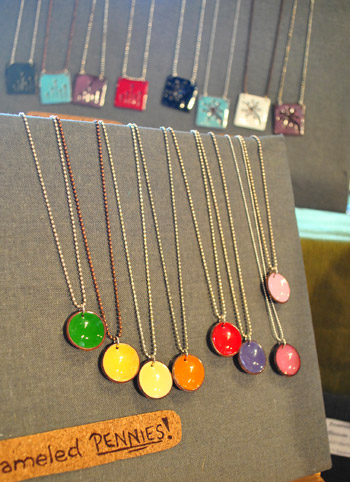 But are you ready for the reveal of what actually came home with us? Here's a hint, they're in this pic: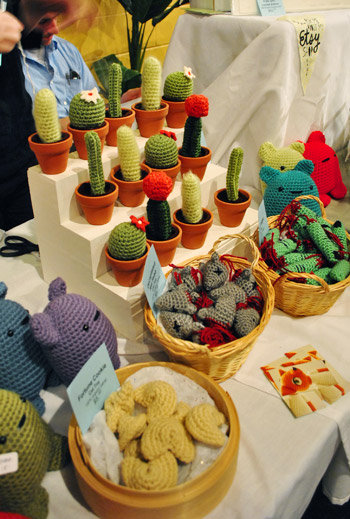 Yup, it's this friendly little trio of crocheted cacti from Lazymuse Productions. Do we like 'em? In the words of Sherry: faux sho.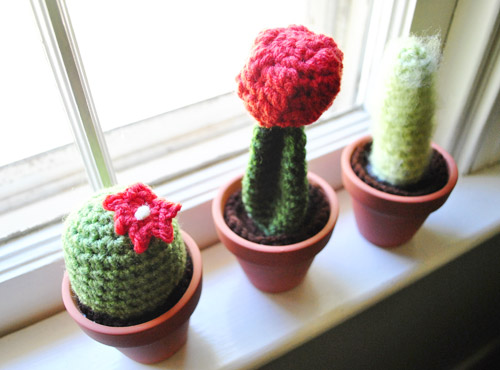 They were $10 a piece and are bigger than this pic suggests (the middle one is around 7″ tall). We originally planned to just get one (the guy on the left) but Sherry convinced me it should be balanced by a taller one… and then continued that things look best in threes. Haha. It wasn't too bad since we walked in saying "we're giving ourselves a thirty dollar budget to spend" and managed to stick to it. I must admit they look pretty chipper here on the window ledge of our office. My favorite part is that they'll never die and I'll never clutzily knock one over and spill the dirt everywhere. Score.
Oh, and the Spring Bada-Bing isn't the only artsy adventure we recently had in Richmond. Pop on over to Young House Life to see what else we were up to that weekend (it's a nice juicy post for over there). Have you guys hit up any craft fairs / art shows / farmer's markets in your area lately? Did you end up bringing anything home?
Psst- We announced the winner for this week's giveaway. Click here to see if it's you.