***This giveaway is no longer accepting entries – see who won below!***
We gave random.org the assignment again of helping us choose our winner and they chose… Sarah (who could think of 10 little projects that have added up that she could use this for). Congrats Sarah!
Since the early days of YHL, we've been buddies with the foursome over at One Project Closer. Ethan, Fred, and their wives Jocie and Kim dish up tutorials, tool reviews and decor posts to help us all get (say it with me) one project closer to our dream house. Recently they've launched a series of "Pro-Follows" where the boys tag along with professional contractors to document big projects like building a deck (which we may be referencing soon ourselves). But if that makes you break into a sweat, perhaps their new The Better Half section (where the ladies tackle design and craft projects) is more your speed. Whichever suits you, One Project Closer is helping someone get one hundred dollars closer this week with a $100 prize to the home improvement store of your choice. Now that should suit just about everyone, right?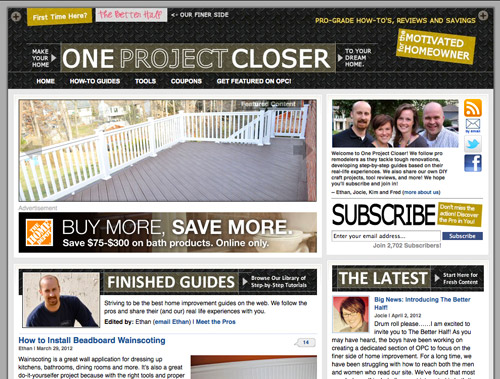 PRIZE: $100 to the home improvement store of your choice courtesy of One Project Closer
TO ENTER: Comment on this post with the words "GET ME CLOSER" and tell us…
BONUS QUESTION: … what house project do you want to be closer to finishing? Are you ready for that kitchen remodel to end (or to get started)? Do you want to get all of your spring cleaning out of the way? Or are you really just ready to be done decorating your bedroom?
GIVEAWAY CLOSES: Wednesday, April 25th at 8pm EST or at 10,000 entries (whichever comes first)
NUMBER OF WINNERS: One
PRIZE SHIPS: The lower 48 United States (although we do try to wrangle as many international giveaways as possible)
USUAL STUFF: One entry per e-mail address is permitted. The winner will be selected using random.org and announced on Thursday as an update to this post. That's right, come right back here on Thursday for the announcement of our winner. Good luck…
Note: We aren't paid or perked for hosting these giveaways, we just do 'em to thank you awesome folks for stopping in. See our Giveaway FAQ page for more info. Pics courtesy of One Project Closer.