Let's take a tour through some stranger's house, shall we? Actually, meet Karyn and Eric. There, now they aren't strangers.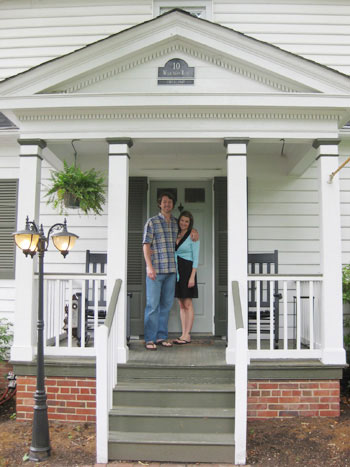 Eric is actually a well known house rehabber here in Richmond (here's his site) and Karyn is his lovely lady (she makes amazing jewelry by the way). They live in this charming and fabulous sixty-year-old home that Eric purchased years ago when it was in major disrepair. We're talking crumbling walls and old unusable bathrooms. But thanks to his handy house-fixing skillz, he whipped his new abode right into shape, and actually converted four of the other buildings on the spacious two acre property into fully functional guest houses which he now rents out to cover a huge chunk of his mortgage. Not a bed set-up eh? But enough chit chat, let's go inside.
This is their super fun game room complete with a pool table and an old wooden Ralph Lauren sign they snagged years ago when Bloomingdale's was getting rid of it. How fun and Americana is that with the navy pool table?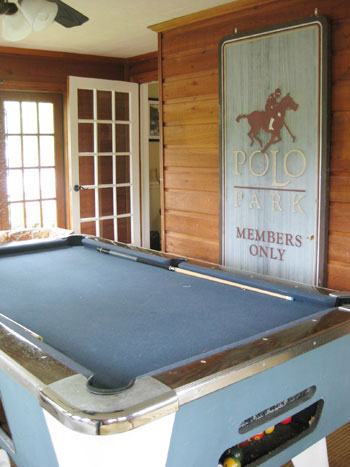 They also have these vintage honeycomb chairs nearby- with navy, orange and white upholstery (snagged at a thrift store). Aren't they cheerful and cozy and perfect for a game room?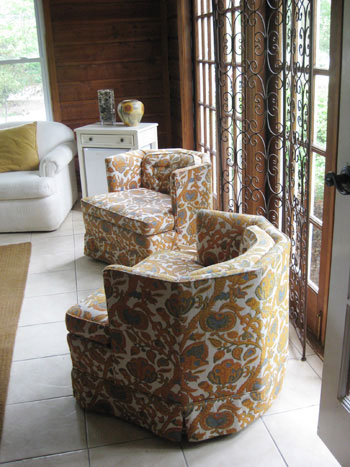 Every room of their house has amazing architectural detail that was either tirelessly restored or added by Eric. Here you can see that even the hallway has crisp chair rail molding and clean white trim that makes the house feel polished and stately.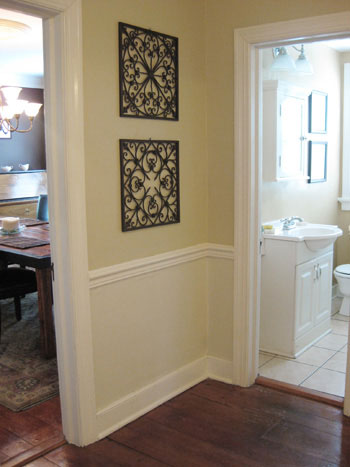 And this is the dining room that you see in the doorway above on the left. The deep slate colored walls and of course that gorgeous chair rail really give the room character while the refinished fireplace makes it feel even more inviting and warm. And I know you're staring at that gorgeous wood plank table so I'll spill the beans…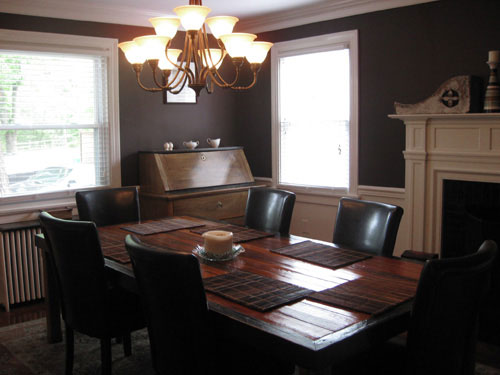 … Eric actually made it himself with reclaimed wood. And it rocks our world.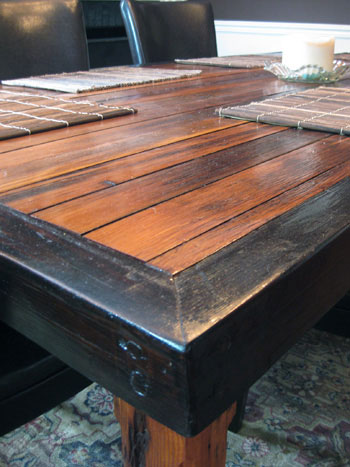 Speaking of rocks, Eric also redid the entire upstairs bathroom and added some really great stone work in the shower. Gotta love the combination of over four different types of neutral tile and those built-in alcoves for soap and shampoo.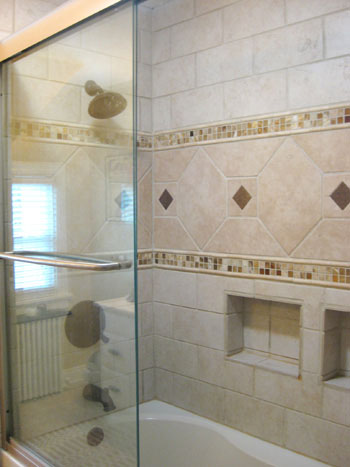 The living room has yet another amazing wood fireplace mantel that Eric took from old and crumbling to mint condition.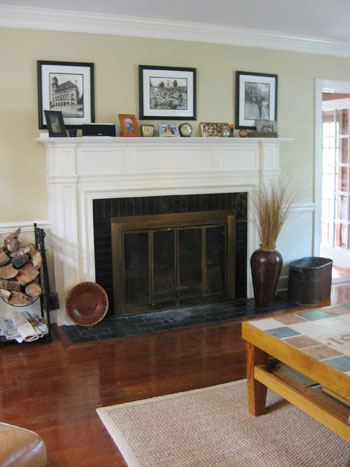 And the original kitchen got a facelift with painted cabinets, new knobs, and some new stainless appliances (the dishwasher's next). We love how the woven rug really keeps things feeling warm and rustic.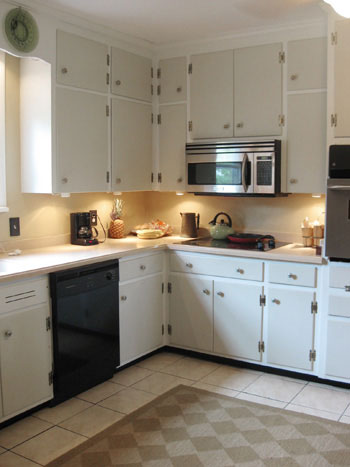 And the outside of their house is just as breathtaking as the inside.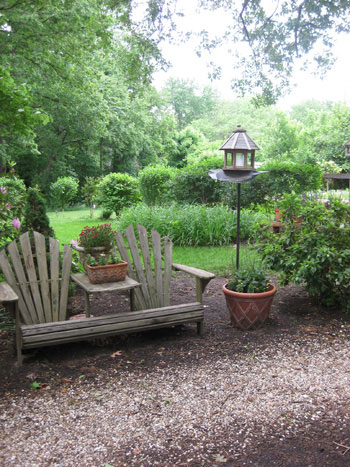 In fact, John's sister and brother-in-law actually got married here (feel free to house crash their fabulous modern masterpiece while we're on the subject). The rolling hills, blooming shrubs, and private woodsy feeling made Karyn and Eric's home the perfect place to say I do.
Off in the distance you can see one of the other homes on the property that Eric also restored and now rents out along with three others. Not a bad way to pay the mortgage, eh? And everyone still has a lot of privacy thanks to the shrubs and trees that envelop each property for that leafy and lush feeling.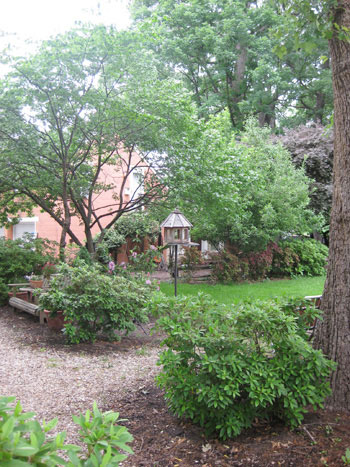 There's even a charming little gazebo behind Eric and Karyn's home, and they love to spend time out there planning future house projects (next on the agenda is a pergola that Eric will build using reclaimed wood columns!).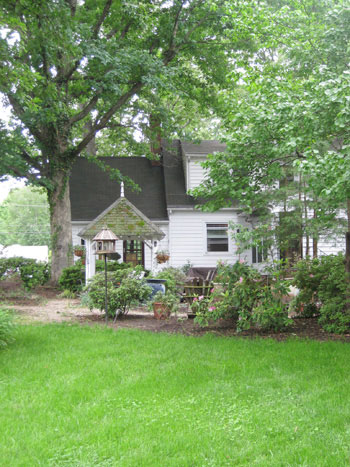 And we couldn't leave without sharing one of the smaller details that makes this house such a stunner. Check out the restored dentil molding above the front door and the custom plaque they had made to draw even more attention to the amazing architecture: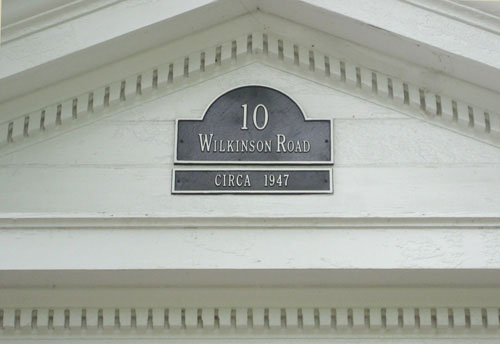 We also love that they added shutters to either side of their front door to give it more presence (along with plopping down two matching rocking chairs for inviting ambiance).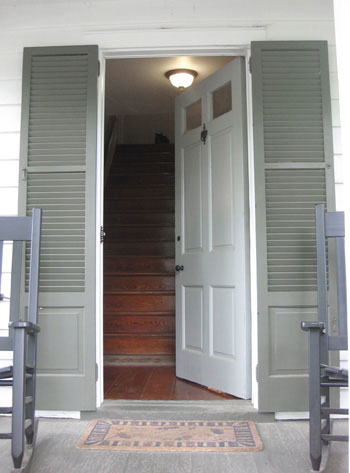 Thanks so much for skipping through Eric and Karyn's gorgeous home with us (feel free to pipe up with your favorite part!). And stay tuned for another home invasion coming soon…