Yup. I spray painted chairs. Upholstered chairs. Dude, I'm the first to admit it's weird. And it's definitely not the answer if you're sane. But when you're a desperate woman with nothing to lose, well… stuff happens.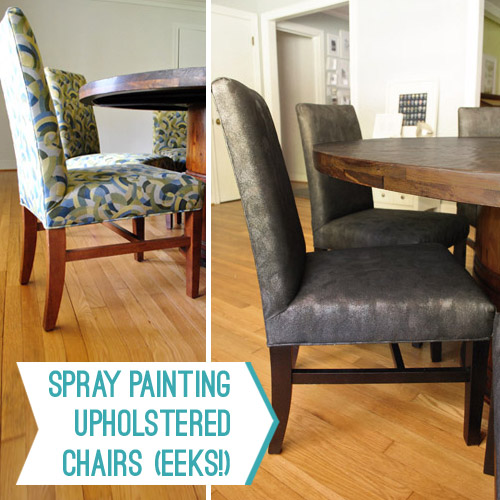 Remember these Craigslist chairs we found last March? They were originally from an old hotel (with faded and stained eighties fabric to prove it) but we got them for $25 a pop.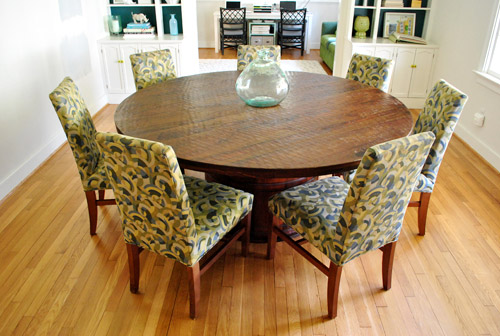 Then I tried to paint them a soft apple green color like a tutorial I'd seen, but didn't have as much luck (read more on that hot-mess here).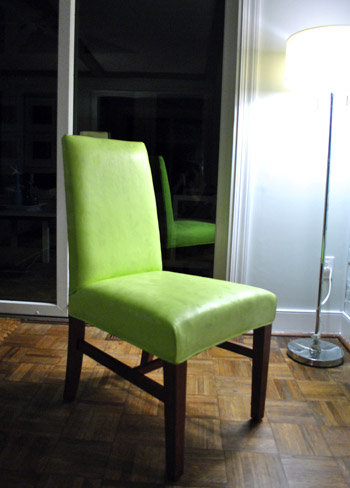 We were set on green for a while (not this neon of course) until we realized it's a ton of chairs in a room, so you don't want them all screaming for attention and stealing thunder from things like our patterned curtains and the boldly painted built-ins. That's when I got $20 off-white slipcovers for them from World Market (which clashed with the white trim and accessories everywhere – but were cheaper than buying fabric and making my own), so I dyed them brown.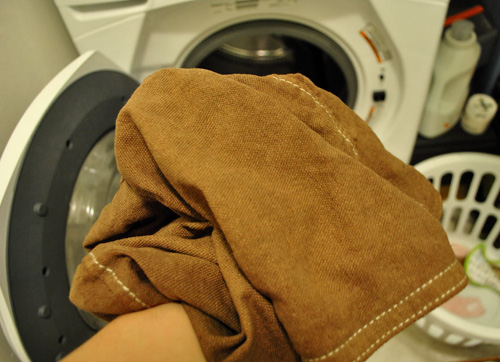 But the slipcovers were a little schlumpy. After they came out of the dryer they were nice and tight, but over time they got droopy and sad. They just looked a little loosey goosey and messy. Sure, I could wash them again to get them looking nice for another week, but that's a whole lotta work for something that should be low maintenance. Here in this pic from our House Tour page you can see the slipcovers looking a little baggy on the sides – and that's from far away.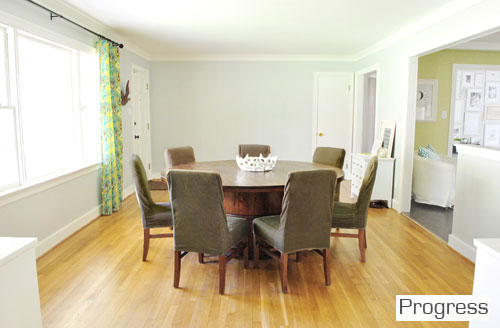 So I decided since I already painted one chair (and it works just as well as the others with the slipcover on it – it's literally impossible to tell which one is painted when it's covered) I figured I had nothing to lose by painting the rest of them (I could just cover them up again if they were blotchy and gross). And instead of using craft paint and textile medium (read more on why that didn't work out for me here) I woke up one morning and decided I wanted to spray paint them with this old friend: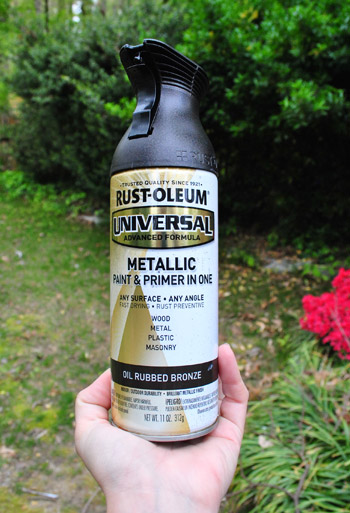 Who does that? $herdog does that. Beware of a woman with nothing to lose (and eight slipcovers to hide any potential disasters).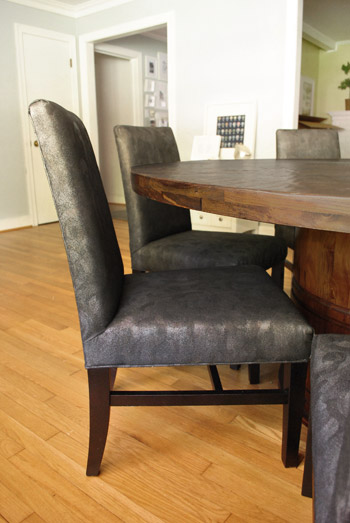 First I donned my trusty spray painting socks. Can your brain even comprehend this hotness?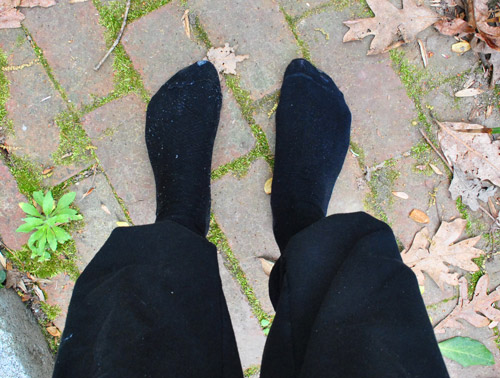 I must really love you guys to share such glamorous shots of my life, huh? I just hate potentially getting my shoes or my flip flops all sticky/painted, so my painting socks do the trick (with the bottoms of my sweatpants tucked into them, so I don't get stickiness on the bottom of my pants).
I started off slow. Really light light coats on just one chair. Nothing thick or drippy. Here's a shot of things when I was just getting started. I was biting. my. nails.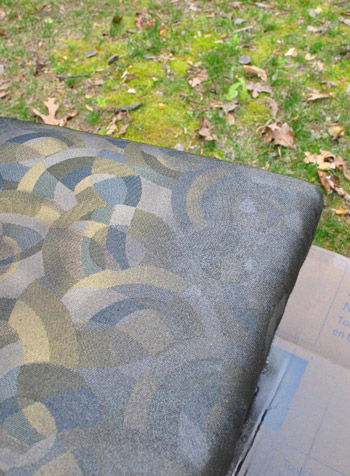 I expected a total disaster, but after a few more light coats applied pretty much one after the other (maybe four total?) my first chair was looking pretty good. I was kind of shocked, actually because I expected to just do one and hate it and toss the cover back on. You still see the pattern in the fabric since that's a texture thing that paint can't change (the actual fabric itself has those patterns sort of embossed into it), but instead of being a riot of crazy stained/faded/eighties swirls…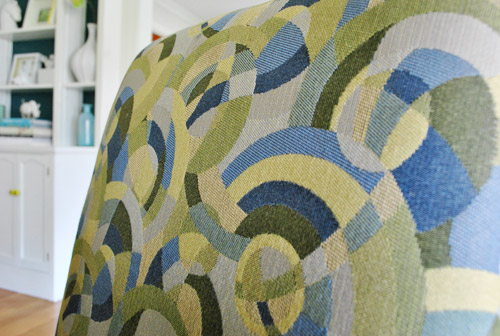 … it's all one color. A pretty gunmetal charcoal color. Almost the exact same color as Karl the Sectional actually. Which is funny because we have an avocado green kitchen between two rooms with soft gray walls (the living room and the dining room) both of which now have charcoal upholstery. Hooray for a little accidental house-wide balance. The funniest thing about the whole charcoal color result is that ORB is usually a dark brown color, but on upholstered chairs I guess things can get crazy. Imagine that. Ha. So I was expecting a dark brown look but I got a nice Karl-ish color instead. Which was a nice surprise. It's like hoping to find a half-eaten box of raisins in the bottom of your purse when you're starving and finding a granola bar instead. Cha-ching.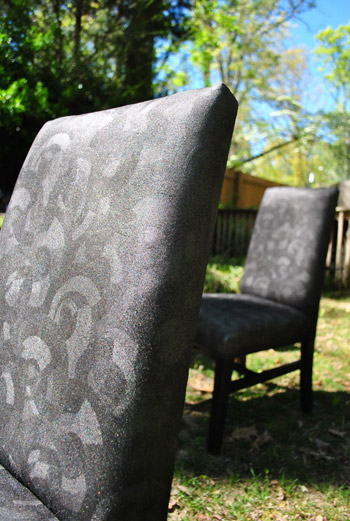 As for the spraying specifics (you know, for any other nuts out there with nothing to lose and thrill seeking spray painting tendencies), here's a post with my general spray painting tips (like buy the good stuff, mist things to avoid drips, keep your hand moving, etc). There's a slight metallic sheen when the light hits the fabric just right thanks to the type of spray paint we used (Rustoleum Universal Metallic in Oil-Rubbed Bronze), but they don't look like Liberace chairs. It's more of a subtle thing at the right angle, but most of the time they just look like charcoal gray fabric. Also, from certain angles in certain lighting you can hardly see the pattern in the fabric and other times it's more obvious, but it's much less offensive now that it's all one color. The pattern is actually more noticeable in some of these pics than in real life (must be how light bounces off of them into the camera or something? No idea).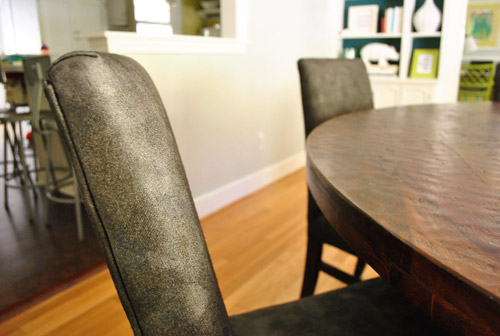 I spray painted the slightly-banged-up-formerly-more-reddish legs as well, which turned out a lot more like the typical ORB color (dark chocolate with a bit of metallic sheen). They're our favorite part, because whether we decide to add the slipcovers back on or even reupholster these babies down the line, those sexy ORB legs will always be around.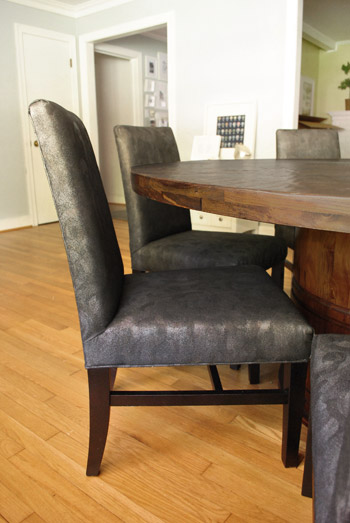 Here's a slightly inaccurate long shot of them in the room. Haha. They look darker and more patterned in this photo than in real life. We can't wait to add a giant chandelier over that 70″ table and bring in a nice large rug to break up all the wood (wood floor, wood legs, wood table). And of course it looks less like a black hole with a colorful runner and some dishes on the table. We'll eventually refinish the floors to be the same color as the one in the kitchen, so the future rug (perhaps something big and jute?) will be lighter and should help the darker legs/table and floor pop while keeping them all from blending together in one big mocha-wood-fest. Someday…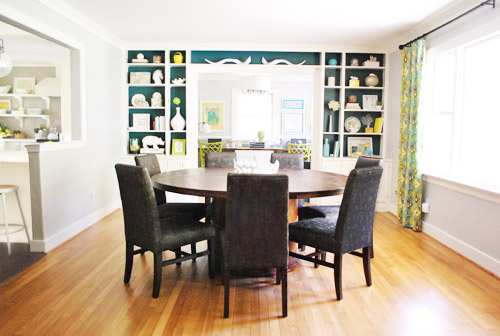 The big question is probably "what do they feel like?" I went into it thinking that a few coats of spray paint might make them feel rough like burlap or thick like leather, but they feel pretty much exactly like the original durable-hotel-upholstery fabric felt beforehand (which was always firm and not too soft, but not crunchy or anything). It's kind of hilarious that they didn't really change. The only way I can explain this phenomenon is that I've noticed when I get spray paint on a pair of painting pants, for example, they still feel the same (just as soft in that spot, but they're a different color). Maybe it just goes on thinner than paint applied with a brush or roller so it's less obvious on some types of fabric?
Update: A reader (thanks Krystie!) cracked the code by reminding me that the reason it worked so well on these chairs might have been because the hotel fabric is a Crypton (which means it's coated in a protection to keep anything from penetrating – so the spray is sitting on top and not soaking in and getting crunchy/blotchy).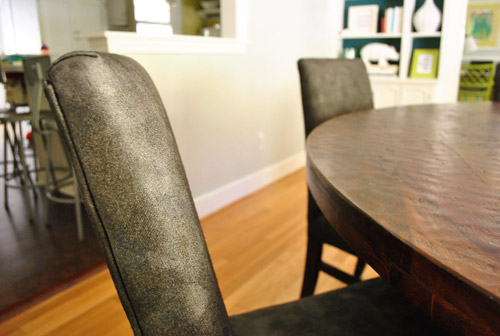 But let's be clear. I never (inamillllllionyears) would have had the confidence to give this a try if we didn't already:
paint one chair green and know that it worked just as well as the other unpainted ones once the slipcover was on it
already have slipcovers to hide my little paint job if it went bad (not much to lose there since they can be covered)
Remember, I was a woman with nothing to lose and a deep love of spray paint. I have no idea how other fabric would do, but these chairs were made out of thick upholstery grade fabric, so it wasn't as soft as cashmere to begin with. But if you're dealing with something like velvet or silk, the spray paint could very well make it crunchy and hard. I'm 100% certain that different fabric or even more thickly applied spray paint (or a different brand/type) could yield different results. Maybe you can find similar fabric to the item of furniture you're thinking about spraying and just apply a few light and even coats of spray paint on your test fabric to see how it works out first?
Another question might be "if someone sits in them, can they rub off on their clothes?" After allowing them to dry a while (we left them outside for four days after making sure there was no rain in the forecast) they're all cured up and don't smell like spray paint. And just like dried spray paint that gets on painting clothes, they shouldn't rub off (I wash mine and they remain ORBed and don't bleed on other clothes – even when they're wet in the washer). If someone spilled water on the chair it shouldn't rub off since it's oil-based paint. I even rubbed a wet white rag on them to make sure nothing transferred.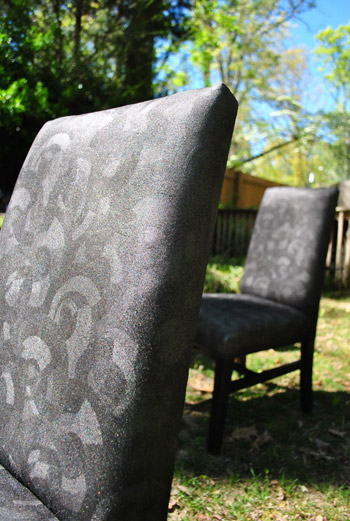 As for how we feel, we're still sort of on the fence. They're definitely better (muuch better) than the green painted chair debacle. And in person we think they're marginally better than the baggy slipcovers. But we'll probably recover or replace them someday down the line – so I think the verdict is "fine for now." We still have the brown slipcovers so we can always throw those back on or somehow tailor them someday? No idea. It would be cool to learn how to reupholster them or sew better slipcovers but with eight chairs it's too big of a job for right now, so we're happy to live with what we have. Who's on Team Gray? Any Team Brown folks? Anyone care to join us on the fence? I don't think there are any Team Greens out there, are there?
There's probably a lesson in here somewhere about how $25 craigslist chairs might not always be the answer if they have a crazy pattern and don't fit typical store-bought slipcovers. Ah well, live and learn. At least they've served us well for the past year and will seat our sweet family whenever they come over until we figure out what we want down the road. Has anyone else reached the end of their rope and spray painted something in an act of defiance and desperation? Can you believe I've painted, slipcovered, dyed, and re-painted these guys? One thing's for sure, I'm a stubborn gal and I just can't leave things well enough alone.