Alternate post title: "In A Minute, I Have To Hairdry The Chair"
Guys, I did something crazy. Since we'd like to take our $25 hotel-ish dining chairs to a crisp not-patterned apple green (the curtains I want to make will be patterned, so I just want chairs in a fun color but without a pattern that I'll tire of) I decided to paint them.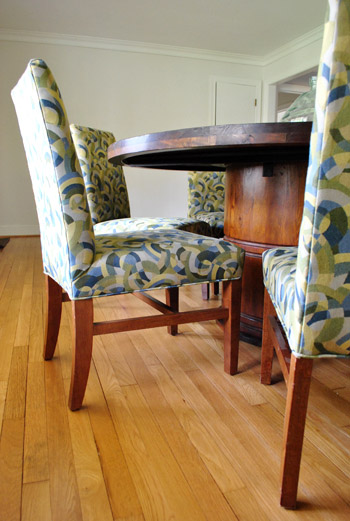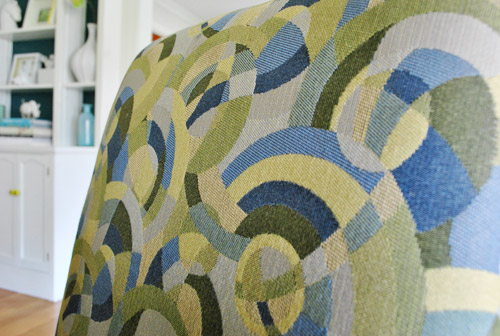 I know. Insane. But I didn't think I had much to lose since the backup plan is to reupholster or slipcover them (both of which would still be entirely possible if I didn't like how the whole painting thing turned out). I went into it as a hmm-this-experiment-should-be-interesting thing. Nothing was guaranteed and I felt like a crazy person the whole time. Yup, I was skeeeeered. I mean who paints a chair? Well besides a few amazing bloggers who have posted about how well it went for them. For example, this tutorial was up on my iPhone the entire time for reference and encouragement. Just look at Kristy's amazing chair transformation. She did that with paint!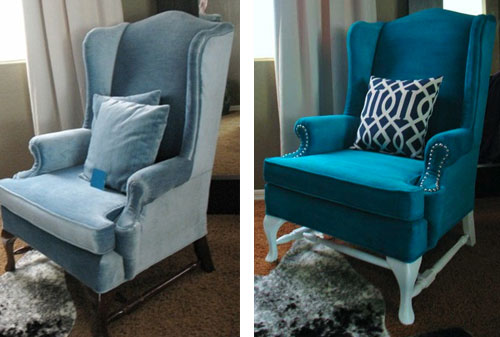 So here's how it all went down. I pretty much just based my method on Kristy's breakdown with a bit of flexibility since the directions on some of my supplies conflicted with a few steps. And speaking of supplies, here they are (that's the Top Chef finale in the background BTW):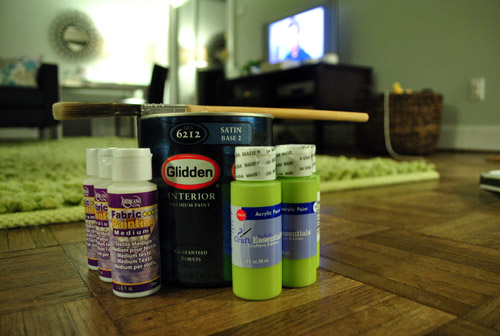 I got three tubes of "Fabric Painting Medium" and three tubes of acrylic paint in cheerful apple green from JoAnn Fabrics for under $10 total. I also picked up a quart of satin interior paint by Glidden in Granny Smith Apple (I thought it was meant to be since I've always talked about "apple green" chairs).
Then I just followed Kristy's directions for the most part (admittedly not to the letter because I was also trying to adhere to the instructions on the back of my specific fabric medium, so I tried to walk the line between those and Kristy's) and mixed one part latex paint and one part textile medium in a bowl. In order to get an even ratio I even got all type-A and dumped out the fabric painting medium into a measuring cup so I would know how much paint to add to keep the amounts equal. Here you can see that it was about a third of a cup: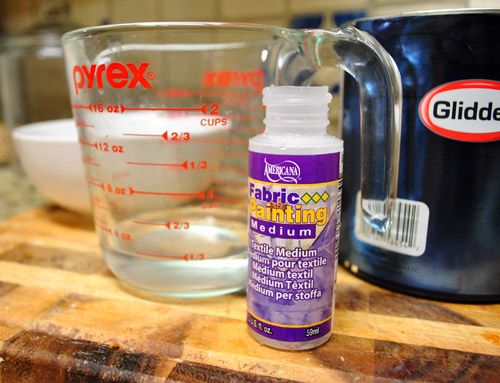 Of course I accidentally dumped way too much paint into the measuring cup so I had to pour a good amount back into the can, but I was definitely happy that I wasn't just trying to eye things (would've had way too much paint in the mix).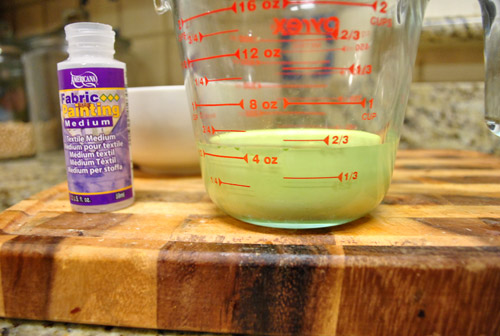 Eventually I got down to a third of a cup of latex paint and poured that into the third of a cup of fabric painting medium that I already had in the bowl.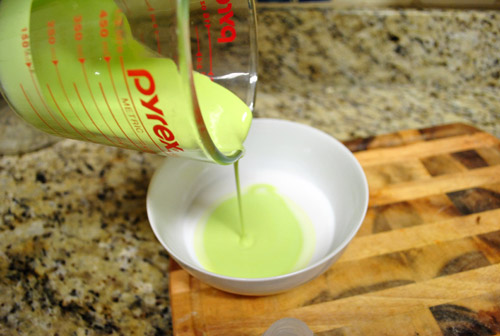 And mixed that up with a brush that I had on hand. I was a little worried because the whole thing was looking pretty yellow but paint is always kind of an odd color until it dries and gets darker.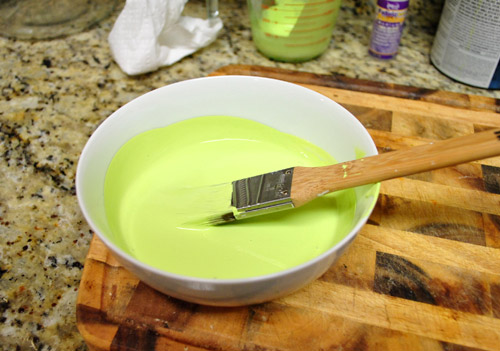 Then I added about a quarter of a cup of water to the bowl to thin things out a bit per Kristy's suggestion. Next up was spraying down the chair with water (I reused an old cleaning bottle) so it was moist and ready for paint to glide over it evenly (instead of soaking up too much and getting all clumpy).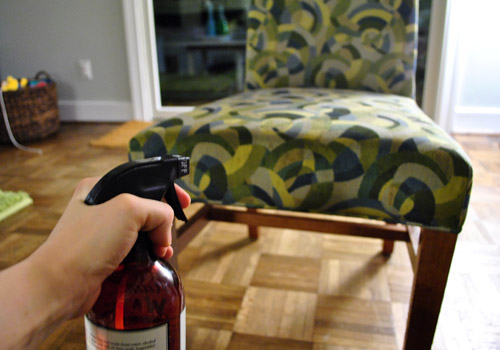 Here's an in-progress painting shot that John grabbed over my shoulder as I went (I was too afraid of getting it wrong to stop and pose for a clear pic).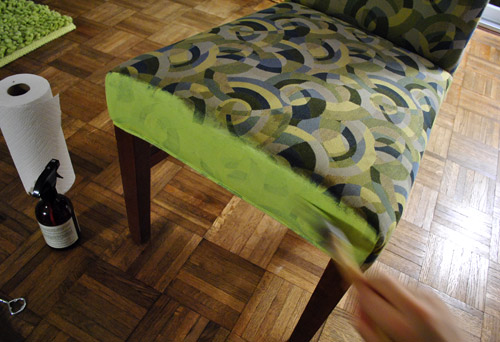 And here's the after. Well actually I still had a few more steps left, hence the "wait a minute I have to hairdry the chair" title. John asked if I wanted to watch The Soup and I said, yup you guessed it: "wait a minute I have to hairdry the chair." Which struck John as hilarious for some reason (I can't imagine why) and he proclaimed that it had to be the title of this post.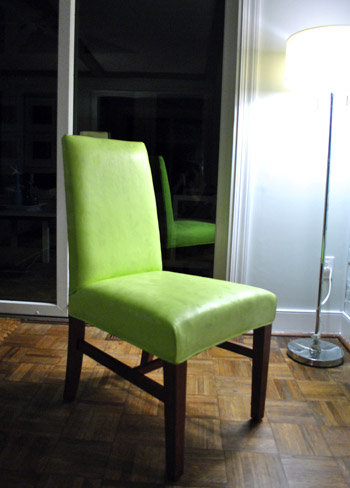 The reason I was supposed to hairdry the chair was to set the textile medium (it needs heat, and when you can't toss whatever you're painting in the dryer, like a chair, you can apply heat with a hairdryer. But I reread the instructions on the textile medium tube and it said that I had to wait a day for the heat-setting step. So we watched The Soup and my crazy painted chair sat in the corner of the living room drying.
Here are a few first impressions:
It's way too neon and not as apple green as I'd like (my fault since I chose the color, but that could be fixed with different paint).
Man, that took forever! Over an hour and a half to paint one chair (I applied a few even coats for better coverage). That factors out to 12 solid hours to do all eight chairs.
It looks kinda cheap and those annoying swirls in the fabric still show through. See?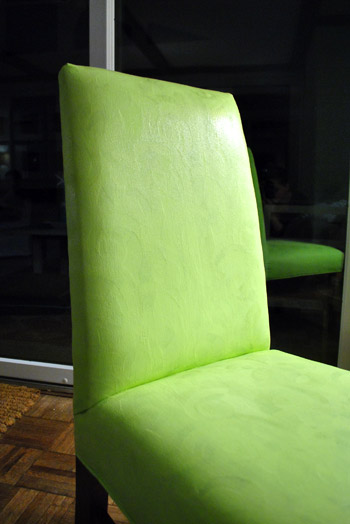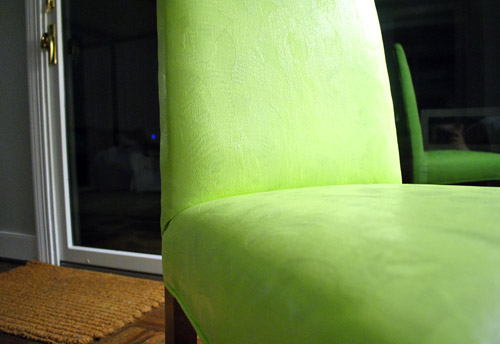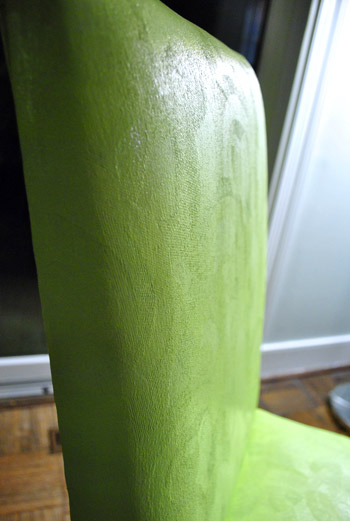 And here's where we ended up after sleeping on it:
Slipcovering or reupholstering is a better solution for us since we're not happy with the swirly texture that still shows through, the semi crunchy feeling (they're not as smooth as vinyl, more like a rough burlap), and the odd look of painted seams (the flat parts of the chair don't look as crazy, but the seams/folds in the corners just look gunky and unconvincing – as if they've very clearly been painted – since they have).
This method is obviously one of those it-depends-what-you're-painting experiences. Because seriously, how amazing is that turquoise painted chair at the top of this post? I'll save you the scrolling trouble. Here it is again (with a full tutorial here). So inspiring, right?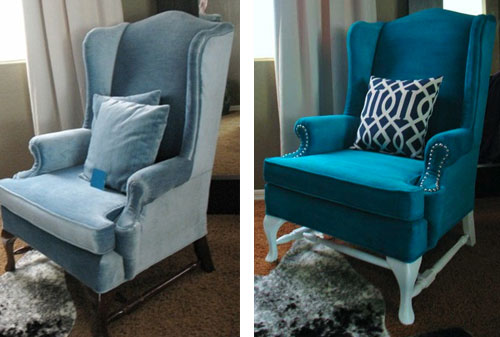 And although we didn't have the same success, we're glad that we tried this whole crazy process just to have it under our belts and share it with you guys (well, we didn't end up applying the last coat of acrylic paint to finish things off because we decided to abort the mission, but I did later hairdry it to set it). And it's definitely set for good, so for anyone wondering if a painted chair will rub off on the person who sits on it, nope. It's just like how you can wear and even machine wash your painting clothes over and over again without worrying if they'll smear. Once that paint is set into your shirt it's hard and permanent (and the fabric medium is meant to help soften the paint so it's less crunchy, in case you're wondering about that additive).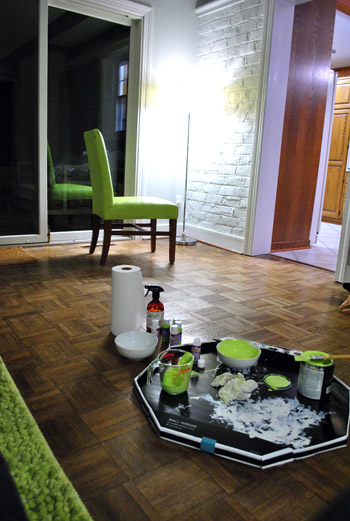 So as of right now the green painted chair is living in the crazy cluttered playroom while the other seven unpainted chairs are still hanging out in the dining room waiting for reupholstering or cheerful apple green slipcovers.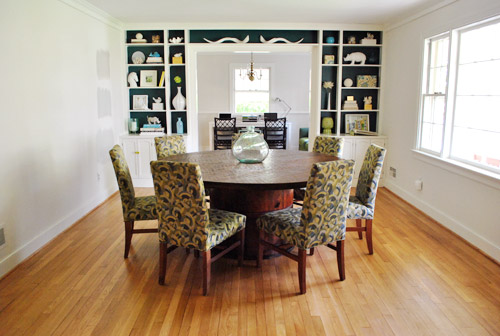 We'll keep you guys posted as this crazy chair adventure continues. Who knows where we'll end up (our guess is slipcovers but you never know)…
Psst- We're talking about how kids never fail to want the only non-toy items within their reach (the remote, your cell phone, the keys, your sunglasses) and we're divulging Clara's very favorite (and admittedly very weird) not-a-toy toys over on BabyCenter.