Guess what arrived?! I'll give you two hints: this and the photo below. Admittedly, both are very strong hints. Maybe I need to work on being more mysterious.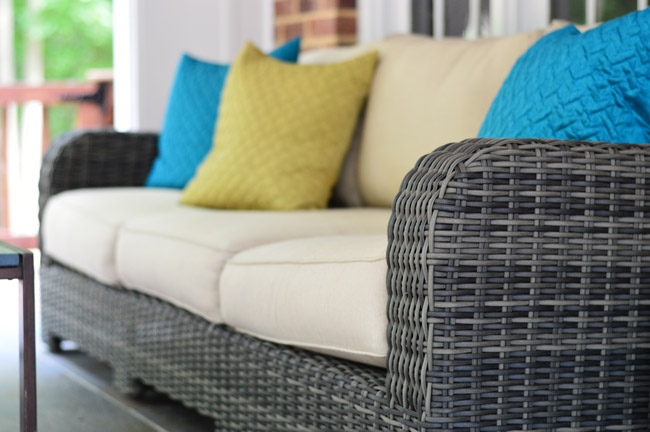 Despite Sherry's promises to throw a ticker tape parade when our new outdoor sofa showed up, its arrival was unceremonious. Sherry was on a conference call. A big truck pulled up. I handed off the baby to Sherry and ran outside. A big box came out of said truck. Yada yada. Clara was out with Grammy, but when she arrived home she declared it "perfect!" and said "I love it!" and that was that, as you can see in the video below.
What you can also see in the video below is the last appearance of that old white coffee table, which has been a staple in all of our sunrooms to date.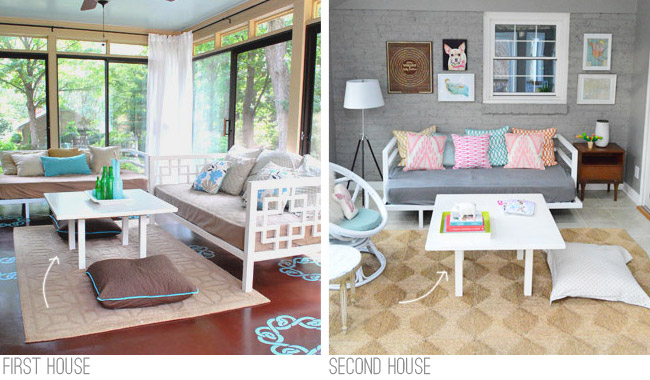 The table is actually a big thrift-store tabletop that we screwed onto an Ikea Lack table, so it was a temporary solution that has long overstayed its welcome. Keeping it outdoors for nearly a year finally put the last nail in its coffin. So if you ever wondered how Lack tables respond to moisture…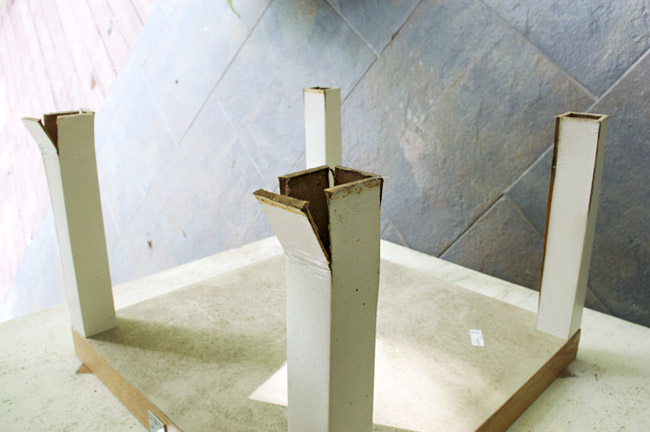 We had been planning to replace it with another table that has been with us through three houses, but were just waiting for the sofa to arrive to get started. It's the metal + glass thrift store table that anchored our first living room and enjoyed a brief stint outside at our last house.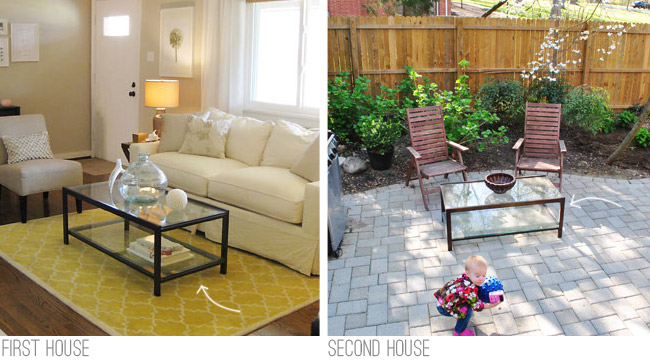 The time that it spent on our old patio taught us two things – the metal is great outside, but the glass is not. We were constantly cleaning pollen / dust / watermarks off it, so it always looked foggy and dirty. So we decided to make a wood top that might be a bit more durable (and will hopefully hide a lot more dust/dew/etc). We kept the glass in case it ever comes back inside, but for now the metal frame is the only part coming out of storage.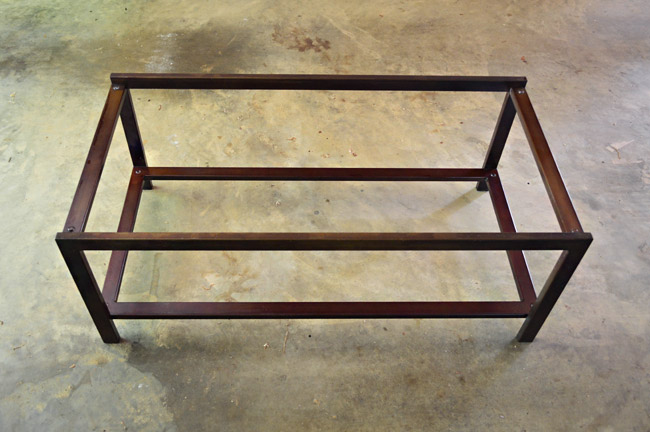 At Lowe's we found this $19 pre-cut panel that was the exact width (20″) and depth (3/4″) we needed, so we happily accepted the shortcut from having to cut a board to size (although this one did need a little trim on one end).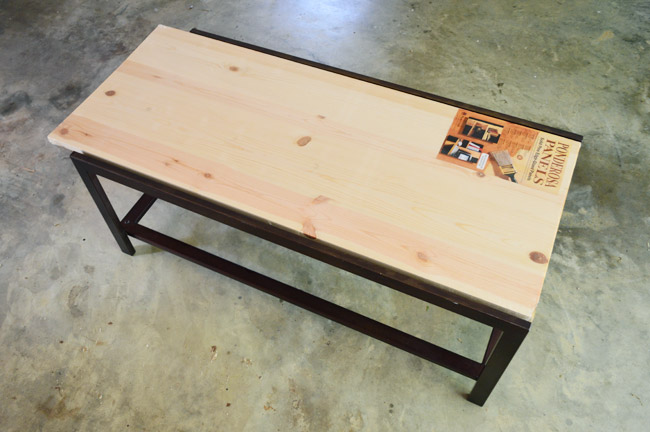 Our main concern was keeping the board from warping – either in moisture or under the weight of items on the table. If we used something thicker, the top wouldn't sit flush with the metal frame – so I did my best to reinforce this panel with some x-bracing underneath.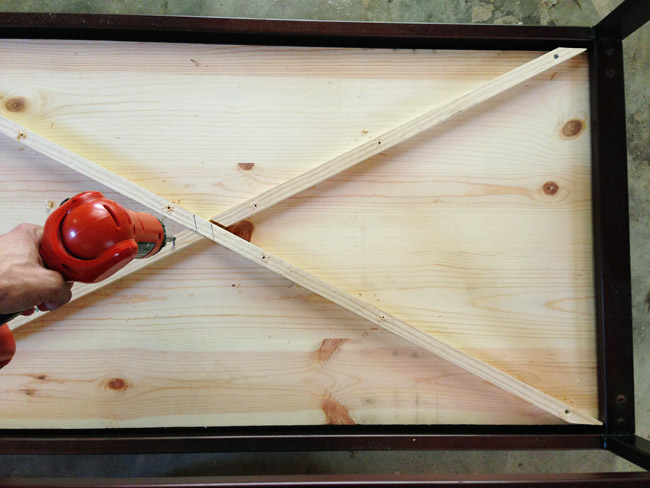 I ripped a 1 x 3″board in half on my table saw (any thicker and it would have poked out below the metal frame) and cut it to length so that it would sit in the X-shape that you see above. To make them nest together in the center, I marked where they crossed and used my table saw – set very low – to notch out a groove on each board. They weren't perfect, but it worked!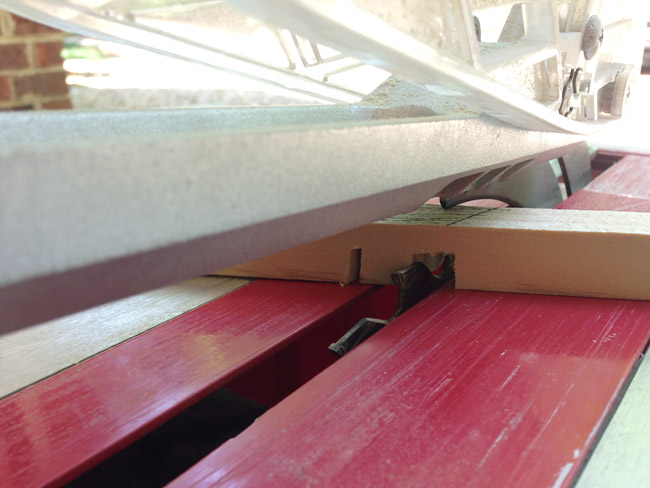 We loved the look of the raw wood against the metal, but in the room it just looked unfinished in combination with the new sofa. Since we knew we'd need to stain and seal it for protection against the elements, we decided to be a bit adventurous.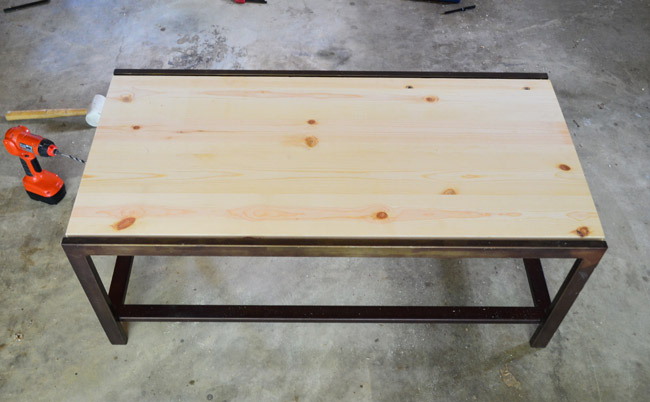 So yeah, we got blue. Specifically River's Run Semi-Transparent Stain in Olympic Maximum, which is not only used for outdoor furniture, it can also be used on decks and fences.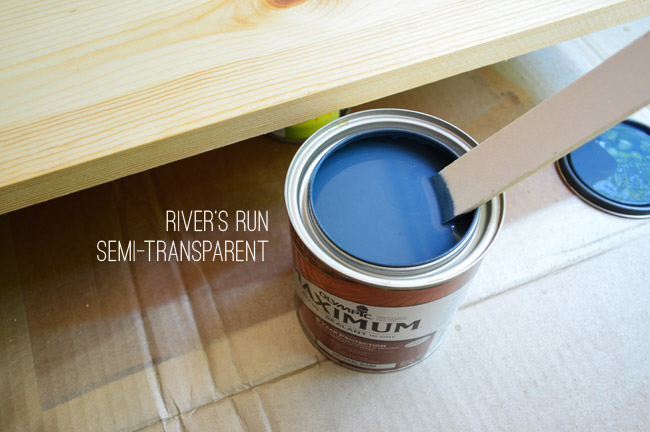 Since going with a colored stain was new to us, we did some tests on the spare piece of tabletop that I had trimmed off. After applying some Minwax Prestain Wood Conditioner to the whole piece, we tested out what one coat of River's Run would look like vs. two coats. And then for kicks, we brushed a quick coat of Dark Walnut stain on the end of each swatch to see if we liked the slightly warmer, more aged look of those two stains in combination.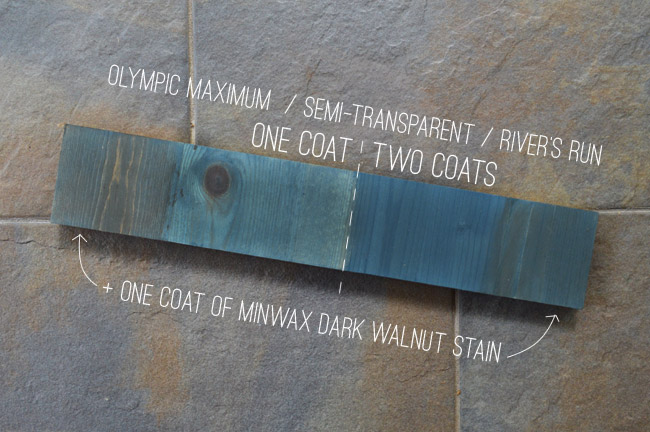 We decided to go with the simplest option: just the one coat of River's Run. Two coats felt a bit too intense (almost like it was painted, not stained) and the Dark Walnut overcoat was too brown against the metal table to the point that it sort of looked muddy/dirty when we held it up next to it.
With that decision made, we just followed the staining instructions after applying the same Minwax Prestain Wood Conditioner to the wood (remember when we learned how much of a difference that made back here). You basically just brush it on, and it looks crazy-blue and scares you (see below) but once you let it soak in and dry, it ends up being a nice subdued tone…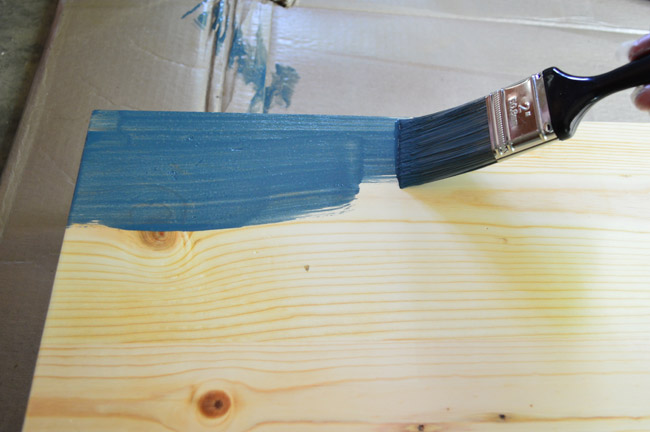 … like this: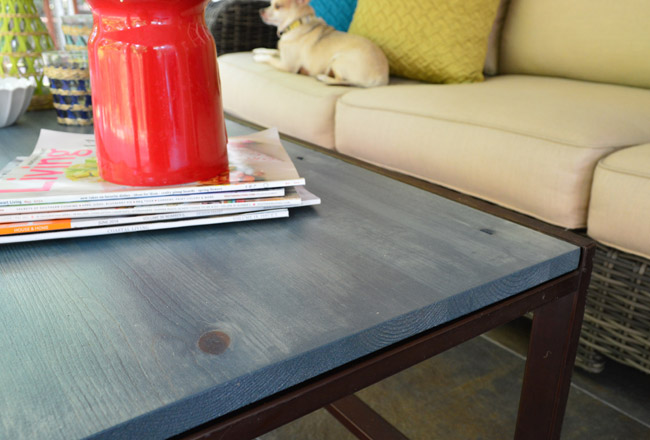 Oh but after our single coat of stain was applied and had dried (on both sides) we did elect to brush on three coats of Safecoat Acrylacq as a sealer (to the top and bottom of the board). We really want this thing to hold up well outside, and when it rains really hard the table in here does get coated with a fine mist of water, so it felt like nice added insurance.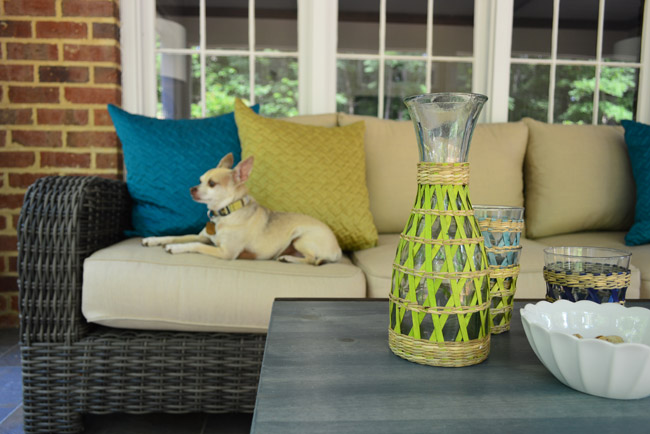 Going back to the sofa for a minute, we're really happy with it so far. We love the slight color variation/striping in the wicker and the whole things feels very sturdy while still being comfortable. The cushions are nice and dense, so they don't feel flat or too floppy (which hopefully bodes well for their durability). If anything, they feel like they need to be broken in a little, but we're already hard at work on that task. Burger takes his job very seriously.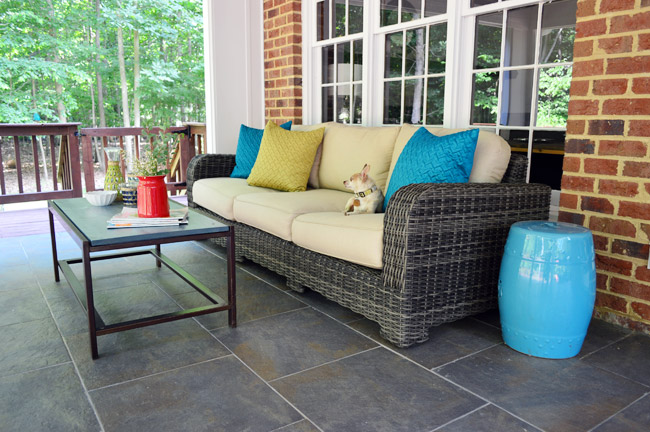 I was a little wary of how the blue tabletop would work out, but I'm pleasantly surprised at how well it works with everything out there. It brings out some of the blue undertones in the tile while still looking rustic enough to contrast with the metal base. And maybe it's just the sky reflecting off of it, but even the woven part of the sofa seems to have a hint of blue going on.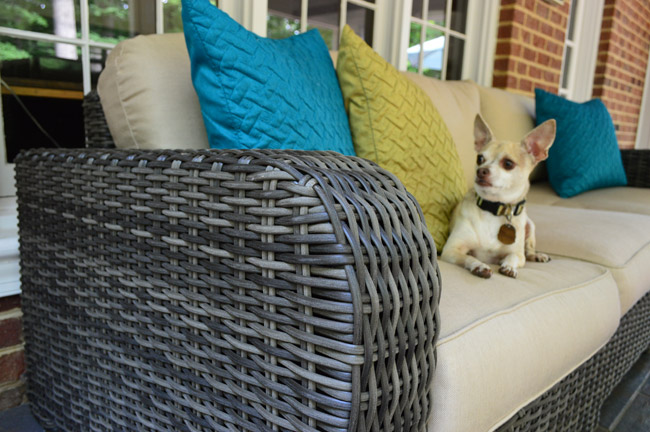 It's pretty exciting to finally have some real furniture out here. We pretty much live out back in the warmer weather, so having a nice shaded place to lounge is well overdue.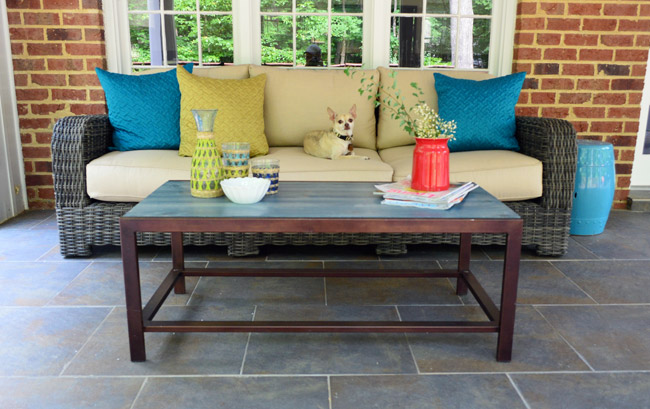 The rest of the sunroom is still looking pretty empty (which is why I opted to photograph these so tightly) but we've already set a plan in motion for filling things in and adding more function/seating. After all, if we ever plan to reclaim the sofa for ourselves we'll need to give Burger another alternative.
&nbsp
As promised, we're back with the details of how we organized the six new shelves and eight new drawers in our office, along with the drawers in my floating desk and the filing/printer cabinet on the other side of the room. In other words: what went where.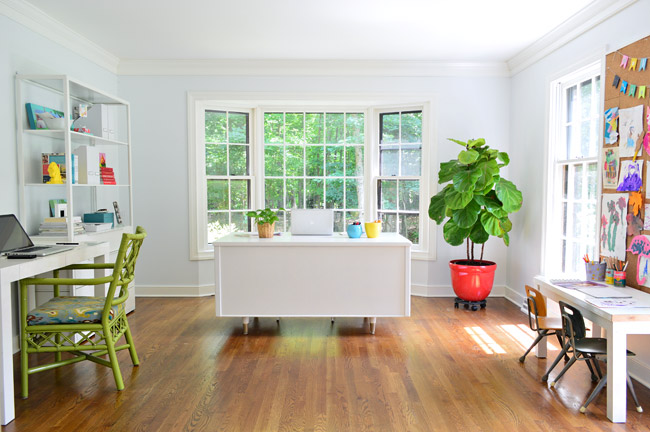 It's awesome to have so much more storage space, both out in the open and behind closed doors, so let's spin over to the left and face our new desk/bookcase wall first.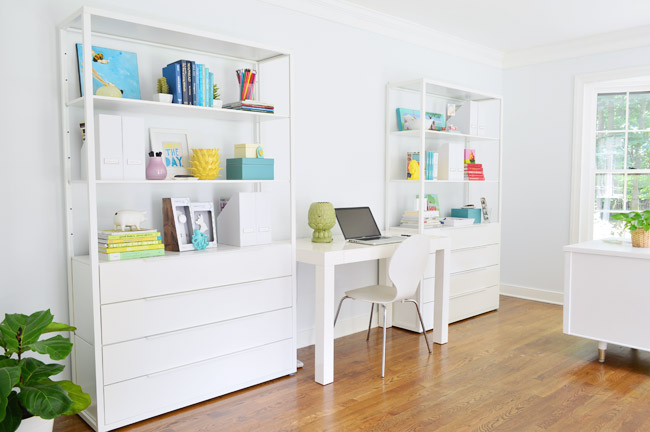 Here are the animated GIFs that John mentioned on Monday. You were on the edge of your seat for these, right? Or were you excited about donuts? I can't remember. Here's the bookcase to the left of John's desk coming together in GIF form: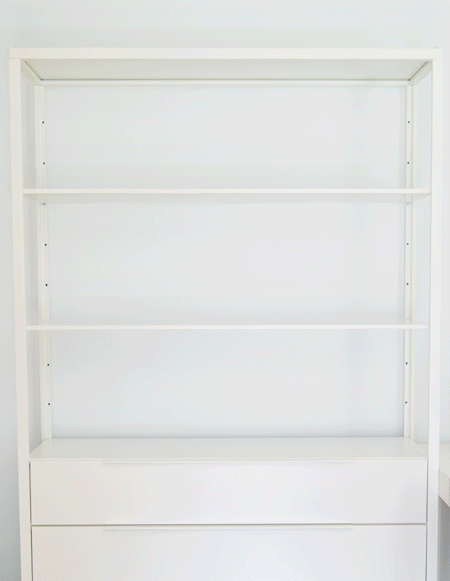 And here's the one to the right filling up in fast motion: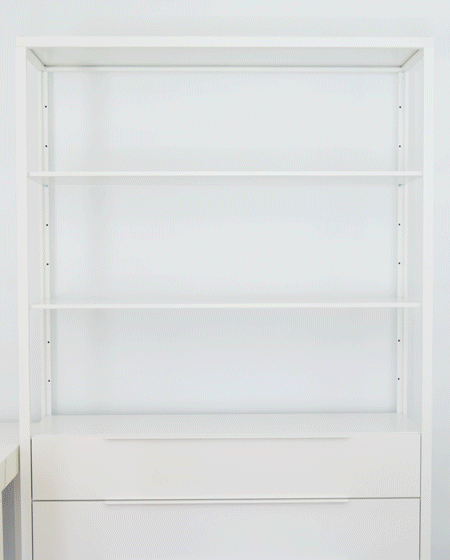 Between both sides of the open shelves, we managed to work in eight magazine storage boxes (from Target). We used them to hold our press stuff since we've saved magazines with a mention/feature of our site or any column that we've written. Now instead of shoving them all into various cabinets in our dining room buffet (where we used to keep them) we finally have them all organized by year with little tabs on that page. It makes it a lot easier to find things.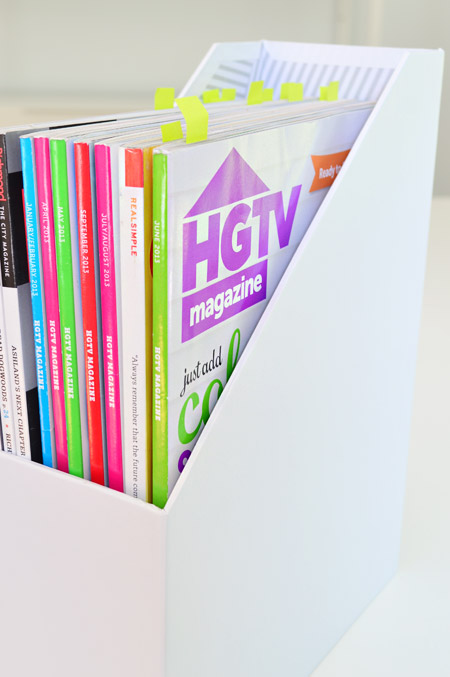 We also brought out a bunch of books that we had stuffed into our kitchen cabinets, and added a few decorative boxes that we already had (the blue ones are from Bed Bath & Beyond when I was in college, and the cream one is from HomeGoods last year). They're loaded up with various office supplies that we didn't want crowding the surface of our desks.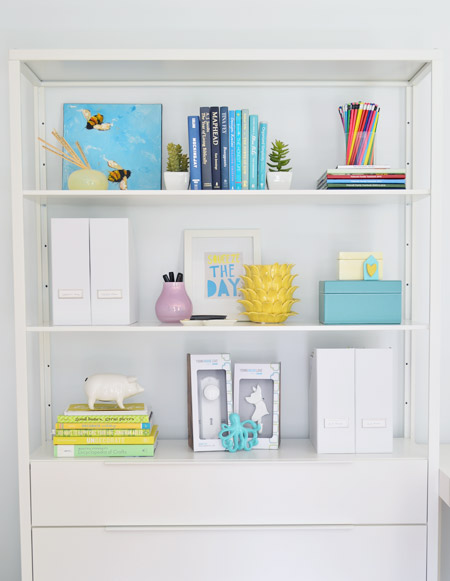 We also included some of our hook designs (some in the packaging, and some out) along with a few copies of our book (the English version and the Korean one) since we figured an office is a good spot to display some of the stuff you've made, and if we ever have anyone over for a meeting we can grab a few copies of our book or a product or two from the office shelves.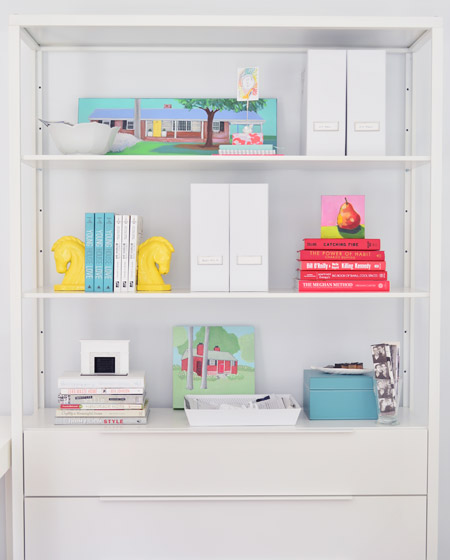 A too-pretty-to-hide-in-a-drawer stack of notebooks and post-its ended up in the mix too…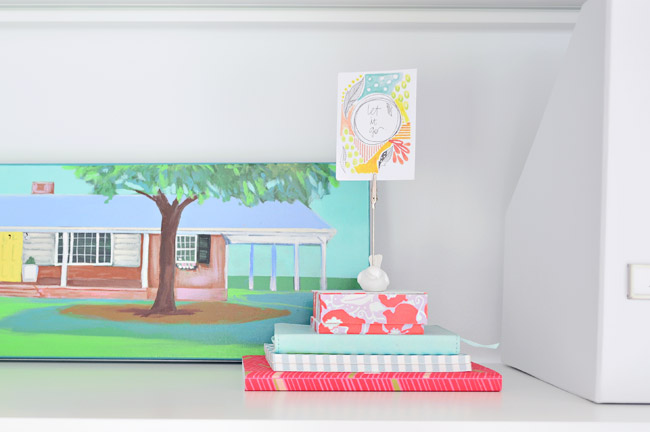 … along with an "inbox" for the magazine tear sheets that used to collect on the kitchen table or the back of the couch. I have binders with clear sleeves where I eventually file them, but now they have a drop zone until I do that, which is nice. Even got to use one of our octopus hooks as a paperweight.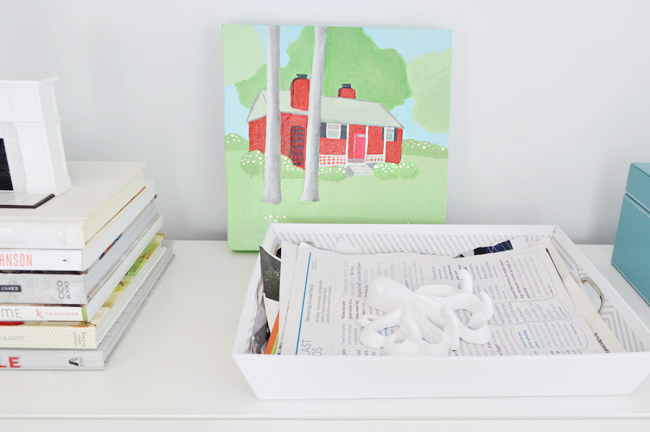 There are also deceptively decorative things that are actually up there multitasking for hidden functional reasons, like the spiky yellow HomeGoods vase which is where we stash our wires (extra chargers, headphones, uploading cords for the camera, etc). It's nice to keep those less-lovely things (like a big mass of wires) incognito, but easy to grab. And the little zebra dish holds magnets for our magnetic frame wall along with a pink vase full of dry erase markers for that zone.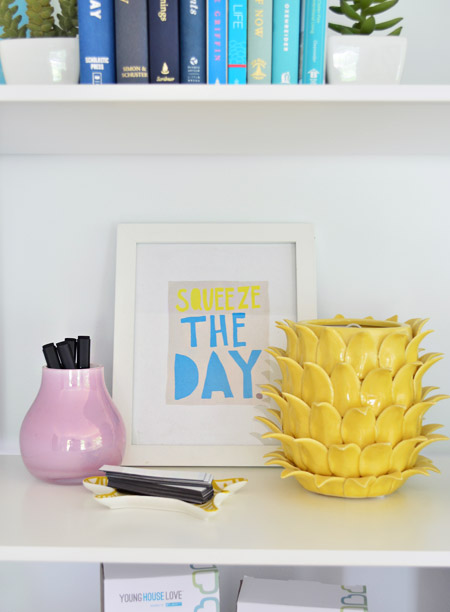 And we finally have a spot for my yellow horse head bookends (remember these?) which add color but also do good equine work (way to hold those books up, stallions).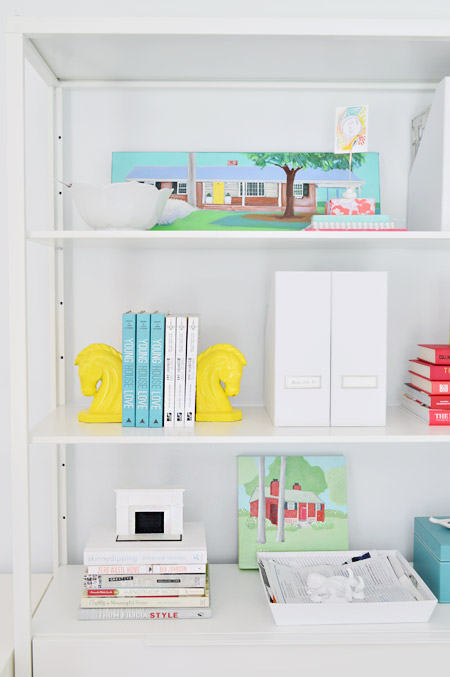 There are also a few purely decorative objects in the mix, just because they make us happy. There's my wonky little painting of our first house along with a painting by my friend Lesli of our second house (she surprised me with it as a holiday gift shortly after I painted our first one). And we can't forget about the awesome replica of our fireplace that Lisa made us.
I also put our little bee painting up there along with a catalog tear-out from Boden that says "Squeeze the day" to add a little office cheer/inspiration – and I found a spot for our family yearbooks. I love seeing that colorful little stack of them, complete with a cup full of Young House Love pencils in every color of the rainbow (a super sweet book tour gift from 2012).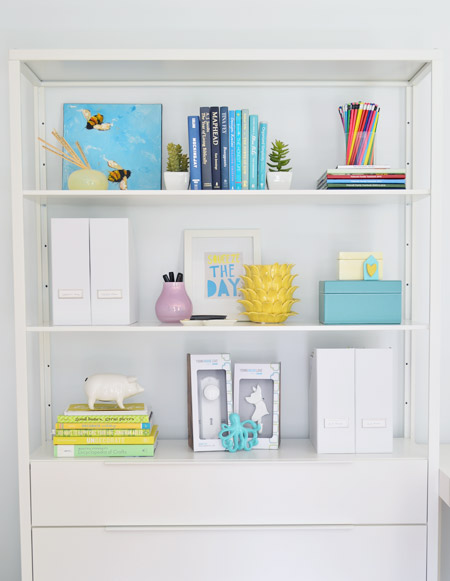 Speaking of bees and stuff that makes us happy, it was pretty hilarious to have our little bumble girl playing dress up and making bead necklaces at her little desk while we sorted and filled our shelves and drawers.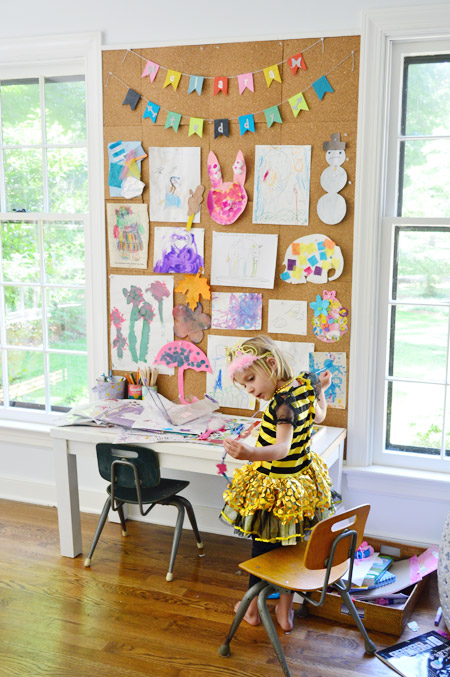 In the drawers to the right of John's desk, we have two empty ones (room to grow = the best feeling ever) along with one that's half full of paint decks, and one that's full of the magazines that I love too much to throw away (like every original issue of Domino) and some catalogs that we reference from time to time.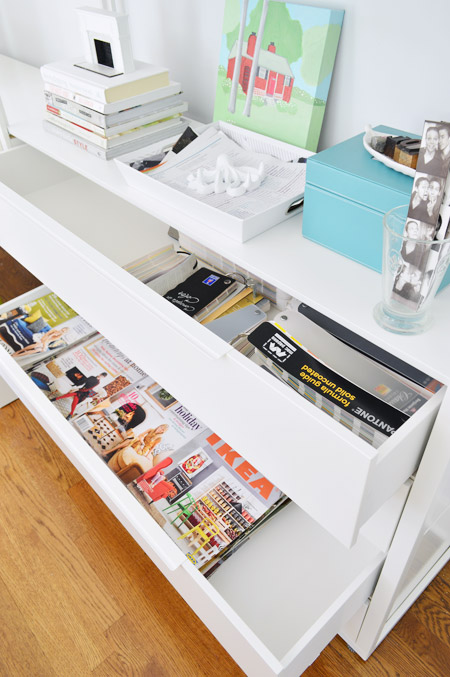 The drawers to the left of John's desk are where we have the more office-related things. The two that are closed in this photo are full of design prototypes that we're currently developing/tweaking, and the top open one is full of tax stuff (receipts, file boxes of back taxes, quarterly stuff to fill out and mail in, etc). The bottom open one has back-up external hard drives, old notebooks full of info that we still need, and a large ziplock bag full of miscellaneous instruction books and warranties for things like our printer, camera, etc.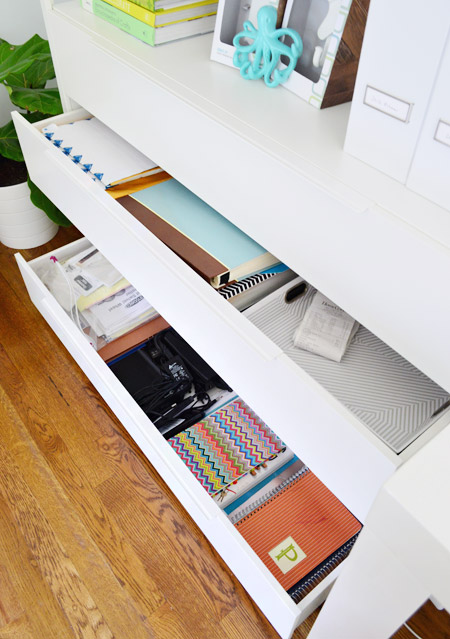 As for the printer/file cabinet, that's also full of documents and other tax/work-related stuff. Here's a shot of it closed (it's the Ikea Effectiv cabinet, which they discontinued a while back).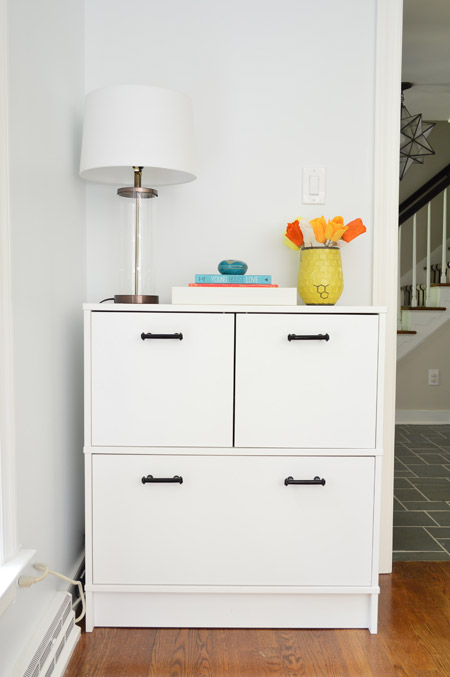 And here it is opened up. We keep the paper and our camera case on the top left, our wireless printer lives on the top right, and all of our files are in that bottom drawer.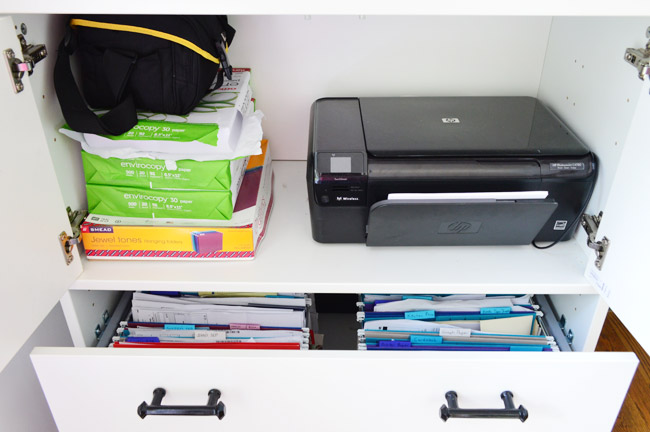 My floating desk by the window (remember when we found it for free on criagslist?) has four more drawers for me to use, as well as a nice big top that I'm attempting to keep pretty clear except for a few notebooks and two vases full of writing paraphernalia (we use the pencils for book edits).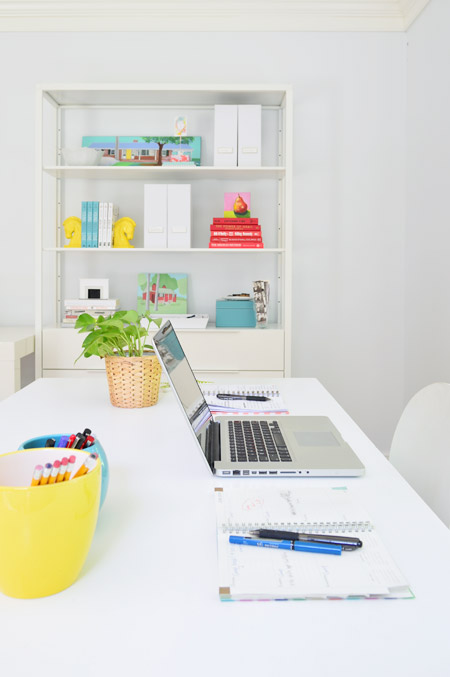 I put things like my scissors, stapler, and other use-a-lot stuff in the top right drawer, filled the right middle drawer with stationery/thank you cards, and kept the skinny middle drawer and the bottom right drawer empty for "space to expand." There's also a cabinet on the left side of the desk that's empty (more remaining room = happy tingly feelings inside).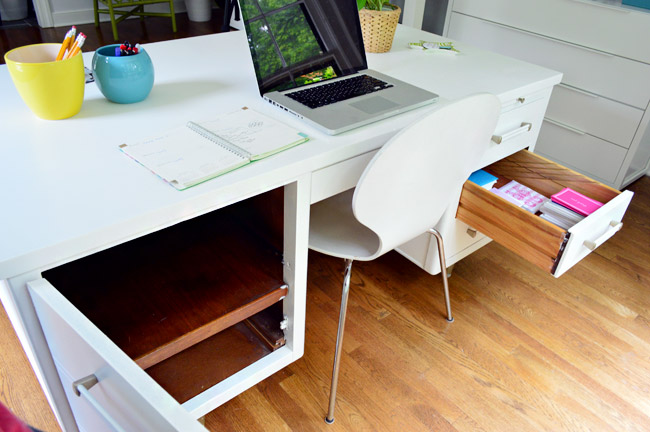 So that's our little where-it-all-went rundown of the office. Only took us a year to find a spot for the stapler and the receipts… but I gotta admit, it feels better than it probably should.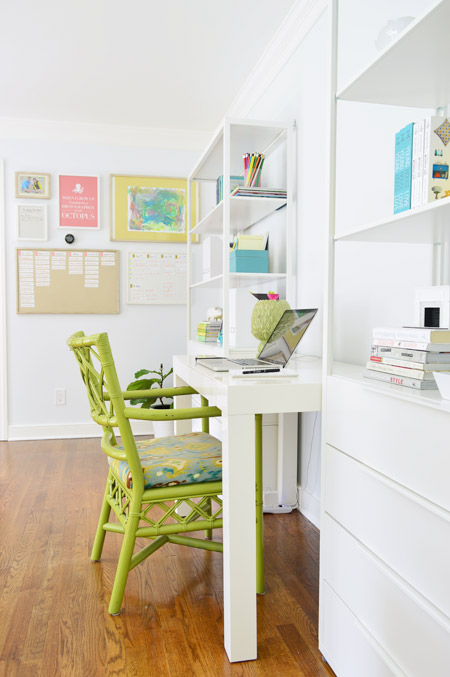 That rush you get when you have a spot for everything is pretty addicting… even if your brain knows it's only a little while before things start to multiply/explode. I'm soaking it up while I can.
Psst- Teddy's eight week photo is up (we couldn't resist that Spoonflower fabric).
&nbsp