Shopping & Thrifting
Our master bedroom has moved leaps and bounds over the last few days in terms of not looking like a big empty room with a bed in it. And by leaps and bounds, I mean frames and curtains. And more frames. Plus a few more frames after that.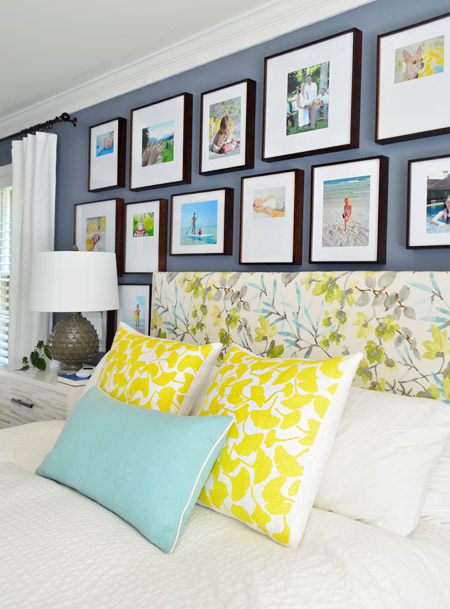 Before we started putting a bunch of holes in our walls, this is what the room looked like (and what it has pretty much looked like since we painted it nine months ago). It was in desperate need of curtains at the very least, but we're not done with those yet, so just ignore those and let's talk about the frames.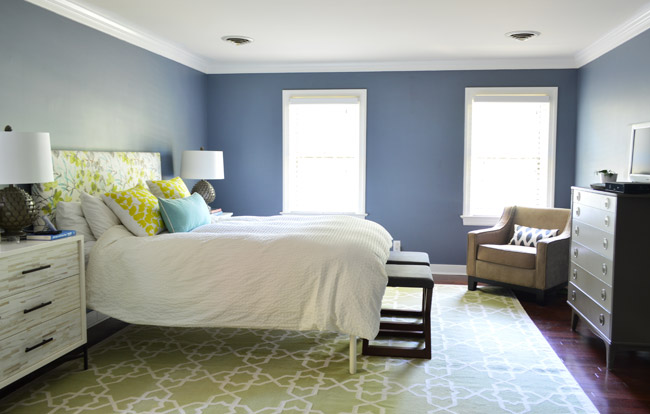 We had long talked about doing a gallery wall over our bed, and after stewing on it for a few months we decided we wanted to go with big dark frames (gasp! not white ones?!?) with nice mats. We have a gradual goal of amassing nicer frames in the house as we go (some real wood ones with nice big mats with glass and not plexi) so after shopping around at a few frame places, these large wood ones from Michaels fit the bill best. At $39 each for the biggest ones and $29 for the slightly smaller size, they weren't cheap – but thanks to a two-for-one sale, it took the average down to $15 to $20 each, which is closer to what we spend for cheaper frames of that size.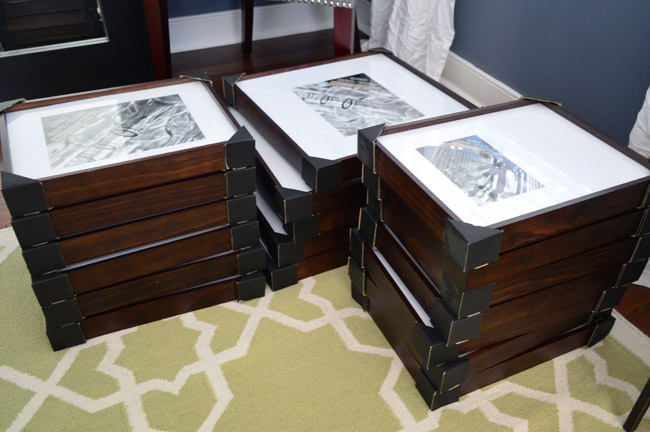 Once home with our original frame haul, Sherry cut a bunch of templates out of leftover rosin paper that we had from projects like this and this, and we taped up a rough, mostly-symmetrical arrangement.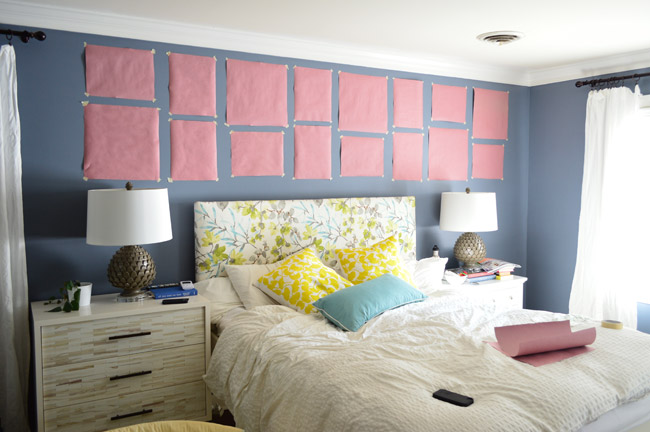 Neither of us was totally sold on it. It just felt a little too perfectly lined up. So Sherry took a stab at loosening up the rows and columns a bit. Kinda the gallery wall equivalent of unbuttoning the top button of your dress shirt. It instantly looked more relaxed and casual than the more formal/balanced arrangement that we had tried first.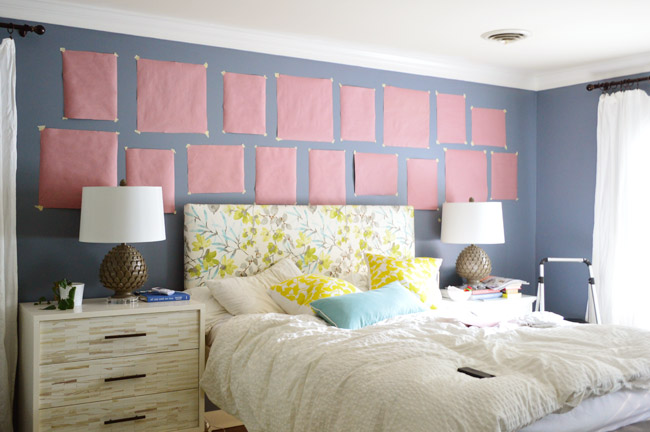 Next it was frame-hanging time. Considering the number of them (at this point we had 17), it wasn't too bad. These frames hang nicely on one or two nails each (there's a groove on the back lip of the wood frame) and since we had worked out their placement with paper templates it was pretty simple. Since the arrangement is somewhat mirrored from one side of the bed to the other, we used a laser level to make sure the frame on the left side was at the same height of its sister on the right (and we used a yardstick to make sure our side-to-side gaps between frames were about the same).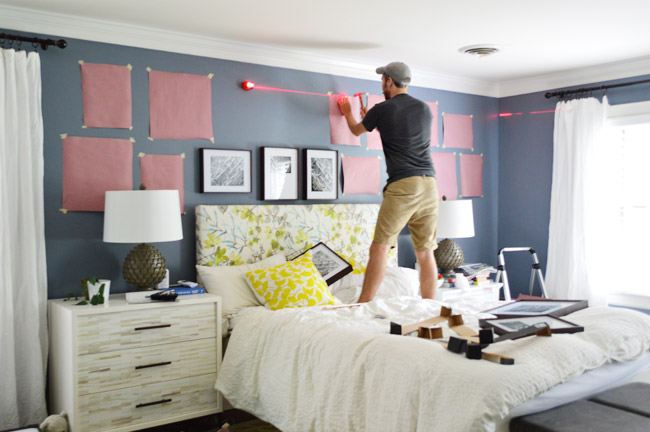 After we got the initial set of frames hung, we liked where it was going… but the whole thing was feeling a little too much like a stripe across the top of the bed, so we picked up five more frames to fill the space above each night stand for more of a full-wall-of-frames look. So when it was all said and done, we purchased five of the larger frames (they're 11.5 x 14.5″ with an 8 x 10″ opening in the mat) and seventeen of the slightly smaller 16.5 x 16.5″ size (some of which had 8 x 10″ openings and some that had 5 x 7″ openings). Note: We later realized that the bare spot on the top left (by the curtain) felt off to us, so we inched a few frames around to make it more balanced looking (you'll see that tweak three photos below this one).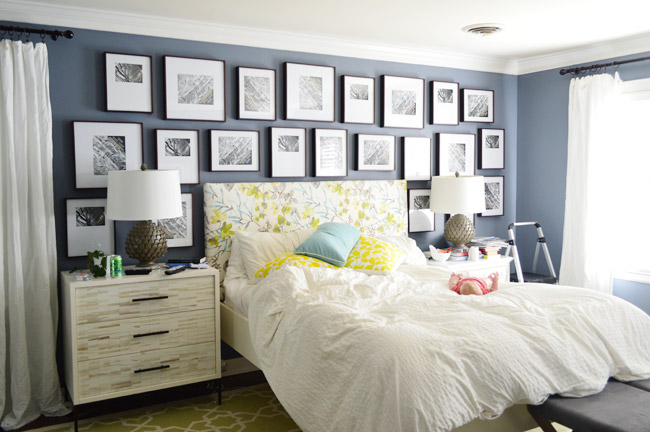 Although we're big fans of putting just about anything in a frame, we had been looking at our family photos and realized that we had a lot of special-to-us photos that we wanted to properly frame, so a wall of family photos was the goal here. It felt especially right for a more personal space like a bedroom, and we had never seen many of these photos printed out in a nice large size like 8 x 10. So we picked a bunch and placed an in-store pickup order on Target's website (which we discovered was cheaper for 8 x 10s than our usual go-to, Shutterfly).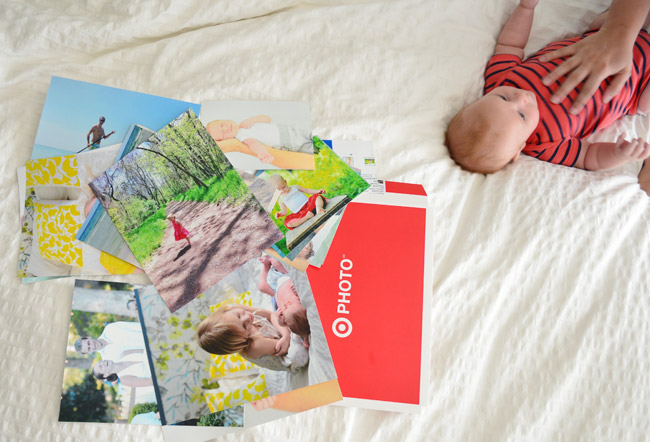 Here's everything all framed up. We really liked going with colorful prints instead of black and white ones, especially on such a dark wall. They're a nice balance of classic/handsome (wood frames & crisp white mats) + cheer (colorful family photos). And we like how the bolder prints tie into the colorful pillows and our headboard.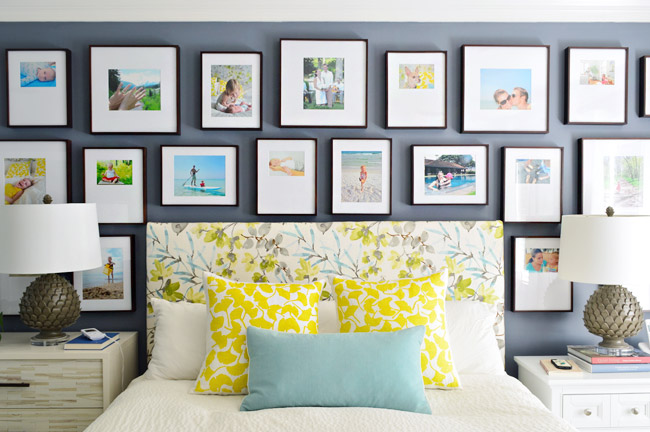 The process for picking photos was pretty straightforward: we scrolled through our family photo folders in iPhoto (we have one for each year, ordered chronologically) and flagged our favorites. That produced WAAAY too many options, so we whittled it down to the 22 we needed by choosing favorites from the favorites (for some reason it's easier for us to pick top choices from the group than decide which ones to nix).
We didn't keep any sort of color scheme in mind (there's every color in the rainbow going on) but we did seem to subconsciously choose photos that looked more like a moment in time than a posed everyone-stare-at-the-camera shot. I think maybe we knew that a whole lot of eyeballs staring out at us might feel strange. So most of them feature people looking down, at each other, off to the side, etc. There are only a few with eyes that actually looked at the lens, like the Teddy beach shot in the top left corner.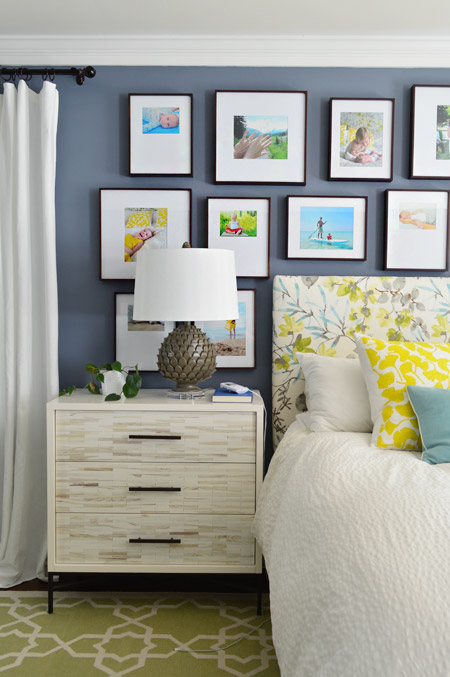 It wasn't until we had everything hung that we realized a few other commonalities emerged. We stepped back and laughed about "all that water." Turns out around a third of them feature us on the beach or in some other form of water (the lake, a pool, etc). It's probably because a lot of our favorite photos were from trips we took. We actually counted six different states being represented in our photos (from Alaska and Hawaii to Florida and Delaware). Another funny realization was that three of the photos in our gallery were taken on the very bed that they now sit above. So we're apparently a family who likes to travel… or stay in bed.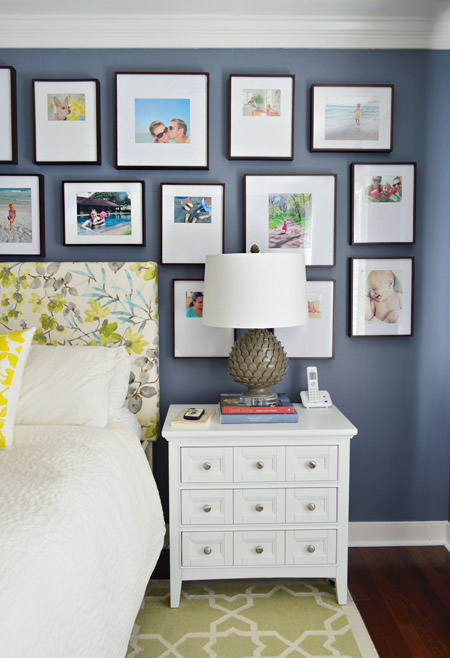 After we were all done hanging and framing everything, our formerly nondescript bedroom wall had sort of morphed into a photographic celebration of our family, which has been pretty awesome as the first and last thing we look at every day. In fact, as much as we loved the frame hallway in our last house (we didn't think we'd ever love a frame arrangement more), our new family-gallery is right up there with it.
Oh, and even though it looks like those pictures behind the lamp are impossible to see, they're actually some of the ones we see the most from bed and/or when we walk into the room. It's all about the angle y'all.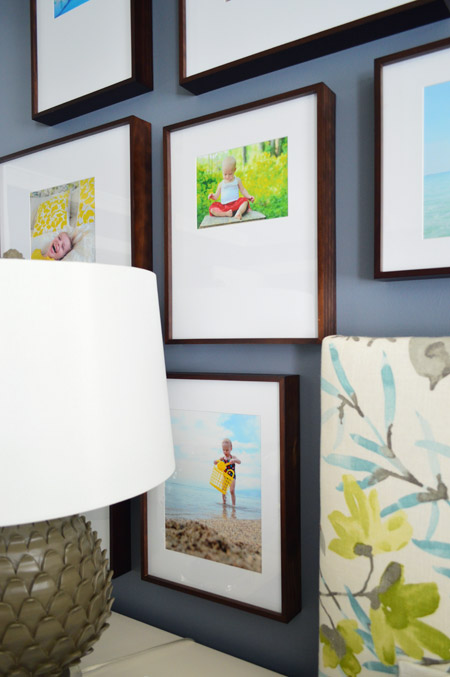 We hope our new family wall will encourage us to keep breaking out the camera and documenting family moments. Heck, it doesn't even have to be the nice camera. We realized almost half of the pictures up here were from our iPhones or our old point-and-shoot.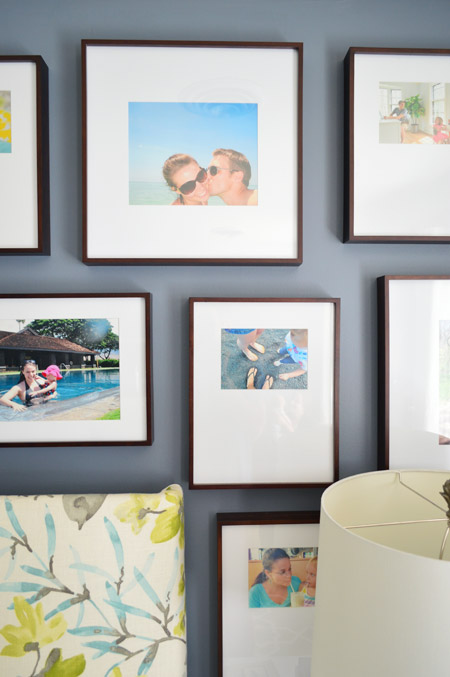 Clara was napping when we finished hanging everything, so we stole the opportunity to give Teddy and Burger some brother time in front of the camera. And knowing our penchant for framing the photos taken on this bed, there's a chance this shot could end up on the wall at some point. So meta, I know.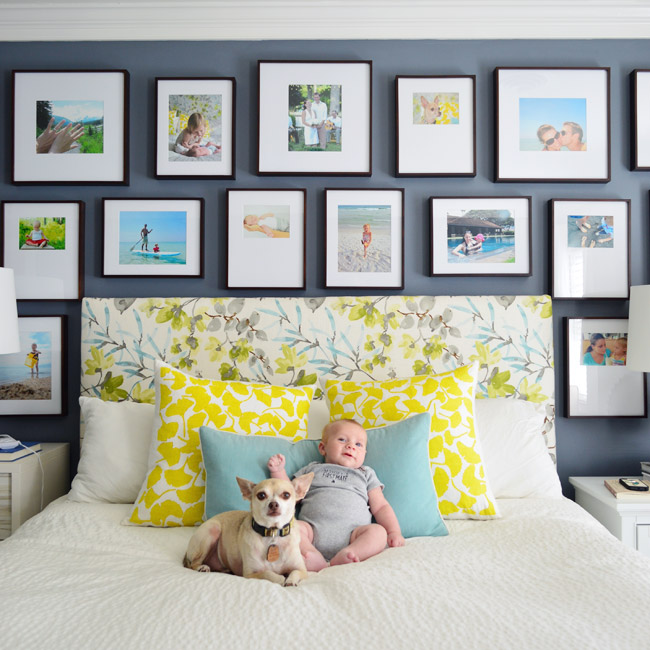 We can't really picture the "before" of this room in our heads anymore without pulling up the actual before photos…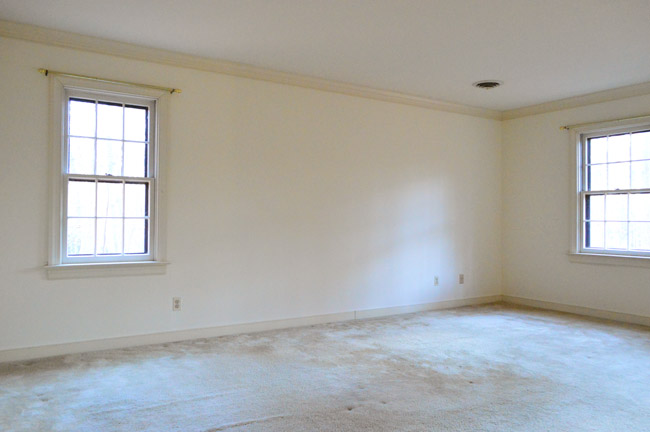 … but we're certainly grateful for how far it has come. It's looking a little busy to us right now, but we think a few other to-do list items should hopefully fix that. We'd like a better bench at the end of the bed and a proper set of end tables so we can use the dresser on another wall. We also still have to finish the curtains, need an overhead light, etc. Slowly, slowly.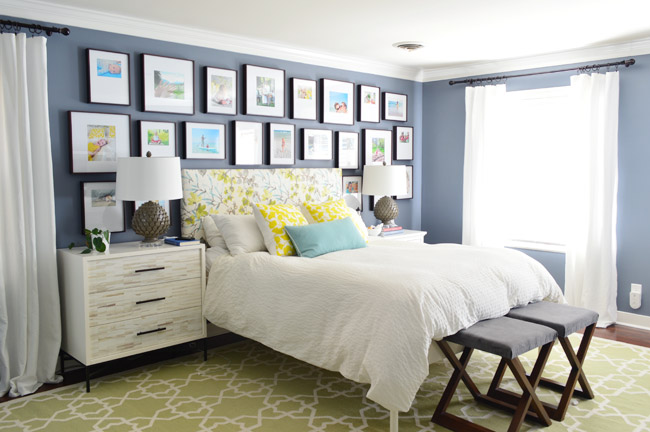 Anyone else doing bedroom updates? Or hanging a collection of family frames? Have you noticed any subconscious themes afterwards, like a love of water, travel, or being in bed? What about eyeballs? Are they all staring out at you? Do they follow your every move, Mona-Lisa style?
&nbsp&nbsp&nbsp
John described me that way in this post, and it made me laugh because let's face it, it's true. I'm also one-quarter dog fur (it's always all over me) and one-quarter ceramic animal (no further explanation required).
How quickly this post got off track.
Anyway, now that we have a sofa and a coffee table on our back porch, the next thing on our list was a little more seating to round out that side of the room in the form of a comfy chair. Our first option was just to buy the $749 chair that matches our sofa. We liked that it would definitely tie into the color/look of the woven sofa without us having to worry that it would clash or look off. But we wondered if we would wish we went for something a little more fun and a little less matchy down the line, and it did take up a pretty big rectangular footprint, which might crowd the corner where we wanted to put it.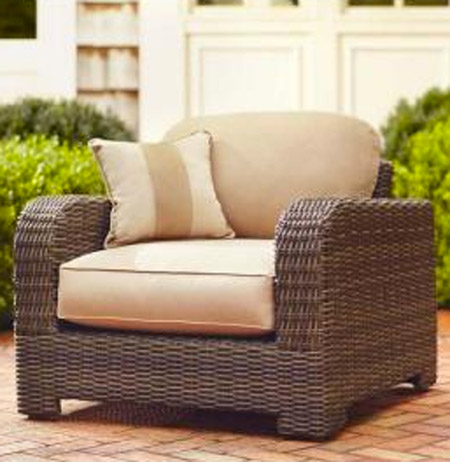 Another contender was a hanging egg chair like this $498 one from Anthropologie, just because we thought it could be fun in a lounge-y outdoor space. But we questioned the comfort factor (without plush seat and back cushions, would it get much use?) and we worried a little about the kid-stunt factor (some of Clara's friends are a bit more… acrobatic). Didn't want any broken wrists on our watch – especially with the hard tile below. We also worried about the logistics of it holding enough weight to be safe since John the Builder actually had to reinforce the overhead beams on the showhouse's front porch to accommodate the porch swing.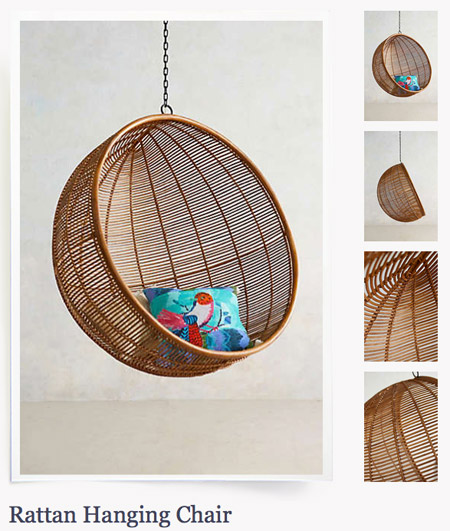 Then we talked about an egg chair that hung from a stand instead of the ceiling, like this $590 option from Joss & Main, but still didn't fully trust that we'd want to constantly enforce the whole "do not swing on this" rule (would kids try to twist it around and ride it like a tire swing?). We also thought the futuristic silhouette might not go as well with our outdoor sofa. Although we did remark that Nuni & Nooni would love it.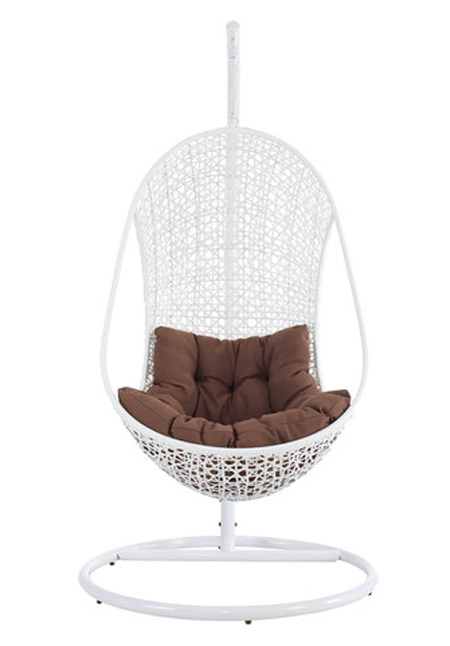 We also saw this one on Pinterest from World Market, which might have gone better with our sofa, but when we clicked over to see the price it was sold out. Oh well, it still had that hanging-on-a-chain-probably-isn't-ideal thing going on.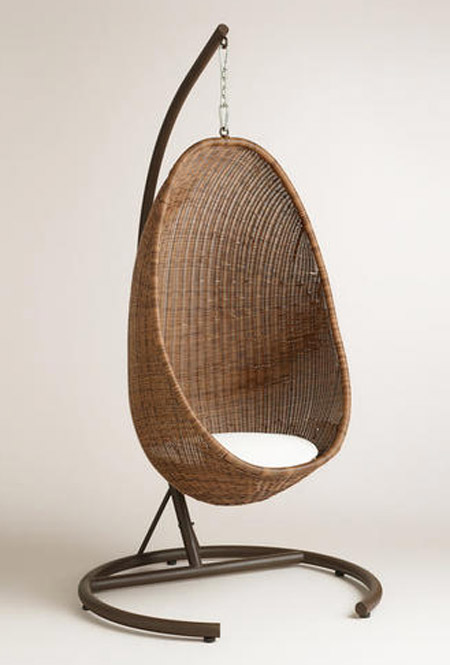 Then there was this one from Joss & Main, which was more like a boat than a chair, but it did look pretty cozy. It was too big for our space, and the $1500+ price tag was more than we wanted to spend, but if we ever have a  spare house in Bali to our name we wouldn't be mad at a few of these out by the pool.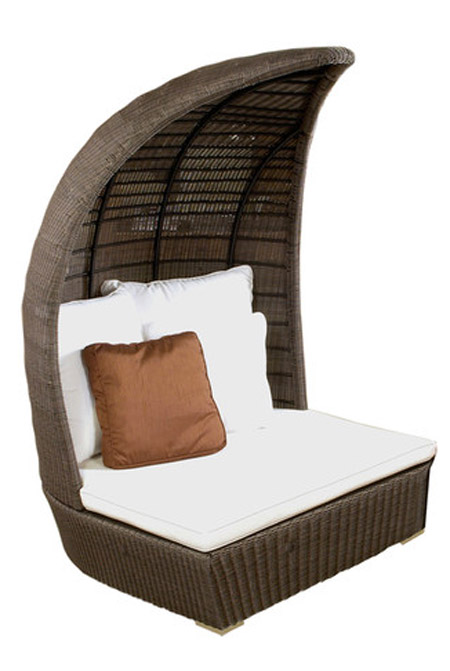 We kept saying things like "I wish we could find something that sits on the ground like the egg chair at the showhouse." We loved everything about that chair (the color was great, it swiveled, it was super comfortable, etc). And although we checked every shop we could think of, as well as just doing some random googling, we didn't come up with anything that really compared.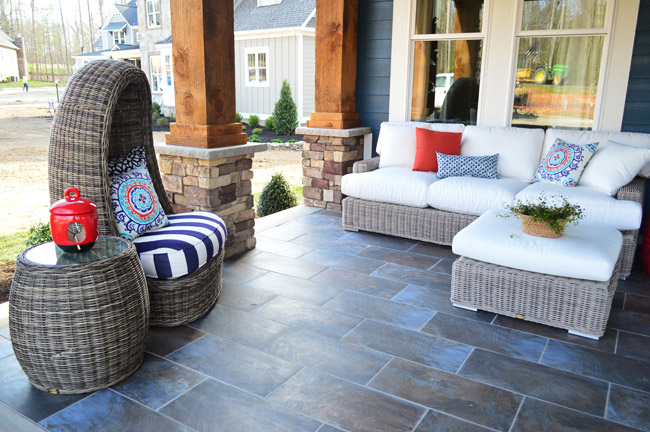 It kind of reminded us of this one that Pottery Barn used to sell for $1300 a few years back, except that one was a little too warm to go with our cool brown/gray sofa, and it didn't swivel.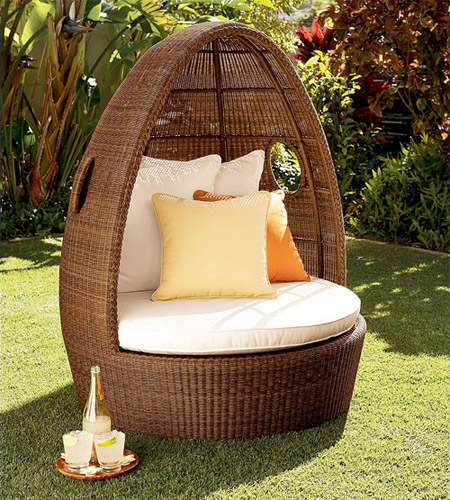 Then we realized we could try buying an identical egg chair to the one from the showhouse directly from GreenFront. We just had to see if they had another one in their store. And as we were telling one of the folks from the showhouse this story they said "why don't you check with John (the Builder) to see if the showhouse egg chair is one of the borrowed pieces that he's planning to return, because if so I bet you can buy it over the phone from GreenFront (around 50% of the GreenFront furniture we got was on loan and they were picking it back up after the show).
So we called John the Builder to ask about it, held our breath, and… he said we couldn't buy the chair. Sad clown. But the reason he wouldn't let us buy it was because the whole team wanted to go in on it as a thank you to us for working on the showhouse with them over the past year! We couldn't believe it. We're still doing that "no way just take our money" thing, so we'll have to report back if we can sneak them the cash somehow (my mom is a fan of the "hide-it-in-their-purse" method, but most of the team is purse-less…).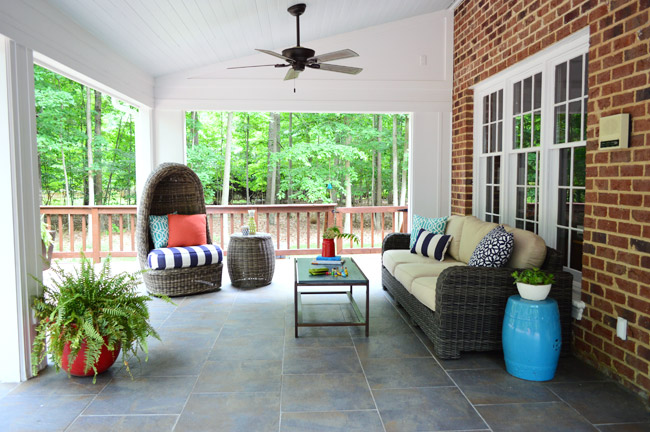 Doesn't the wicker look like it was meant to be paired with the sofa? We're so glad they work so well together. We also appreciate that the seat is Sunbrella fabric, so it should hold up to Clara's bubble-solution-covered hands and Burger's muddy paws. As for the side table, we decided it was a little too much wicker for us (you know my love of ceramic garden stools – especially to add color outside) so we sent it back to GreenFront with the rest of the borrowed pieces that they came back to collect instead of purchasing it – but it was nice to take a look at it first to be sure.
Now it looks more like this in that corner (we took this photo after the others in this post, so ignore the wicker side table's presence and pretend you see this shiny red beacon of garden stool love):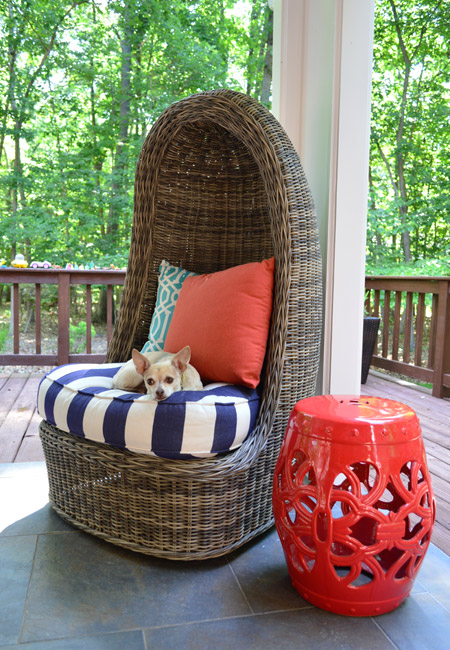 But back to the chair. It has already been getting a LOT of use from this guy…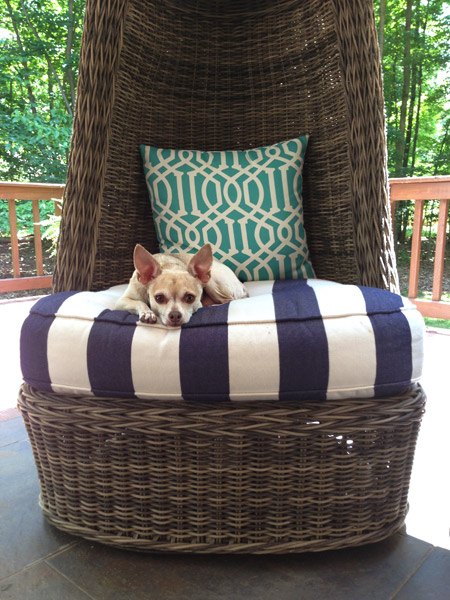 … and even some lounge-time from this guy…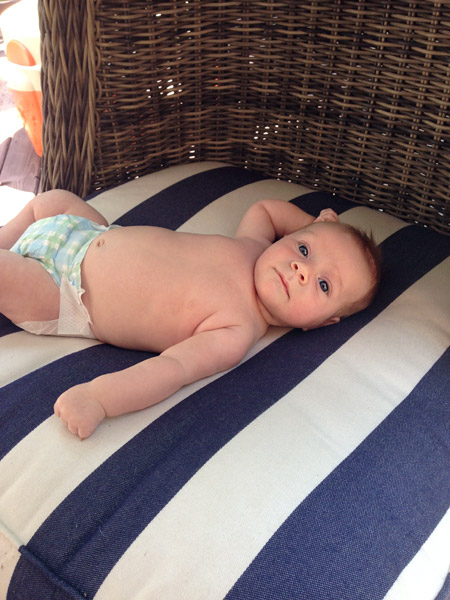 I'm getting in on the action too. Sometimes I find myself out there, just gently rocking with the baby in my arms while Clara plays with her water table (swivel action FTW). Definitely one of my favorite new spots.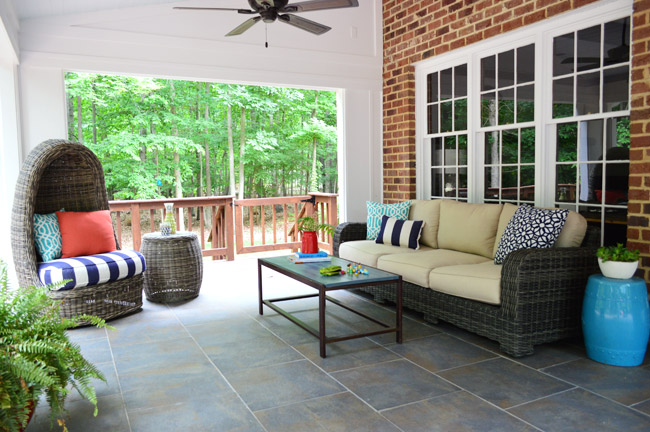 So that's the Great Egg Chair Hunt of 2014. Although when you pan out it's clear that we still have the other side of the sunroom to furnish. I'm thinking a little bistro table under that second fan would be nice since there's still room to walk around something like that. And of course we still need to build a box to cover those ugly wires that snake down the brick wall.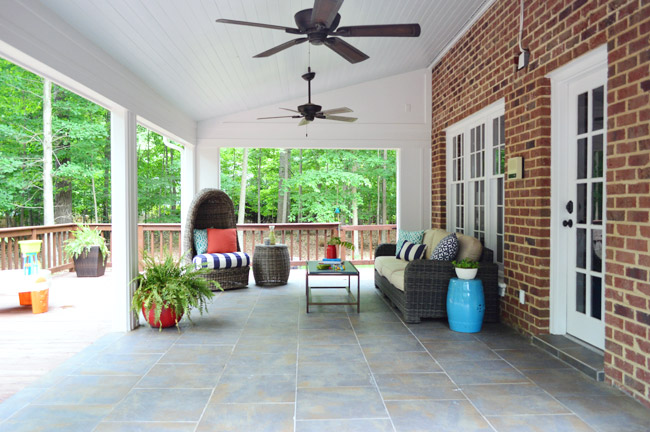 Here's a wider shot from further back. You might notice that we parked our dining chairs around the table just because we thought they'd get more use out here in the nicer weather (they're outdoor chairs so they ain't afraid of no ghost rain). The jury's still out whether it's a temporary move for them, but Burger has already been found lounging on their plush seat cushions, so that's one vote for them staying outside over the folding chairs that were there before.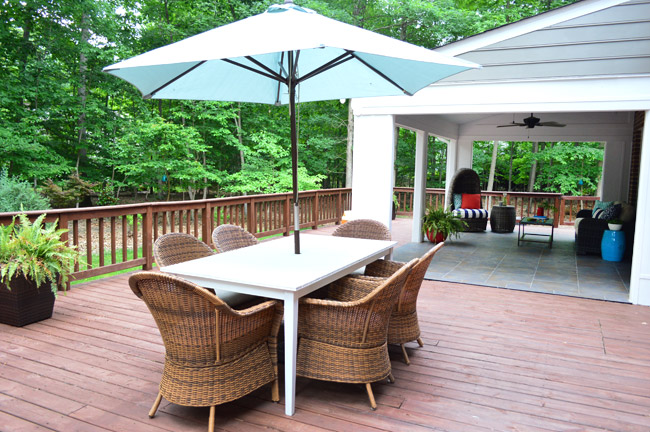 Are you guys shopping for any outdoor stuff lately? Are you one-quarter garden stool? I might be too. Hey, maybe we're related.
Psst- For more what-we-considered rundowns like this one, here's one about doorknobs, one about kitchen lights, one about rugs, one about dining tables, one about sectionals, one about washers & dryers, and one about our outdoor sofa.

&nbsp&nbsp&nbsp