Our Second House
So, funny story about the house below. We bought it and we're moving in.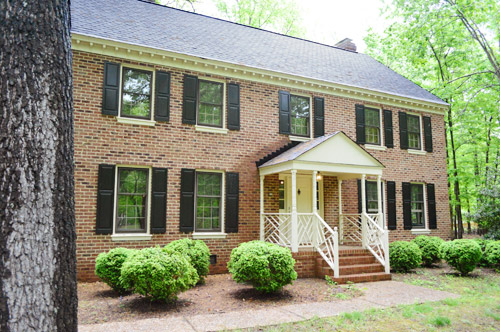 We know this news probably evokes a whole range of reactions. Excitement for new makeovers. Sadness for leaving our current house. Curiosity about all of the logistics. Confusion. Anger. The inexplicable urge to do The Carlton.
Starting this story requires rewinding seven years, back to our first house hunting experience in Richmond in the spring of 2006. We had just moved from New York City and Richmond real estate felt very spacious and very cheap by comparison. It made dreamers out of us. We checked out a bunch of neighborhoods, and fell for an awesome old area with nice big wooded lots, great schools, charming tree-lined streets, and kids on scooters.
But none of the sweet old character-filled houses in that neighborhood were in our price range, especially because the bank had no faith in us. The issue was not our savings, but the fact that I was less than 2 months into my new job and Sherry was just as deep into her career as a freelance copywriter. In the eyes of the bank, Sherry was unemployed since she was a newbie self employed person (even though she was earning more than me!) so I ended up being the only name on the loan – basically cutting our buying power in half. Goodbye dream neighborhood, hello this looker.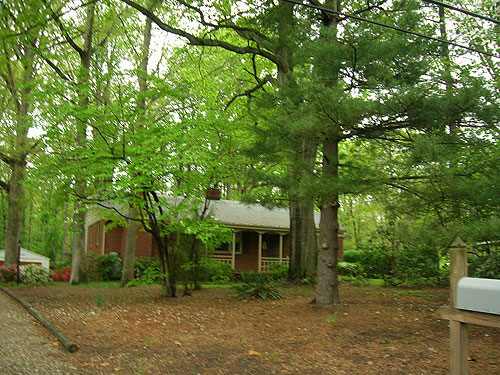 As deflating as that financial reality check was, it turned out to be one of the biggest blessings. Had we not been steered towards a fixer upper, we might not have ever started this blog or learned the advantage of buying a home that's well within our means. By not stretching financially, we could stash away a lot more project money and build up our nest egg – because we hadn't lost sight of that neighborhood we first fell for, we had just put that dream on hold.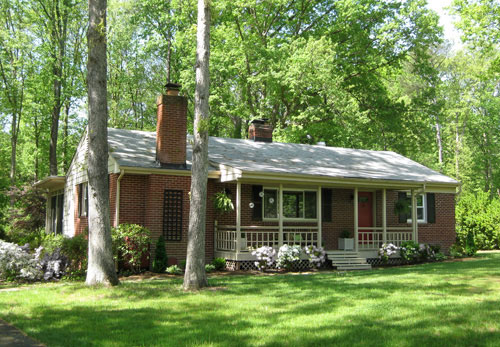 Fast forward 4.5 years, past a new puppy, a wedding in the backyard, Clara's birth, and me coming home to work full-time. Our beloved little 1,250 sq ft ranch (with only one full bathroom) was suddenly feeling cramped and we found ourselves house hunting again. Dream neighborhood here we come, right? Try again, compadre. This time I was the financial deadweight (having just left a salaried job six months earlier to come work at home – great timing, right?). So once again we found ourselves approved for something far below our actual mortgage-paying abilities thanks to the bank's you-haven't-done-this-self-employment-thing-long-enough-for-it-to-count doubt.
But it dropped another gem of a fixer upper in our laps. And this time we knew that an affordable needs-work home meant even more projects and more money squirreled away for our "maybe someday" neighborhood.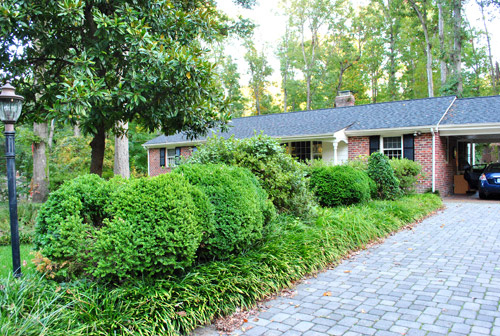 Now, I wouldn't say we ever consciously thought of these homes as "stepping stones" or rungs on a property ladder that we were itching to climb. Even though we always loved that dream neighborhood from afar, Sherry was fully convinced our first house would be our "forever home" (we even have that statement on video). When we fall in love with a house, we fall hard. But the experience of outgrowing and leaving our first place made us realize that we enjoy the process of loving an old house back to life way too much to stop at just one.
So when we moved into this house, we went into things with a more open attitude. Knowing we'd soak up every second of living here (you know we're nuts about the journey) but no longer making bold declarations like "we'll stay here forever." Admittedly, at halfway through year three of living here, the end came a bit sooner than we expected, but our time here since 2010 has been jam-packed. We've celebrated three Christmases in this house, created a book from start to finish here, and enjoyed countless Clara milestones (crawling, walking, talking, Gangnam Style-ing). So this place is by no means a blip on the timeline of our family history. It has been "home" through a heckova lot, which makes leaving it that much more bittersweet.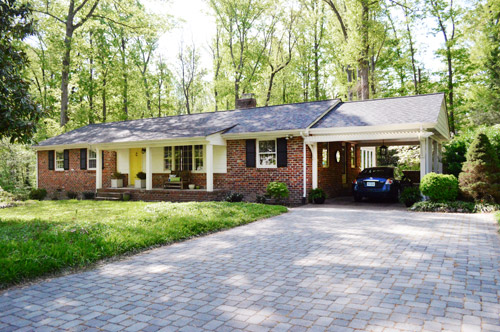 We just knew we didn't want our current place to be our last fixer upper (it's not only what we love to do, it's our livelihood), so when we felt ourselves tackling the last few untouched rooms on our list we started casually keeping one eye open for a deal that could be a potential rental or even a future Casa Petersik. We'd occasionally flip through real estate listings and drop in on open houses. We always hoped that something would come up in our price range in that dream neighborhood so we could jump on it like a velociraptor, but after two house-hunting experiences that didn't lead to us ending up there, we weren't very confident.
And then it happened. Pretty much out of nowhere, we found the sweetest needs-lots-of-love home in that old charming neighborhood that we've driven through at least five times a year just to stare creepily since 2006. Yes, this is a seven-years-in-the-making house coup of ours. We would have loved to take you guys on the house hunting adventure with us like last time, but it all happened so fast and before we knew it we were closing on it.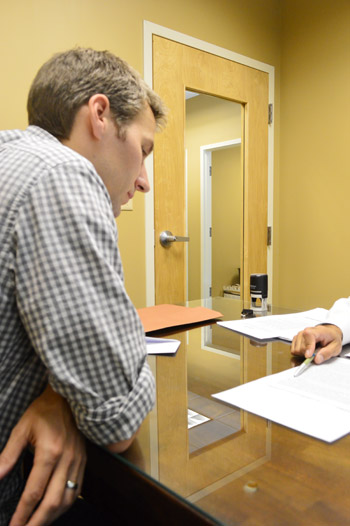 And thanks to putting some of that saved-for-years cash down at closing, our new house's mortgage amount is almost exactly the same as our current house's – but our interest rate is even lower. We both spent closing day waiting for Ashton Kutcher to jump out and scream "you got punked!" but all went well and the house is officially ours. We've even had it long enough to fix some first-priority issues like a leaking roof, a broken furnace, and even hooked up the alarm system.
The house hasn't been updated since it was built around 35 years ago, and knowing that its interior might scare off others trying to buy in a mostly turn-key community, the sellers priced it way under assessment. It was over $100,000 less than another house of the same size that was for sale down the street. A low-priced fixer upper in a neighborhood that we've dreamed about for almost a decade? Yes please. 70's wallpaper, blue trim, lumpy carpet and all…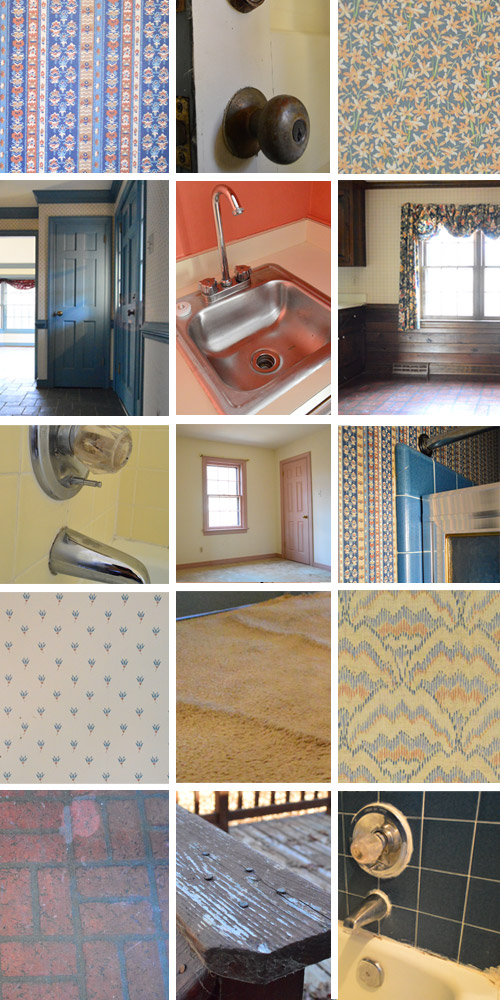 Beyond the price, neighborhood, and glaring need to be rescued – this place is perfect for us in so many other ways. It's nearly the exact same size as our current place (huzzah, no more extra square feet to clean). The street is beautiful and quiet (perfect for someday teaching Clara to ride a bike). It's still just as close to our family (maybe they can watch Clara while we strip wallpaper). And it presents us with so many new design challenges and opportunities that our minds are spinning with ideas. I mean, hello, we have stairs for the first time in seven years of home-ownership!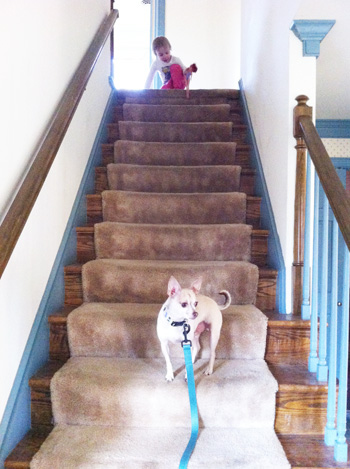 Perhaps the funniest thing is that at our age, my parents were moving into their third house, which was where they stayed for over three decades. So apparently it's in the Petersik blood.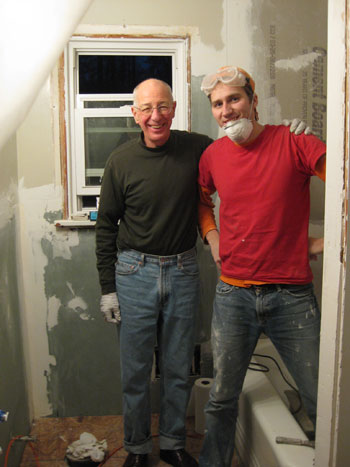 We know that you guys probably have dozens of questions – When are we moving in? (Don't know yet) When can you see more pictures? (Soon) What does Clara think? (She already picked out her room… based on the closet size. Is she 16?) But this post would be ten thousand words if we tried to cover everything, so we'll get to those things in time. We also have a few things to finish around here to get our current house sold (anyone interested?) so in an effort to keep our own minds focused on those to-dos, it won't be all new house posts all the time. We'll just be moving at our usual real-time pace and sharing a little bit of everything that's happening (selling, packing, planning, moving, and diving into our new house adventure).
Did I mention these two are the most excited of all? Okay, three if you count Ariel.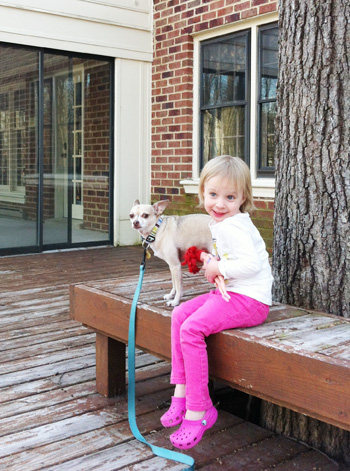 We can't wait to continue sharing the good, the bad, and the ugly with you guys. Seriously, who wants to come paint some mauve trim with us? And if there were a moral to this story, it's patience. This is not "the house the book bought" (we still haven't hit our royalty point), it's the house that seven years of saving up and living within our means bought. Had we strained our wallets and gone for a larger or more turn-key house back in 2006, we probably would've had a very different financial path, and most certainly would have had a different career path. So even though we had to wait a while, it just makes this new chapter in our lives that much sweeter. Who knows, we might just stay there forever…
&nbsp&nbsp&nbsp
Parking our car got a little more scenic this weekend with the completion of our carport pergola. Or, cargola (pergolaport?) if you will.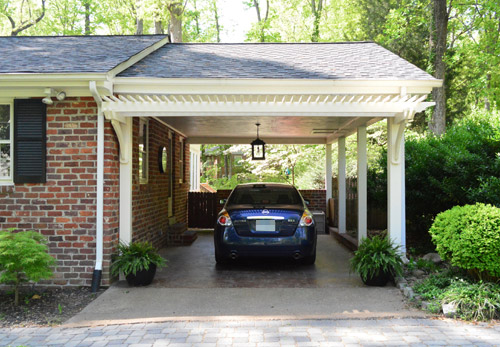 Last week we talked about dressing up our carport with the help of some pergola plans from Workbench Magazine. The plans took a lot of the guesswork out of it, but there was still plenty of actual work. All-in-all it took about 4.5 days of work (the half day was spent picking up the materials, which we talked about here) but I'm gonna boil it down to one simple post. So here we go. What you need to know is that there were four main parts to this building project: 1) the column, 2) the braces, 3) the joists, and 4) the lath.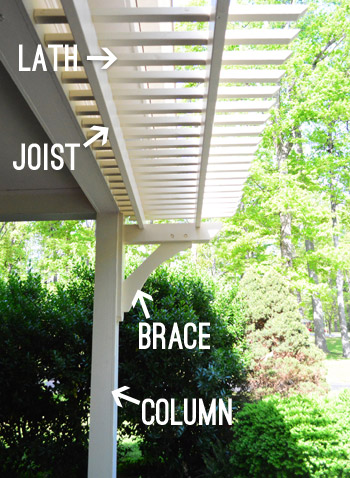 Most attached pergolas don't have the column in the equation (they just attach to the walls beside or above a garage door or a french door), but because our carport only had posts on the left side (see below) our first assignment was to add one on the right to add symmetry and create a place for the pergola to attach.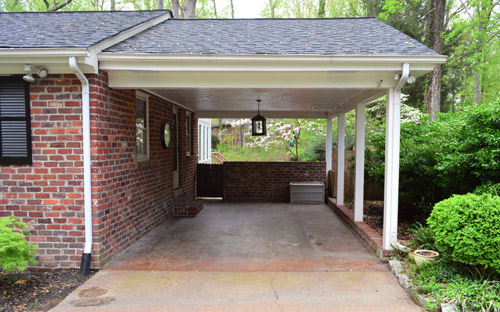 To attach a post to our concrete floor, we used this post base which is built for situations like this. And I got to break out my hammer drill to make a pilot hole for the concrete anchor, which was a good time. I bought the hammer drill back when I was starting the deck, but never ended up using it, so I'm glad I had it around because I needed it's drill-plus-hammer motion to get through the concrete. Then I hammered in a wedge anchor and tightened the nut to keep it in place.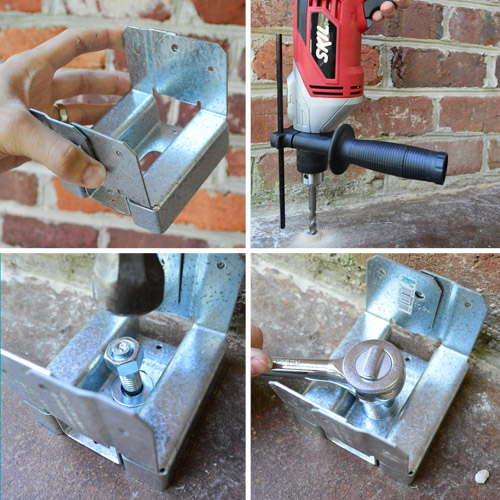 I attached another metal post base on the ceiling (this time just using heavy-duty screws) so that we could slide a 4 x 4″ post right in there and nail it into place.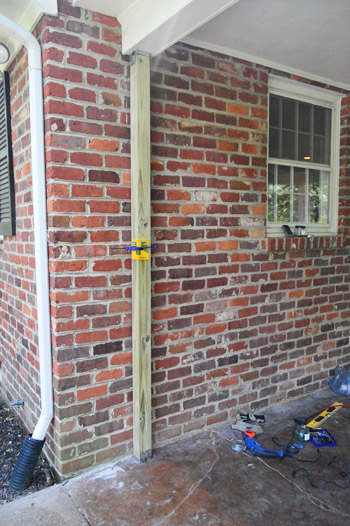 Since that post is neither very attractive or big enough, we used the same method as we did when we beefed up our porch columns. They didn't sell any pre-primed pine in long enough boards, so we primed and painted the two 1 x 6″ and one 1 x 4″ boards before hanging them. Here I am using our nail gun to attach the boards in place and give the column a chunkier look.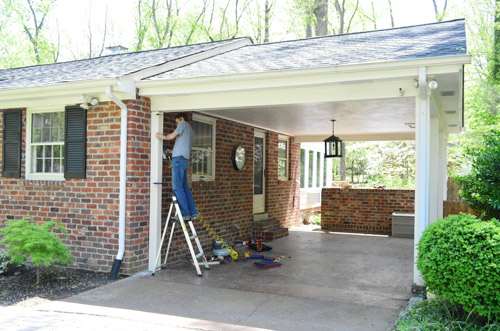 After we caulked the seams and added some touch-up paint, our first of four steps was officially checked off the list. And I should add that this took me the better part of my first day (with occasional "hold this with me" and "take a picture of this step" and "help me paint while Clara naps" assistance from Sherry).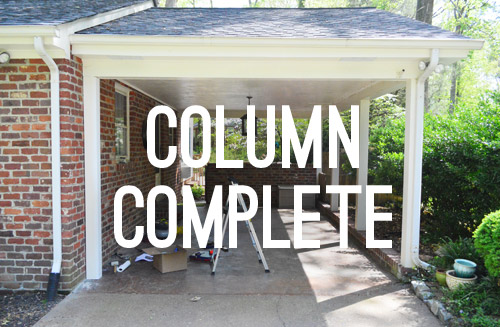 The other part of day one was spent getting started on my braces (or "knee braces" if I'm feeling formal). These were by far the most complicated of all four steps, since there were four sub-step when it came to building each one.  We originally hoped to purchase these pre-made, but we couldn't find any in the size that we needed. In the end, I'm glad I made them because it was much cheaper.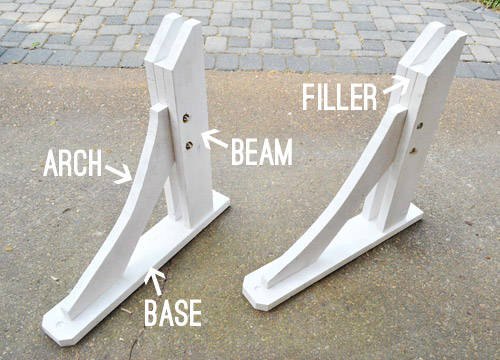 Some of the braces that I saw online were going for $50 – $100 a piece, depending on the size. Each of mine were made from one single 12 ft piece of 2 x 6″ and a few bolts, making mine about $22 each. So the first step was to cut my 2 x 6″ into the lengths that my plans called for. Burger double-checked my work.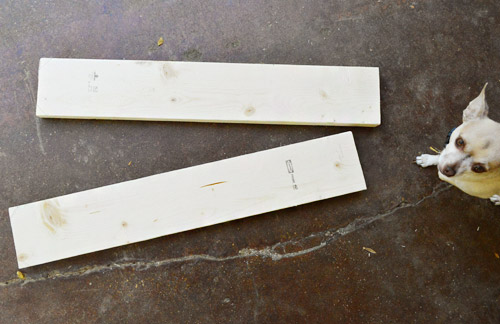 First up was what I'm calling the "base" (the part that rests against the column). They were pretty straightforward. I cut some decorative notches on the bottom with my miter saw and then used some hole-boring bits to make a few places on each side to countersink my bolts. Again, my plan took a lot of the mystery out of what to do, but it was still a bit tedious.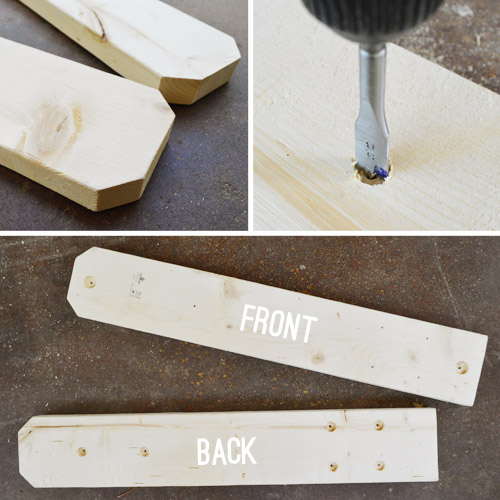 The next pieces I tackled were the "beams" – the parts that would stick out from the base at a 90° angle. They were really easy, which was lucky because I had to make four of them. I actually clamped two together when I made the cut so that I'd be sure the beams that got paired together on the same brace were absolutely identical.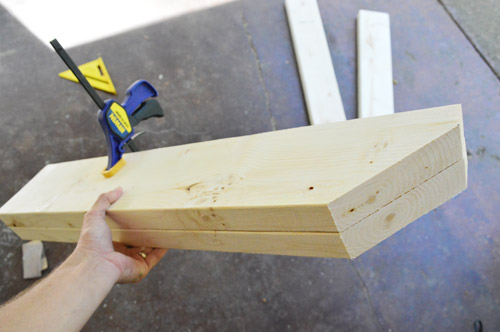 With the easy stuff out of the way, I turned my attention to the "arch." Yes, a dreaded curved cut. Cue the dramatic music. To mark my curved line, I tapped some temporary nails into the wood at both ends and at the middle/top of my curve. Then I used a thin piece of scrap wood (a small piece of PVC works too) and bent it over my nails to create an arched shape. That held long enough for me to mark the curved line between my two nail-points.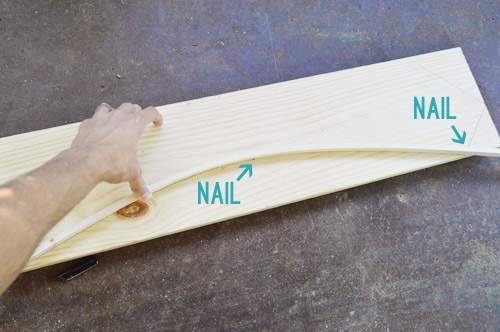 Next was the challenge of actually cutting that line. Since I don't own a scroll saw, I had to rely on my jigsaw. It did the job okay, but since it's sometimes hard to keep the blade perfectly vertical, my arch had a couple of wonky spots (not majorly wonky, but wonky enough that I noticed them) so we sanded the heck out of it to try to smooth things out.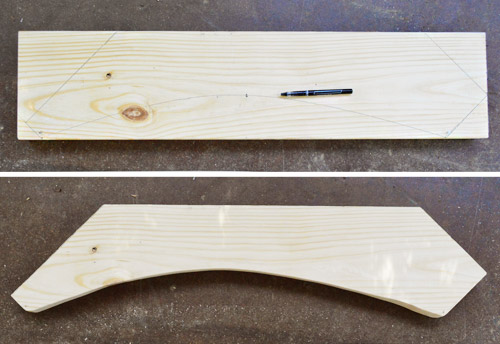 After some vigorous sanding they were a lot better looking, and some primer further cleaned things up (we primed all of our brace pieces together once they were all cut out).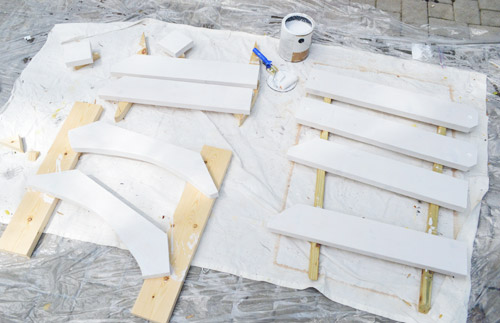 Then we had to assemble them. It was a tricky system of clamps, temporary nail gun nails, and balancing on scrap wood pieces to get it done, so don't even try to make sense of this picture (it's upside down, if that helps).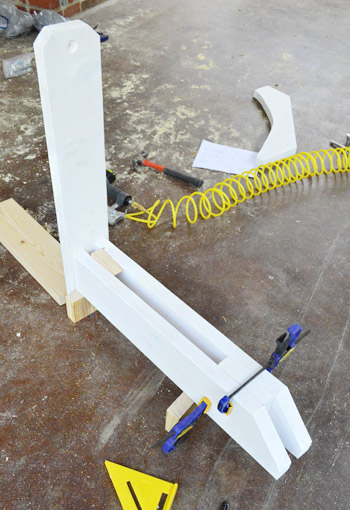 Basically we had to get both of the beams and the single arch piece aligned (and centered and level) and then screw them to the base using some 3″ lag bolts. It took a bit of finesse to get it all done without attaching something slightly crooked, but eventually we got the job done.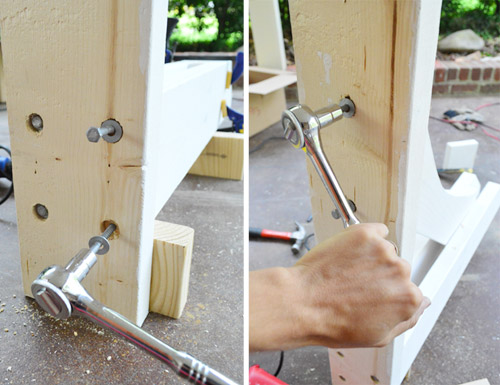 Then we had to drive some bolts through two beams (and the portion of the arch that sat between them). It sounds very straightforward, but the process took me a while and the rest of the day was spent rerouting a gutter and outdoor light fixture. So by the end of day two we had built two braces, but I couldn't call this step complete since they were neither painted (that happened the next morning) nor hung (which also got done the next day).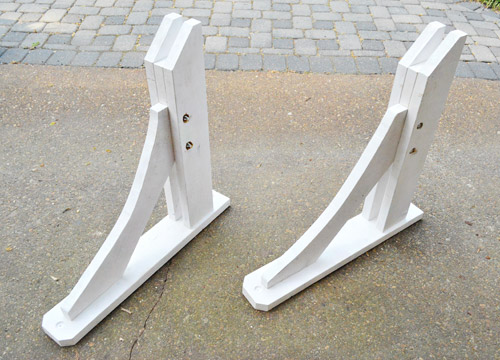 Hanging them took some finesse too, mostly because one of us had to hold the weight of it while the other checked that it was level and temporarily nailed it into place. There's no way brad nails would support the weight of it over time, but they kept each brace in place long enough for us to drive a lag bolt into the top and bottom of each one, which secured it for the long haul.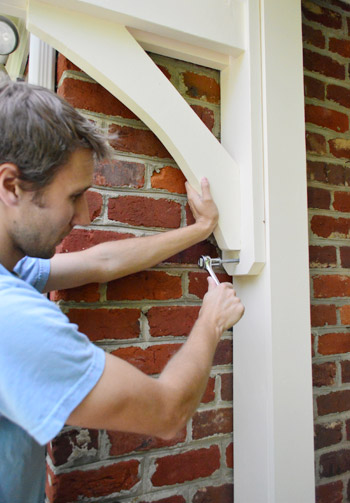 By noon on day three we were finally ready to move on to step 3.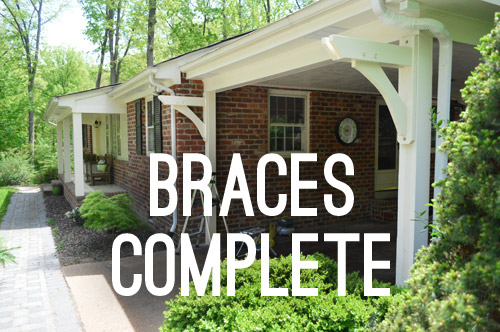 Step 3 was the joists. You know, those two long pieces that would rest on each of the braces. These were again made from 2 x 6″ board and again they required a decorative curved cut (marked below). We did the curve on just the left side since on the right side they'd butt up against the side of the house.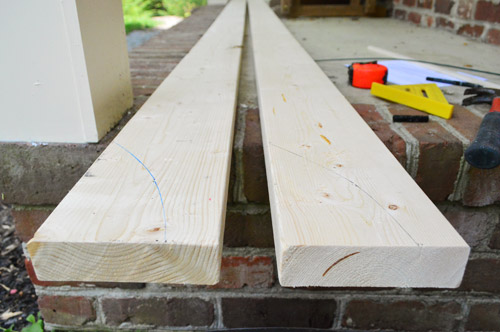 Once they were cut, we hoisted them into place and marked the exact spot where they rested on the braces.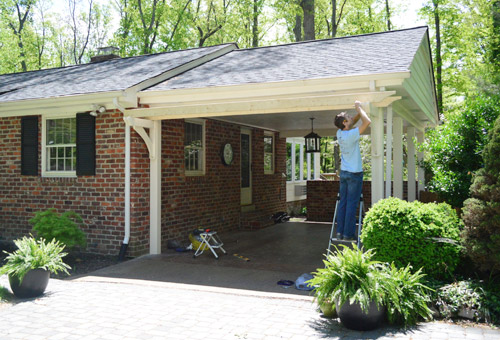 These marks showed me where we needed to cut notches in the joists so they'd sit tight on the braces. And while we had them down, we also primed and painted them.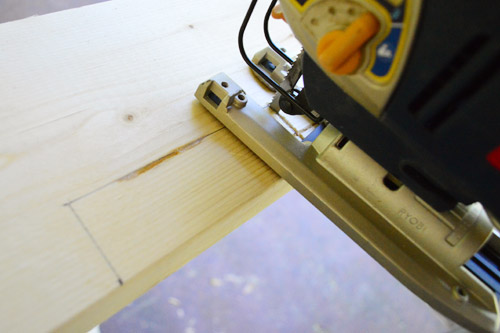 While the paint dried I got started on step 4, so it wasn't until the next morning that we could actually hoist them into place. As for how we screwed them into place, we basically drilled a long pilot hole through the top of each joist and used a long drill bit to screw right through the top of the joist and into the brace's beam below.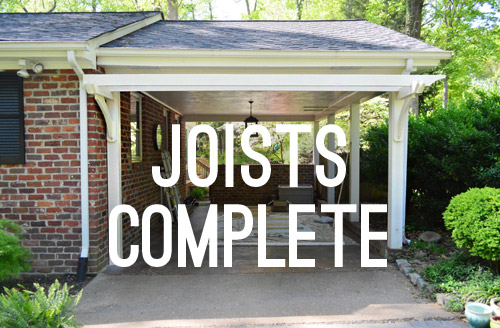 The last step was the lath, or the small strips that create the rail across the top. Since we were going to paint ours I couldn't use the pre-cut pressure treated 2 x 2″ pieces that they sell pre-cut for deck railings (they say pressure treated lumber should be allowed to "dry out" for a number of weeks before paint or stain traps the treatment's moisture in – and we wanted to paint things right away). So we bought regular 2 x 2″ boards that were 8 feet long and cut them down at home. This ended up being substantially cheaper, but we needed 50 of them (including a few just-in-case extras) so cutting and sanding them took me a good two hours. It was not exactly fun, but it was nice and mindless. Then came priming and painting all. those. pieces.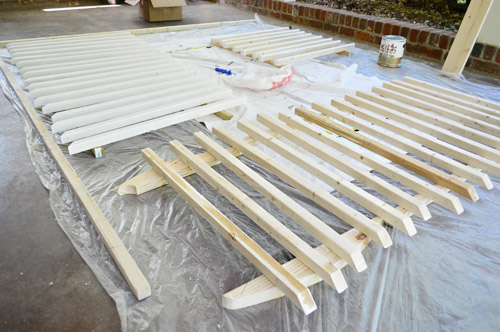 We had to cover all four sides of them since they'd all be seen, so thank goodness the paint had good coverage and it only took one coat (it's Benjamin Moore Exterior paint leftover from the previous owners). Once everything was dry, we could start putting the lath into place on top of the joists.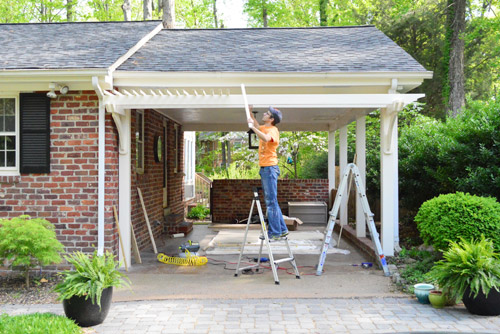 This was the point that we both started to get giddy because the pergola was actually starting to look like a pergola. Oh and we cut a few 3-inch wide "spacers"out of scrap wood to help us keep our gaps even so we could screw them into place as quickly as possible (see the two longer unpainted boards in the picture below?).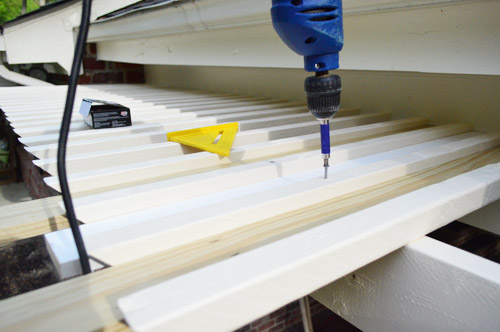 By the end of day four, step four was 100% done.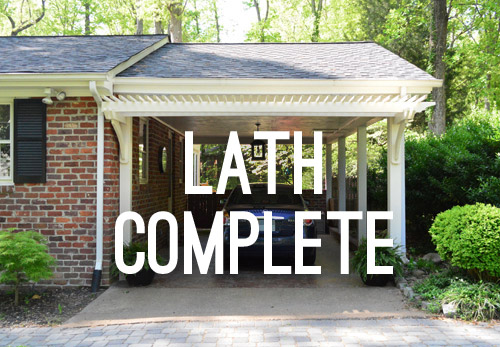 And with that, we could step back and enjoy our gussied-up carport. How YOU doin?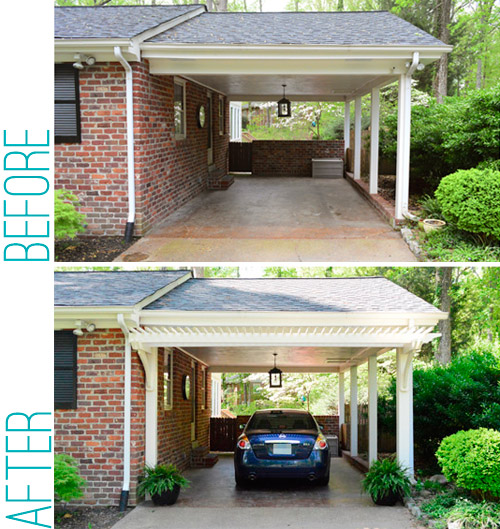 We're both crazy happy with how it turned out. We were nervous (well, I was nervous) because it wasn't the most conventional spot for a pergola – but it really is a huge upgrade. Suddenly that parking space tacked on the end of our house has some character. It has actually turned two anti-carport people (remember we almost didn't look at this house just because it had one) into carport lovers. Well, cargola lovers.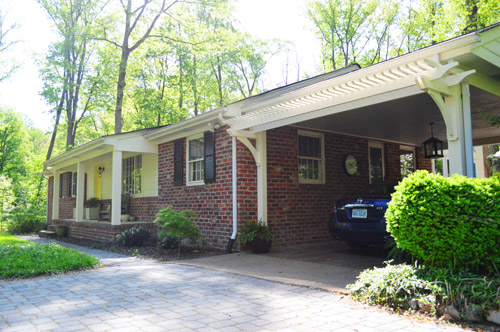 Despite being a bit tedious, none of the labor was really that back-breaking. And the DIY price can't be beat – especially when we heard that custom attached pergola kits are being sold for over 2K! Here's where ours wound up:
Truck rental (to get materials home): $19
Lumber: $112
Post bases: $23
Nuts, bolts, & screws: $46
Materials to reroute gutter & light: $14
Paint & primer: Already owned
TOTAL: $214
Oh and if you have a carport that already has two columns (or a garage with outside walls to rest the braces on) and you buy the braces instead of building them it would be about 50% easier (and should cut out around 2 days of work). So that's an awesome option for anyone who wants to instantly cut four steps down to two.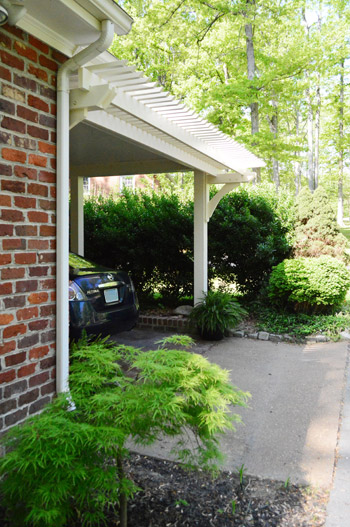 I feel like the new pergola gives our house a bit of "quaintness" (if that's a word). We especially like how it frames the view of our street, which is currently blooming like crazy. Either way, it definitely adds some nice dimension to our flat ranch.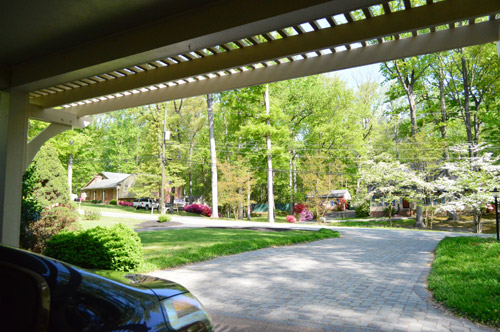 So yeah, between this and our beefed up porch columns, we're falling in love with the front of our house all over again. And can you just imagine some flowering vines growing up those posts and across the top of the pergola? Holy charming, batman.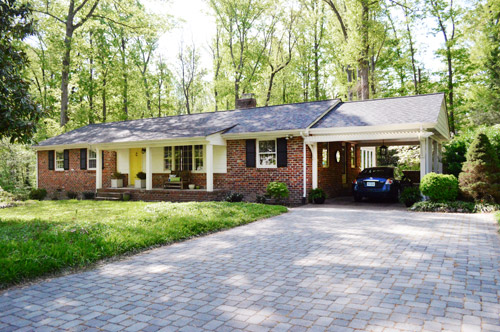 What's on your outdoor agenda these days?
Psst- We're so excited by all of the activity, sharing, and advice-giving that's been going on over on Young House Love Forums, so here's a quick summary of a few updates we made for you guys.

&nbsp&nbsp&nbsp