Monthly Roundups
2013 has been quite the year. It began with a book tour, mid-pointed with us moving into a new house, and ended with us finding out that we have a baby boy on the way. And in between there have been lots of projects, announcements, transformations, and other good stuff. So we thought we'd make our last post of the year a look back at our 20 favorites – from makeovers to personal moments – of the last 12 months. We fell off the "monthly superlative" train somewhere around our move, so we're well overdue for a little retrospective anyways (cue the slow jazz). So here we go, in no particular order…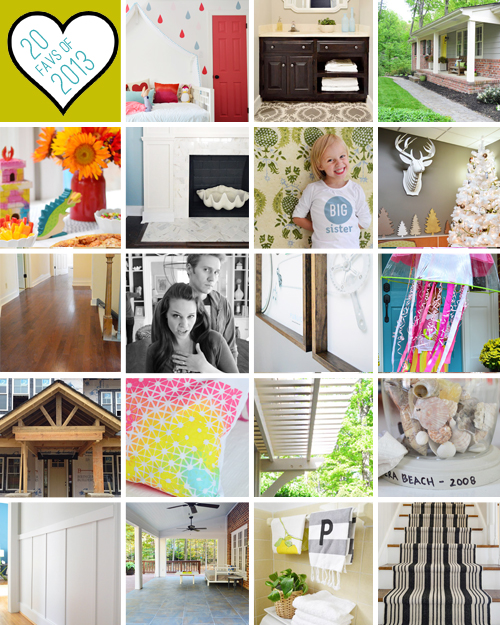 #1 – Refacing Our Old Fireplace: Perhaps one of the things we miss most about our old house is fireplace and its total facelift. We marble-tiled the surround (including our first stab at herringbone) and constructed, trimmed out, and painted a whole new surround. More on that here, here, here, and here.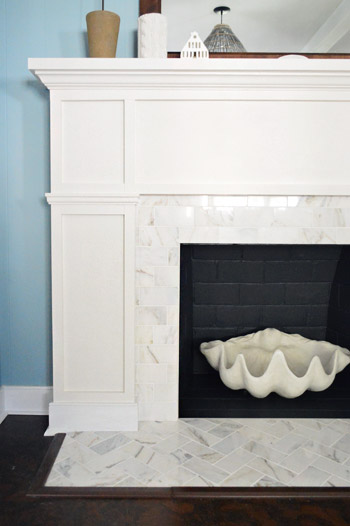 #2 – Clara's Cheery Big Girl Room: I think we'd all vote that our favorite space in our new house is Clara's room, where we've had fun with a soft pink ceiling, some chunky crown molding, colorful raindrops & a rose-colored door, no more crib, and a wall o' fun.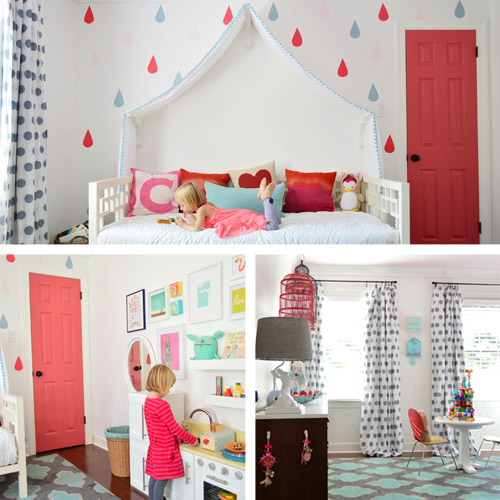 #3 – Our Much-Nicer-For-Now Graphic Master Bath: The stenciled subfloor in the sink nook off of our master bedroom is SUCH an upgrade from the old worn carpeting that used to be there – and it was such a cheap solution. We've also ripped up that old carpeting, painted the walls/trim, hung a nice big window-ish mirror, and updated the vanity by adding shelves and new hardware along with refinishing it.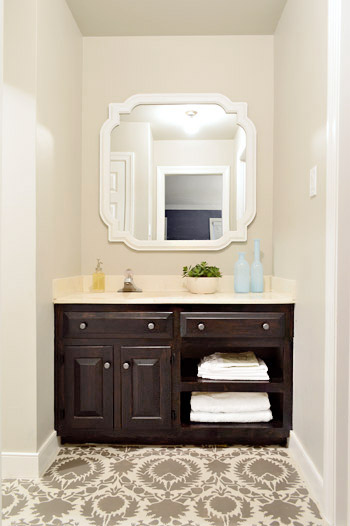 #4 – The Pergola, Er, Cargola: The pergola we built on our carport (hence, the "cargola") fulfilled our lifelong dream of having a pergola. Okay, maybe lifelong is a stretch, but having constructed it from scratch (even building those brackets) gives us quite the confidence boost for someday adding one above our double garage at this house. You can read about the entire process here and here.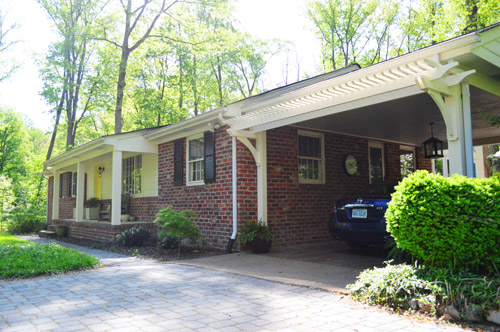 #5 – An Imperfectly Perfect Painted Pillow: It's not what she initially envisioned, but we ended up loving the bleed-tastic outcome of this colorful painted pillow that Sherry stenciled using a metal screen and some sponged-on craft paint.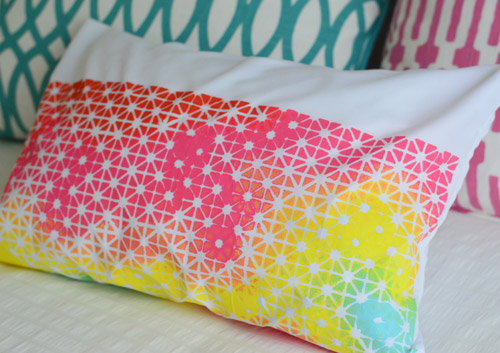 #6 – Striped Stair Makeover: It was plenty satisfying to finally rip up the old carpet on our stairs, but we're so glad we didn't stop there. Instead, we painted lots of blue trim and bannister posts white, also went white with the stair risers, painted the stairway walls and ceilings a light gray-tan color, and stained the railing a dramatic dark tone that picked up on the new black & white runner that we installed. More on that here, here, and here.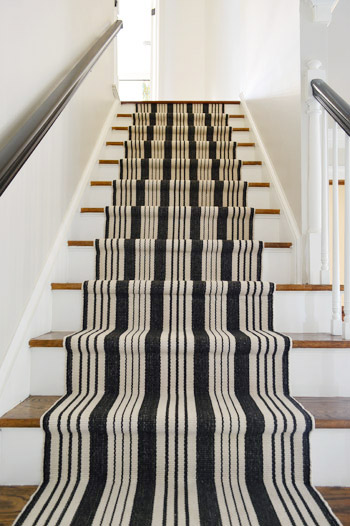 #7 – Simple Frames For John's Favorite Art: Although we haven't found a new home for them yet (maybe the nursery or the office?), I loved creating these super simple wood frames for my big bike posters when they hung in our old sunroom. And they were only $7 each!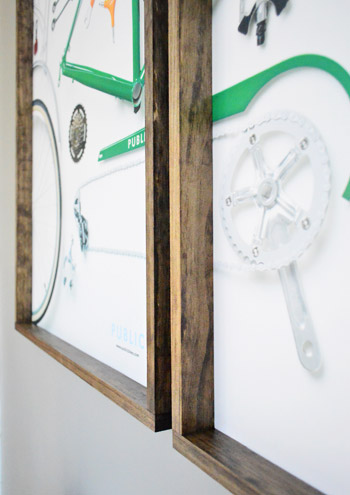 #8 – Spreading Cheer at The Children's Hospital: How could we not include this? The most rewarding project we took on this year – heck, this decade – was doing a holiday makeover for a family waiting room at the Children's Hospital of Richmond at VCU. You can read more about that process here, here, and here.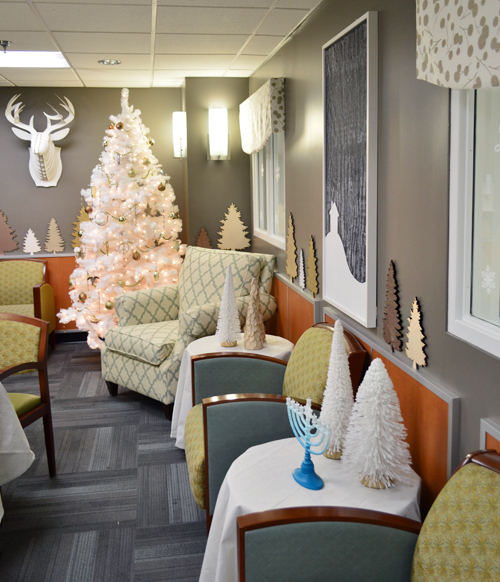 #9 – Celebrating Our Little Dragon: We didn't think we could top the fun of Clara's worm-themed 2nd birthday, but celebrating Clara's third birthday with dragons was a heckova good time. Speaking of which, someone's already talking about her 4th birthday, and she came up with the idea of "a gold party" all on her own. So far she wants to wear a gold dress, serve gold food, and give out gold coins to everyone while they get their faces painted gold… should be interesting to see how this evolves over the next five months.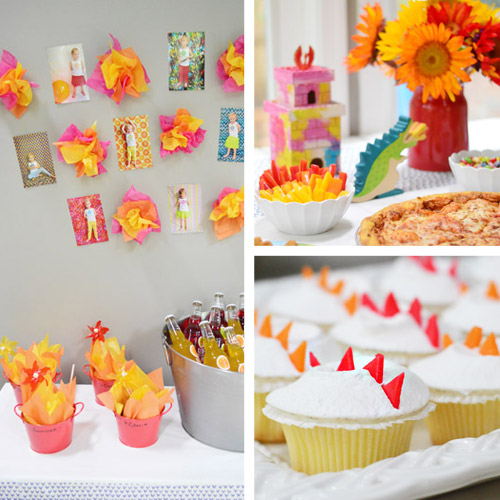 #10 – Making Over Our New Deck & Sunroom: We can't wait for winter to ease on outta here so we can get back to enjoying the outdoor spaces that we spent so much of this year transforming. From patching, stripping and restaining the deck to completely overhauling the formerly closed-in sunroom (lofted ceiling! tiled floor!) we're ready to kick of Spring out there already. You can read more about the deck makeover here, here, and here. And check out the sunroom reveal (with links back to each stage of that undertaking here).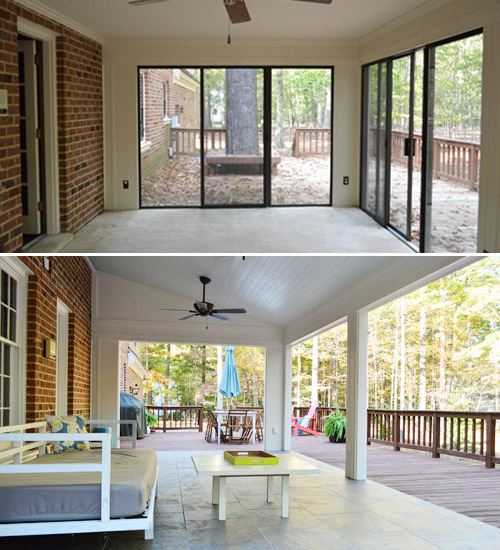 #11 – Dropping Our First Single: I just watched this again and half-laughed, half-buried-my-face. We are SUCH BIG NERDS. But hey, it's all in the name of some good fun & foolishness (pun intended).
#12 – Upgrading Our Vacation Jars: This easy update to our little vacation time capsules – which up until now had been housed in mason jars – breathed some much needed life into one of our favorite projects of yore. It was nice and simple – and now we've got an even bigger collection of these personal "travel snow globes" of sorts.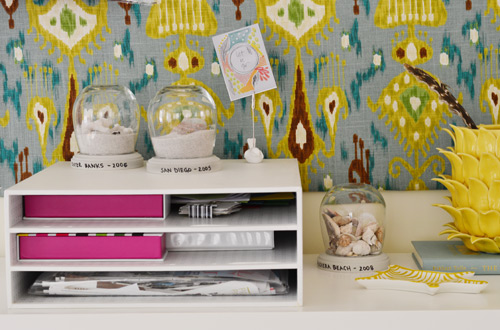 #13 – Hardwood Floor-ifying The Upstairs: This almost didn't make the list because the process was far from my favorite time of the year. But ripping up the carpets in our upstairs to install new hardwood floors (and painting all of the doors and trim) was certainly well worth it. You can read more on that process here, here, here, and here.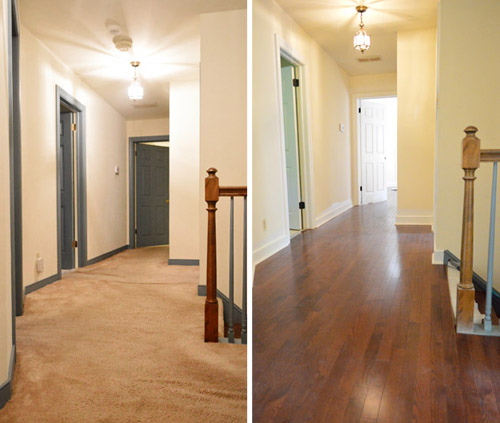 #14 – Taking On A Showhouse: Accepting the challenge of helping to design an entire house for the 2014 Richmond Homearama (to benefit Habitat For Humanity) has been both exciting and more than a little intimidating. Over the last month we've transitioned from the planning stage to full on let's-get-this-thing-built-and-finished mode. It's been a bit hectic lately, so we totally owe you an update (beyond just what's been showing up on Instagram). The house is now framed, sheetrock is going up next week, and one of our favorite elements – the exposed wood porch detail (made from reclaimed wood) – is coming together right before our eyes.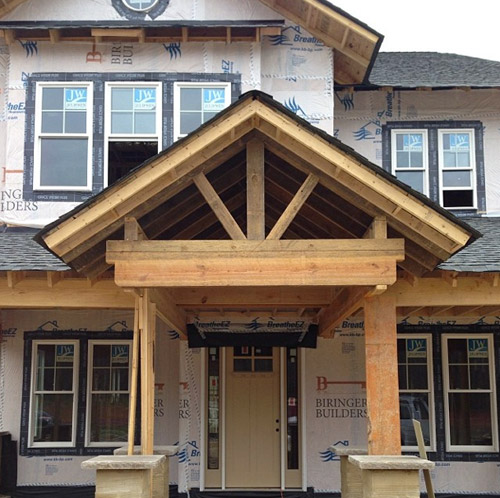 #15 – Our $51 Guest Bath Update: Embracing the vintage-y feeling of our old guest bathroom, meant sprucing it up with simple (and extra budget friendly) ideas and accessories. First we painted the walls, tended to the window, and then added art and accessories. I'm not sure we're ready to start putting yellow tile in anywhere voluntarily, but it was undeniably charming in the end. We actually kind of miss it!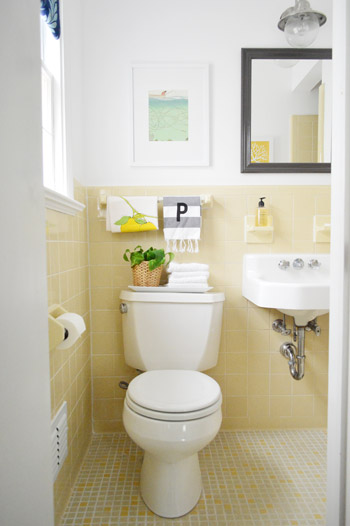 #16 – Clara's Jellyfish Costume: In our second year not doing a store-bought costume, Clara threw Sherry a curveball with a request for a jellyfish fairy/princess/queen (depending on the day). But with an umbrella, some pretty dangly things and a string of LED lights, we had one happy jellyfish on our hands.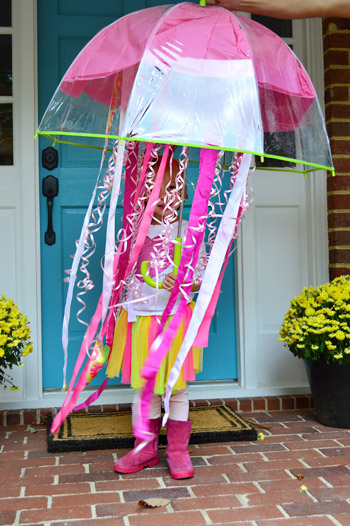 #17 – Cheap & Easy Hallway Upgrade: Another project from the last house that we've earmarked for this house is hallway board & batten (although I'm sure it will evolve for this space – maybe in a chunkier and more detailed way). This hallway update cost us less than $60 and was something the new buyers loved during their first tour, so we're so glad we got 'er done. You can read more about the process here and here.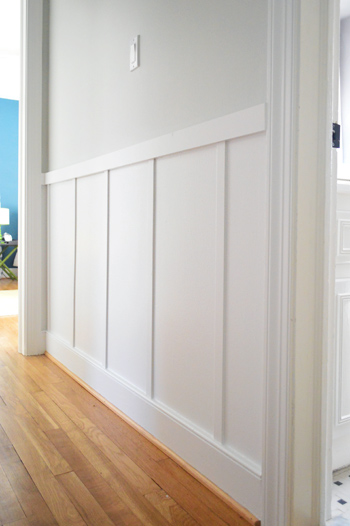 #18 – Interviewing Jonathan Adler: Put a line through this on Sherry's bucket list: she talked with one of her design idols, Jonathan Adler. And we got all of her extra-gushiness on tape to prove it. If you missed it before, here's her giddy interview below:
#19 – Finalizing Our Curb Appeal: In addition to the aforementioned pergola, we also stepped up our front exterior by boxing out the porch columns to make them match the chunky columns that were already on our carport (more on that process here and here), painting the siding for contrast, and even adding some window boxes.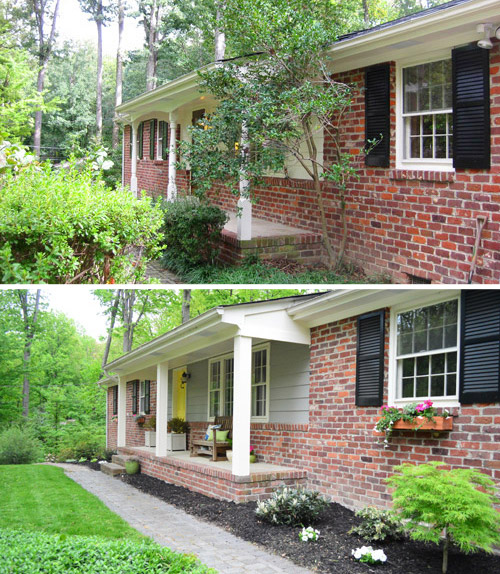 #20 – Announcing The Barnacle: And of course, we can't make a list of favorite things in 2013 without including a nod to what will surely be the highlight of 2014: the new baby boy (er, "bun" if ask Sherry, "barnacle" if you ask Clara) that we're expecting in April. Which reminds us, it's just about time to start working on that nursery!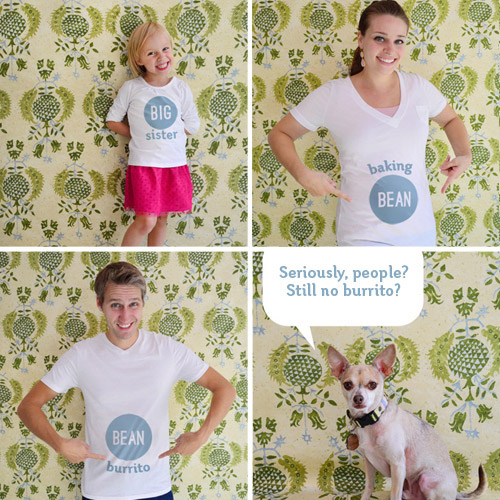 And of course, a big reason that these moments are our favorites is because we get to share them with you guys. So a big thanks for being part of our 2013. We can't wait to continue this wild ride with you guys in the big '1-4. Sherry's currently going through 10,000 photos and writing a big tutorial about Clara's homemade Christmas gift, so we'll be back with those details on the 2nd! Haaaappy New Year to you and yours!
Now it's your turn. What's topping your list of favorite life moments / house projects / rapping attempts of the past year? Is there anything in particular that you're excited for in 2014?
&nbsp&nbsp&nbsp
Um where did April go? The shower-iest month seems like a distant memory by now, but it was filled with outdoor makeovers, bathroom updates, shades a plenty, and even a bit of rapping. So we're taking a moment to appreciate all the things that we checked off of our list as a motivator to hopefully make the coming months just as productive. Oh and you can catch superlative recaps of the last 2+ years here (in 27 easily skimmed posts instead of nearly 900 long ones!). Plus, we've got a little clue about what's happening next week in the mix below…
Most Photogenic: Next Monday's giveaway, which should make all of you fellow Instagram addicts pretty dang excited.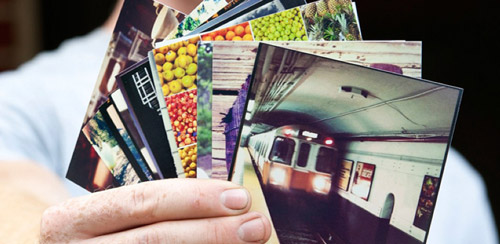 Most Foolish: Us, for kicking off the month with a faux rap video in honor of April Fool's. A few of you even fell for it or wanted it to be longer (jiggawhat?!).
Most Delayed: Adding crown molding to the tops of our kitchen cabinets… finally. Something about being on a crown molding kick made us bite the bullet and polish those guys off.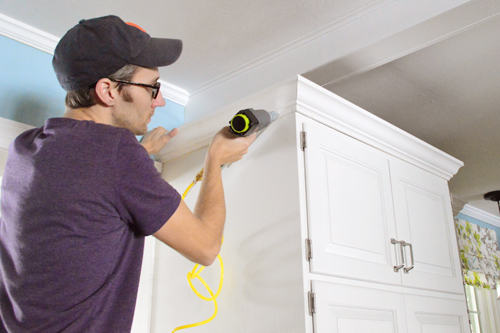 Most Awesome: Finally getting our "Things That Are Awesome" print hung up in the guest bedroom as part of finishing off that side of the room (and adding a colorful little bookcase too).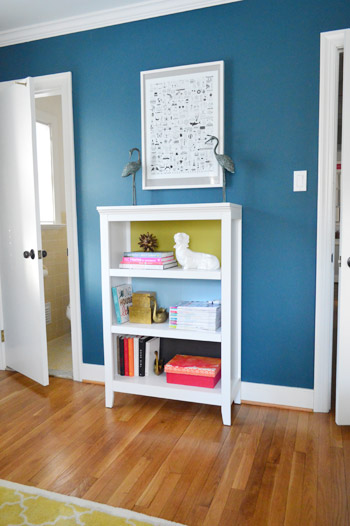 Most Weirdly Amusing: In this updated video tour of our house, a towel falls off a hook at one point. I have no idea why that cracked us up so much…
Most Worldly: The map calendar that we cut apart to create a series of art for our hallway. It makes for a nice visual wish-list of places we'd like to go, since so far we've only been to one of the eight cities shown. So yeah, we should get on that.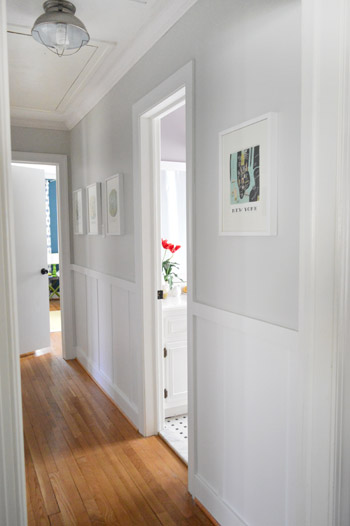 Least Naked: The space above our TV which we finally dressed up with a simple DIY shelf and a few colorful objects. The award for "Most Naked" may go to the Games of Thrones episode that's still on our DVR.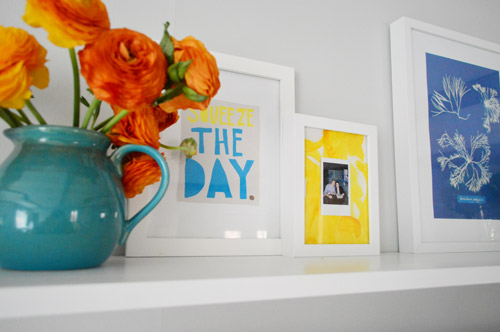 Smartest: All of the friends and family we tapped for advice on how they work smarter, not harder - including ideas for organizing your daily tasks, emailing efficiently, and even blogging better. Not to mention all of the tips you guys added in the comments!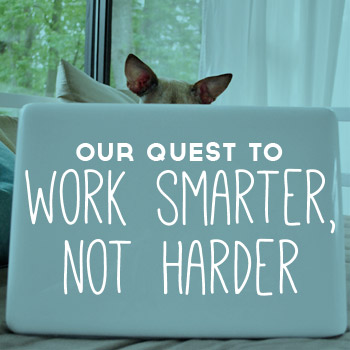 Most Relieved: Sherry, when she learned that busting out the scallops on our porch was going to be much simpler than the last time she attempted it on our first house. It's always nice when a project starts off easier than expected!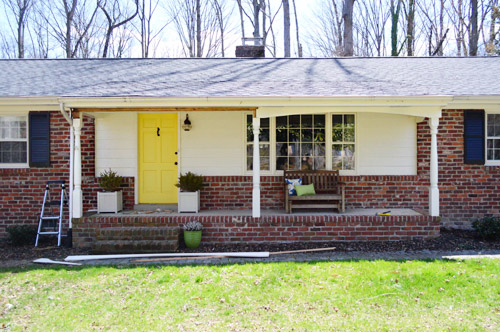 Most Proven Wrong: Me, I'll admit. I told Sherry I wasn't convinced that we should add window treatments to our office. But from the moment the bamboo shades went up in there I knew I was wrong. I'm still surprised at how much more finished they made the room feel. And the new house will definitely get a nice gaggle of bamboo blinds in cahoots with a boatload of curtains.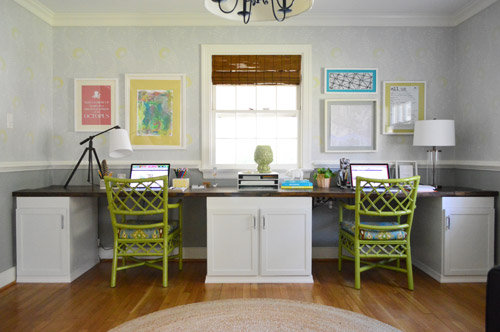 Beefiest: The new columns on our front porch, which we boxed out last month to give our house a bit more of a modern look. Just looking at this picture again is giving me flashbacks to all the caulking we did out there to make sure everything was sealed up to keep out moisture. But we love that the new columns are a lot more true to a ranch style home (many of our neighbors have squared off columns that used to make us green with envy).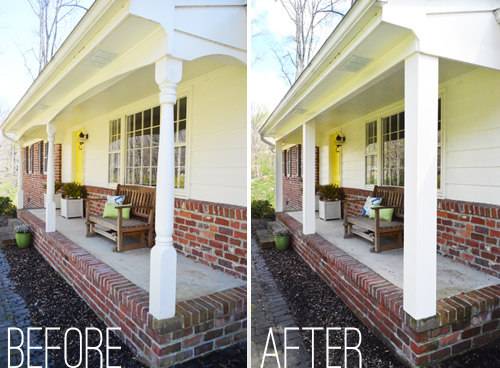 Most Well-Traveled: Certainly not us, although we did clock a lot of travel as part of our book tour. So we shared ten things we learned along the way and in the comments you guys added a lot more great tips and advice.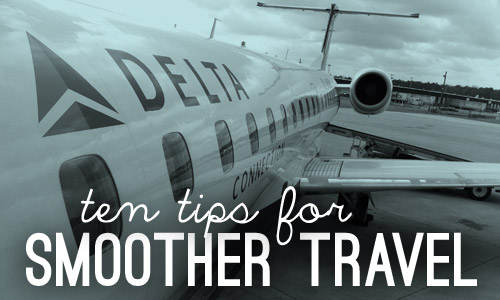 Most Polished: The three additional spaces we added crown molding to, making all of the rooms in our house officially crownified (except bathrooms). This post also has a step-by-step video tutorial of the process for any future crown installers out there.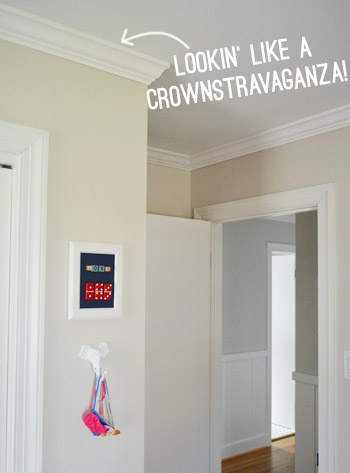 Craftiest: Clara, who got her first experience Mod Podging as part of this little box makeover which involved some washi tape and one of Clara's paintings from school.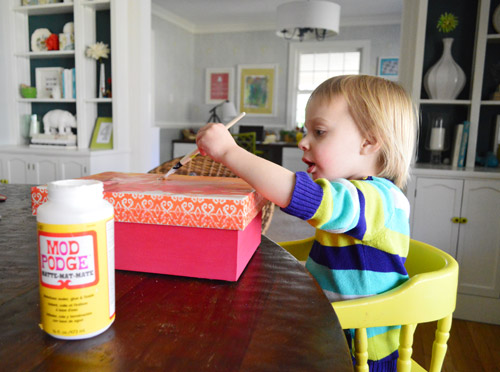 Most Tedious: Clipping off branches from a vine that was bad news for the tree off of our patio. It wasn't the most exciting task, but the open feeling it brought to that side of the house was well worth it. Plus, I got to wear a construction helmet.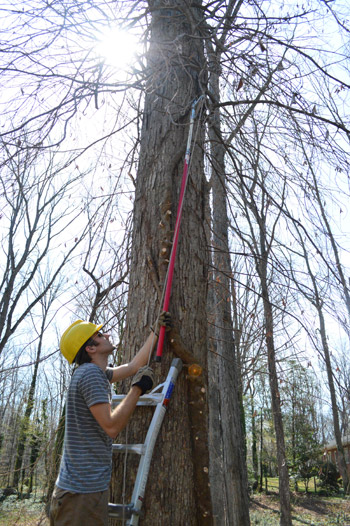 Most Neutralized: The guest bathroom, which we painted white (trim, walls, and ceiling) in preparation for a mini-makeover. It was a small change from the cream paint that was in there before, but was an important step in freshening it up a bit – and it made the yellow tile more charming when it wasn't in a big off-white box.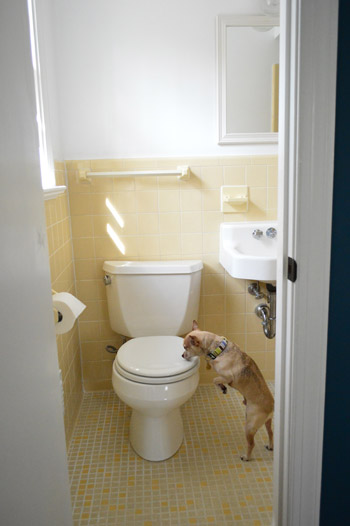 Most Likely To Throw Shade: The bamboo blinds that we also hung in our sunroom to add a bit of privacy and warmth to the window-tastic room.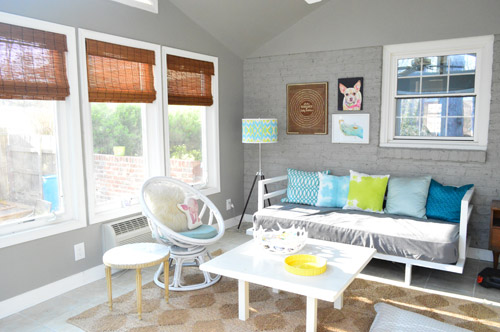 Most Talkative: Members of the new forums that we added for you guys to chat/exchange ideas/share project photos. Update: we've since given it a slight homepage makeover and expanded it with new categories for suggested topics like "Blogging" and "Outdoor & Garden" thanks to user feedback.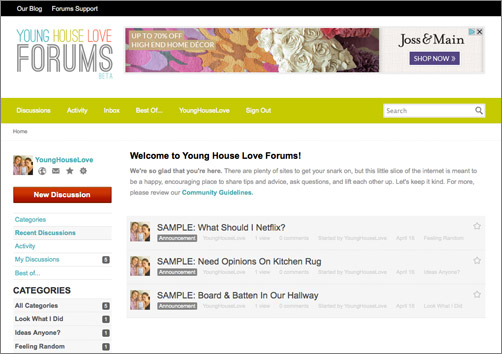 Most Old School: The yellow tile in our guest bathroom, which we were able to embrace thanks to new art, accessories, and a freshly painted mirror.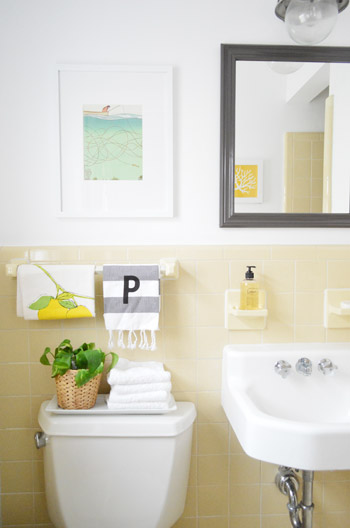 Most Helpful: The free pergola plan from Workbench magazine that we discovered online, which is what gave us the confidence to tackle the pergola project we had long dreamed about.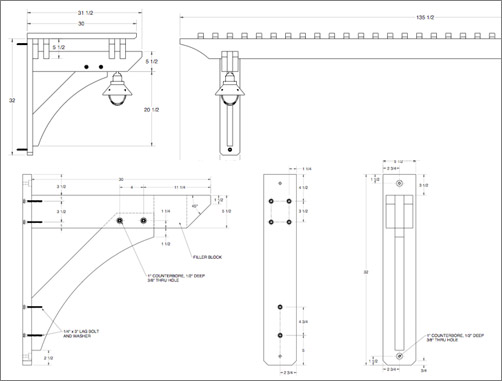 Most Improved: Our carport, after completing the pergola (aka "cargola") that gave it some much needed architectural interest.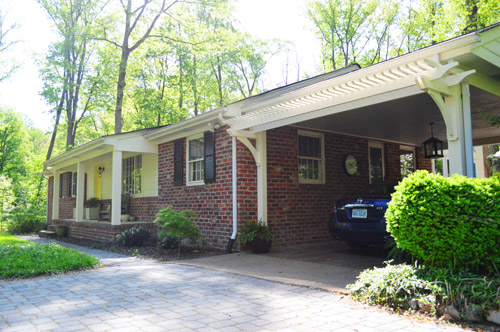 Most Commented: The announcement that we purchased a new home. It quickly became our most commented non-giveaway post at nearly 3,000 comments, surpassing the previous record holder (Clara's Birth Story) by about 600. Your enthusiasm and excitement for our new place both humbles and hypes us up. Let's do this!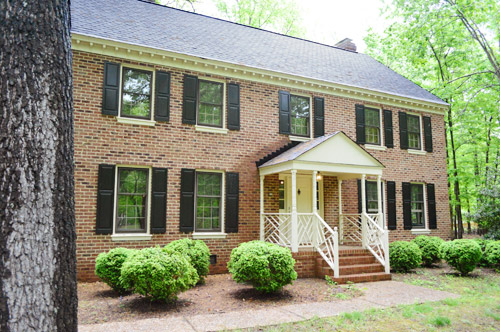 What did you guys cross off the list in April? Can you even remember?
&nbsp&nbsp&nbsp