Archive for June, 2013
As some of you guys have already discovered, we had the great pleasure of having our house photographed for the latest issue of HGTV Magazine. Well, our last house (we'd probably bat someone away with a stick if they tried to snap pictures of our new place just yet). And since a bunch of you have been asking for the behind the scenes scoop, here it is.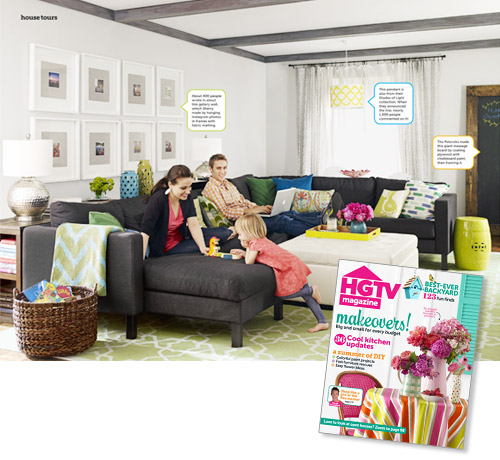 That day was such a blur that we weren't even sure that we had any behind the scenes photos to share, but when we looked back in iPhoto, it turns out we remembered to snap a few photos. This is Clara the editor. She's telling us what we need to fix for the shot to work better ("you need to see more of my toys").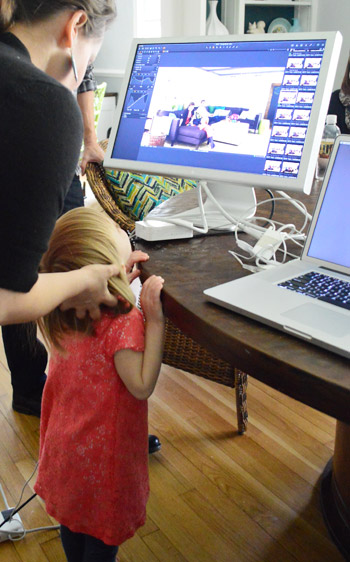 The HGTV Magazine crew (which included a photographer, his assistant, a stylist, and an editor from the mag) spent two days in our house. They were lots of fun and very gracious guests… even as our dining room became a makeshift office for 48 hours.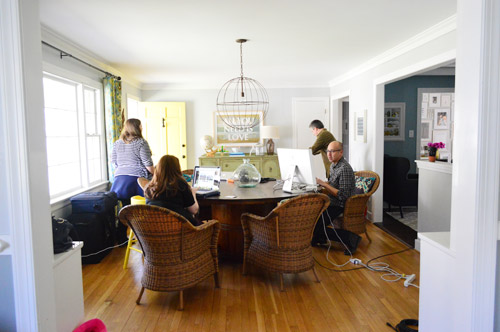 Well, except for when it had to be tidied up and photographed. Notice how there are only 4 chairs instead of 6? It was their trick to make it feel open and show off the pedestal a bit more. All part of the fun of seeing your house through someone else's eyes.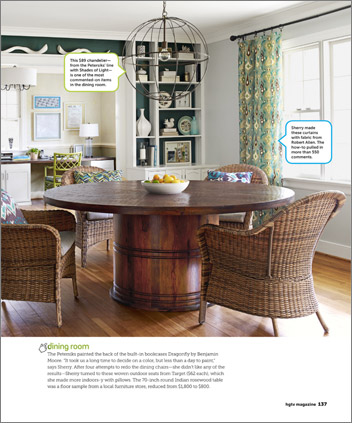 And of course there were moments when the room had to be almost entirely cleared to get the perfect angle. This was the set up they used to photograph us in our office for the opening spread.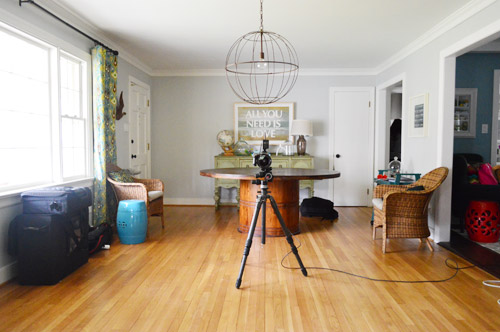 Sherry and I are quite comfortable with the chaos that comes along with a whole-house photo session (nothing can compare to the three straight weeks of book shoots). And by now I'd say our kids are getting pretty cool with it too.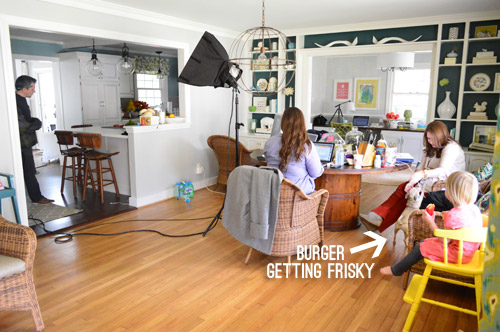 Rachael, the photo stylist, was awesome with flower arrangements, pillow fluffing, and Clara. They even developed a secret handshake to help her feel at ease with all of the strangers around. Although I fear this photo gives away the whole secret (it was just pressing their thumbs together). Simple or not, we love Rachel for thinking of that.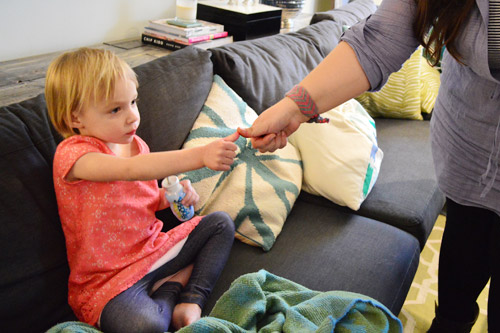 We also love that she and Jen (the editor) brought some fun props with them. You may have caught this Instagram shot of our kitchen doused with pretty food and accessories. It was eye candy and literal candy all at once.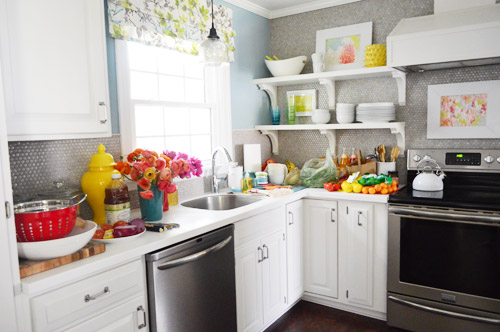 You can see some of those styling props hard at work in this picture of our kitchen, which we think is just about the prettiest shot of it ever taken. But even as photo-styling goes, we loved the balance the HGTV Magazine crew struck. In our opinion, it wasn't too over-styled (it still looked like our kitchen) but it was fluffed enough to make it look interesting on the page and to give us some new ideas about what we might want to tweak ourselves (more on that later).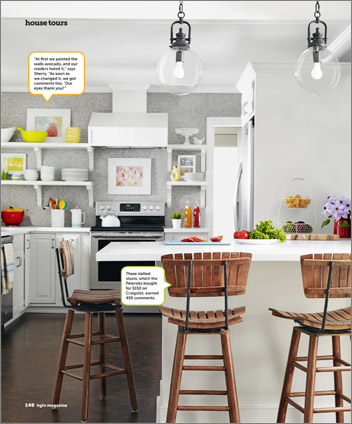 Perhaps the only bummer about the feature was that some of our favorite shots didn't make the cut. We knew they were taking more pictures than they'd have room for, but we saw some along the way that we had our fingers crossed for – like this one of the recently-completed fireplace.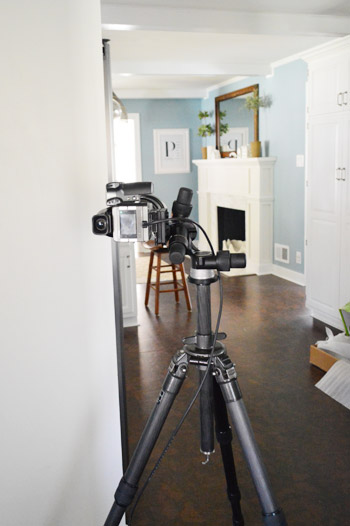 That shot also featured our new favorite term: "an aggressive sandwich." Someone deemed the prop sandwich too big at one point, dubbing it too "aggressive" for the shot. I think they eventually tamed it by removing a tomato slice. We all had a good laugh about what goes into these shoots, and Sherry still trades emails with our new HGTV friends by signing them with "xoxo, Aggressive Sandwich"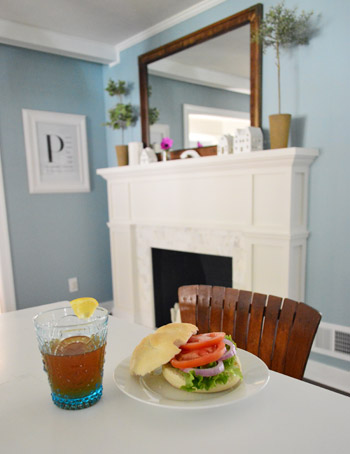 Here's a peek at what could've been, had these shots ended up in the spread.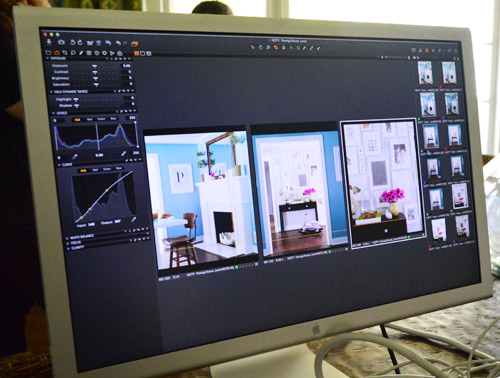 The frame wall never looked better. Here's one of our over-their-shoulder shots of the hallway styled up with some pretty flowers by Rachael.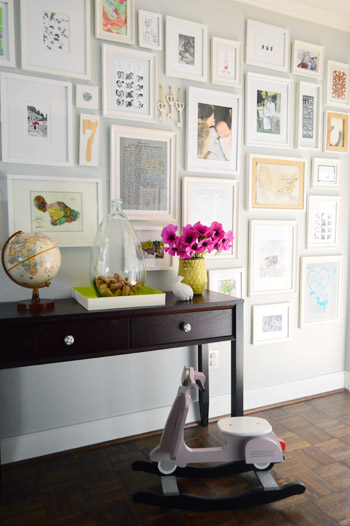 I wonder if the photographer feels a little sad when certain shots don't make it. He took a ton of time setting each one up, but he's probably used to it. Oh and you'll notice that we had to take down the basket light in the kitchen because it was casting weird shadows during the fireplace shot, so down it came.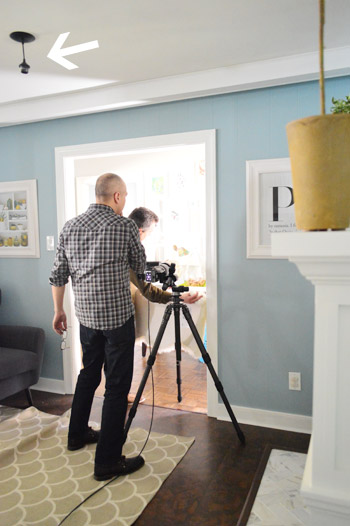 Fortunately, we got to enjoy the fresh flowers, even if the photos didn't make the final cut.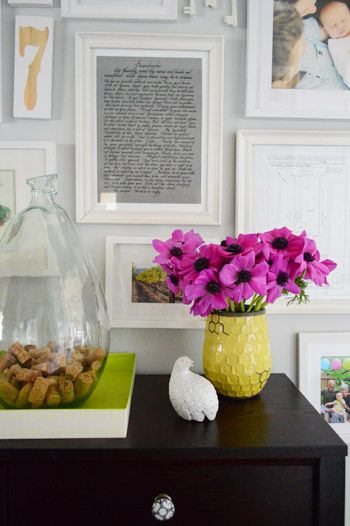 Oh, and they also cut a shot of the two of us prepping food in the kitchen (when we took this Instagram picture). But we're 100% sure that we looked far from natural in it, so we're forever grateful (us + cameras aimed at us = especially awkward). The funny thing is that we thought this might be a 2-3 page spread and it ended up being 10 pages long! Completely mind-blowing, and way more than we expected.
Speaking of abundance, there were lots of flowers. Which of course means that Sherry was in some state of flower-induced euphoria the whole time. They had a box shipped directly from the flower market in New York City and, thanks to our cooler, the sunroom became a makeshift florist shop for the two days they spent with us. Seriously, the room smelled like one giant flower for like two weeks afterwards. Sherry loved it. I thought it was kind of spooky once the flowers were gone ("where is that smell coming from?!").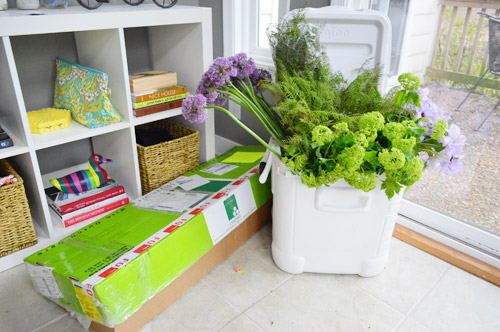 You should have seen Sherry creeping around the house whispering "If only they would last foreverrrrrrr."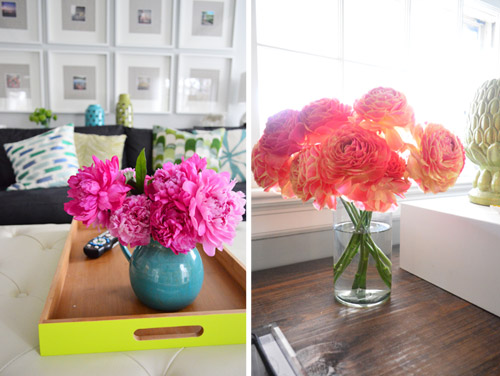 At least we have pictures to remember them by.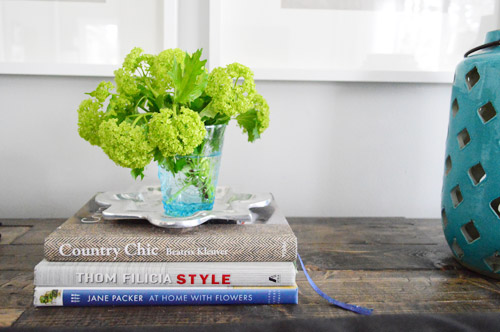 Besides tempting us to blow our life savings on fresh flowers (don't worry, I'll rein Sherry back in), one tip that we picked up and were inspired to put into action by watching the pros involved the pillows on our sectional. Rachel loaded it up with a bunch more pillows than we'd ever used… and Sherry was in heaven. Picture her doing one of Oprah's over-the-top "a-ha moment" faces. You can't really see them in the final magazine shot, since they used a picture of the living room with us in it, but Sherry may or may not have bought some of the pillows directly from Rachel when they were done (they were $20 from HomeGoods) to fill out her already robust pillow collection. Just picture me rolling my eyes in the background.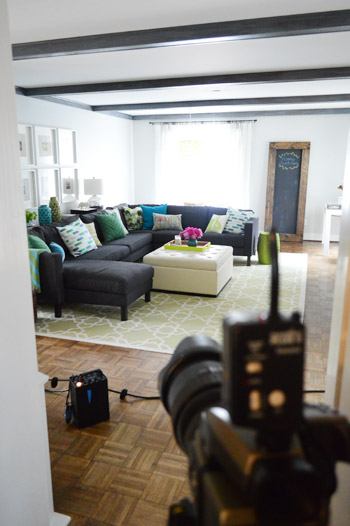 Oh, and you can't tell from our picture above, but this little table was deemed too short for their shot so they borrowed some scrap wood from the basement to give it a lift. Also note how our usual desk and mirror got the boot so that our chalkboard could take its spot (see the picture above).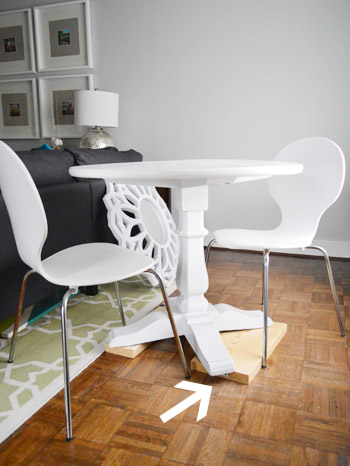 Wardrobe tricks were also employed – namely for one of Sherry's loose shirts that was deemed "too maternity looking" for the way it draped in the shot of us in the office. She ultimately swapped this outfit out for something less breezy (which is why she's in a different shirt in the other shots) but lo and behold, the original test photo with the pre-clipped shirt ended up in the magazine on the first page of the spread.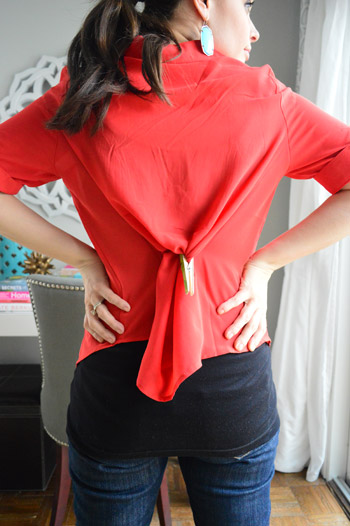 As for some literal "behind" the scenes dirt, when they took the picture of Clara playing in her big girl room, I hid behind the wall in the closet so that one of us was nearby while they snapped away. The toughest challenge was getting her not to run in there with me.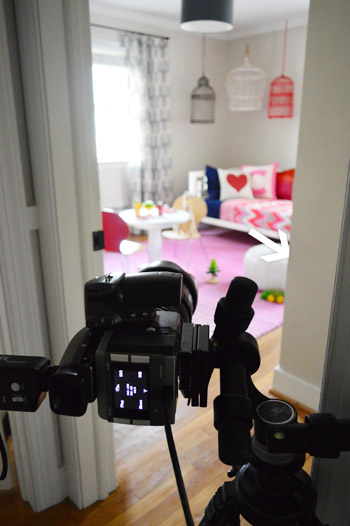 Perhaps the biggest obstacle for them was shooting the outside of our house, since late March in Richmond wasn't looking as spring-y this year as it usually does. Not to mention we had yet to begin lots of our recent improvements out there…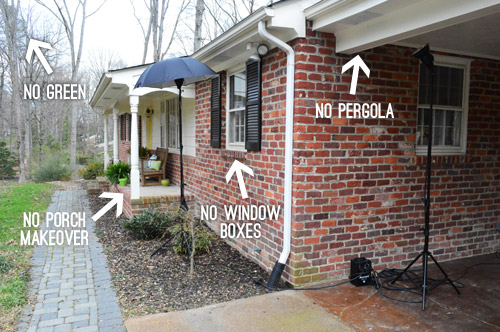 So now you know why the pictures of our outside are pretty small or just limited to close-ups of us on the porch. Although they did a great job of cheering things up by moving our red adirondack chairs (swiped from the patio) to bring in some semblance of color.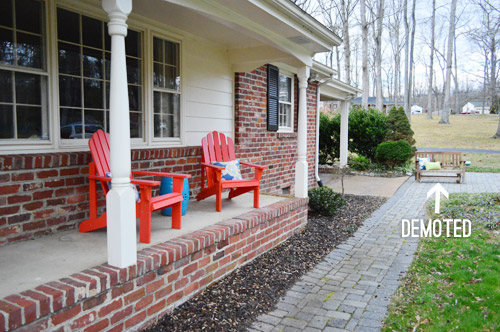 Oh and although the article mentions our moving plans, we actually didn't share them with HGTV until we shared them with you guys on April 30th (via an email that Sherry most likely signed "Aggressive Sandwich") – so they added that right at the end before the issue shipped. It really was locked deep in our brains until our alarm system was in and we were ready to tell the world at large, so I think only our parents, siblings, best friends, and the realtor knew before that. It was especially fun to finally tell the HGTV crew though, because we were able to explain how meaningful it was to us to see our house captured in such a major way before we said goodbye. It was a nice last hurrah, and they were psyched to have been the ones to document it all.
So we're incredibly grateful that they thought our home was worthy of their magazine, and we'll end this little behind the scenes spiel by sending out a big thanks to all of you who have stumbled upon it and said such kind things via Facebook, Twitter, Instagram, blog comments, email, and carrier pigeon. Just kidding about the carrier pigeon – you guys know we only accept ravens.
&nbsp&nbsp&nbsp
Our house gets really nice sunlight – especially upstairs and especially in the afternoon when the sun hits the front of the house directly. We love it for everything from hanging out to taking photos. And Burger, well, he loves it for just about anything: napping, grooming, sniffing things, more napping.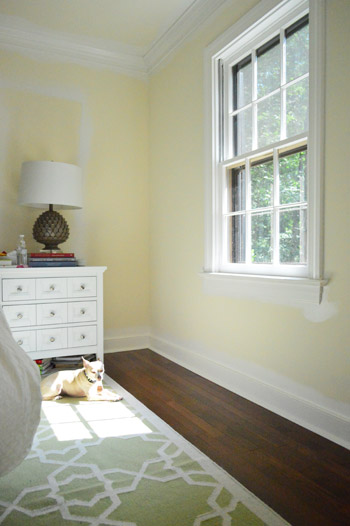 But the beams of sunlight streaming in also highlighted a shortcoming of this house: no window blinds. I think we took it for granted that the bedrooms in our last house came with nice white faux wood blinds, so it was kind of a shock the first night when we realized we had nothing for privacy or to keep the light from creeping in early the next morning.
So after way too many nights of undressing in the dark and waking up at the crack of dawn, we finally went out and bought a stack of these puppies. They're Home Depot's in-stock faux wood blinds. We splurged slightly on the "premium" version because they had wider slats (which means less window obstruction when they're open) and they also promised better light blocking and had a break-away cord for added kid safety (no loops, just pulls, and the pulls break away under the weight of a child). Fortunately it was only a small upcharge, since dressing 11 windows quickly added up to over $350 (and that was with a coupon). Gulp.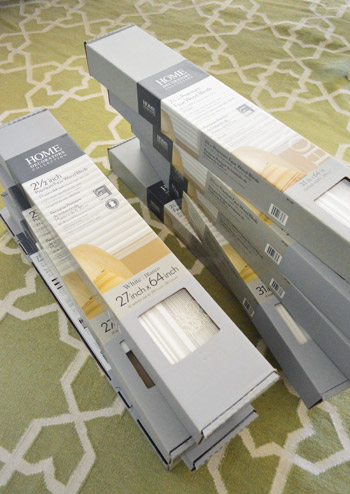 But they were a necessary evil that each room needed (especially the bedrooms and bathrooms where a certain amount of privacy is not just appreciated, it's expected). I say "evil" because we don't consider them to be exceptionally pretty – even if they are an upgrade from vinyl blinds – but the function trumps any gripes that we have about form. And once you layer in some curtains the windows end up looking pretty great.
Installation was a bit tedious, but straightforward thanks to some good instructions. Having to hang eleven blinds and then make a few adjustments turned into a bit of a time suck (this project took about 6 hours total, broken up over two days) but it's beyond nice to have privacy and early-morning-darkness in the bedrooms and bathrooms again.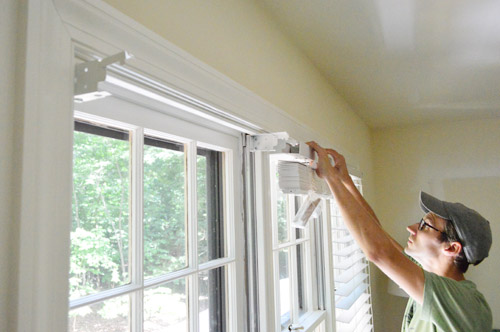 Hanging them basically involved screwing two brackets into the side of the window frame, and then sliding the blind into place.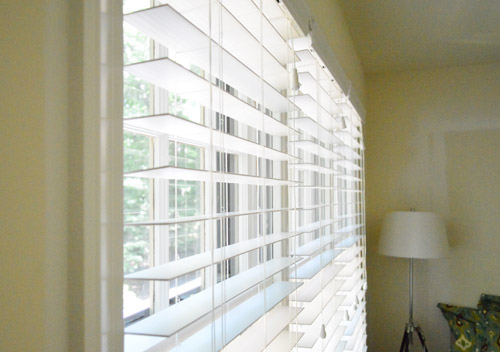 We were lucky that our windows were all standard sizes, so Home Depot had them on the shelf (they offer free cutting services if needed – but we were glad we didn't have to stand there while they cut down 11 blinds for us). I did get to customize them for our house by adjusting the length, which I did after each one was hung. I just removed the bottom slat, cut the strings that held all of the extraneous slats that we wanted to remove, and then reattached the base slat to the shortened strings and tied that to hold it in place (this post shows that step in more detail if you'd like extra photos/info).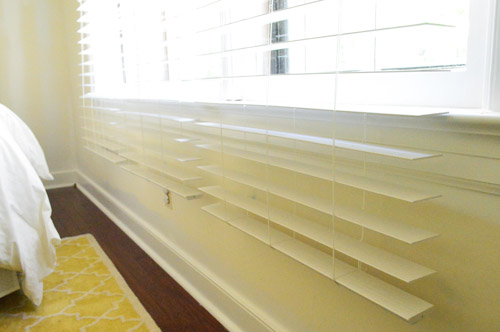 One new issue that we never encountered when installing these before was that the side pieces of trim that came with each set of blinds needed to be shorter to fit against our window frames for some reason.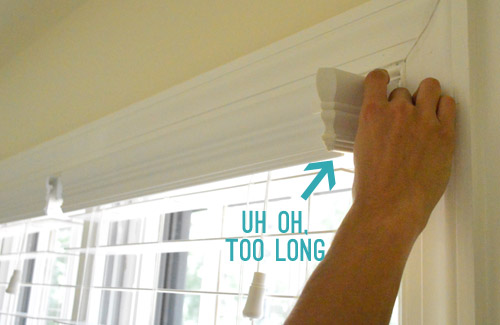 So I broke out my miter saw to give each of them (all 22!) a trim so they'd sit flush against the window and still attach correctly at the corner. The pieces of scrap wood in this picture are just blocking that I used to keep the trim in place without risking my fingers.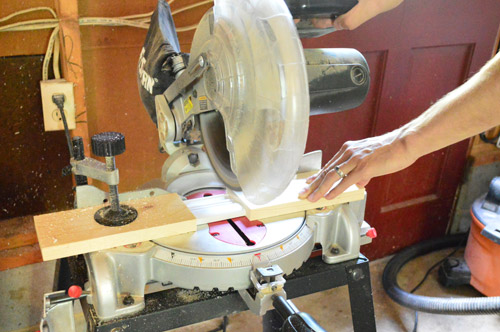 Much better.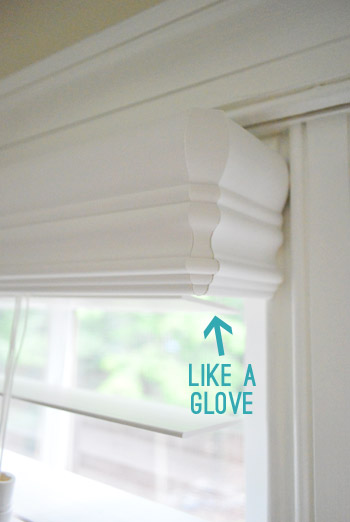 They just snap together, so shortening them on the end didn't interfere with how they attach.
Then all that was left was to enjoy some privacy and some light control. They're still looking pretty basic because we don't have curtains hung in most of our rooms yet.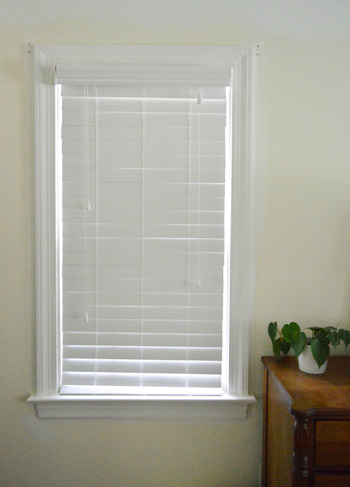 Although we do have them in Clara's room…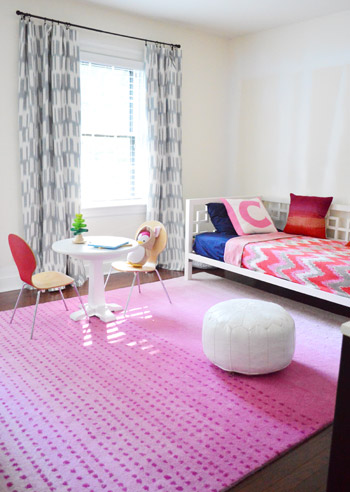 We also hung the curtains that Sherry sewed for our last dining room in the guest room.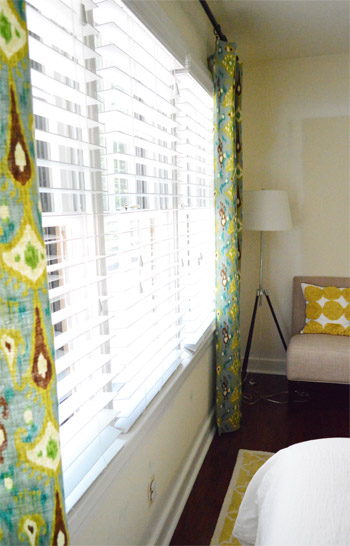 We owe you guys photos of how each room is looking these days, so Sherry's planning to shoot some pictures for you this weekend and write a "one month in" post for Monday. And speaking of the lady wife, we were just talking about how the first few months in a house always feel like you're bleeding money. Seriously, someone get us a tourniquet. So although this is our third house and we should know how this goes by now (addressing all those do-this-first items just seem to add up) we still find ourselves walking out of Home Depot saying things like "Over $300?! Are these blinds made of gold?!"
P.S. Since Google Reader is breaking up with all of us in four short days (aka: closing down forever) we've been forced to find a new reader, so we've converted over to Feedly (it imported all of our favorite blogs really easily and we liked its clean layout) but we've also heard good things about Bloglovin. So this is just a little "remember the milk" reminder, except it's "remember to switch readers because Google's about to dump us all." 
&nbsp&nbsp&nbsp