If you guys have read this old post, you already know half of this story. For the rest of you, here we go. Way back in 2007, right before we got married – and before we even started this blog – my parents gave us a tiny Japanese maple. It was a little 24″ offshoot that had started growing near the large maple in their backyard. We planted the tiny little thing in our backyard, said a few plant prayers for it, and it grew a smidge in the 3+ years it lived there… though we don't really have any photographic evidence of it.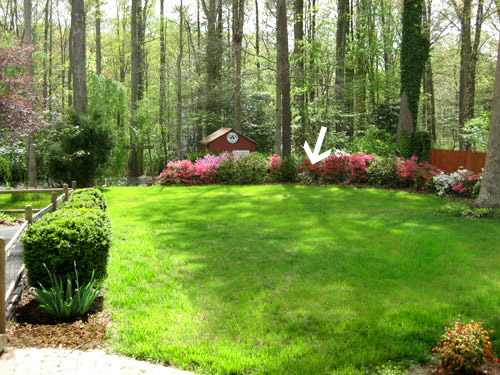 Since it was meaningful to us – having some wedding significance and having come from my childhood home – we dug it up before selling that house and brought it with us when we moved to our second house. Perhaps you're starting to see where this story is going.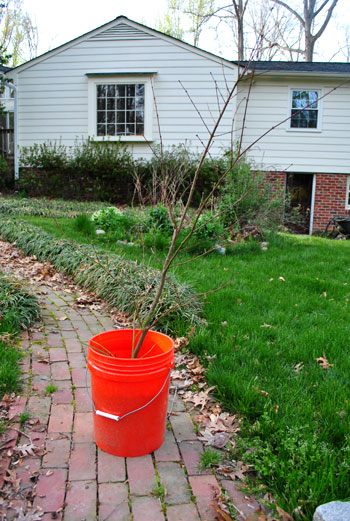 Since our last move took place in the winter, we were almost certain that our transplantation efforts killed it. But much to our surprise, it survived…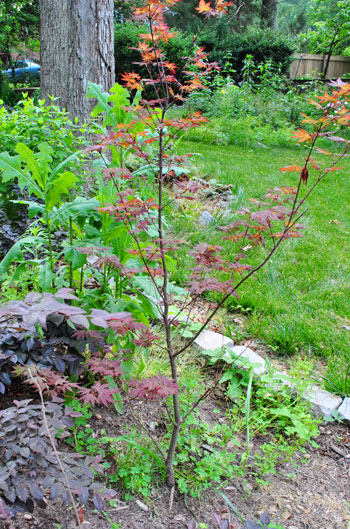 … and even managed to grow a bit bigger, although you never really noticed it in photos because it got lost amongst some other purple bushes that grew in around it.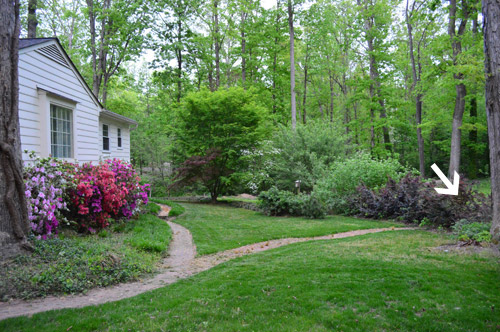 Since our last move, my parents have moved out of my childhood home making this little tree even more special to us. So of course we had to dig it up and bring it with us again, even if it's not as little now. Note: dig up your plant before you put your house on the market since anything in the ground during showings is expected to convey unless you indicate that it's coming with you in the contract.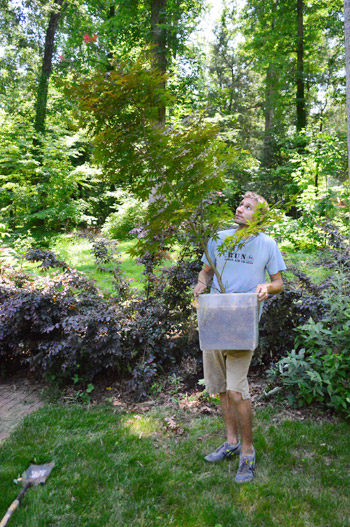 Digging it up was pretty easy. I made a wide hole around it and then gently lifted and wiggled until it came loose. The root ball seemed to be pretty small, so I was able to fit it into a plastic bin that I had handy. It had become a bit heavier since its last move, which is how Sherry captured this not-so-flattering shot of me hoisting it up while getting a leaf to the eye.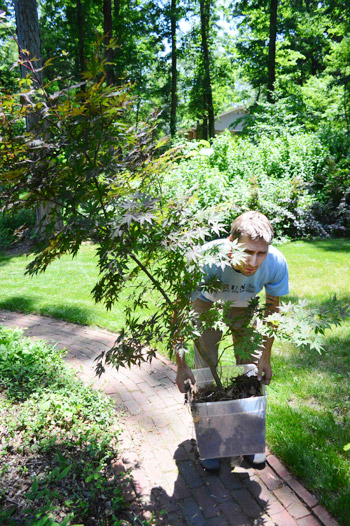 We decided to move it over to the new house as soon as we dug it up – just so it wasn't in the way during showings. It barely fit in our car, but barely works just fine for us. Even if it means Sherry has to ride in the backseat with maple leaves up her nose. We secretly wondered if other drivers would think we were cruising around with a giant marijuana plant in our car, just begging to be arrested. But no one stopped us. We're not sure if we're relieved or concerned.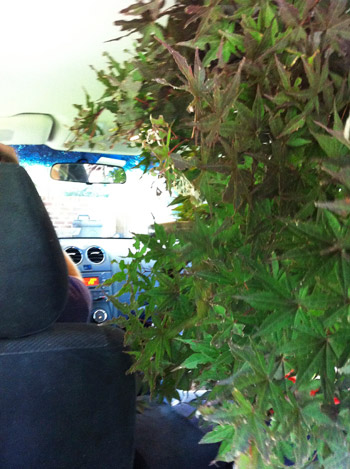 It sat in our new backyard for a while (through showings and moving and us getting settled for a few weeks) and then we buckled down and said "we have to get this thing in the ground before we kill it" (we had drilled a few holes in the bottom of the bin for drainage but knew it wasn't going to thrive in there forever). Finding a new spot for it was a little challenging because there are still so many question marks about our landscaping, but we decided this spot on the periphery of the woods that surround our deck is a safe bet. That way it's visible from the house and has plenty of room to grow (unlike last time).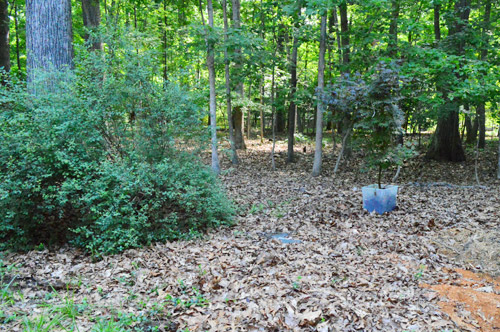 Now we just have to cross our fingers that transplanting it in the heat of summer didn't kill it. We used some compost and some garden soil when we planted it – just to give it the best shot we could – and thanks to lots of rain lately, it seems to be doing ok so far.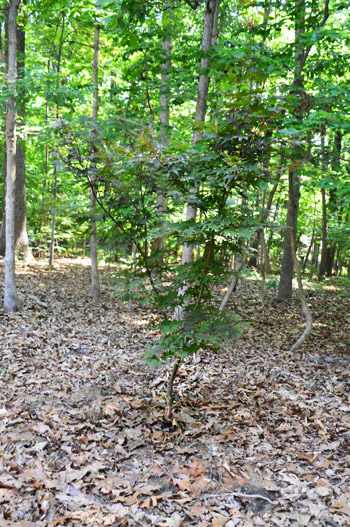 Actually, our main worry has been the deer. Of which (if you've been following our Instagram) we see lots of lately. We know they like to eat some low-lying shrubs, but so far our maple seems unappetizing. I even caught this one giving it a sniff and then wandering off. Move along, little buddy. Move along.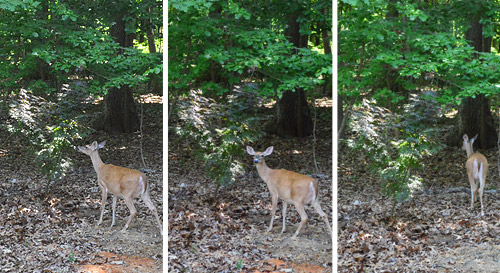 Anyone else have success (or failures) transplanting things? Or do you have any sentimental items (flora or otherwise) that have made a few moves with you? We can't believe this maple is now living in its 4th yard, counting my parents' place where it was "born." They grow up so fast. Single tear.