Archive for January, 2013
You've heard of rolling out the red carpet, but what about the pink one? It's Clara's favorite color, and a nice warm tone (after filling most of the house with cool blues, greens, and grays, it's nice to bring in some warm tones to balance things out). Plus the way the playful dots in the rug mix with the bold colors in Clara's big girl bedding = almost more fun than my brain can handle. In person it's even more happy! Seriously. Come over right now.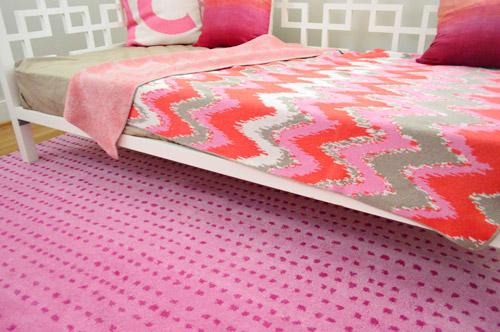 As for the price? Pretty darn hard to beat. We've had our eyes peeled for a while for something that would work with the blanket and general color scheme that we're doing in there (red + pink with a lot of other pops like navy, yellow, teal, etc) but everywhere we looked (local decorating outlet, Overstock.com, Target, etc) was selling larger 7 x 9′ rugs for around $400-700, which was a little more than we wanted to spend. We even tried craigslist and ebay to no avail.
So we held out and kept looking and finally spotted this 7′ x 9′ guy for $236.95 (marked down from $629) on Joss & Main. It's 100% wool, hand tufted, and the gradated color and fun imperfect dots that appear to be drawn on just felt so "Clara" to us. So we went for it. Not gonna lie, I was giddy when we clicked that order button. Especially since they were running a free shipping special (shipping fees can really add up on a big item like a rug).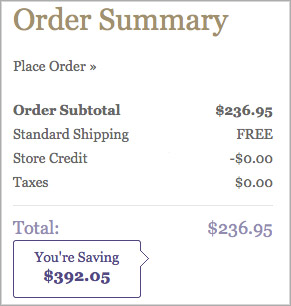 Then after clicking that order button all giddiness subsided and we did that thing where we silently freak out about ordering a rug sight unseen. But since it worked out so well with our living room rug, we just tried to hope for the best.
Then it arrived and this happened: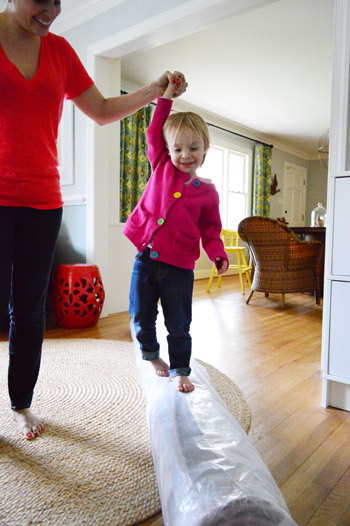 Apparently rugs are fun even before they're unrolled in the room.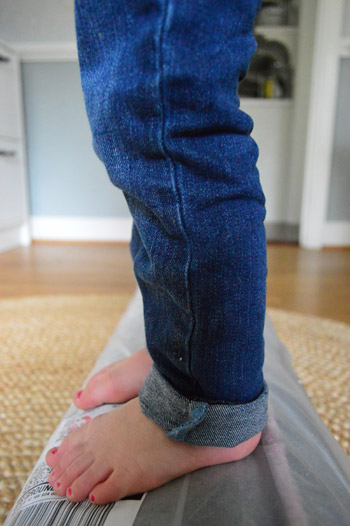 Then when Clara was napping we finally got to see it in her big girl room/playroom. This space definitely started out super tame with very soft milky-tea colored walls…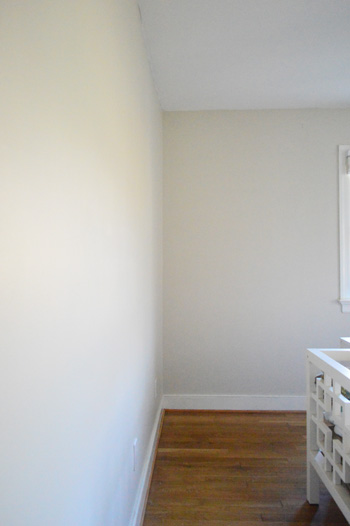 … and now it's looking pretty crazy-pink thanks to the bedding and the rug…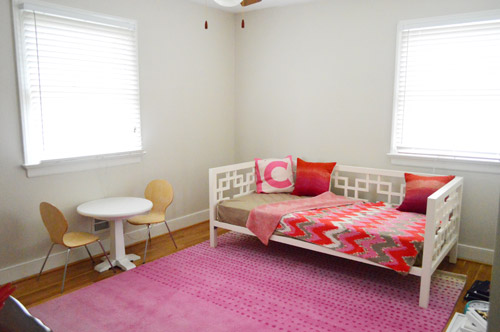 … but we think once we add in the art, curtains, new light fixture and other items that will break the pink up and balance things out (there will definitely be a large object or two on the rug and we're thinking about navy for some of the frames and maybe even the light fixture). Remember how the middle makes no sense? Well I'm crazy impatient. Haha. Can't wait to see it after a few more steps!
In the meantime we're soaking up some of the plushness and pattern (polka dots + a gradient!) that the rug adds. Most of our rugs are the same tone throughout, so we've never had one that gets darker as you step into the room.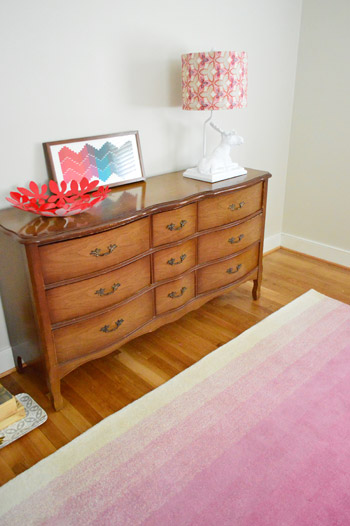 The polka dots are definitely my favorite part though. No doubt.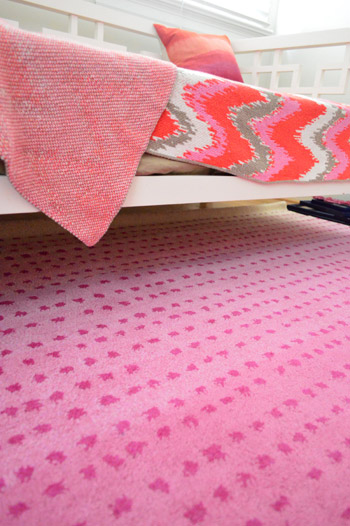 Are you guys ordering any rugs online and holding your breath until they come? Are you working on a room that's only about 20% done so you're in that giddy-can't-wait-for-this-to-come-together stage like us? It's so funny how this room has been a pretty even combination of paint, furniture we already had, craigslist finds, and now there's a new rug in the mix. Gotta love a smorgasbord…
&nbsp&nbsp&nbsp
So I finally finished decking out the other half of my Instagram-arted basement pegboard. Yup, I added a little makeshift shelf that I primed and painted, got a non-electrical music device (how's that for mysterious?), and even hung something kitchen-related as art. Actually a lot of you guys have been asking what we did with the cutting board that we picked up a couple of months ago as part of The Shops At Target collection, so… I give you… America The Pegboard-iful.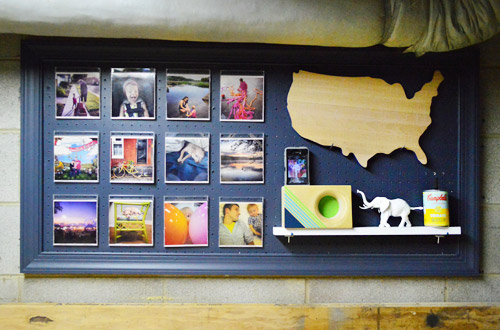 I just thought it made for some cool (and sawdust-proof) art, since I'm into maps and all.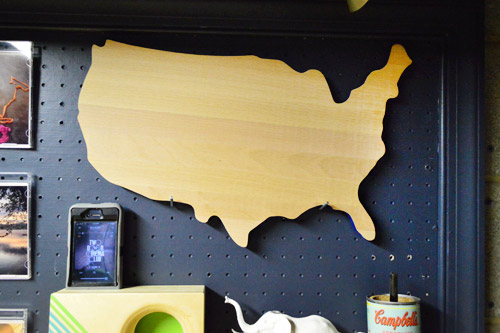 It worked out nicely that the blue-painted edge of it coincidentally goes with my navy pegboard. Although down the road it might be fun to paint it a more contrast-y color (or use decorative tape). Or do something else entirely to add some more interest.
I contemplated painting the shape of Virginia on it to mark where our home state is located, but I think it would work better if we lived somewhere that floated in the middle of the country (like Utah or Missouri) since painting such a small coastal state like ours might not make much impact.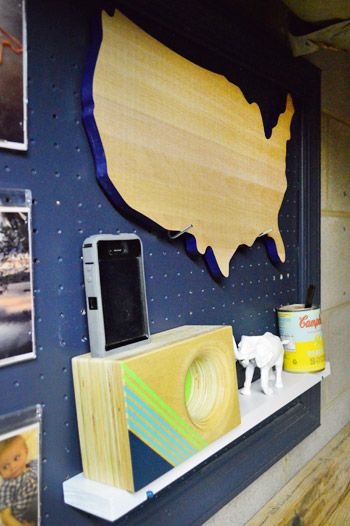 The other thing I'm enjoying up there is my new iPod dock, which I purchased for $45 through an Etsy seller (Index Drums). Gotta have tunes while I saw and drill to my heart's content, right? And sometimes getting myself a little "prize" for organizing/upgrading/taking back a room that has long been neglected makes the process a little more exciting. So since I tackled a ton of projects in the basement using just sweat equity, scrap wood, leftover paint, and pre-existing pegboards – buying this guy to add some function to the room feels like a nice reward.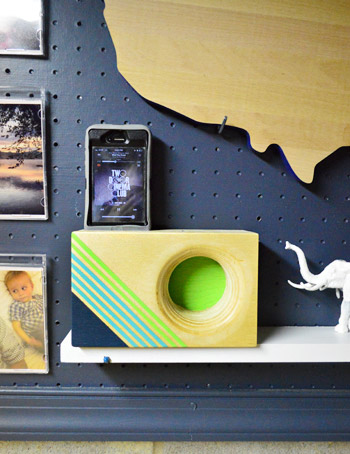 I stumbled upon it while looking for an affordable but unique music dock that also didn't require me to plug it in. I knew I wanted it to sit up on that pegboard, and having a big cord coming across my workspace would be obnoxious. So this plywood dock was perfect – especially since it never has to be charged or anything. It basically is just an echo chamber that naturally amplifies the sound that comes out of my iPhone's built-in speaker.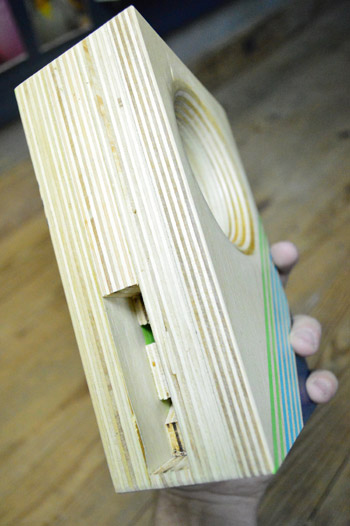 The custom listing I purchased from even allowed me to indicate the type of case that my phone was in so they could carve the slot to the exact proportions of my device. I also got to pick the painted design and the colors. I've been very happy with it so far. It's no BOSE speaker, but it looks good, sounds good, and I like that it doesn't require any batteries or charging.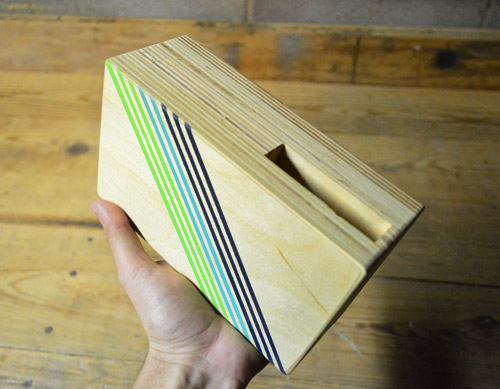 I quickly put together the shelf that everything sits on by just notching out and painting a piece of scrap wood so that it would balance on a couple of pegboard hooks.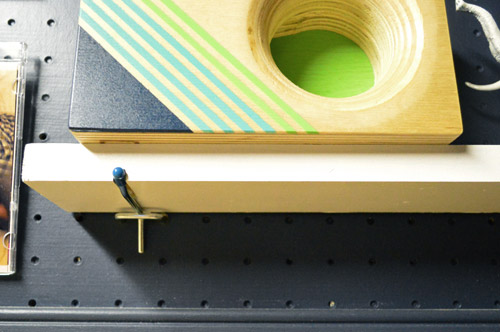 As for the other stuff on the shelf, I grabbed a white elephant (from book project #197) and one of these Warhol soup cans to hold my pens. Er, well, pen for now.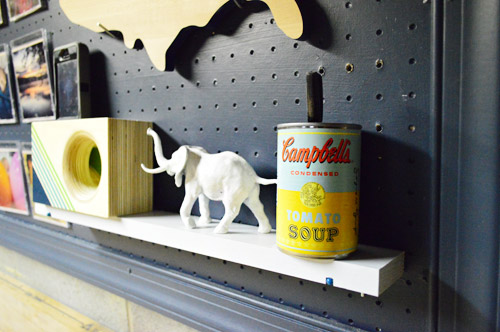 And with those simple but functional additions, I've officially used all of the pegboard space in the basement. Not gonna lie, these little functional/organizational coups can feel just as exciting as building a deck or gutting a bathroom. I have no idea why. Maybe just because when you stand in a space all the time, and actually know where everything is and like the way it looks, well, that's a special kind of house-love going on. And you know I have a thing for my pegboards…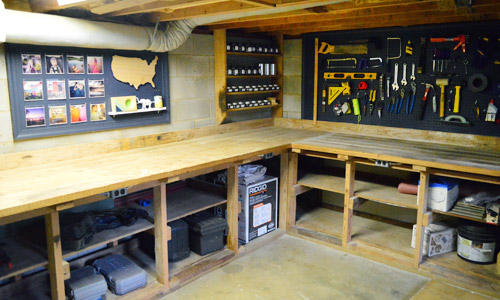 Has anybody else hung anything unusual (on pegboards or just the wall at large) lately? When you look at this project, I put a cutting board, a chunk of scrap wood, a soup can, and a plastic elephant on my wall. I think that counts as unusual, right?
&nbsp&nbsp&nbsp