***This giveaway is now closed – see who won below! ***
Clearly I'm not the only one who loves a good writing utensil (and Target card) as this giveaway reached our 10,000 entry cap within just 24 hours. Nice work team! So that means we get to crown a winner early. That lucky writer is… Heather F (who "writes notes on the back of envelopes and then loses them. Argh.") Congrats Heather!
This sounds kinda weird, but I'm very particular about my writing tools. So when the folks at Pilot noticed that we tend to write with their products, they wanted to thank us by passing some freebies along. But you know we don't take them, so we're paying it forward in the form of a $500 prize to one of you. Now, before you start figuring out what the heck you're gonna do with $500 worth of pens – let me stop you. While they'll keep your hands busy with a variety of pens and highlighters (even some erasable varieties) they're also gonna let our lucky winner pick out $150 worth of Levenger notebooks and organizers (since we could all use a little organization this time of year). Oh, and to round out the $500 prize, how does a $200 Target gift card sound? That way you can pick up any other items you need to get 2013 off to a productive and organized start.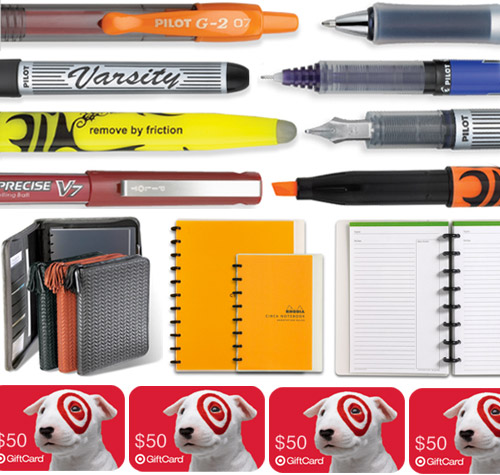 PRIZE: An assortment of Pilot products plus $150 towards the Levenger notebooks of your choice and a $200 Target gift card (total value $500).
TO ENTER: Comment on this post with the words "PILOT ME!" and tell us…
BONUS QUESTION: … your favorite way to take notes or scribble down a message. Do you always keep a ballpoint pen in your pocket or purse? Do you swear by pencils so that you can erase your misspellings? Or are you 100% digital and prefer to rely on phone apps and voice memos to keep you organized?
GIVEAWAY CLOSES: Wednesday, January 16th at 8pm EST or at 10,000 entries (whichever comes first)
NUMBER OF WINNERS: One
PRIZE SHIPS: We always beg every vendor to ship internationally but some companies are not legally able to vend things beyond specific areas (more on that here). This giveaway is open to the United States and Canada.
USUAL STUFF: One entry per e-mail address is permitted. The winner will be selected using random.org and announced on Thursday as an update to this post. That's right, come right back here on Thursday for the announcement of our winner. Good luck…
***COMMENT ISSUES? If you're trying to enter but keep getting a "duplicate comment" warning, click here to see how to solve it!
Note: We aren't paid or perked for hosting these giveaways, we just do 'em to thank you awesome folks for stopping in. See our Giveaway FAQ page for more info. Pics courtesy of Pilot.="nofollow">