Archive for July, 2012
Sorry, couldn't resist an ovum-related pun. Anyway the $30 thrift store can't-believe-it's-mine egg chair that I mentioned late last week got cleaned up, first with a nice liquid deglosser wipe down, and then with some spray primer + spray paint. About ten minutes after I snapped this grody before photo with the old cushion on it in our sunroom…
… I had him out in the yard ready for a little somethin-somethin.
Although the orangey-wood tone above doesn't actually look bad in the picture, in person he just looked dated and a bit dilapidated (thanks to the caning that was missing on both sides of the frame) so a fresh coat of love – in the form of paint – was my solution. And we can always paint it another color down the road to work with our ever-changing minds (ex: glossy black, soft mocha, cheerful yellow). I think after painting our happy green office chairs I've completely tossed any painted-chair reservations out the window since they're one of our favorite furnishings in the entire house…
… so we want to love Eggy just as much.
An hour or two later he looked like this. All dressed up in his Sunday best (he's one of those smooth guys who can pull of a white suit). I used white Rustoleum Universal in a satin finish. And the reason we didn't go with a super bright color for him (her?) was because I'm planning to park it in the corner of the living room, which has a giant colorful rug and a bunch of bright pillows (unlike the office which has a large neutral rug) so I thought it would slip into the room better with a nice clean white color (I can always add color with different cushions whenever the mood strikes).
You can check out a ton of spray painting tips in this post to see how I got it done, but let's just fast forward to him living it up in the corner of our living room after a few days of drying in the sun outside followed by sitting in the sunroom (so there's not any fuminess by the time he comes inside). Oh but ignore these frumpy pillows – they're just old seat cushions I had on hand from our first house's office/playroom chairs that I covered with white towels. Yes, white towels. Just to envision it with white cushions. And then I tossed a pig pillow into the mix.
Because I'm crazy like that.
Then I tried one of our faux sheepskins over those cushions instead of the placeholder towels. And before I could even step back to take a photo of my latest tweak, Burger was all up in my egg chair's area.
Seriously, in point zero seconds he had settled in.
But although the faux sheepskin earned Burger's approval, after sitting in it myself (on a hothothot day) it was a little… uh… shaggy. I just sort of felt like I was overheating. So maybe we'll bring back the faux sheepskin for our egg chair's winter look, but in the meantime here's what he's sporting as his just-for-now summer outfit. It definitely won't stay forever, but it works for the moment (we're just working with what we already have):
It's a little faux fur pillow on the bottom and a bunny pillow on the back. He's cute, eh?
 And thankfully, Burger doesn't seem to mind sharing the chair with a furry friend of the rabbit kind.
And here's Clara giving things a go. She likes the chair, but isn't 100% obsessed (toys = more fun than mom's weird egg chair), which I like because I plan to monopolize this baby. Haha.
She did have some fun reading her animal book in the chair "with the rabbit and the dog" (one of which was on the pillow and one of which was on her shirt).
Then I got artsy and snapped this from above. Isn't the chair's strappy shape sweet? It's sort of like a hammock but way less saggy/precarious feeling. You're sort of enveloped in this guy without feeling like you might fall at any second (and I love that he swivels). I guess I can liken the slats to a park bench. You know how those are slatted sometimes but you don't feel like you'll fall through because they're thick and dense enough? That's how it is in this chair too.
And a few folks asked about Clara's head getting stuck between the slats, but they're either way too close for her to fit her head inside or so wide that she could fit her whole body through (which of course isn't something we're encouraging). I guess it's like the metal bucket full of blocks that she has in her room, she can put her head in it if she really wants to but so far, so good. Haha.
The next day I asked John to snap a picture of me in the chair for "adult scale" (it goes to your shoulder blades, so it's a nice cozy chair with good back support) but sure enough, Clara wanted to ham it up too. So here we are snuggling in.
As for my long-term plans, I'll probably eventually grab a white seat cushion from a place like World Market for the bottom and possibly another one for the back – although the bunny pillow might stick around a while. He's my idea of a good time. And thankfully my egg chair's new look is an undeniable upgrade compared to our good ol' before pic. And the total price for the chair and this upgrade was $37. Not bad for a new-looking chair that swivels and doubles as sculpture thanks to those strappy curves. Although I'm not sure I've seen a chair that looks more like it's sticking its tongue out more than the before shot below. Maybe I should name him Odie…
Have you guys been rescuing any secondhand chairs lately? Finding new uses for small rugs or faux sheepskins? Or wondering why your dog is obsessed with said small rugs or faux sheepskins? Me too.
Psst- The latest version of Clara Conversations is up over on Young House Life. She's definitely earning her comedy chops…
It all started when I was going back through old posts looking for a link to something when I came across this old forgot-about-it mood board of yore. It was made about a month before we moved into our second house (back in 2010) and featured this board with the words "we have no idea what our future living room will actually look like, but today this is what I'm loving."
I thought it was pretty funny that 20 months later, after completely forgetting about making it, we have lots of gray and green going on, and even specifically have a big gray sectional, a green rug, and the exact same zebra pillows (scored about a year later on clearance from West Elm after I completely forgot about them from the mood board).
Of course some things are different, like the fact that we have yet to update our old media cabinet (we're dreaming of finding an old thrift store dresser to tweak these days) and we ended up with a padded ottoman instead of two wicker tables for the coffee table area.
Our curtains also have a subtle white and gray print instead of being green (which is probably a good thing since a big green rug + green curtains might be a smidge too Kermit much green for our liking).
Then someone pointed out what's possibly the craziest foreshadowing coincidence of all. Here is a post about some homemade art that we shared back in 2008 (four whole years ago!) which featured "blown up color copies from a decorating magazine of two graphic green wool rugs which I then snipped into strips so both patterns could appear in both frames."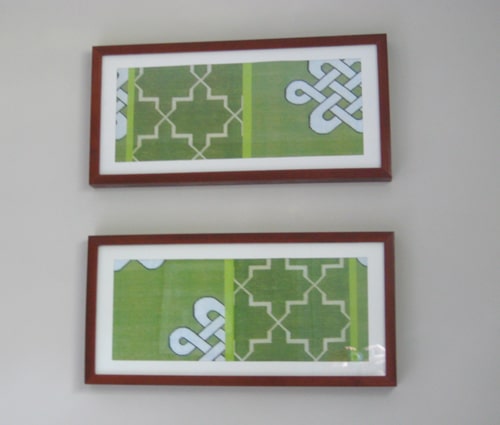 How crazy is it that I ripped out pages from a rug ad in a magazine, blew them up 300% at Kinkos, and framed them back in 2008 – only to buy a rug that was crazy-similar to that forgotten rug-turned-art four years later?! I never would have made the connection, so thanks to the reader who reminded me of that old art project!
Then of course we have the deer head from the mood board, who looks surprisingly like Ramsey (who used to live in our bedroom, until he met an untimely end during the last day of book photoshoots). Rest in pieces dear Ramsey.
And we can't forget the other faux horned creaturethat  I adopted from Hobby Lobby and hung in our kitchen during our little renovation (hence the scratched up paint).
He also makes a great fascinator in a pinch.
And in another planning post, written just four days after we moved into our current house back in 2010, we shared a few inspiration images, which included this page from House Beautiful:
Which featured an oddly similar quatrefoil mirror to the one we found at the home improvement store and hung above our sink in the master bedroom. Once again, we only realized the similarity after a reader said something like "so funny that the inspiration image you shared a while back had a similar mirror on the wall!"
As soon as we were reminded of that image it all came back to us! Haha. It was subliminal mirror messaging. And if you scroll back up to that page from House Beautiful you'll also see a dark teal tone on that accent wall, which ended up being very close to the color that we chose for the back of our dining room built-ins (Benjamin Moore's Dragonfly)…
… and our guest room (Martha Stewart's Plumage).
Another sort of hilarious similarity was when we realized that those two oak trees that were growing in the left front quadrant of our first house…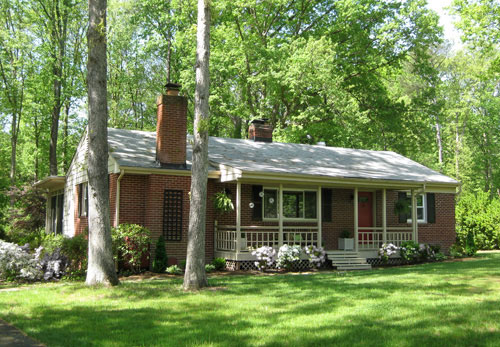 … actually existed in almost the exact same location of our current house. It wasn't as easy to see when we moved in since everything was bushy and overgrown…
But once we cleared stuff up it became a lot more apparent (although we do have that big magnolia out there too).
So what do you think? Do you believe that inspirational images that you rip out, art that you frame, and mood boards that you make before you even move somewhere can somehow end up subliminally influencing your decor choices years later? I guess you could argue that "ya just like what you like" (so the same thing that makes you tear something out might make you buy something that looks like that later) but it was just so funny to see that old forgotten mood board, homemade art, and tear sheet and realize that although they weren't something I revisited regularly, they all seemed to contain some key things that weaseled their way into our house.
Oh and have you noticed any similarities between your first house and your second house that only later became apparent to you? We have a theory that some people buy the same house over and over again (with slight tweaks of course, like more bathrooms or bedrooms as your family grows). A perfect example of this is my best friend and her hubby, who had a three story townhouse (with a big media room in the basement, the kitchen/dining room/living room on the main floor, and all the bedrooms upstairs). They later looked at about a million houses before buying nearly the same three story set-up (right down to the large media room in the basement). Although they have two small kids, they don't mind living on three floors, so they made that choice again – meanwhile we seem to be crushing on mid-century ranchers, so we've found ourselves in another one that even has similar oak tree placement. Haha. Maybe we're all just creatures of habit? On the other hand, I'm sure there are folks who look for polar opposites when it comes to moving, so we'd love to hear about that too!
When we opened this reader email, our first thought was that someone had stolen photos of our guest bathroom and just adjusted the color to turn our yellow tiles green. Seriously, how similar are they (our yellow guest bathroom is here on our house tour page)? But it turns out Susanne was just lucky enough to have a real-life green-tiled bathroom of her very own. Here's her letter.
Hi John & Sherry! We just completed a total DIY renovation of our 1956 master bath. Prior to the renovation, the bathroom looked a lot like your yellow bathroom…. lovely green tile up to your eyeballs (well, your eyeballs when you're 5'2″). Three different patterns of green tile, a scary, small shower with little ventilation, cramped quarters… and so on. We did our best to update the look with accessories, but at the end of the day it just wasn't our cup of tea.

Like you, we've tackled big renovations before (our kitchen in 2011), but this was a whole new beast. Trying to level concrete floors is something I'd rather never attempt again. However, we did it all ourselves, we did it on a dime, and we did it all together…. and the end result was so worth it!
Going from old dated tile floors to new marble hex ones was definitely a welcome change…
And we even framed one of the old tiles to remind us of how far we've come!!
Thanks for your time and for considering us! – Susanne
You can check out more jealousy-inducing pictures over on Susanne's blog, including this post with a few more detail shots. What do you guys think? Are your mouths hanging open like ours were? What's your favorite part? Mine is the awesome floating glass shower door (so much more open than the small tile stall that was there before) and Sherry's obsessed with that marble hex tile.