Yes, that's an SNL reference. But before I go any further I have to say thanks and I love you to you guys. Your kind words from this morning have literally lifted me up on a day that has been soggy and sad. You guys rock. Hard.
Now onto a very important post that many of you have requested. Photos of what I put on our new craigslist buffet. I tried to pick a variety of items that are functional and special to us (hence the title of this post). So this is what the entryway looks like now: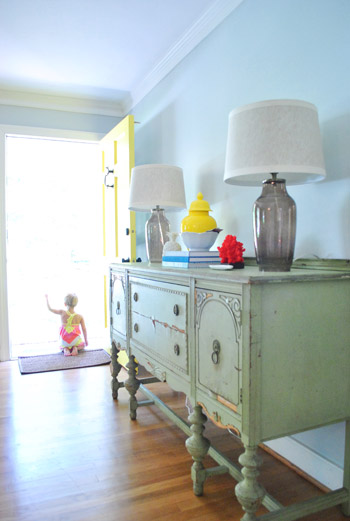 And just for fun, this is what it looked like when we laid eyes on our house for the first time back in late 2010: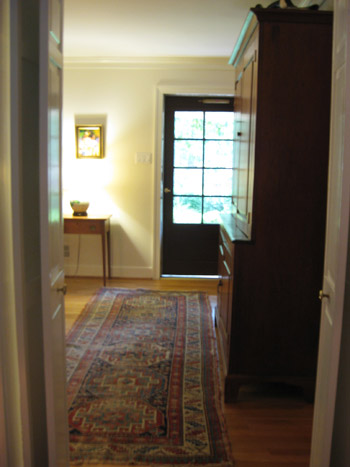 Isn't it funny to see the same corner of a room decorated by two different people? I love it. I wish I could poke my head into every house in the neighborhood, just to see what they have going on (which is why whenever anyone asks me what superhero power I wish I had, invisibility is always my answer – for no other reason than all the house snooping I'd get to do).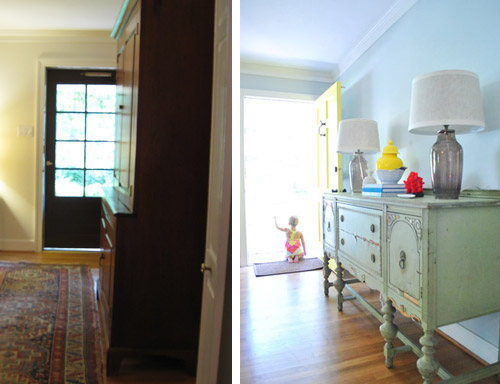 On the subject of what I put on that buffet, figuring out what to put on top of any new (to us) furniture is one of my favorite pastimes. So I relished the thirty minutes during Clara's nap time that I spent playing with different items that we already had around. Which included:
glass lamps that used to live in our first house's living room and then our bedroom until we upgraded to some artichoke-y ones (these were from Target from our wedding registry, so they've been with us for five great years)
a big yellow urn that used to live in the corner of the kitchen (from HomeGoods a few months back)
a stack of decorating books from my stash under the built-ins in the dining room (and my hallway ottomans)
a scalloped bowl from the kitchen that I ended up using for something sentimental (more on that in a sec)
a white resin pineapple (from HomeGoods about a year ago)
a faux red coral (from Kohls about six months ago)
a thrift store leaf dish (for spare change) that I got for 50 cents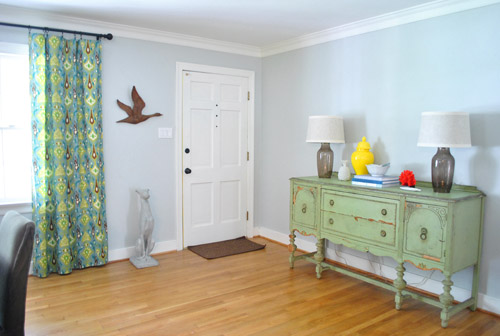 My "buffet decorating" process was just trial and error. Stepping back. Looking at it all. Shimmying something over. It was sort of like picking the right outfit… for my furniture. Totally normal, right? I just wanted to mix equal parts meaning, function, and beauty. Because I really think that's the trifecta. People say form and function are two important things, but I'll up the ante and toss "meaning" in there too. Because something that's useful, pretty, and meaningful is especially awesome, right? Anyway, here's where I ended up for now (you know I like to swap things around all the time – plus I'd love to decorate the top of this buffet for holidays).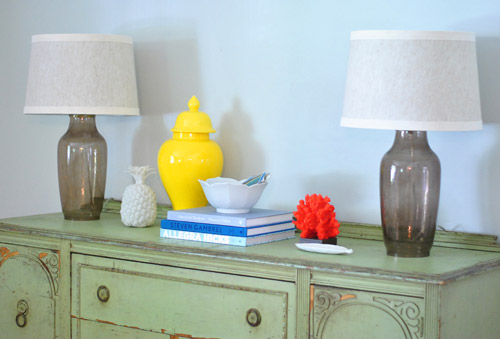 Here's a breakdown of all of the items in those three categories:
Functional:
two lamps to provide light in a room with zero point zero zero (another SNL reference for ya) overhead lights – so they're very necessary!
a dish for loose change, buttons, and other small items that tend to collect on various surfaces (when you know small clutter is bound to happen, a little tray, dish, or basket to deal with it when it pops up makes things easier)
the yellow urn, which offers concealed storage that's easy to access (we have an extra dog leash and some other Burger-phenalia hiding in there)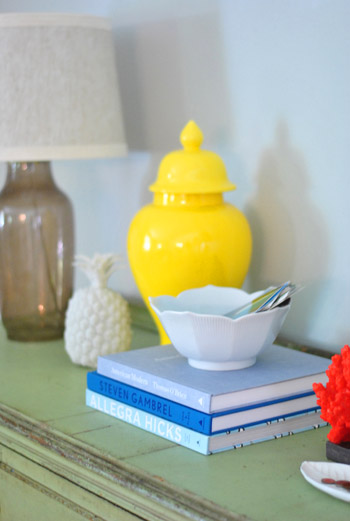 Meaningful:
a pineapple near the door, which is said to be a symbol that says "welcome to our home"
a change dish that I put 43 cents (our lucky number) into (it won't always stay that way, but it made me smile to "hide" that number up there)
vacation postcards that we have sent to ourselves, full of memories from the last seven years spent together (more on that tradition here)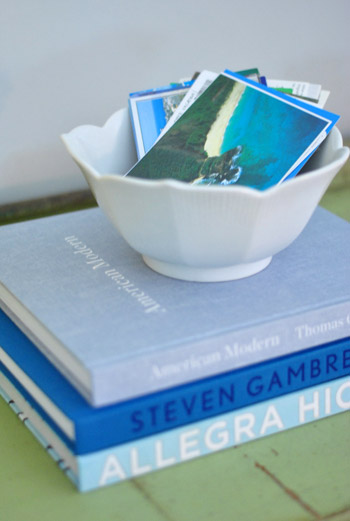 Just Plain Pretty:
a stack of cute hardcover books to add color and height (and inspiration whenever I crack them open)
a bright red piece of faux coral for some fresh color (adding modern pops/pieces to an older item of furniture is one of my favorite ways to integrate it into a room so it doesn't feel theme-y or stodgy)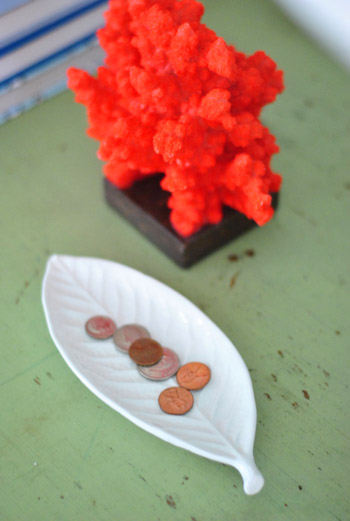 My favorite thing is definitely the scalloped serving bowl (purloined from a cabinet in the kitchen) that I shoved all of our vacation postcards into. I just love that they're out to remind me of all of our adventures and I can read through them and switch up the one in the front whenever the mood strikes. Right now one from Hawaii gets top billing, just because I'm not sure I've ever seen anything prettier…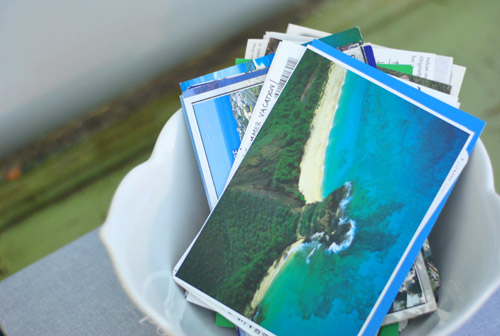 Oh and you might wonder why that pop of yellow in the urn is up there being all sunny and happy, but I thought these pictures would best explain it.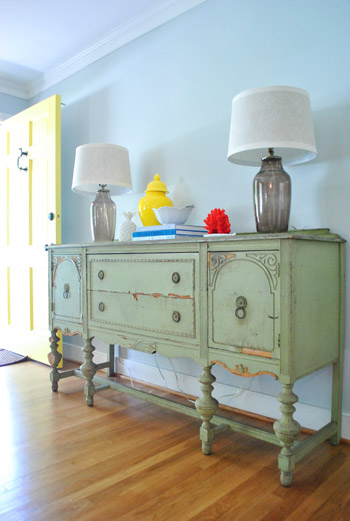 Doesn't it look sweet with our yellow front door?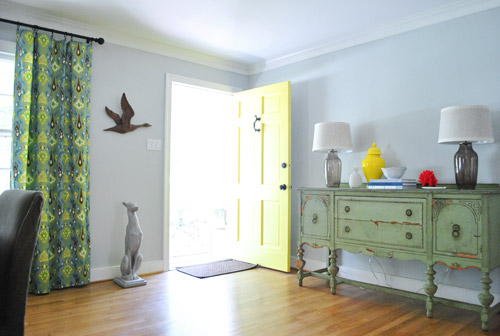 And for anyone wondering where Clara is when we're shooting things for the ol' blog, she's usually right in the middle of everything. Doing something hilarious. Like kneeling at the front door and waving at the school bus as it drives by. Told you. Hilarious, right? No idea why she thought waving and kneeling should go hand in hand.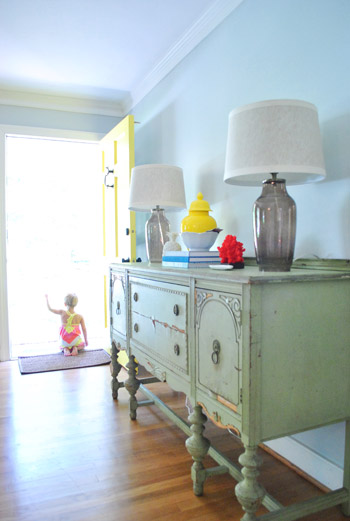 So there it is. Our new (actually very old) buffet with some meaningful, functional, and just plain pretty stuff on it. Nothing is being stored in it yet, but you know I can't wait to fill it with stuff (I'm thinking it's a good spot for more formal dining stuff like cloth napkins, some runners, a few large vases, and some other serving stuff). Oh and that big blank wall above it? Definitely needs a little somethin' somethin'. You know we'll keep you posted…
Psst- We announced this week's big giveaway winner. Click here to see if it's you.