Archive for June, 2012
Work continues on the deck (looks like we'll have an update for you on Monday barring any unforeseen disasters inspection failures!) so to end this week with a dad-worthy bang, I thought I'd share something that a bunch of you have been requesting: a belated Father's Day recap (like last year's) – especially since the day included a few home related activities and presents.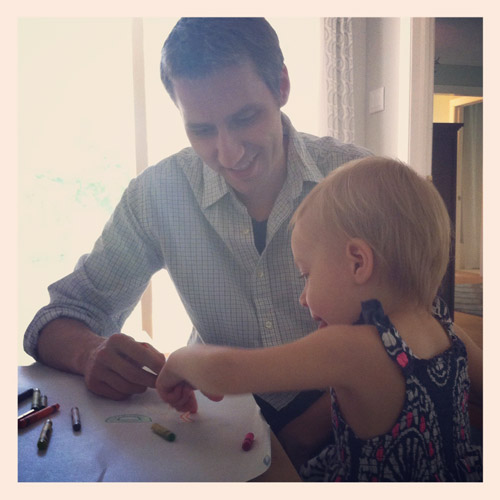 The day started off much like any normal Father's Day might. We went out to one of our favorite brunch spots (deLux) and enjoyed some french toast in their open-air back room (we also enjoyed an impromptu walk beforehand because we accidentally arrived 20 minutes before they opened – oops).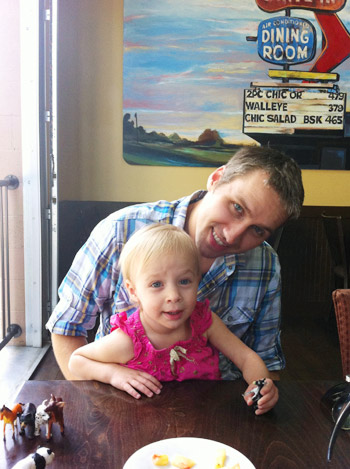 Our day kind of got derailed from there because we found out just the night before that a New York Times photographer was coming by at noon to shoot our kitchen (!!!). Cue the sweaty palms. We'd already been interviewed for the article (about people who use online floor-planning software to guide home renovations) a couple of weeks before, but it literally wasn't until 10:30pm on Saturday that we heard they needed someone to come over about twelve hours later on Father's Day to snap the photos. Check out the big cameras he brought…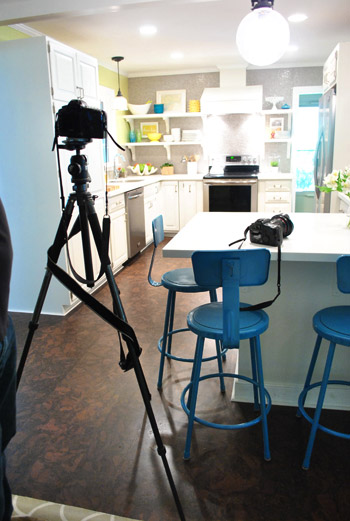 The article actually came out last Thursday while we were at Haven. We'll admit we're not head-over-heels for how it turned out since we feel like we sound a little anti-architect, which definitely isn't the case (we even have a close friend who's an architect!). During the interview they asked Sherry about kitchen designers (not architects) and how they might help, and Sherry said something like "a designer might tell you onyx is in or help you define what you like if you don't know, which can be really helpful" but somehow a shortened version of that was used as our quote about architects (who do a heckova lot more than talk about onyx, as do kitchen designers!). You can read the article here if you'd like. I guess there's always a risk that a story may shape up differently than it was originally pitched to you (we heard it was more about the software itself, kind of like this post that we wrote about the pros & cons of certain programs). But at least the photo of us came out ok. No closed eyes or spinach in the teeth. High five.
The photographer was pretty speedy (and extremely nice!), but between getting home quickly to clean up the house for his arrival (both our kitchen and ourselves) and then with him shooting photos until Clara's nap, we didn't really get a chance to squeeze in any more Father's Day activities (since we were also working on blog projects to get ahead before our trip to the Haven Conference and practicing our little presentation). But Sherry, Clara, and Burger did treat me to some nice Father's Day gifts – like this addition to our kitchen that sports my favorite thing (she got it from Joss & Main). Am I the only dad to get excited about a dishtowel? Perhaps. But put a bird bike on it and I'm sold.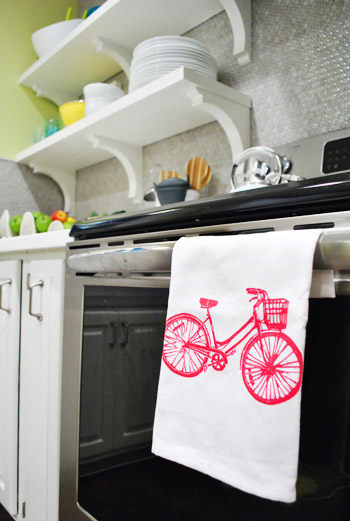 Knowing that I have a thing for cool art, Sherry also found this fun "Twenty Northern Friends" print that not only is a subtle nod to our Alaskan honeymoon, but also includes lots of geek-y trivia about lesser-known animals.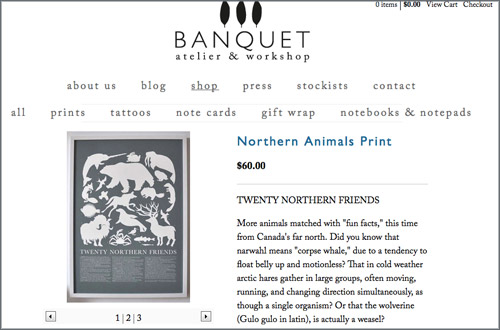 Like, did you know a Snowy Owl can eat close to 2,000 lemmings in a single year? I'd say that's about 2,000 more lemmings than I've eaten in my entire lifetime.
We're thinking the print will go here in our living room, but we've gotta get a frame for it first (fortunately Target sells a size that should fit, so we'll keep you posted). We think it'll play nicely off the dark gray beams in there.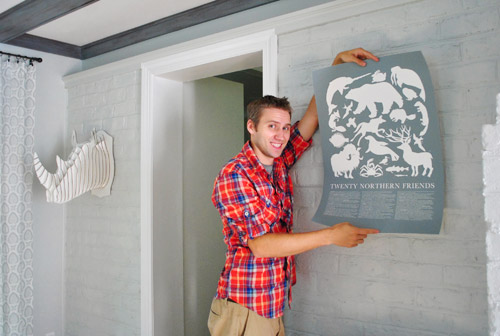 Speaking of keeping you posted, that picture reminded us that we're guilty of sharing pictures of an unframed print and saying "we need to hang this and share the pics later" and then we hang it but never actually share the pics. So, let's tie up some of those loose ends, shall we?
Come on into our frame hallway and make yourself comfortable…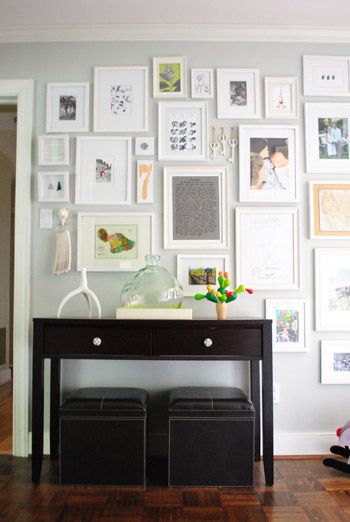 That's where the map of Maui (which we bought on our Hawaiian vacation back in March) ended up.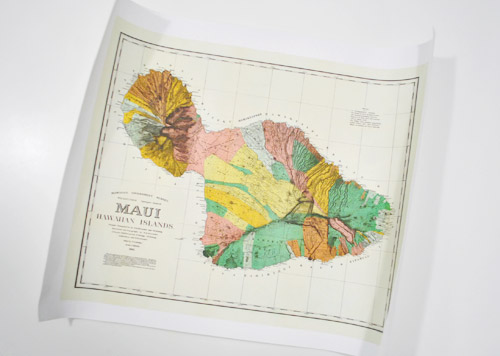 We were lucky that it fit in a frame that we found at Target (the mat's opening was pretty much exactly the size of the map – huzzah for standard sizes!). And we actually had this empty spot on our wall since its previous occupant (an old map of Richmond) now lives on our kitchen shelves. Yup, things like frames and pillows definitely get around in our house.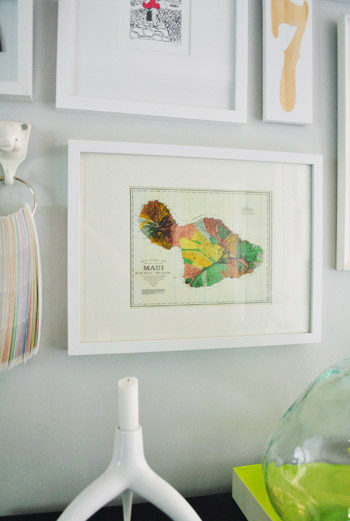 And speaking of our trip out west, the wooden letterpress print that we got in Portland…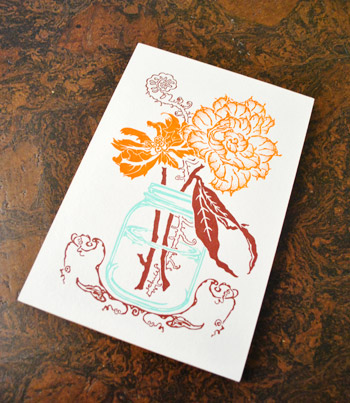 …also ended up in the hallway, just on a different wall. You can see it here on the bottom right: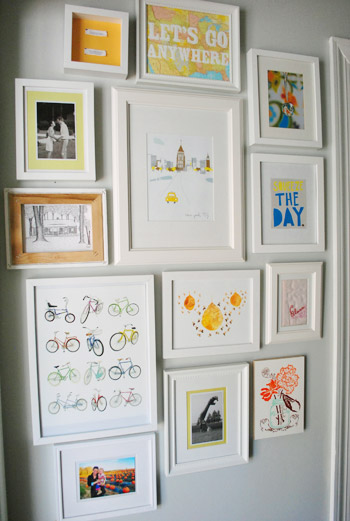 I wish I could remember what was there before, but so much got moved around while shooting the book in January that I think it's been empty for a while. Oh wait, I know – it was the other frame that we moved into the kitchen after the shelves were built since it had some images of food in it (it was actually an old $12 poster from allposters.com that Sherry cut up a few years back for our first kitchen).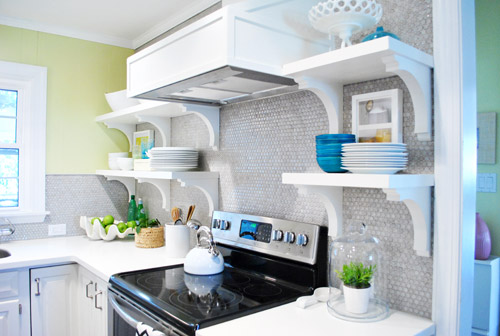 Who knew this Father's Day recap would include miscellaneous art updates? Oh the twists and turns of blogging. As for Father's Day, I'm thankful that I got to spend the day with my two favorite girls and my one favorite chihuahua (and a random, but very nice, photographer). How was your Father's Day? Can you think that far back? I know I had trouble! Anyone have new art to hang? Or old project updates that they have yet to blog about? Why are those little updates so hard to remember to share?
&nbsp&nbsp&nbsp
Now that we're back home (and back in the swing of things), let's start this off with a deck sneak peek. Oh yes, more holes are happening. So rest assured that we're working towards a passed inspection (remember when we failed here?) and we hope to have an update on that early next week. So be sure to hold your breath for us!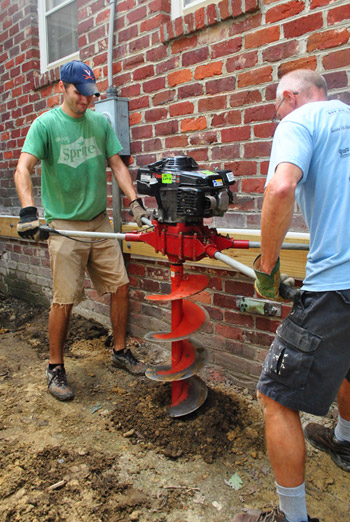 But back to our Reader Redesign. Despite this email starting off with a cheer to my alma mater's rival, I couldn't help but share this awesome bathroom makeover with an even more awesome price tag. Plus, although we may not agree on college teams, we can definitely relate to a master bathroom that feels less than masterful. Here's Melissa's note:
What's up John, Sherry, Clara, and Burger? We are just down the road from you in Blacksburg (go Hokies!) and wanted to share our master bathroom reno with you. We have five kids and squeeze home projects in whenever we can. When we bought the house, the only thing we weren't crazy about was the size of the master bed and bath, but we loved everything else, so we took the plunge. The "Before" (90's linoleum lighthouse/sailboat honey oak themed bath) did not feel masterful at all…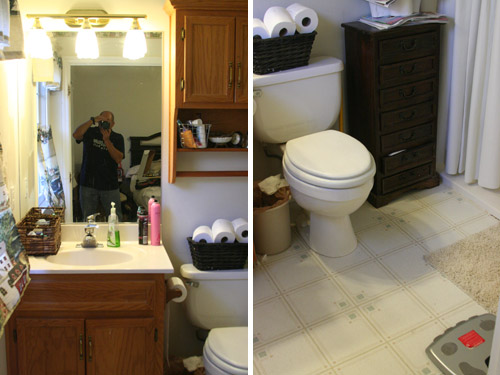 We didn't want to pay for a big addition or re-model, so we worked with what we had and gave ourselves an $1,000 budget for new floors, a new marble counter, fixtures, lighting, shelving, accessories, etc.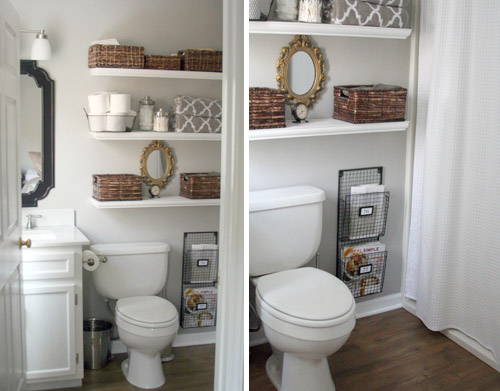 Down came the oak cabinet above the toilet to open things up a bit and we installed floating shelves and baskets to hide all of our stuff. We removed the mirror and replaced it with a clearance one from Lowe's. A wire magazine rack from TJ Maxx was added to balance the off-set toilet. We kept the vanity and painted it with Benjamin Moore's Impervo Paint in White Dove, but installed a new marble top and faucet from Home Depot.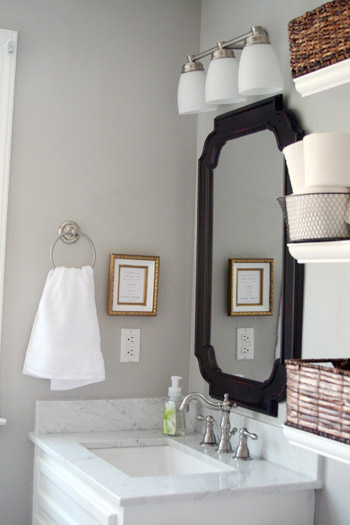 We went right over the lineoleum with allure laminate flooring from Home Depot – it's water resistant and we've loved it in our downstairs bath (it's really easy to install yourself).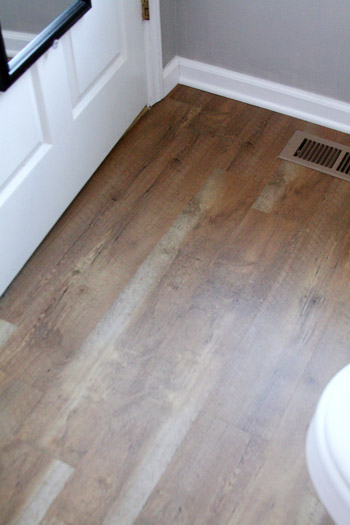 The shower curtain is just a basic waffle weave shower curtain from Target – like the one in your bath! The paint color is Fossil Grey from Glidden's old colors. Total spent: $995 for everything… towels, toilet paper holder, garbage can, the whole shebang.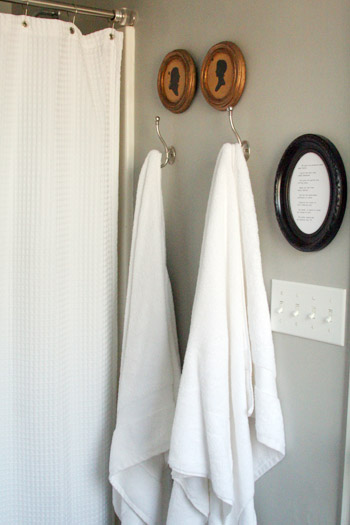 Thanks for looking/reading! If you're ever in town and want to go to a game, we would love to have Clara come play! – Thanks, Melissa
Didn't Melissa do an amazing job? It's awesome to squeeze in new floors, counters, accessories, paint, and shelving for under 1K – and we love that she worked with what she had when she could (like repainting and retopping the vanity). It looks like they added at least 5K of value to their house with that update and most people wouldn't believe it wasn't a total gut job. You can see more of their makeovers on Melissa's blog too. What's your favorite part? Sherry's obsessed with the mirror and those floating shelves and I think that new flooring and marble top is the icing on the cake, er, vanity.
Psst- We picked a winner for this week's giveaway, so click here to see if it's you.
&nbsp&nbsp&nbsp