Archive for May, 2012
Clipboarding, that is. I'm not coordinated enough to tackle a surfboard, skateboard, or a snowboard, but this I can handle. And it can definitely be considered a Dude, Get On That Already project, because this old clipboard hails from the playroom, where I plopped it down among the ceramic animal chaos and said to myself: "I'll do something cute with this later." But soon I forgot all about it and fall turned into winter and now it's late spring and completely time to get on it. It was a favor from a bridal shower I attended last fall (it was what we all used to play bride-quiz-games, and since the host nor the bride-to-be wanted to end up with fifteen clipboards they just told us to take ours home).
First I thought about covering it in a pretty paper and using it on the wall somehow (as a place to clip up new Clara art from week to week or notes that John and I write each other. But before doing anything hasty, I sidled up to John and asked him for his brain. And he came up with the best idea.
In our first house, we made an in-cabinet cork board where we pinned up shopping lists, recipes, articles about food we wanted to try, etc.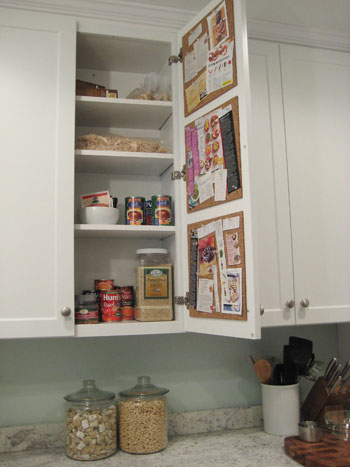 We loved it, but we didn't want to do the same thing here (we have since made a binder full of favorite recipes safely tucked behind plastic sleeves and usually make our shopping list on our phone) but we did have a stack of takeout menus that were shoved into our utensil drawer (we had to lift the whole tray out to get them in and out, since they barely fit in there). Why not hang our little clipboard in our kitchen cabinet for holding our takeout menus – along with a pad for jotting down a few groceries we need if we don't want to forget them and don't have our phone nearby, perhaps if we have a toddler on our hip? Sold.
I started by covering it with some happy teal paper. I actually debated other more patterned options, but I figured whatever we clipped up there might be brightly colored or patterned or just plain busy looking, so I didn't want the background to be too crazy. Don't mind the odd shape of the paper, it was an old remnant from a previous project (originally from Michael's for a buck or two).
So I laid it under the clipboard and traced that shape onto the paper.
I figured the top part should go around the metal part, so I sort of guessed how deep and wide that was and cut that notch out when I cut out the rest of the perimeter. Then I placed it on top of the clipboard to make sure it fit.
Next it was glue time. I used Aileen's Tacky Glue since I've had this same bottle on hand for at least five years. I channeled my first grade self and swirled it all around the board, and then used my finger to smear it (I didn't want lumpy swirls of glue to show through the paper and look bumpy).
Then I stuck the paper on top and weighed it down with some books. Can you tell Clara's book basket was closer than all of our books in the dining room?
After it was dry, I used our only upper cabinet in the kitchen (the one with our built-in microwave) and hung it at a nice easy-to-access height.
We might hang something above it someday to balance things out (maybe a framed pic, just for a fun little behind-the-door surprise), but for now we love that our clipboard is completely hidden when the door is shut.
As for how we hung it, we didn't want to do anything permanent (making a hole in our freshly painted cabinets = heartburn) so we went the removable route…
It's hard to make out in this picture, but the clipboard had a metal tab that came out of the top of the board, and we had a clear 3M Command hook on hand, so I just mounted the clear hook to the cabinet with the temporary adhesive (it'll come down without peeling any paint if I pull that curved white tab to the right of the metal part). Once the clear hook was up there firmly I just rested the metal clipboard tab over the hook. So I can lift the clipboard off the hook anytime I'd like and just put it back when I'm done.
Here's a straight on shot for ya.  I'm sure what we have clipped up there will change, but for now, we have takeout menus and a sheet of shopping stuff that I wrote out because my phone wasn't nearby.
And yes, that really says "eggs (12)" because I'm that crazy. Sometimes I forget if I wanted a half dozen or two dozen or what.
So there it is. An old clipboard that I finally got on – for zero dollars. Hootie hoo. And now our utensil tray doesn't have to hold our menus hostage anymore, so there's a little more function (and I feel a little happier when I see 'em all hanging out together).
What have you guys gotten on that's well overdue? Any other clipboarding going on? I think it could be the next athletic endeavor for those too spastic to step on a skateboard, snowboard, or surfboard. You can even hang ten. And by that I mean you could hang ten menus.
Psst- Speaking of saying things like "hang ten" we hung out with our teenage niece and nephew this weekend and asked what the cool kid-catchphrases are these days (you know, like how we used to say "no diggety" and "word up") and apparently the new things are "swagg" (it's like having swagger, but shorter – and with an extra g) and "cool story bro, tell it again" (which you say sarcastically when someone says something lame). How hilarious is that? There's a whole new vocabulary that us old people know nothing about. 
Ah, the rugs in our kitchen. They were $34 from The Company Store ages ago (maybe 2008?). They originally lived in our first house's kitchen and third bedroom, and they're awesomely durable and neutral – but they don't really do anything for the new kitchen (in person they're a little too small and sort of clash with the avocado walls since they're so honey-oak-colored). So "find a new kitchen rug (or rugs)" has been on our lingering kitchen to-do list for the last couple of months.
We decided to tackle this rug situation – well, more like it decided to tackle us – on a recent stop at HomeGoods. Sherry found a pile of awesome 5 x 7′ flat weave options for just $49 each. We saw potential in a lot of them so we lugged them home for what Sherry cheerily dubbed our "kitchen rug fashion show." As for me, I prepared myself for lots of rug moving – so a disclaimer upfront that the rugs in the pics to follow aren't perfectly placed, nor are they wrinkle or tag-free (we just threw them down, gauged our reactions, and snapped pics for ya).
In an attempt to spare myself a lot of work, I suggested we start with what I thought was guaranteed to work: a bold black and white stripe. In my head this was the perfect solution. It became quickly clear that I was wrong.
Even though the pattern was simple, the high contrast black versus white was very visually demanding. We thought that eliminating one of them (in the cooking area) might help, since we'd been leaning towards just having a rug on the fireplace half of the room anyways (to define that area is the cozy living spot in the room). But…
… that change wasn't enough to save the black & white rug as an option. In person it was even crazier/more chaotic to look at. But it did confirm that we wanted just one rug in the room (in the living part) since they would have to run different directions to make the most sense – and almost any rug would look odd running length-wise in the cooking area and width-wise in the casual fireplace zone. Eliminating the competing pattern (since they'd be oriented in different directions) also helped to reinforce that the fireplace side was a living / relaxing space.
Our next try was with a similar option HomeGoods had – a more subdued gray on white stripe (I wasn't ready to give up on stripes).
We did like the gray because it sort of carried the gray backsplash over from the other side of the room. But I think it put the nail in the coffin for large stripes. It was still too high contrast for the space and felt sort of cheap and just plain wrong in person.
With my theory about the stripes sufficiently proved wrong, Sherry suggested that we try her favorite rug. It was an ikat-ish diamond pattern that was made up of some of our favorite colors. She also thought the dark colors would keep it from being too jarring against the dark floor.
It did seem to work very nicely with the dining room curtains, which are visible from one view (check out Sherry's hastily draped dishcloth pillow cover in the corner to help tie things in) and it helped her visualize the potential color scheme of that side of the room.
But ultimately this rug got the axe too. The pattern felt too distracting – perhaps because it was still relatively large scale – and the colors felt a bit circus-y in real life (it actually photographs better here than it looked in person). Sherry was bummed, especially because she had found a matching runner for the laundry room (which also has the same color scheme as the kitchen and is attached to the other side of the room).
By this point we had tried our entire bounty of HomeGoods rugs (which all got returned), and were starting to be convinced that a bold pattern was not the way to go. So we turned to our stash of existing rugs that are not currently "in service" around our house (aka: shoved in the playroom to use either in rooms we haven't touched like the sunroom or playroom – or to be yard saled/craigslisted eventually) to see if any of them might work – even though we knew that would be a long shot. For instance, here's the Pottery Barn rug that used to live in our office:
Meh. We deemed it too light – and the off-white color just looked dirty in comparison to the white counters and cabinets in the room. Back to the closet for you!
And even though we were over the in-your-face patterns, we also gave the old Pottery Barn "Clara" rug from our old den a shot – just to be sure.
We still love it as a rug, but the pattern and color are totally wrong for our kitchen. Once again (like the original jute rugs from The Company Store) the honey-wheat tones were all wrong with the soft avocado walls (which we hear can read differently on many monitors, so our apologis if they look yellow or neon green – they're really the color of the inside of an avocado- very light and subtle). Sorry Clara rug.
At this point we started pilfering things from other rooms, like our all time favorite yellow moorish Pottery Barn rug from the guest room.
We were actually feeling this one a little bit. We liked that the sophisticated pattern wasn't too high contrast. It didn't scream for attention like a lot of the other larger-scale rugs had.
Our only hang up was that the yellow clashed with the walls. Even though we love the other yellow accents around the room, it just wasn't working (it was a little too orange in person while the walls have green undertones). Of all of the colors we tried, we actually thought that something gray could be the most natural for the space (it's not clashy with the walls, it would tie into the wall of tile on the other side of the room, etc).
The yellow rug is still living in the kitchen just-for-now, but we've both agreed it's not permanent. So I guess we still have more rug shuffling in our future, but at least all the shuffling in our past wasn't a waste. We learned some important things about what we're looking for: mainly a light, subtle not-too-large-scale pattern – possibly in gray to reference the backsplash and bring that over into the fireplace side of the room. We actually used this criteria to hunt down another rug that we think will be perfect. Cue the choir of angels. The only sad thing is that it's on order – but once it arrives and we have photos to share, we'll be able to tell you whether or not we were on the right track. Fingers crossed!
In the meantime, what did you guys do this weekend? Any rug shopping? I hope there was lots of family time too. We got to log some of that – and although four children under the age of three sounds like a recipe for disaster, it was great to have everyone together.
***This giveaway is no longer accepting entries – see who won below!***
Random.org sifted through the 9000+ entries and came up with our winner. She is… Jenn (whose favorite number is 13 because of The Offspring song "Pretty Fly for a White Guy" and the lyric "He went for a tattoo yeah, he's getting it done. He asked for a 13 but they drew a 31″). Congrats Jenn – looks like 13 ended up being pretty lucky for you this week!
Happy Memorial Day! We're spending the holiday with our family, but wanted to drop in with today's giveaway. And let's keep the counting that we did in the title going all the way to five hundred! Because someone's getting $500 to spend on FLOR this week. Huzzah! You probably know FLOR as a source for modular rugs, which means you can make a rug, runner, or even wall-to-wall carpet by assembling any combination of their square carpet tiles. They're great for covering bare floors and are know for their cheery colors, fun patterns, and stylish imagery (their catalog is always good eye candy). So start counting out carpet tiles and crossing your fingers that those five-hundred beans find their way to you.
PRIZE: $500 to FLOR (in store or online)
TO ENTER: Comment on this post with the words "FLOR ME!" and tell us…
BONUS QUESTION: … your favorite / lucky number(s). Do you have some rationale or a story behind the choice (a birthday, anniversary, childhood sport number)? Is it your go-to when playing the lotto? Or something from a favorite song (8-6-7-5-3-0-9?).
GIVEAWAY CLOSES: Wednesday, May 30th at 8pm EST or at 10,000 entries (whichever comes first)
NUMBER OF WINNERS: One
PRIZE SHIPS: Anywhere in the world!
USUAL STUFF: One entry per e-mail address is permitted. The winner will be selected using random.org and announced on Thursday as an update to this post. That's right, come right back here on Thursday for the announcement of our winner. Good luck…
Note: We aren't paid or perked for hosting these giveaways, we just do 'em to thank you awesome folks for stopping in. See our Giveaway FAQ page for more info. Pics courtesy of FLOR.