Hold onto your miniature hats, it's time for the fun part of painting and personalizing the dollhouse!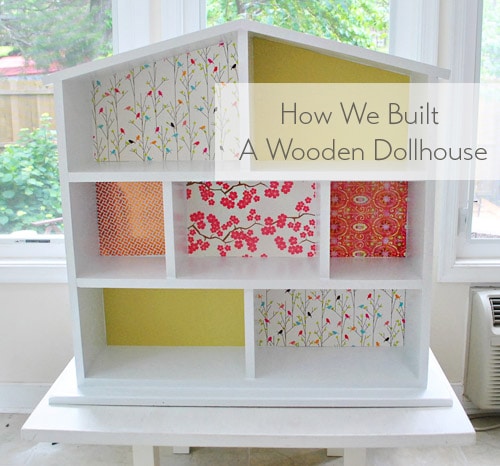 Our last post was full of the building process, which you can see by (clicking here) – so let's move on to how we finished everything off.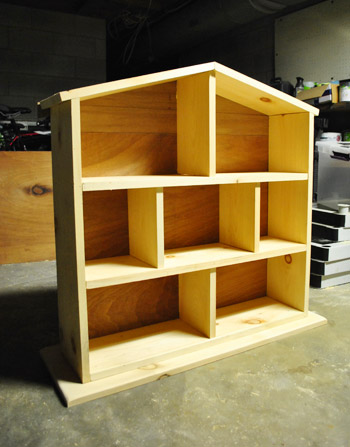 After it was all assembled, it was time to schlep our 31″ x 31″ creation up into the sunroom for some priming and painting. Just like our office cabinets, kitchen cabinets, and the play kitchen we made for Clara, I used a coat of Zinsser Smart Prime (it's no-VOC but amazingly good for blocking bleed through when you're painting raw or stained wood) followed by two coats of Bejamin Moore's low-VOC Advance paint (really durable and awesomely self-leveling). I went with Decorators White since we had it leftover from painting the office cabinets and the play kitchen, so this step didn't cost us anything. Here's our little house when it was primed but not yet painted: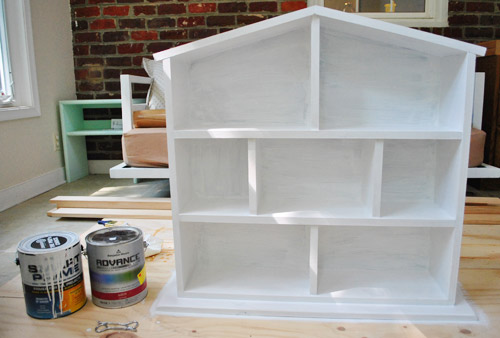 And here's my first coat of paint going on (I used a brush for some of the hard to roll places and a small foam roller for the more expansive roll-able places – like the sides, roof, and back).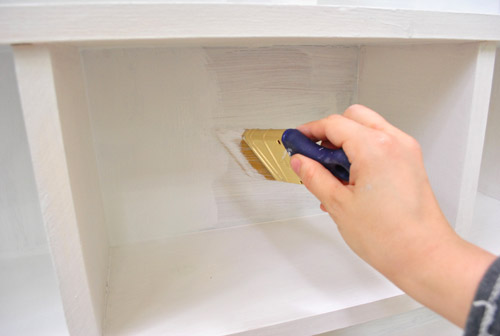 Then I gave it about 30 hours to cure up before it was…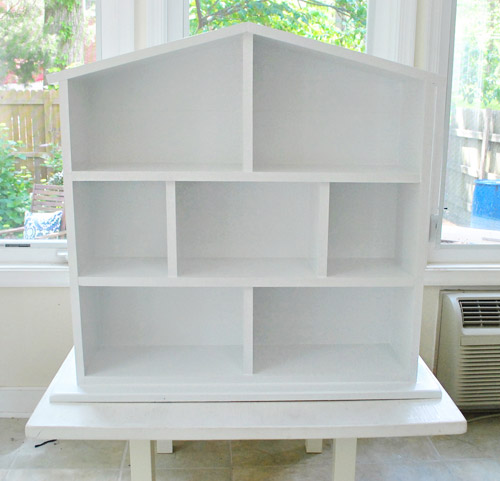 … wallpaper time!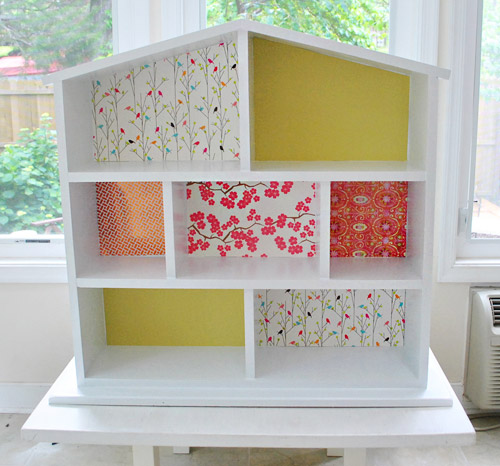 I actually used the following things that I already had in the house (I just ransacked my craft bin/gift wrap closet) to wallpaper the dollhouse:
Top left: Gift wrap sheets picked up from a local place called Mongrel a few months back
Top right: Decorative paper from Michael's leftover from some other project
Middle left: A roll of leftover decorative tape from Michael's (I just taped four strips of it to a piece of card stock)
Middle middle: More gift wrap from Mongrel (this one's actually from a few years back)
Middle right: More decorative paper from Michael's
Bottom left: Even more decorative paper from Michael's (I have a nice pile of leftover paper under the bed)
Bottom right: More gift wrap from Mongrel
As for how I did it, I cut templates for the back wall of each room using regular old printer paper (taping a few sheets together if it was bigger than one sheet and trimming things until it was a nice snug fit). Then I just used that paper template to cut out the right sized piece of gift wrap or decorative paper. I used double sided tape to affix them to the back wall of the dollhouse, and then brushed a thin coat of matte Mod Podge over each of them – just to give them some protection from being scratched or ripped (except for the room with the decorative tape, which was already shiny).
As for furniture, I bought a big "mixed lot" of old dollhouse furniture (most of it from the 50s/60s) from eBay for $30 including shipping. Oh and for those wondering about scale, it's 1/2″ scale. This is what it looked like after it came and I soaked everything in hot soapy water to remove years of grime.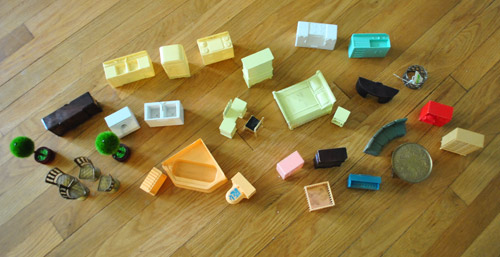 But since those colors weren't exactly what we were going for, I turned to my good friend spray paint. We knew spray primer and spray paint was the best way to permanently update the furniture (no-VOC paint would most likely scratch off within one or two play-sessions – and we really want this to be a durable and long-lasting gift) but we didn't want the dollhouse to smell all fumey like spray paint, so I actually ordered this furniture in February and sprayed it all in March so it could be left in the sealed off sunroom (and brought outside on sunny days) to off-gas for a nice long time. Thankfully there's nothing stinky about it after all that curing time, and it actually looks pretty convincingly done – as if that's the color the manufacturer sprayed on it a few decades back. Speaking of color, some of them got leftover dark brown spray paint (with built-in primer by Rustoleum) for the whole "wood look."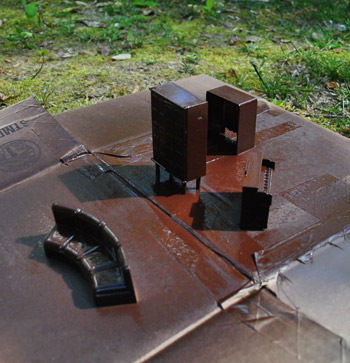 But most of them got white primer + paint as a base (Rustoleum Universal in Satin White) …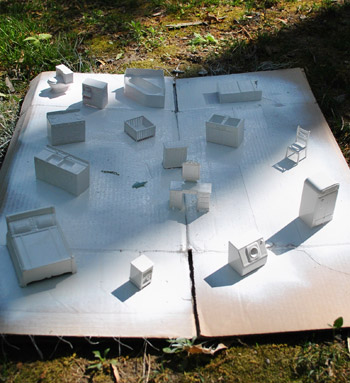 And then some of them got a shot of bright color on top of that primer + paint base, just for fun (thanks to leftover cans of random colors). Who doesn't love a yellow washer or fridge? They're Sun Yellow by Rustoleum, and the turquoise dresser in the background is Lagoon by Rustoleum.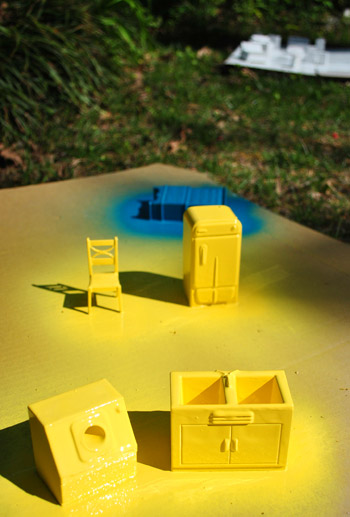 They sat around in the sunroom after their March paint job so long that they actually got dusty by May. Haha. So here they are after a little rinse-down in the sink.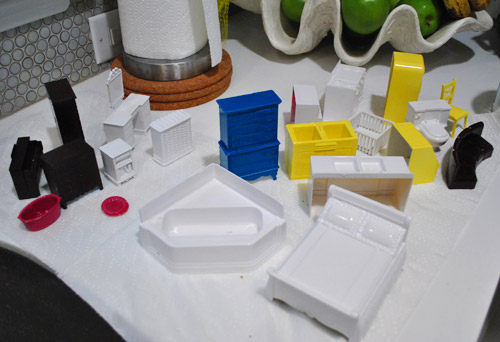 I couldn't wait to finally get things into the house…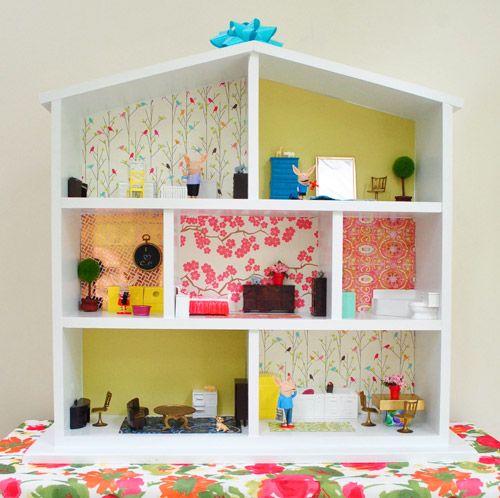 I didn't put much thought into what went where since I figure Clara will be moving things around, and we'll probably add some more items (like some much-needed wall art – maybe by laminating photos that we'll print).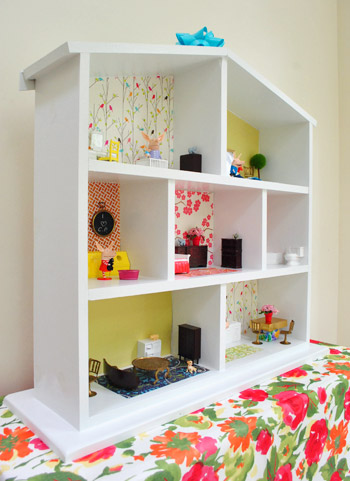 Oh yes, but what about dollhouse people? We couldn't find many that we liked (they either had ceramic faces that we worried Clara would shatter or were a bit too big for the scale of our furniture, or were just kind of scary looking) – although I later learned about these, which are pretty darn cute… so we went with Olivia's family.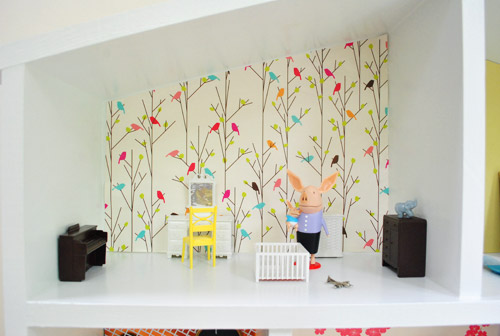 Clara loves Olivia, and when I saw a family set at Toys R Us that looked perfectly scaled for our house, we scooped them up. They're bendy plastic so they seem pretty indestructible and Clara has so much fun putting them in different rooms (ex: "Olivia's daddy is taking a nap" and "Olivia's mommy is in the crib – so silly").
Although everything changes each time Clara rearranges things, the room above is sort of a nursery with a crib, a vanity with a happy yellow chair (and tin foil that I added to make the mirror look more like a mirror), a baby piano (Clara loves playing one at Grammy and Tom Tom's house) and a dresser. There's even a little airplane "toy" for the nursery, that I found at Michael's (it's really a charm for a necklace, but the scale is right so I went with it). But more on how we're keeping the super tiny things in the dollhouse Clara-safe in a second.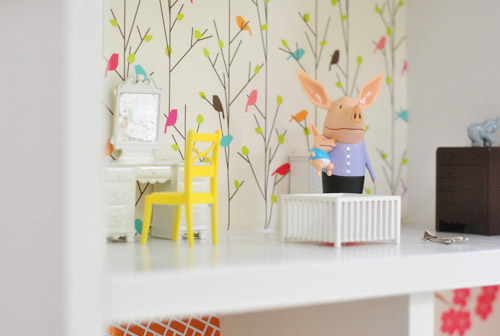 Speaking of scale, as John mentioned yesterday, we opted for an 8″ room height on the first two floors and a sloped attic that'd go from 6″ to about 10." This was all a bit big for the scale of our eBay furniture, but we wanted to err on the side of giving Clara plenty of room to move around rather than being sticklers for scale – and who doesn't love a room with extra high ceilings anyway?
The room below is sort of a playroom/ extra bedroom without a bed (remember this whole thing is still evolving, haha) so it's mostly filled with random furniture, a fabric rug that came with the dollhouse lot, a small frame that I found at a thrift store for a nickel with the glass removed and a piece of tinfoil in there to make it resemble a leaning mirror, and a small potted topiary that I found at Michael's from the wedding aisle (it's actually a place card holder).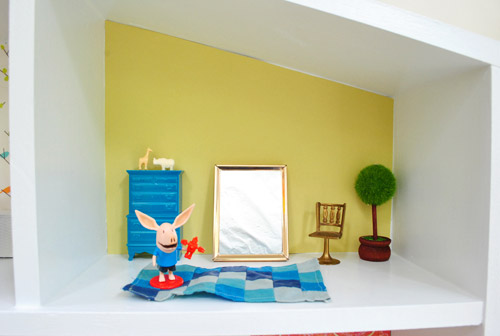 Oh and see those "ceramic animals" on top of the blue dresser above? They're just plastic beads I found at Michael's. I thought it was cute to add some animal friends to Clara's dollhouse, and although Clara's past the putting-things-in-her-mouth stage, a few smaller accessories like these and the previously mentioned toy airplane get put away in a box that only comes out when we're playing together (so if she's playing alone they're not in there for her – just in case she gets any crazy ideas…).
The laundry room might be my favorite room. The metallic tape I used for the wallpaper doesn't photograph as great as it looks in real life, but in person it's kind of swanky and geometric. I loved spraying the utility sink and the washer bright yellow and adding that cute pink basket on the floor. And see that black thing hanging on the wall? It's a thrift store find for 10 cents (it was some sort of plastic frame ornament or something) but I used leftover chalk board paint to make it into a hanging chalkboard by just painting the plastic disk inside the frame and hanging it up.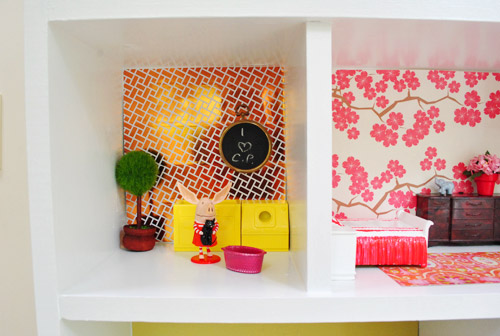 I love that we can change the message whenever Clara asks me to write something new (it actually says "Moooo!" right now at her request).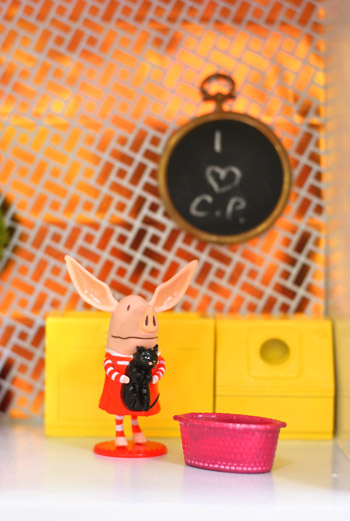 The next room is the bedroom, complete with a paper rug (I thought laminating it would make it last longer, but Clara has yet to pick it up and crush it so we'll have to see if I get around to it). I'd also love to make fabric rugs from old scraps from her monthly pics someday, so I'll keep you posted.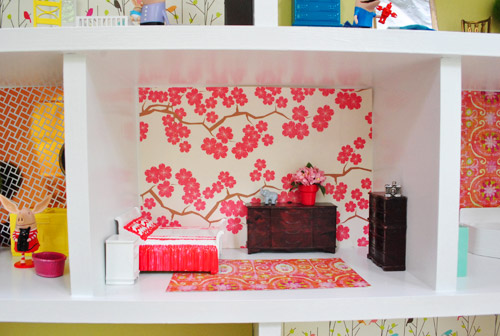 Oh and see the tiny metal camera on the dresser and the small flower pot on the other dresser above? Those are little doodads I found for a few bucks at Michael's (the camera is a charm for a necklace actually – it's another one of those things I tuck away when Clara is playing by herself since it's so small). They also sell tiny flowerpots and fake flowers so I made that little potted plant and painted the terra cotta pot with the same pink nail polish that I used to make chevron pillows and a matching pink duvet skirt on the bed.
Here's the bathroom with a mint green sink, and the other one of those plastic thrift store frame ornaments. Instead of making this one another chalkboard, I just put some tin foil behind the plastic pane and made it into a mirror for over the sink.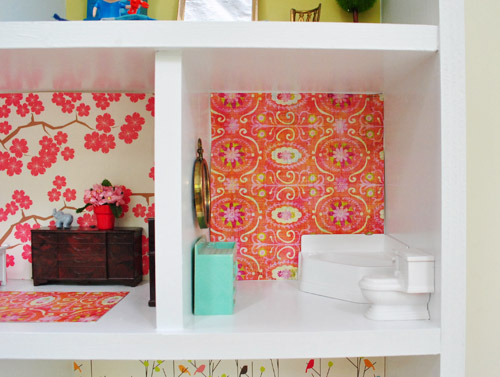 Oh and Clara was sad the potty didn't open at first, but then was very excited when I taught her we could flush it by making a swissssssshhhhhhh noise with our mouth. Now Olivia and her family hang out in the bathroom a lot.
The living room is in dire need of some art on that blank wall, but it does have a funny little retro record player/TV cabinet (the white thing) with a "ceramic" rhino on top of it, so that tickles me.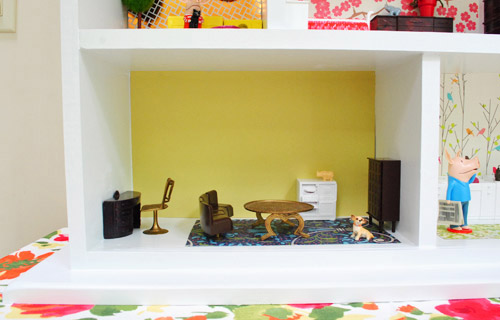 My favorite guy in there is the tiny Burger I found on eBay. You bet I paid $3 plus $3 shipping to have him represented in the house. Haha. Clara was pretty psyched to see him. She calls him "Baby Burger." It's very sweet.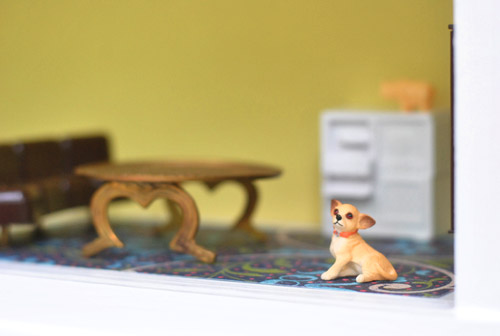 Next to the living room is the kitchen, with an oven/stove and a sink (complete with tiny dishes in it, which also go away when Clara plays alone because they're pretty small) and a happy yellow refrigerator. I also made the table with the top of a little wooden box I had lying around and used a small paper gift box as the base. Another homemade flowerpot + faux flower combo went on top along with chairs from the eBay lot of furniture. Oh and that's another paper rug I just quickly made and might get laminated for protection (or it'll get replaced with a fabric one I'll make down the line).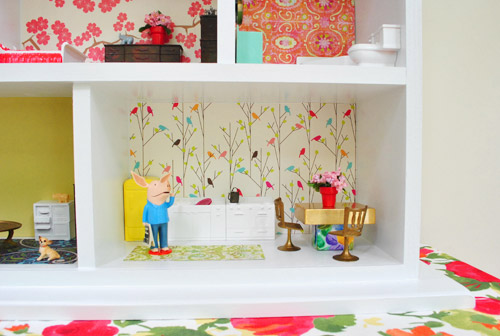 After loading in all the furniture, it was time to top it with a bow…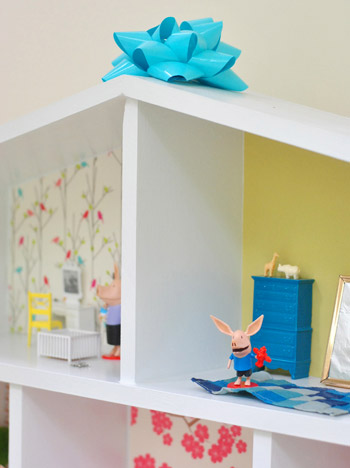 … and carry it out of hiding and into the living room for Clara to discover after her nap.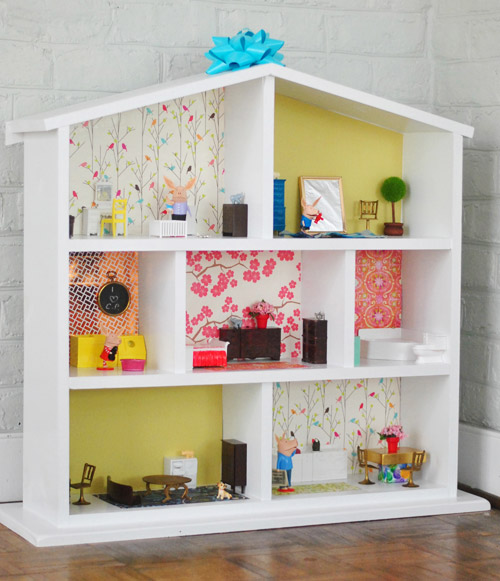 She ran right in as if it had always been there and picked stuff up and got right down to the business of playing.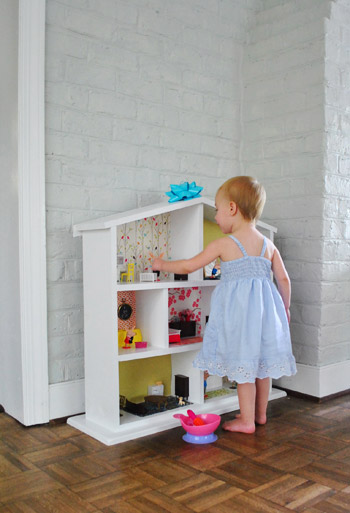 It was so cute to watch her little brain work out that things were too small for herself, but perfectly sized for Olivia and her family. The little family of pigs was definitely her favorite part at first and slowly she picked up on things like baskets and chairs and the crib, bed, and toilet- which became fun to work into Olivia and her family's routine.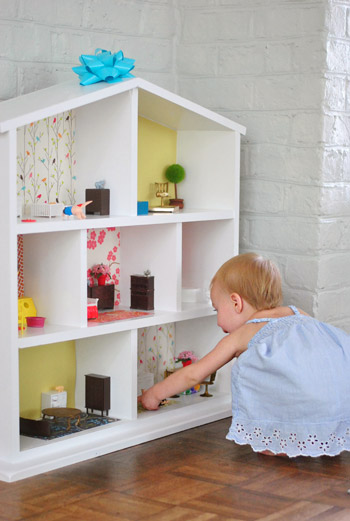 We love that nothing is too precious to worry about because we really wanted it to be something she could go to town on without fearing that delicate things could be broken.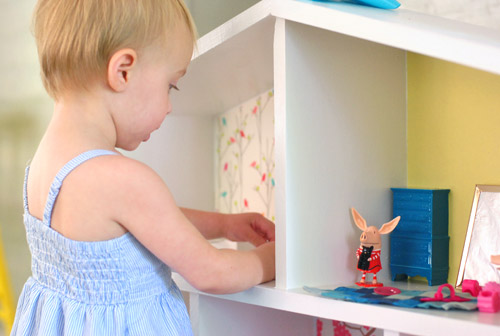 Thankfully since the furnishings are all plastic or metal, they should hold up to Hurricane Clara. Oh yes, and the fact that Olivia is holding a kitty = Clara's favorite part (other than discovering Baby Burger). The girl loves her animals!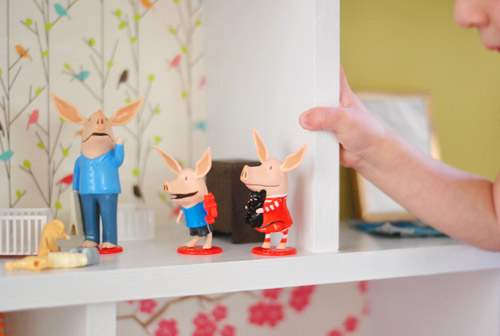 So it's safe to say that she likes it. Whew. The next morning it was the first thing she talked about as we got her our of her crib. And we might like it a little more than adults should too (not that we played with it after she went to bed, ok maybe we did just a little).
As for the budget breakdown, here ya go:
Wood: $35 (we did get to reuse a scrap piece we had for the back to keep costs down)
Nails and wood glue: $0, already owned (but they might run you $5 if you don't have them)
Primer & paint: $0, leftover from painting other things like cabinets & the play kitchen ($70 would get you a gallon of each that would probably last for a ton of furniture painting projects like ours have – even big ones like cabinet painting)
Dollhouse furniture: $30 (including shipping) bought as one "lot" on eBay
Michael's doodads: $5 (small flower pots, faux flowers, beads, camera and airplane charm, etc)
Baby Burger: $6 (including shipping) on eBay
Olivia's family: $10, Toys R Us
TOTAL: $86
Thanks to having lots of those odds and ends on hand (primer & paint, decorative paper and gift wrap, Mod Podge, and even a piece of scrap wood for the back of the dollhouse) we were able to come in almost $15 under our $100 goal. Actually $86 is lower than all of the used wood dollhouses that we found on Craigslist. Which I think means that momma should get $15 to spend on future upgrades and furnishings, right? Haha. Can't wait to see how this thing evolves as Clara grows!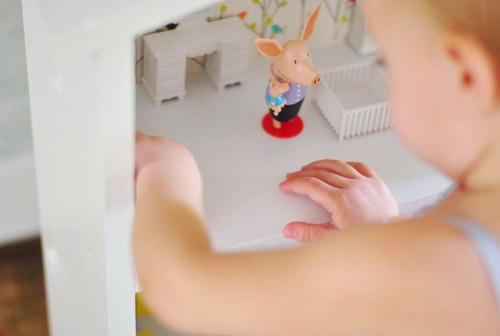 Have you guys used things like gift wrap and decorative tape as wallpaper? Any other plastic-beads-turned-ceramic-animals out there? We heard so many awesome ideas in yesterday's post, from carpet samples or even wood/tile on the floor to using tongue depressors to make shingles. Love it all.
Psst- Check out Part 1 of this project here.