Q: Since you decorate/upgrade/reno your house for a living, do you ever feel like you are always working on your house but not ever getting to just live in it and enjoy it? Like when you spend all day cooking in the kitchen by dinnertime you aren't hungry and don't even want to eat half the time. If something (like your house) is never quite done and there's a to do list longer than the purchase contract, is it hard to just peacefully sit without always thinking about the next project and thereby giving yourself low level anxiety? Or….am I the anxious one which is why this even occurred to me? – Rach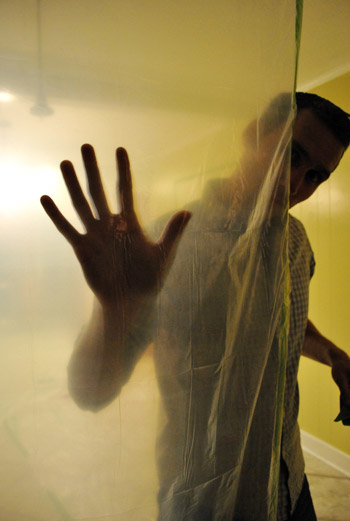 A: Haha, it's a great question and we actually get it a lot. I really think because this blog and our DIY love started as a complete hobby (we did home improvement stuff on nights and weekends and started this blog just to keep our friends and family posted) it's totally something that we still enjoy doing – and are thankful to have the opportunity to do full time. We actually still do most projects on nights and weekends since during the day we're tending the blog/answering comments/writing posts/doing other office-job stuff like arranging giveaways and managing sponsors (and watching the bean) and then at night when Clara's asleep we can actually get our hammer on.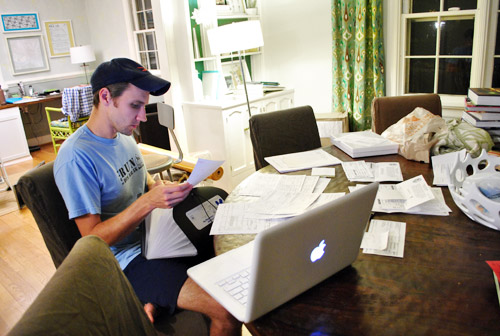 Bit since fixing up our home wasn't something we did to make money or start a business, and was actually what we opted to spend our free time doing without making a dime after a hard day's work – it really is just the definition of FUN to us. To be very honest, the business side of running a blog can be pretty hard work – so the coding and the technical stuff and the other behind the scenes being-a-small-business stuff (like filing quarterly taxes and paying for our own health insurance, etc) can be stressful (more on that here). But the DIY stuff is always our favorite! It's the fun part. The cream in the middle of the Oreo, if you will.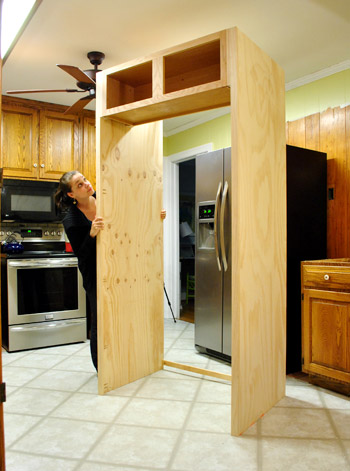 Even picture taking/uploading/sizing can sometimes feel like busy-work, but projects and planning and painting and all the fun physical you-see-the-changes-as-you-go stuff is the thing we always look forward to! It's so rewarding and personal that it never gets old. I definitely don't think it would be that way for everyone, but just as someone else might have a passion for numbers (and take great joy in being a professor or an accountant or a financial adviser) we have a passion for getting to plan/rethink/paint/upgrade stuff. It's a fun challenge for us and no day is ever the same. I certainly think some folks would rather just do it as a hobby (maybe five hours a week is their cap) but we're happy to do it day in and day out. Heck, for the last four consecutive Christmases we've taken on some of our craziest house projects (what's wrong with us? haha). But honestly, we wouldn't have it any other way.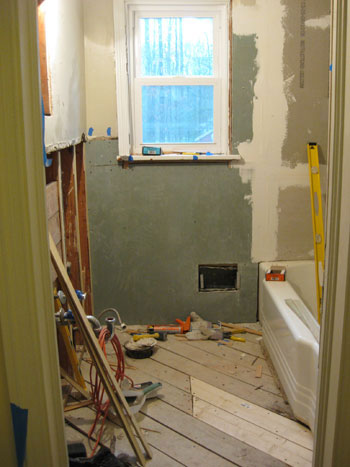 It wasn't always an enjoyable, balanced, healthy thing for us though. In our first house we found that in the first few months after moving in (about a year before we started this blog) we felt rushed and put all of this unrealistic pressure on ourselves. And it sucked! We wanted our house to be completely made over in a matter of months and anytime someone was visiting we freaked out and tried to do ten things before they arrived, which left us feeling burned out at best and frustrated and deflated at worst (when we didn't get everything done in time). The freeing thing was realizing that it takes years. Our den actually looked like this eight months after moving in. And that's more than ok – it's par for the DIY course.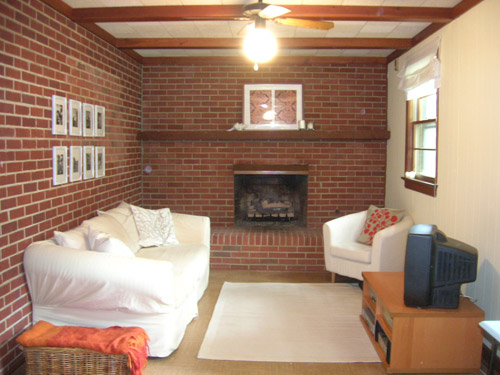 A house that needs serious love isn't going to look amazing overnight or even in a month or a series of months. Unless you have a crew of people and unlimited funds. Plus, if you take your time you're more likely to love the result since you actually think it through instead of rushing in and having all those shoulda-woulda-coula feelings later. This room took 4.5 years to evolve and was one of our favorite spots in our first house – not only afterwards, but along the way. Once we learned to chill the heck out and relax. Haha.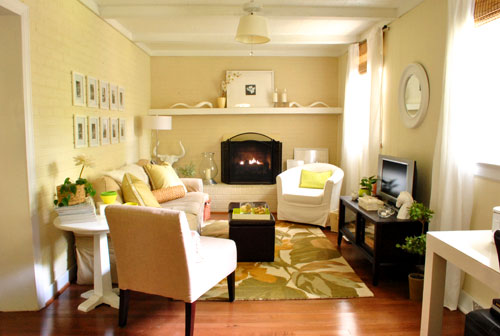 So "relax, it's only decorating" is kind of our mantra. We've had family visit us in the middle of our most recent kitchen reno (there were no doors on any of the cabinets) and we all just laughed that there's always something disassembled at our house.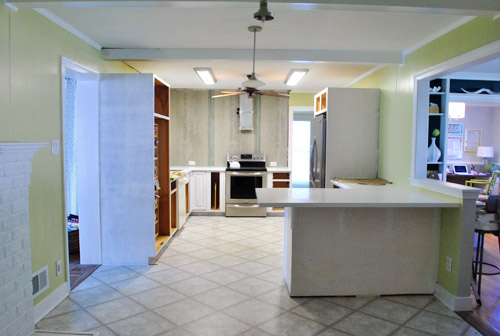 Guests know it's totally normal to come over our house and see something mid-project, and you know what? They still love us! It was a revelation. We don't have to go crazy trying to finish every last detail when family and friends are en route. They will love us and enjoy our company anyway. Liberating, I tell ya.
In short: now we feel a lot less time pressure (haha, yes, even with such a long list and so many people watching) because we have learned that it's not a sprint and it's more of a journey that we need to stop and enjoy. We always say it's not about the destination, it's about the ride. And the ride never gets old to us since we get to switch things up and tackle different tasks all the time (painting trim for five years would definitely get old, but getting to do a bunch of different challenges and have various adventures along the way really is our idea of a good time).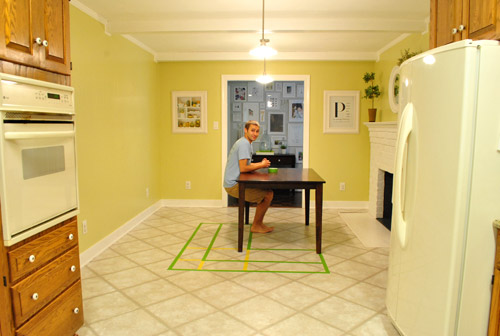 Plus we get to live IN our progress, meaning that everything we have accomplished surrounds us and reminds us how good it feels to get 'er done. I suppose it's like hanging your degrees on the wall in your office, and putting up photos that make you smile – the environment is a good one because it reminds us how far we've come and how rewarding it is when we get our hands dirty and make something lackluster into something that we find beautiful and functional. Even when we're living right smack in the middle of a project, we try to enjoy that time, snap photos, revel in the fact that a doorway might exist where one didn't a few months ago, etc. Even if the counters aren't in and the new floor isn't down, there's something nice about enjoying each step of progress as it comes.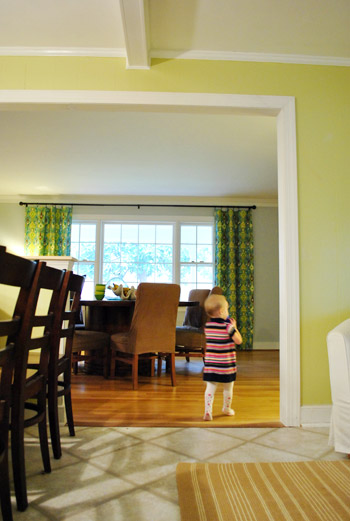 So our #1 advice to folks is to enjoy the journey and stop rushing around. Which means while you DIY your way to a new home, you're required to stop to enjoy your handiwork and appreciate where you were and where you're going and all that stuff. What's a renovated kitchen if you can't enjoy it? Since we finished that looooong project we have entertained a bunch of family and friends in there and every time we find ourselves beaming at a bunch of people milling around in our new space, this wash of gratitude and happiness comes over us. We're proud and excited to share our hard work and so thankful that it's functional and beautiful to us!
And not only do we get that giddiness when we entertain, but a quiet evening at home on a random Wednesday night might mean that John cooks while I read to Clara in the chair by the fireplace and then we eat at the peninsula. And this is the view.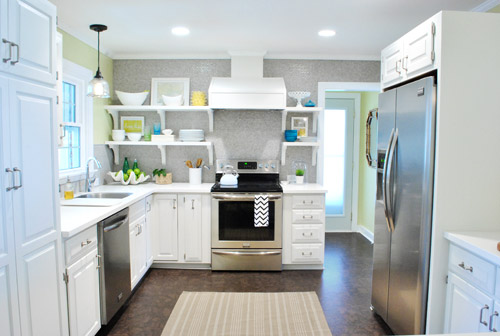 Sometimes we take Clara outside to play on the patio, so we're here: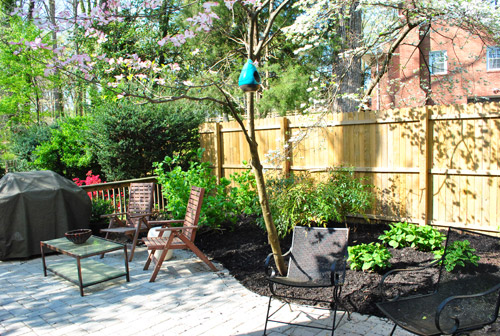 … instead of here, which is what that area looked like before we got our DIY-loving hands on it.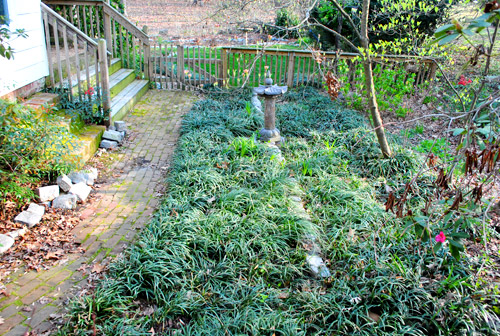 So we're soaking up the gratitude and enjoying our ever-evolving home all the time. The same is true when we work towards upgrading our bedroom or our living room or our curb appeal – all those spaces are areas we can enjoy and they fuel us and excite us and inspire us to keep at it. They remind us how much fun it is and how rewarding it can be. So try not to put pressure on yourself to get to this imaginary finish line and just have fun and take your time and tackle things one day and one small step at a time! It really keeps it manageable and spurs you on to make other parts of your home just as personalized and special.
What do you guys do to keep your DIY spirits up? Do you find that it's possible to enjoy your home improvement triumphs along the way? Have you ever felt the it-must-be-done pressure that we put on ourselves in the first few months of living in our first house? I'm telling you, it's crazy-liberating to just say: it'll be done when it's done and we're going to have fun getting there. Booyah.