Archive for March, 2012
Remember this old highchair that I got from my mom almost a year ago, which she ate out of when she was a bambina? Well dude, I finally got on that.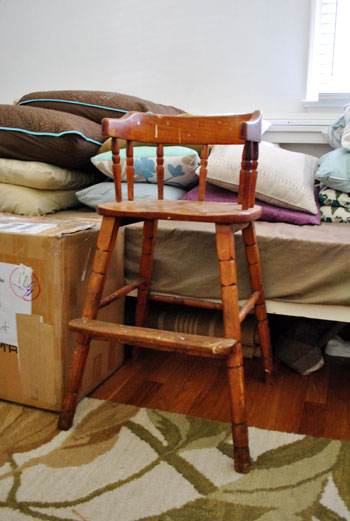 I had been waiting patiently to give it a little upgrade (it was covered in old paint splatters and smelled musty and smoky from a ton of years in storage) and now that Clara is big enough to sit in it without a lap belt, it was finally time to get 'er done (after, you guessed it, sticking it in our playroom for at least eight months).
I debated a ton of "refinishing" options:
sanding and staining it
spraying it white or black for a classic look
going bright turquoise, navy, lime, yellow, or even a fun orange-red color
But in the end, I thought about the three places it would probably get used the most:
the dining room table
the kitchen peninsula
the living room table (the round pedestal one by the window where we sometimes eat)
So John and I had a little pow-wow and decided the finish that worked the best for those three rooms was…. bright happy yellow! How did we come to that conclusion? Well…
our front door is bright yellow and the dining room looks awesome when that door is open so you can see that pop of color (it's also in our curtains)
we have a few happy yellow accessories in the kitchen and they look great against the grellow, gray, brown, and white backdrop
I carried these yellow horse heads into the living room and they looked so fun in the space
And so it was settled. I did my little pre-spray painting jig (oh spray paint, how do I love thee – let me count the ways) and brought the chair outside: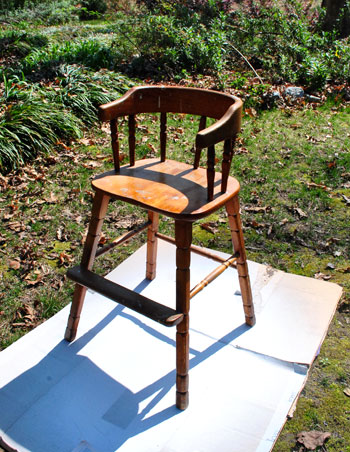 First came the spray priming step. I intentionally didn't sand the chair at all because there were old paint splatters on it that I worried could be lead paint, since this chair is very very very old (haha, sorry for all the verys mom- you don't look a day over 29!). So per the recommendation for lead paint, I let it lie and just opted to paint right over it. I applied three super thin and even coats of spray primer (more of a mist than a coat actually, and I always kept my hand moving and my nozzle around 8-12″ away from the chair – see more spray painting tips here).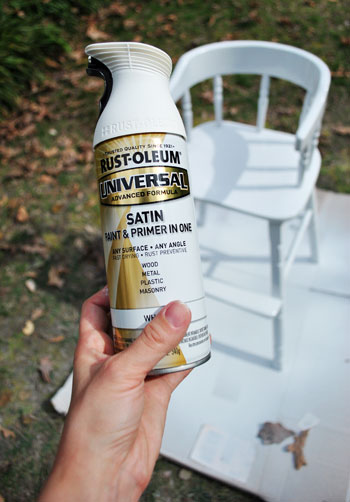 As for what I used, I actually went with my favorite spray paint with primer built in. It's called Rustoleum Universal in the satin white color. I had a can on hand and have already used it as a primer under brightly colored spray paint with success (just because it has paint and primer doesn't mean you can't layer another color of spray paint on top of it and have that first few coats of primer/paint grab it and hold it for the long haul). So here's how it looked after the white primer + paint was fully applied: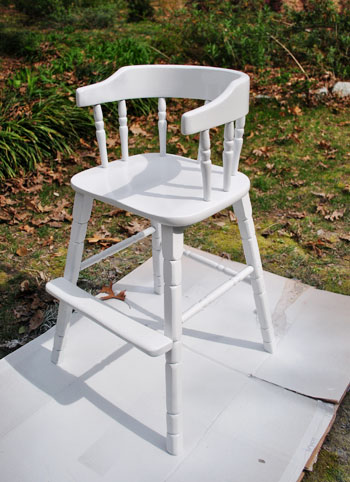 Then on went a few thin and even top coats of Sun Yellow, also by Rustoleum (from Home Depot) which I actually used on these horse heads and this box (I'm convinced it's the perfect yellow color, which is harder to track down in spray paint form than you'd think).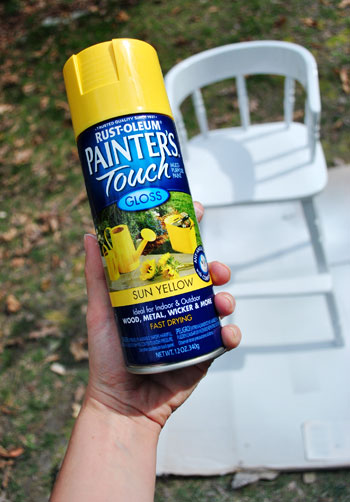 After a few thin and even coats of that when I had nice solid coverage, I had this: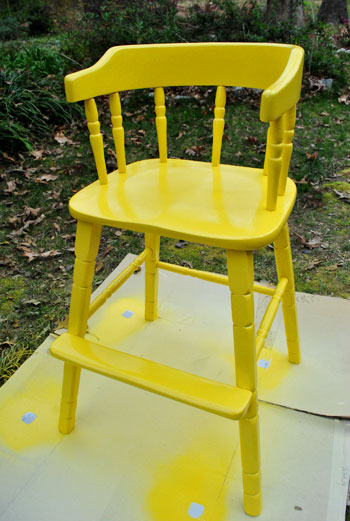 I left it outside for two consecutive nice and sunny days so it could cure (bringing it into the sunroom overnight in case there was an unexpected storm or morning dew to contend with). After two days outside it was pretty much cured up, but I let it sit for another 48 hours in the sunroom with the windows open, just to be sure that it was nice and dry (and no longer smelled like spray paint) before bringing it inside.
By then the paint was hard and glossy – and fully ready for serious kid abuse (jumping the gun and using something that you've painted too soon is probably the number one way to end up with scrapes and dents in your paint job – especially when a toddler is in charge of quality control). So it was finally time for Clara to give it a try. I brought it into the corner of the living room before grabbing her after her nap so I could document her "discovery" when she came padding in and noticed it.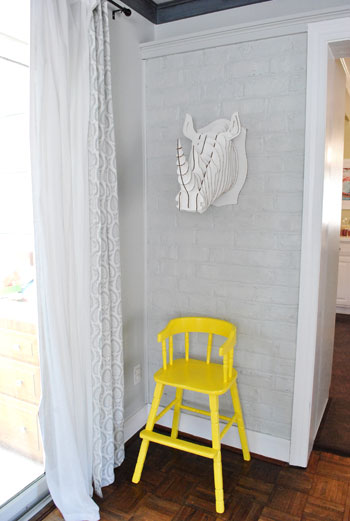 The good news is as soon as she saw it and I told her it was her new big girl chair she got crazy excited about it and tried to climb right up: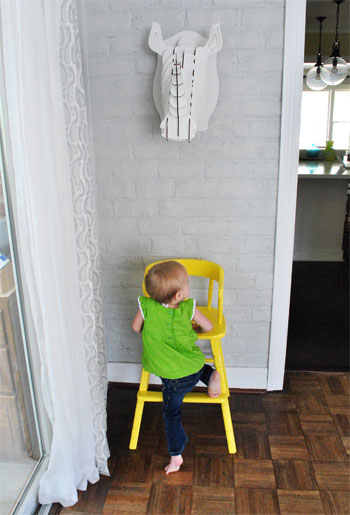 She needed a little mommy help to get up there, but she was definitely comfortable sitting in it. Here she is beaming like the proud big-girl-chair-owner that she is.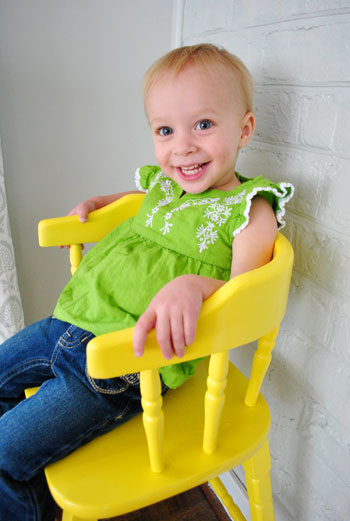 The kid was all smiles (and apparently still figuring out how to sit up straight in it, but she got the hang of that soon enough):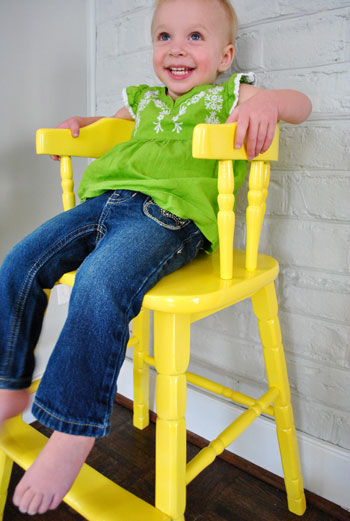 Then there was some happy singing (at a very high volume, but it was for a good cause):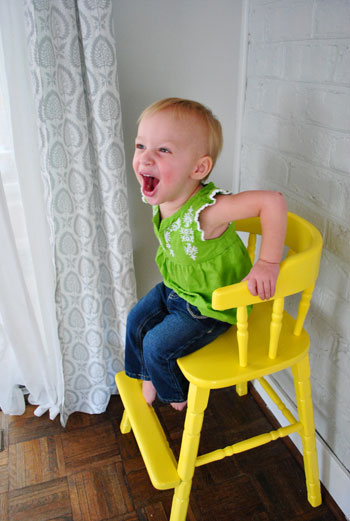 It was at this point in The Presentation Of The Yellow Chair process that I wished I had something this exciting to give to her every day – or at least every month. She really was loving her big girl chair as much as any toy we'd ever given her. This is her face when daddy walked into the room to see her trying out her new chair.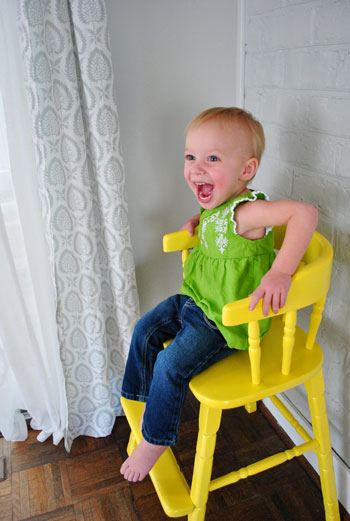 Here are some detail shots because I can't step. away. from. the. camera. See those shiny gleaming spots on the chair in the pic below? This is the beauty of gloss paint. It's also super durable and wipeable since it has extra flex and shine in the formula. The only thing with gloss paint is that it shows imperfections more (they'll gleam right along with the rest of it) so you'll want to be extra careful about applying thin and even coats of primer and paint (you can even sand a drip down between coats if you get one).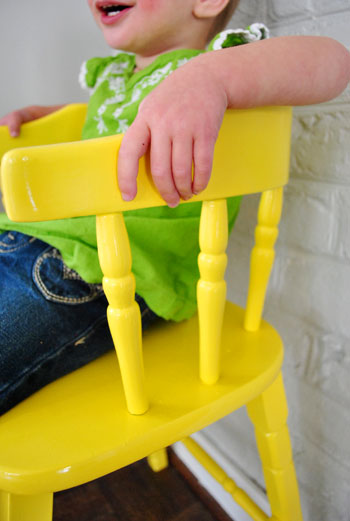 Really, what's a hand shot without a foot shot?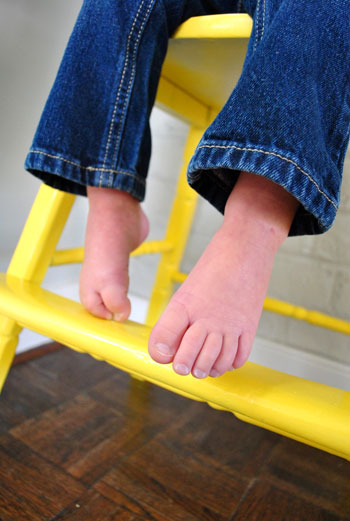 And how about a shot from above?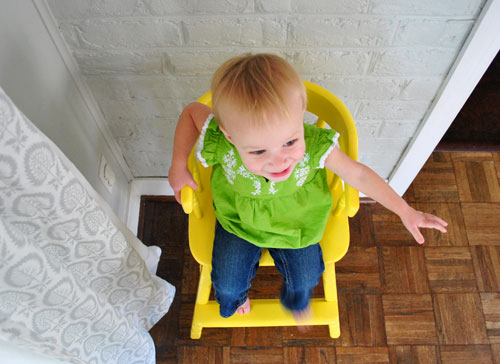 Oh yeah, and then this happened. A few rousing rounds of "Where's Clara?"….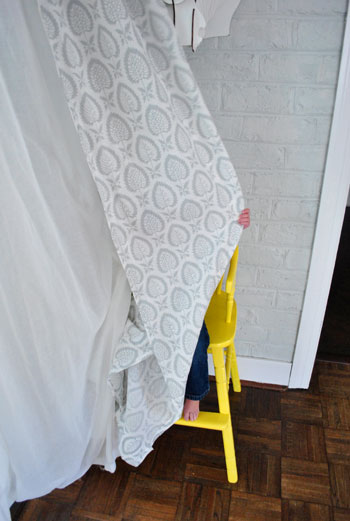 …. "there she is!" ensued.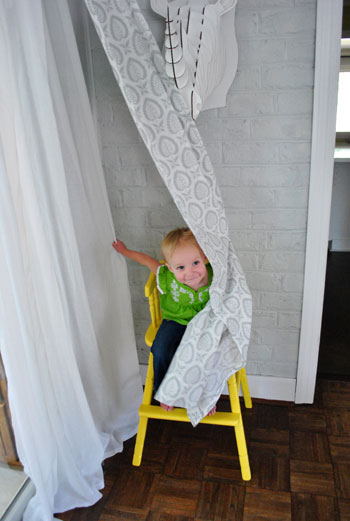 So… victory! The girl loves her big girl chair and yellow just happens to be her current favorite color. At least today it is, but if you ask her tomorrow it might be pink. Although now that she has her new yellow chair, it might stick. And I showed my mom and she beamed, so apparently she's in love with her old chair's new life. She said yellow was the perfect color for Clara while still being friendly for a future kiddo of either sex and I didn't even think about that so I'm glad it worked out. Haha. So a big thank you goes out to my mom for handing down such a charming little seat for the bean and encouraging us to make it our own with some happy color. It's kind of amazing to think that three generations of our family have snacked on things while sitting in it (I also used it for a stint when I was younger). And you gotta love free hand-me-downs!
That's what I got on this week for my Dude Get On That Already challenge. And it was a nice big item to remove from the playroom. Huzzah! I wish I could take photos of the playroom as my embarrassingly giant mess o' things is reduced each week, but since we have secret book projects in the mix we're not allowed to reveal those. Boo. Anyway, what highly overdue task have you guys tackled recently? Any chair makeovers or spray painting sprees going on? I think along with Ceramic Animals Anonymous I might need Spray Painters Anonymous…
&nbsp&nbsp&nbsp
Last October we had fun teaming up with Joss & Main to curate a sale event over on their site (which entailed picking favorites from hundreds of items in their database to make a "Young House Love collection"), so when they invited us back for a spring collection – and agreed to an extra special perk for you guys this time around (more on that in a sec) – we were psyched. Side note: I used to think that word was spelled "siked" until freshman year when my BFF laughed 'til she cried and finally clued me in.

It's really funny to hear the title of "curator" used to describe us (except maybe Curator Of Outfits With Dog Hair And Cream Cheese Smears), but seriously, getting the opportunity to reopen a little virtual decor store of sorts over there for the next 60 hours is awesome. And although we didn't set the prices ourselves, we did our best to find a variety of things in a nice wide price range (from under $25 accessories to $250+ furnishings). This collection even includes some things we've bought – from our happy yellow kitchen radio to the gray nailhead chair in our living room. So here's a sampling of our collection that's over on Joss & Main through Saturday morning (there's a lot more over there). If you're not already a member, just click here for an instant invite (so you don't get wait-listed). Then you can find your way to the sale by clicking here: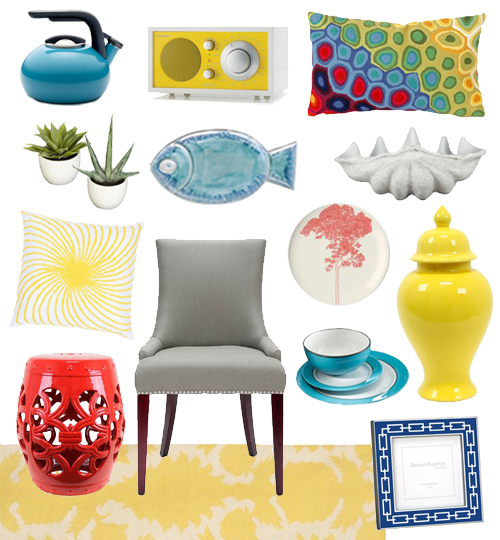 And because we like to be 100% transparent with you guys, it's Joss & Main's protocol to offer a small commission to the folks who curate sales on their site, so it's just like any other side gig that helps us pay the bills (like our magazine column, our book, and our paint collection – you can read more general blog income info here). But here's the twist. Joss & Main also offers small referral fees in the form of store credit (which is actually available to anyone who refers someone who makes a purchase) but we wanted to pay those forward. So instead of accepting the referral fees, we asked if we could save all those credits up in a separate "gift account" and dish 'em out in a big fat giveaway for one lucky reader next week. And they said yes. Cue the cartwheels!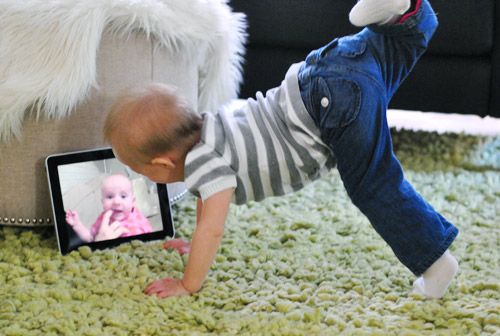 So stay tuned for that next Monday. In the meantime, our collection will be available for the next three days (until Saturday morning). We had so much fun putting this together, and we hope it inspires you in some way – even if it's just to spray paint something from the thrift store or otherwise do your own DIY spin on something that grabs ya. And speaking of things that grab you, what accessories have you been into lately? I've found myself inexplicably drawn to lamps (as in we don't have enough surfaces in our house for all the lamps I want to adopt) and serving dishes (perhaps due to the new open shelves in the kitchen?). Meanwhile John has a newfound love of accordion folders and house plants. Go figure.
&nbsp&nbsp&nbsp