Archive for November, 2011
As exhilarating as demolition can be, there's always that nagging voice in the back of your head reminding you that you're going to have to replace whatever you're demolishing.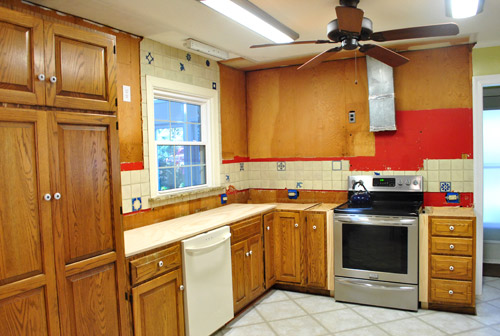 Bummer, right?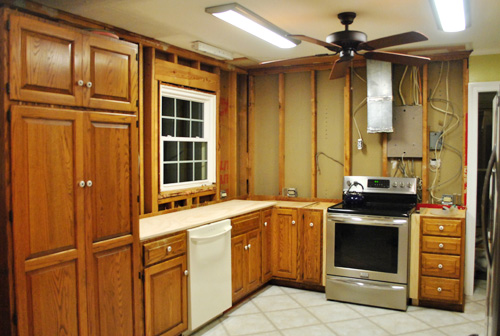 Well, we didn't let ourselves wallow in that realization too long and dove right into reconstructing the kitchen. Actually, between demoing the tiles and the plywood we actually snuck out to The Tile Shop (in my sister's borrowed SUV) to buy cement board so we'd have all of our supplies ready as soon as demo was done.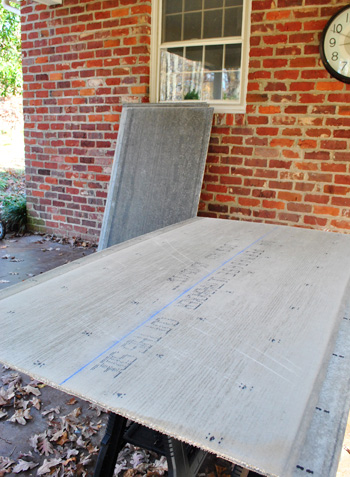 The cement board (1/4″ thick Permabase Ultrabacker to be exact) was about $10 per 3ft x 5ft sheet after the 10% discount code that they offer everyone (YHL10) and I bought four of 'em. Actually, I bought eight of them because of some gross miscalculations on my part but only used four. So once our extra board returns were made it was about $40 spent. We knew we'd be using them along the entire back wall above the stove (that's going to be our focal wall with tile to the ceiling, a big range hood, and open shelves) as well as wherever else our standard 18″ backsplash would go on the other walls of the kitchen. I started with the 18″ backsplash boards first since they were smaller and more manageable. They just required some careful measuring to ensure that I cut accurately around the window and for the outlet holes.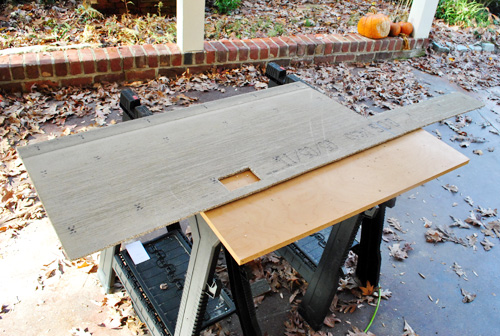 To make my cuts I used my jigsaw, since it was convenient and I was good at controlling it. I also wore a gas mask (not a paper one, a real deal rubber one with filters) to avoid ingesting any of the nasty dust that flew. Though I'm pretty sure I wasn't using the right blade for that material though. It cut just fine, but by the end of the job my blade looked like this: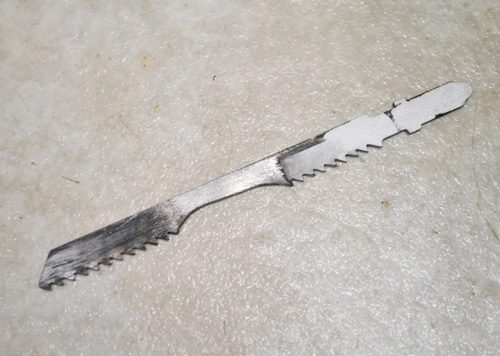 Notice all of the missing teeth in the middle? Cutting literally sanded them off. So yeah… lesson learned. Maybe I was supposed to use a diamond blade since cement board is so coarse? Either way, I was happy to get 'er done.
Setting the cut boards in place was pretty easy. I was able to balance them along the old plywood under them (they were the same thickness, which was really handy for a seamless result). Then I just made sure they were level and drove some screws in all by myself while Sherry kept Clara out of the danger zone (aka: our tore-up-from-the-floor-up kitchen).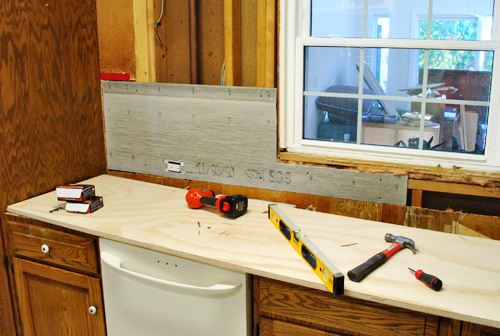 So once I was sure that all of my screws were adequately sunk into the cement board (pokey screw heads are bad for flush-laying tile) I continued on my merry way around the room. This wasn't so bad, actually! Especially since I dreaded it so much because we didn't exactly have a great time with the same process while rebuilding our first house's bathroom. Maybe absence makes the heart grow fonder?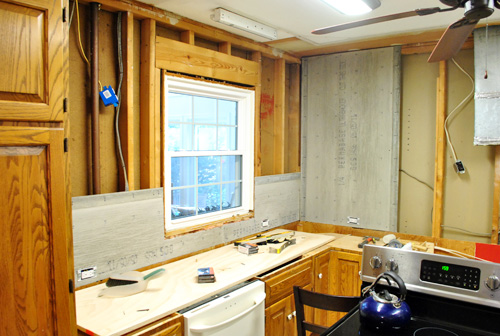 The thing that made my life much easier was the fact that the 5ft tall boards fit just about perfectly in my 5ft tall wall behind the stove. That meant I didn't have to do any cutting on those boards (except for the outlet holes). So the ease of cutting made up for the extra difficulty of maneuvering a bigger, heavier board. Luckily Clara was napping by this point so I was able to enlist Sherry's help to hold them in place while I drilled. It certainly made this part of the day go much faster.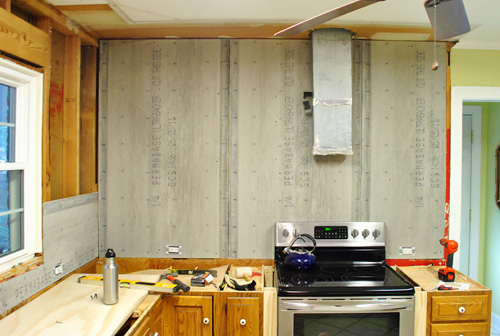 Oh, and as for the dangling outlet up by the vent – it'll eventually be used to hook up our future range hood. Since we're not 100% sure how /where that'll be hooked up we just placed it somewhere temporarily that could (hopefully) work . If not, at least the hole will be hidden behind the vent cover we're eventually going to build (and there's some play in the wiring that connects to that junction box so we'll be able to move it if we need to).
If you look at the photo above you'll see that our future range hood won't be perfectly centered on that wall of tile, but it will be perfectly centered on that back wall of the kitchen (when you include the space next to the cement board over the doorway). So once we add our penny tile to the ceiling and install our open shelves and our built-in range hood, we think the way that we "accessorize" the floating shelves will also help restore balance. We plan to use them to house everyday dishes that we'll use so often they don't have a chance to get dusty along with other items that are always stored out in the open like vases, some art, a plant or two, etc (more on the whole dust/open shelves thing here).
But just because cement board was done, didn't mean we were done with our walls. After all, we still had this going on above the sink and pantry: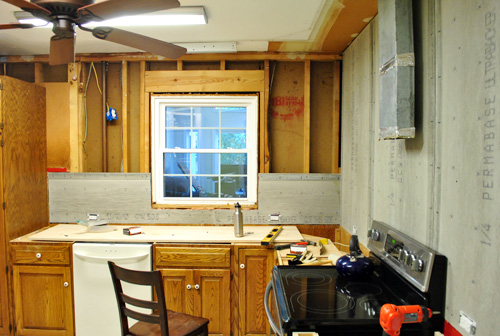 We briefly talked about doing more tile to the ceiling on that wall, but thought that one focal wall with open shelves and a big range hood with tile to the ceiling would be enough. So we decided that a regular old wall with a standard 18″ backsplash will better balance the other side of the kitchen which will also have that going on next to the fridge. Oh and we also thought tile over the pantry would just be super weird, and that would be the natural stop point for a rectangular effect like the other wall, so we're happy we bailed on that idea.
But the walls of the kitchen aren't drywall. Nope, remember they're painted paneling (which we actually don't mind for the soft texture and coziness it adds once it's painted – we had some in our first home's den too). So we did the unthinkable…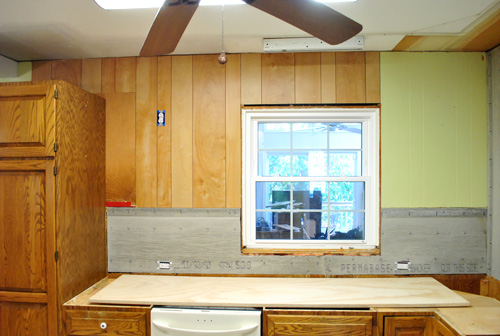 … we actually purchased a sheet of paneling. And oy how it pained us. We're pretty sure everyone at the checkout was thinking "welcome to 2011, why the heck are you buying paneling?!" Luckily we had one leftover piece of painted paneling leftover from the doorway opening project that we were able to reuse to the right of the window above where the backsplash will go. So I just had to buy one sheet at Lowe's.
So yes, that was a first. Never in my life did I think I'd be BUYING new wood paneling. And thank goodness it'll get painted any second now (along with that rough looking ceiling), so we didn't have to worry about matching color.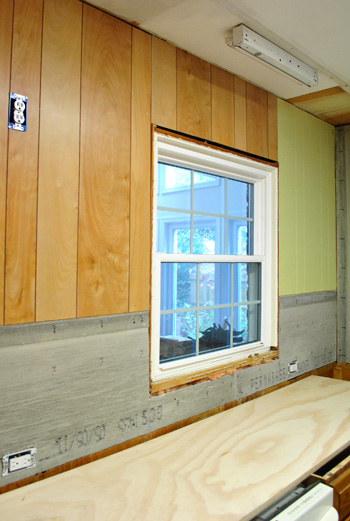 Luckily that one 4ft x 8ft piece o' paneling covered all of the areas that we needed. We had the guy at Lowe's cut the pieces to size so (a) they'd fit in our Altima and (b) we didn't have to do it ourselves. But I did buy a new jigsaw blade while I was there (so I could cut the hole for our microwave outlet).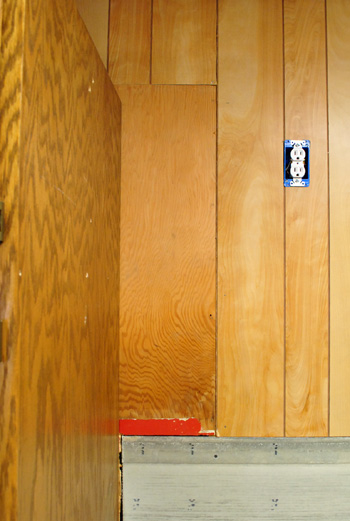 Oh yeah, and notice our moment of laziness above? Since a small-ish upper cabinet will be covering that section of wall we didn't go through the trouble of cutting out that piece of plywood (it would've meant moving the pantry, and it won't be seen once we install the cabinet with added crown molding around the top anyway). Gotta love one wall-hanging shortcut along the way.
As for the cement board seams, we'll be taping them and then using thinset over them to set the tiles, which should hold everything in place for the long haul per The Tile Shop's recommendation. But wait, let's go back to this picture of that wall head on: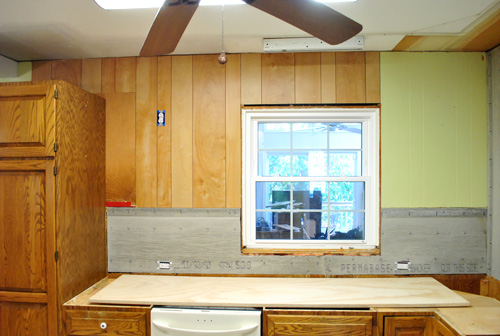 You might be wondering about that oddly placed window (it's not centered on that expanse right now) but once we add the small-ish upper cabinet to the right of the pantry there will be exactly 14″ of wall space between the side of that cabinet and the window trim. There will also be 14″ of wall space between the right side of the window trim and the 12″ floating shelves that will be hanging on the focal wall (they'll jut out 12″ to house all of our big dishes and stuff, which is nice because the window will eventually look perfectly balanced with 14″ of wall space on either side).
Anyways, here's what the kitchen was looking like when we were all done. Still not great, but definitely better. And not only do we love how the room feels without upper cabinets crowding us, it's also nice to start to see what it'll look like once the tile backsplash is installed. I wish I had taken a wider shot so you could see the paneling on the other side of the room with the 18″ backsplash that will go over there (next to the fridge) since it really feels nice and balanced with one wall of tile and two standard backsplashes on each of the other two side walls.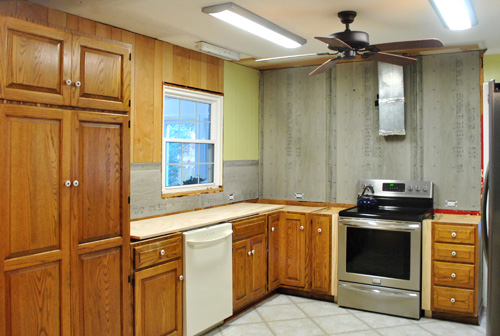 Oh, and since lots of folks asked on our last kitchen post – these are both interior walls (that window looks into to our heavily insulated sunroom, not the outdoors) which is why they weren't insulated before and why we didn't opt to add any insulation during this step of the process. We lived here through last winter (which was colder and snowier than most) and we knew that the sunroom didn't get very cold, so thankfully the kitchen never feels drafty or uninsulated (in our experience, brick ranches are great about maintaining a comfortable temperature in general since they're so solidly built and aren't usually drafty).
As for the timeline, this whole destruction/reconstruction process took us two days (one for demo/buying cement board, one for installing the new walls) so overall it wasn't that bad. Though I was pretty darn sore by the end of it all. Thankfully Sherry pointed out that our next step was paint touch ups, which aren't too bad (ceilings are my least favorite surface to paint, but we don't have much of it to deal with). We're actually kind of excited to get that done because the room will hopefully look less Frankenstein than it's looking now (mismatched appliances + mismatched cabinetry + mismatched paneling = ca-razy). But still better than the before that we started with: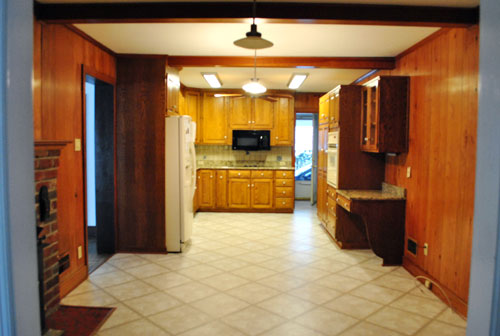 What about you guys. Have you ever hung cement board or actually had to (gasp) buy paneling? Any ceiling painting on your agenda?
Pssst- We're over on BabyCenter chatting about the birthday time capsule that we finally completed for Clara to open on her 18th birthday.
Psssst- We've listed our black above-the-range microwave on craigslist if anyone is interested (it's only a year old, works great, and is still sold by Sears). Here's the link.
&nbsp&nbsp&nbsp
Some nursery tweak-age has occurred. And because we're currently working away on the kitchen (stay tuned for those deets tomorrow morning if all goes well), we figured that we owed you the whole gallery-frame-change rundown (along with some well overdue what's-in-that-frame answers). We've always loved the idea of expanding Clara's art wall as she grows with more and more frames, so here's how it looked before: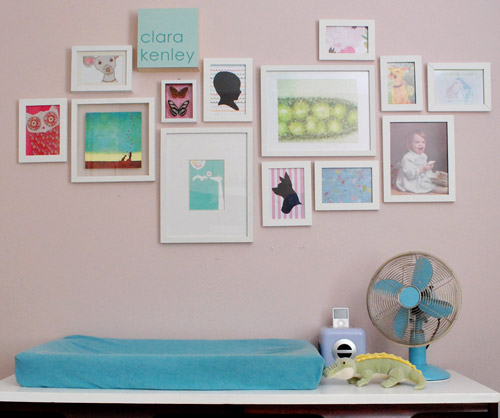 And here's what we have going on now that we've added a few more frames to the mix (and shifted the placement of a few of the existing ones):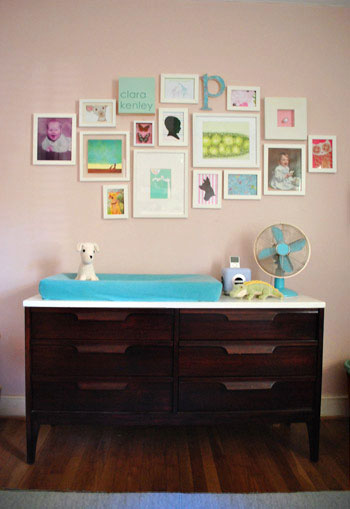 And for those who have been wondering, here's a quick rundown of the things that we've framed (you can find some other details here):
John's baby picture and my baby picture (for fun little comparisons)
a hilarious doodle of Burger that a friend did on my Facebook wall using Graffiti (I just printed it out & framed it)
this print of a girl and her dog from Etsy (it reminds us of C & B)
a personalized canvas that says Clara Kenley from here
a photo of Burger that I photoshopped to create a bright stylized picture of him in a field of flowers
two faux butterflies in a small shadowbox that I backed with patterned paper
a homemade silhouette of Clara that we cut out and placed on striped paper (more on that here)
a giraffe print from here (Clara loves giraffes and pooches most of all)
a cute Skinny Cow magazine ad with a giraffe that I tossed into a frame (framing ads from mags that you've purchased for your own personal enjoyment is totally fine – you just can't profit off of those images or anything)
a big letter P that we decoupaged with colorful paper for a more playful effect (more on that here)
a print of peas in a pod purchased here made entirely of type (it's the letter P, repeated over and over – which we love since we're the Petersiks)
a silhouette of Burger that John ordered me years ago (which we backed with fun patterned paper to nursery-fy it)
Clara's hospital bracelet (I just glued it to some pink construction paper and popped it into a chunky glass-less frame)
a cute Sweet N Low magazine ad with an owl in it (once again, when you purchase a mag you can frame any pages you want, you just can't use them for any reason other than personal enjoyment – ex: ya can't sell them on Etsy)
And seven of the "art" pieces were actually completely free (our baby pics, the Burger doodle, the Burger in a field print, the Laughing Cow ad, the Sweet N Low ad, and Clara's hospital bracelet) because we framed something that we already had or made/printed something of ours out on card stock. Gotta love no cost wall-candy, especially when it keeps Clara happy (read: not crazy-wiggly) during diaper changes.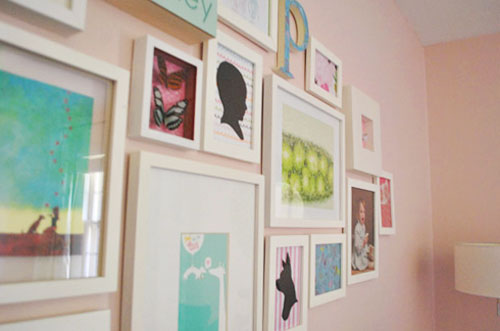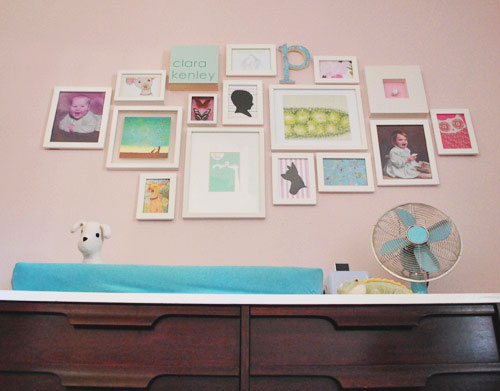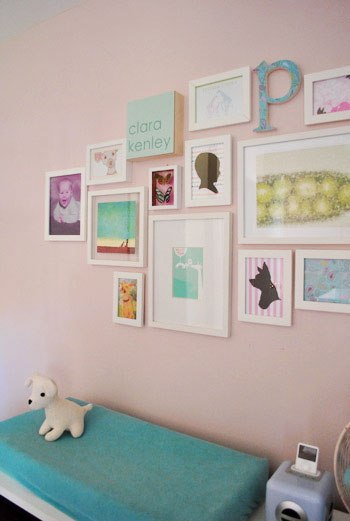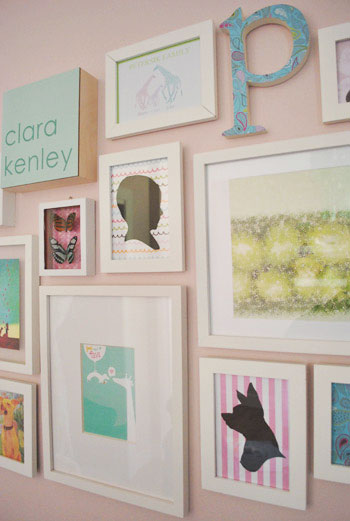 The funny thing is that many of these frames hung in Clara's first nursery (albeit in a slightly different arrangement with a few differences in what we framed):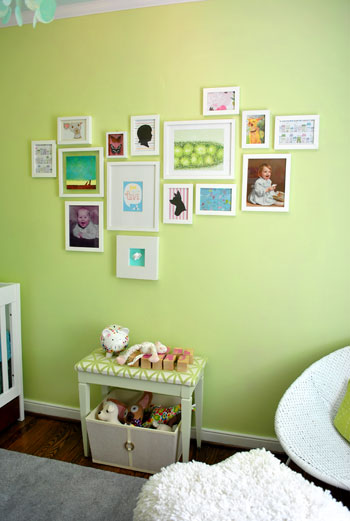 One of my favorite things on the wall are our baby pictures. Clara loves looking at them and saying "Daddy baby!" and "Mommy baby!" and we love searching for characteristics in each photo that seem Clara-like. Here's John's a little closer: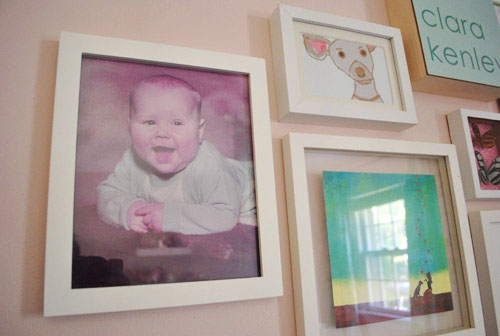 And here's mine: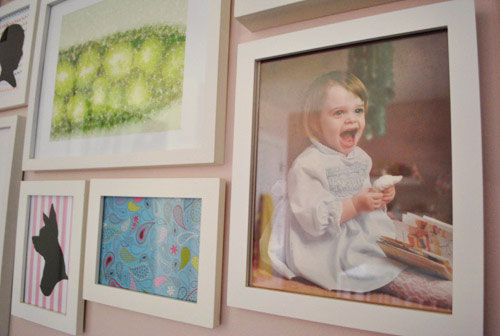 First of all: we love that we both had our mouths wide open. But more importantly: who do you think she looks more like? Let's have a good old fashioned vote.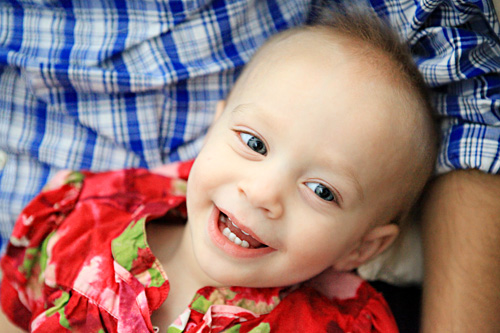 Any Team Sherry peeps out there? Everyone in the family says she looks like John (even on my side) but John's baby self was so sweetly chubby, so I personally think there's a little bit of a mommy resemblance going on. Then again, I'm biased.
Psst- One of the five finalists for the Ikea Life Improvement Project is a reader of ours named Melissa Matthews! She found out about it back when we mentioned it during an Ikea giveaway, and entered… never thinking she'd end up in the finals (we were so excited to get an elated email from her all about it)! You can read more about her awesome cause and log a vote for her or any of the other finalists that you're rooting for here (the other nominees are in the left column). Bonus: every time someone votes, Ikea donates $1 to Save The Children's U.S. Programs.
&nbsp&nbsp&nbsp