We have about a million things to be thankful for, and you guys are at the top of our list. Thanks for caring to drop in and see what's going on at our house. Speaking of which, in case you were wondering… this recently happened: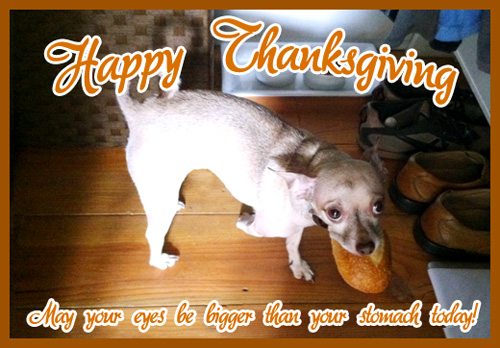 After eating lunch the other day, but before cleaning up the table, Burger snuck into the dining room, climbed up to the table with the help of a chair (!) and snatched half of a baguette that remained uneaten. Knowing he'd be in trouble for it, he immediately sprinted into the closet to devour that hunk o' carbs in record time. I followed him in – half to make sure he didn't choke and half to snap this photo with my phone. Just look at those guilty eyes…
All of this is to say: we hope that you have a fantastic Thanksgiving filled with family, food, gratitude, and zero guilt about stuffing your face.
Psst- Since this post is a bit heavy on the Burger, check out this post on Young House Life for some Clara-counts-to-ten action. Couldn't be prouder!