I have been meaning to update you guys on four thrifty purchases (well, technically there are nine of them, because I got six of one thing) so let's get into it. First we have this gilded pineapple vase that I found for $4 at Goodwill. Can you guess what I love most about it? Yup, the hex pattern all over the body of the vase. Even though it's clearly pineapple influenced, it felt so "bees" to me (more on why we love bees here). And the antique gold finish is really pretty in person. Not too bright and shiny – it feels timeworn and authentic.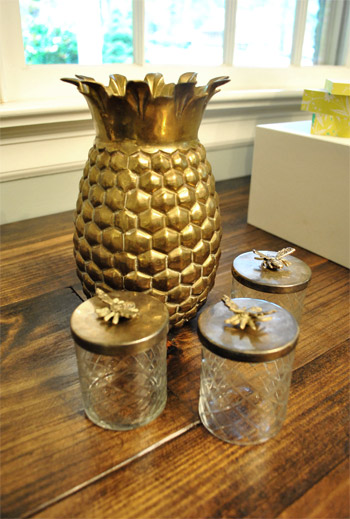 And see those three jars around them? They were sent over by a friend (ohmygoshIlovethem Amy – thankyouthankyouthankyou!) and they look perfect with my new vase. The color of the pretty lids are exactly the same antique-gold color and… wait for it… there are little bees on the lid of each one. I also love the criss-cross glass effect.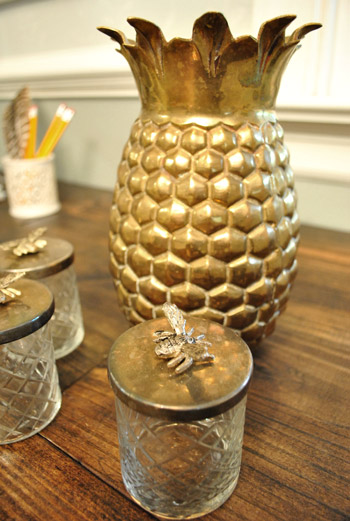 They're sitting on our desk to the right of my computer so I can glance over and smile at them every sentence or two.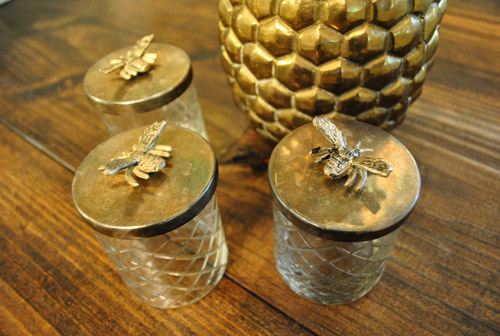 Not kidding. That happens.
Second of all, this guy is ours. And he's also something that now lives on our desk and gets lovingly gazed at: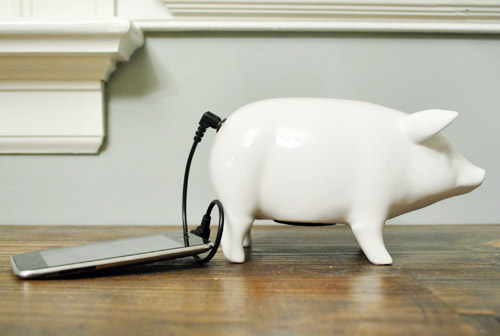 The minute he popped up on West Elm we put in our order (we knew he'd be the perfect way to enjoy music in the office and much cheaper than a Bose stereo or some of the other docks on the market). He was actually back-ordered for a little while, but he finally showed up and we love him (update: we hear he's now back-ordered until mid March of next year! Crazy!).
The sound quality is great – and of course the white ceramic animal feature is our favorite. He definitely adds some sense of humor and some festivity (thanks to the fun music that we can now play while we type away). Oh and his name? Humphrey. He's a total Humphrey.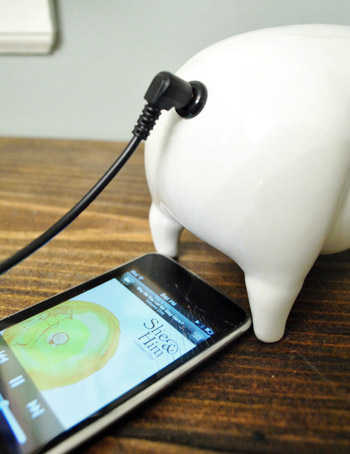 PS: Here's a link to the music video for for the She & Him song that we were listening to. Zooey Deschanel is in all of her awkwardly weird glory, which we love. PPS: You should totally be watching New Girl.
Thirdly, I couldn't resist bringing home six of these babies for $2.99 a pop from Marshall's (originally $8 each).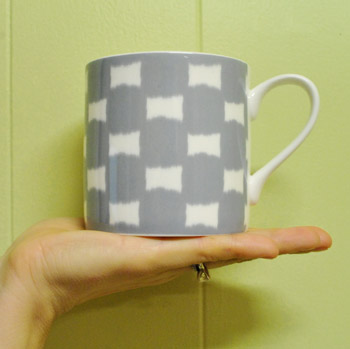 I've never had matching mugs. We have one of those mish-mash collections that I never really minded (no more than two of the same kind) but I love that the next time I have John's parents or my parents over we can all sip tea/coffee from the same mugs (and I still have my random mismatched mugs to use whenever the nostalgia hits).
It might be an embarrassing thing to admit, but they're the first item of "china" that we own with a stamp on the bottom. All we registered for when we got married were basic white plates from Linens N Things without anything written under them.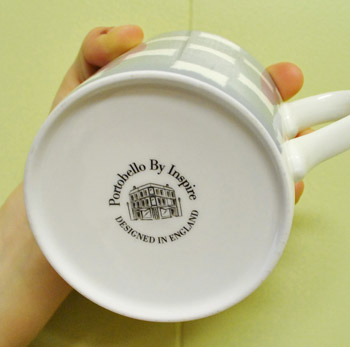 Is it weird that this is one of those purchases that makes me feel like a grown up? And it's kind of unnatural how excited I am to toss these up on the future-open-shelves in the kitchen with all of our everyday dishes and cups. If gazing up at them while eating breakfast at the peninsula is wrong, I don't want to be right. Has anyone else out there made any "I feel so grown up" purchases lately? Like a fancy sheet set (still don't have one of those) or plush new bathroom towels?
But wait, it's time for thing number four. It was a small (maybe about a foot long) thrift store rocking horse (also from Goodwill) that I grabbed for $1 because I knew that I could modernize the country-ish "outfit" that he was wearing for zero bucks. I stupidly forgot to take a before picture of the guy, but he was sort of faux finished with lots of paint and decorative details on him like the pony below (found here).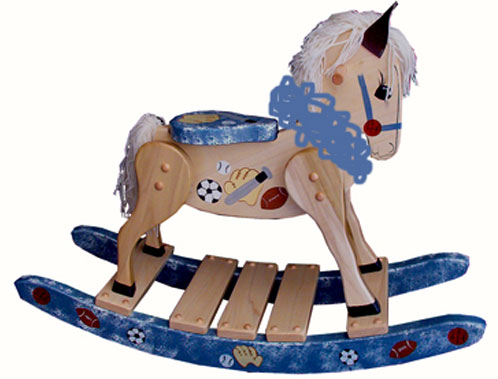 The scribbly blue stuff that I photoshopped in around his neck is supposed to represent the blue raffia around the neck that was glued with lots of globby mounds dripping down my guy's legs. Hotness.
First I named him Bosley. Then I got to work. I ripped off the raffia wreath around his neck and used an exacto knife to peel/scrape as much of the glue blobs off as I could. Eventually I had a nice smooth finish going on. Then it was time to spray prime the guy (since he was made of raw wood, I thought I might have bleed-through issues if I skipped right to painting).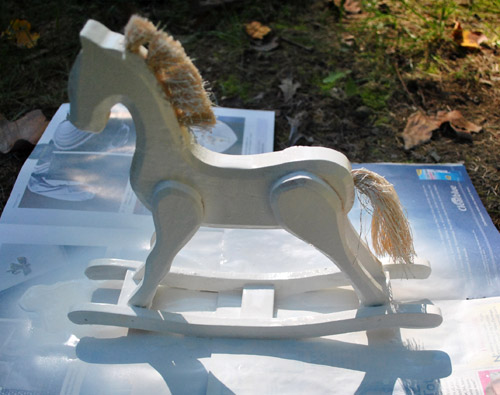 After a few thin coats of spray primer and gray spray paint that I already had on hand from a past project, he was quite the looker. A bright color might have been fun too – but I opted to just use what I had for now. I'm loving the deep charcoal finish so far, but if I get antsy and Bos ends up hot pink I'll be sure to tell ya.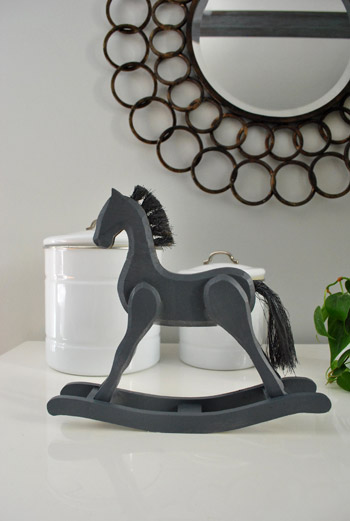 He's currently hanging out on the desk in the living room but I picture him traveling all over the house for a while (perhaps landing on a shelf in Clara's room or the top of a desk or dresser in the playroom someday?). So far Clara has shown zero interest in him, but I have to admit that I got him because I hoped that someday she'd put a Barbie on him and gallop her all over the house. Yup, Bosley is perfectly Barbie-sized. We'll have to wait and see if Clara is as crazy about this idea as I am…
Happy weekend everyone! Do you have any thrift store finds to share? Or new mugs with words on the bottom that make you feel oh-so-civilized? Or Barbie-sized anything? Lay it on me.