Archive for September, 2011
It's that time again! When we take a moment to look back on all that we've done in the past month at a glance (and gather all the links in one handy place for ya). And of course we tossed in some never-before-seen stuff, just because we're over-sharers. This month felt pretty scattered since we did everything from finding secondhand night stands and starting to stencil some walls to building a 13 foot desk, altering a light fixture, framing out a mirror, making free art, and beyond. So let's take a walk down memory lane, with yearbook-esque superlatives. Why? Because that's our idea of a good time.
Most Pro-Banquette: Starting off the month with a half-baked idea to add a kitchen banquette.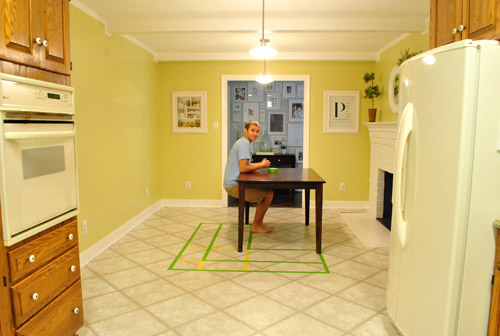 Most Pro-Banquette (Runner-Up): The continued discussion on the topic in this follow-up post, which included a reader submitted rendering (where I looked a little bit like a receptionist).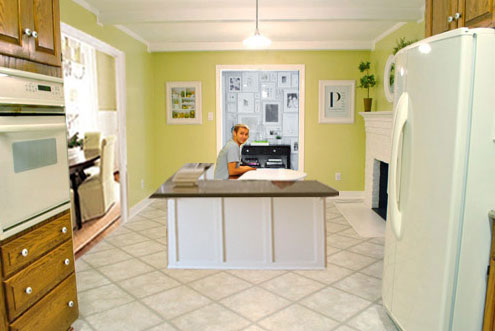 Least Pro-Banquette: Ending the month with the exciting revelation that we're over the banquette idea and happy to our true love: a peninsula.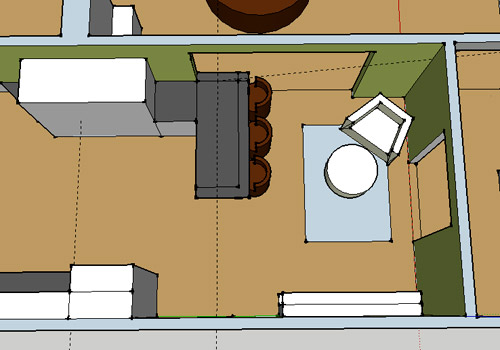 Weirdest Giant Metal Chicken: This girl (aka Beyoncé) that we spotted on our way to Delaware (if you don't know how she got her name, you must read this (warning: there's profanity, but it might be the funniest thing on the interweb).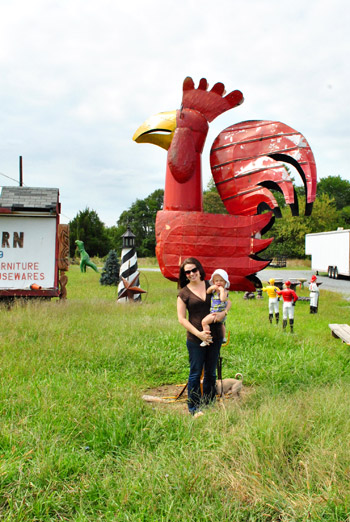 Best Deal: Our $11 yard sale night stands, which we added to our bedroom (along with a faux gold banding treatment on our bedposts).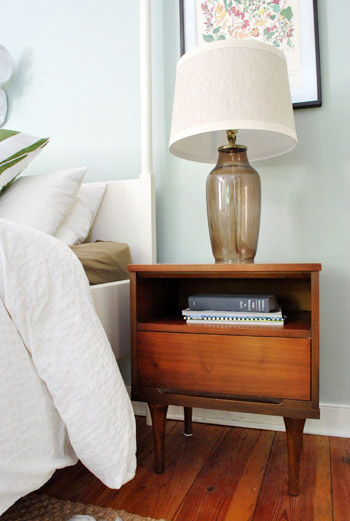 Least Appetizing: Our empty fridge after Hurricane Irene, which we refilled with a coupon-tastic trip to the grocery store. (Update on that: we put in a $250 "spoiled food claim" with our electric company, who actually accepts those – so we don't have to worry about insurance premiums going up or meeting a deductible at all – hooray!)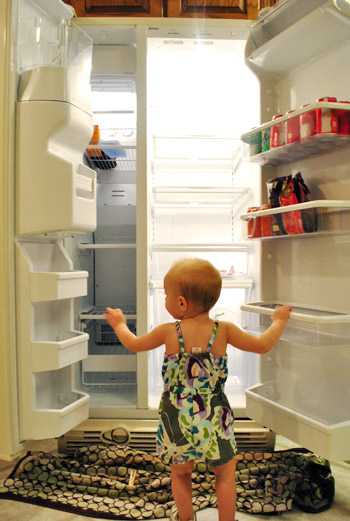 Most Improved: Our $1 (each) orange secondhand cabinets became slightly-taller, white office built-ins thanks to some wood and paint.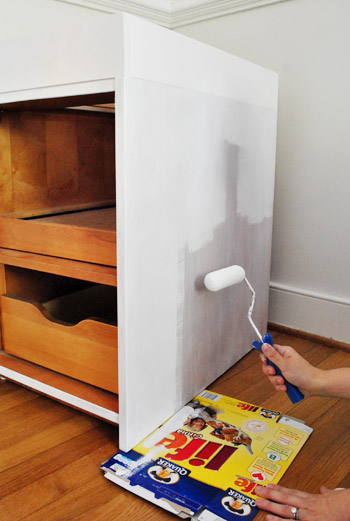 Most Tall, Long, Dark & Handsome: The 13-foot wood tabletop made for our built-in desk out of framing lumber and dark stain (for just 27 beans).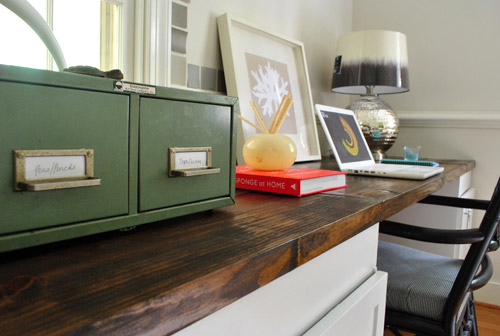 Most Inebriated: The walls in our office, after getting their Moonshine on (see what I did there? Moonshine is the name of the paint color, but also a reference to alcohol…).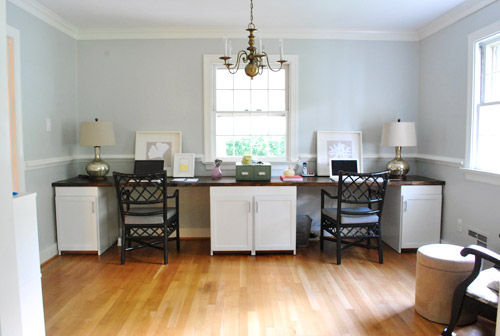 The Josh Groban "You Raise Me Up" Award: Our office light fixture, which got hung higher (no more head bumps for me), sprayed indigo, and covered with a discounted drum shade.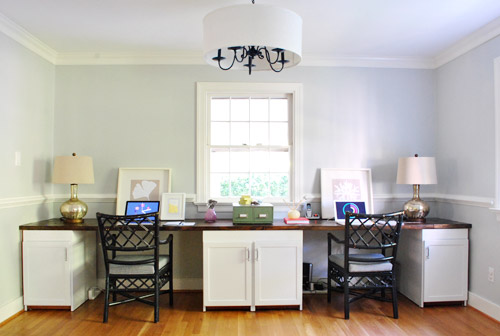 Most Grounded: The trim that we added to the bottoms of our desk to give it a more built-in look.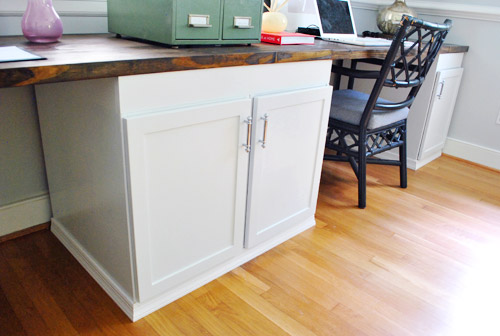 Most Secretive: These never before seen parts of our house that we hadn't highlighted before now, like our spaceship-like sunroom roof line: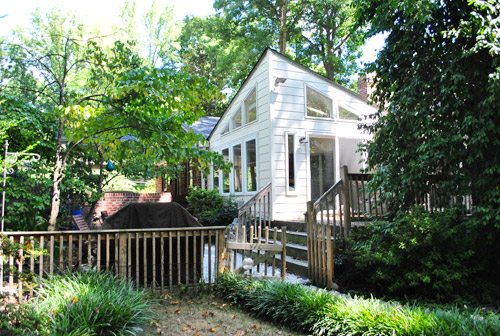 The "You'll Be Missed… But Not Much" Award: The tree growing on our house that we finally removed (to avoid any risk of foundation damage), along with trimming some overgrown shrubs nearby.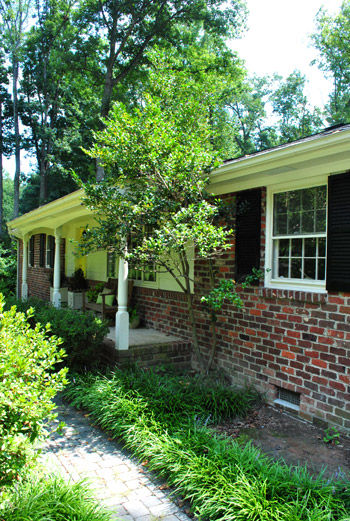 Most Persistent: Not giving up on this bathroom mirror framing project (even after a false start with too-small trim and, oh yeah, the whole thing crashing down after the first attempt).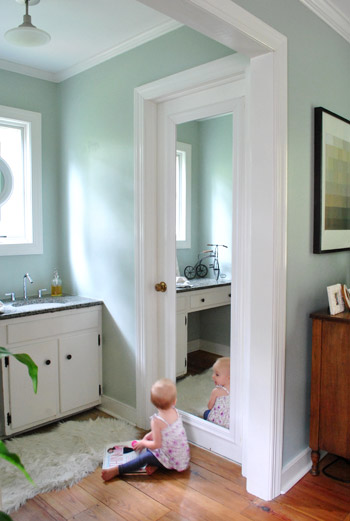 Most Photogenic: Our television. Yes, we have a weird habit of taking pictures of the TV to document decor inspiration.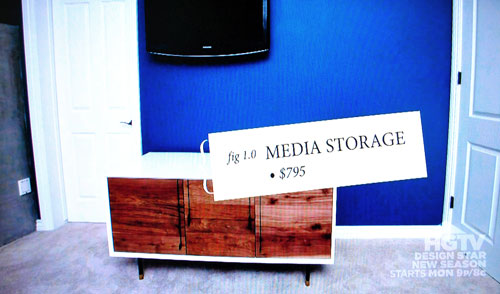 Easiest: Making a fast & free food coloring print for the hallway frame gallery.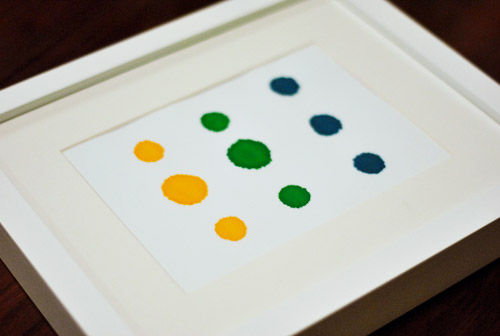 Easiest (Runner Up): Sherry's simple faux cross-stitch that she broke out to make a personalized anniversary gift for her brother and his wife.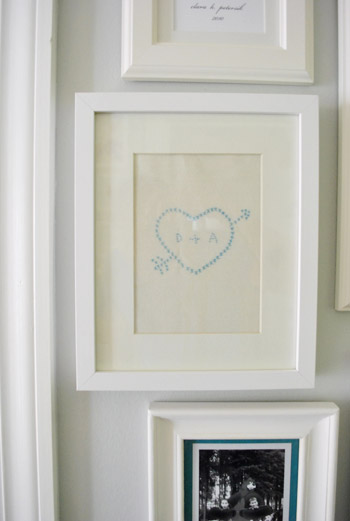 Most Likely To Result In Claw-Hands: Stenciling the walls of the office, which isn't exactly a quick project – but should be well worth it in the end (we hope to share final pics on Monday).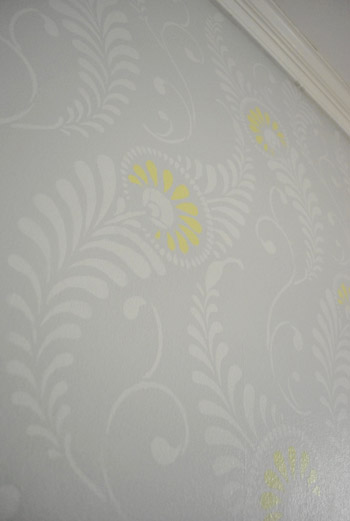 Best Sentence Ever Uttered By A Sixteen Month Old: "Iss my hoo hat." Which was said by Clara after insisting that we help her put on a jacket and a crocheted hat (that looks like an owl) over her pajamas. Such a snappy dresser.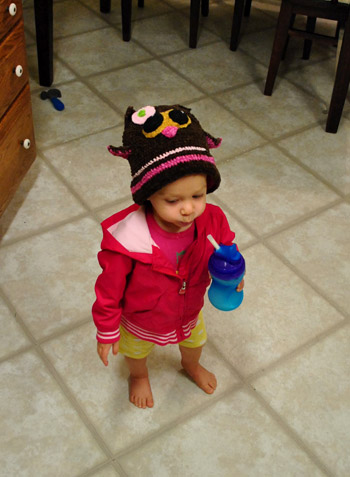 Most Three Dimensional: My take on the pros & cons of three different 3D interior design tools.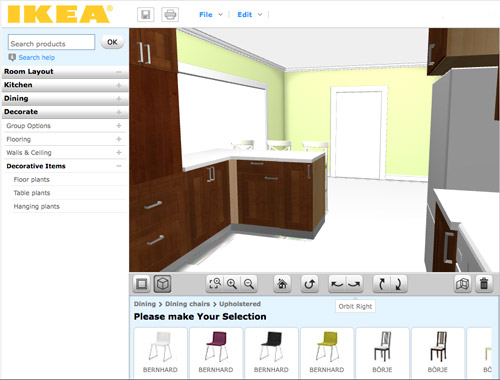 Most Intense: All of the Blogiversary posts last week…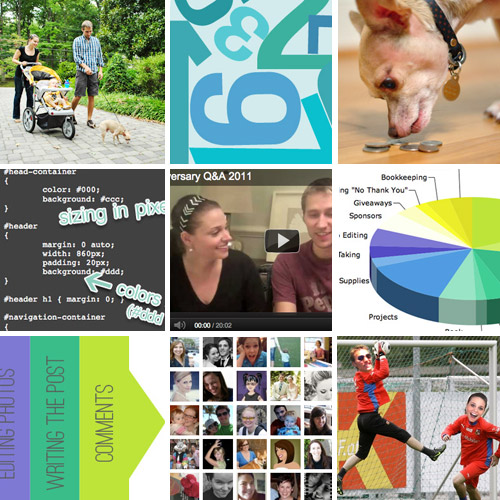 … so if you missed any of those – here's a quick recap of what was covered:
So there you have it. September at a glance. What have you guys been up to this month? Have you ever made a list of accomplishments to look back on? It's nice to take a break from adding things to our to-do list and take a moment to appreciate what we've accomplished. Just for a minute. Then it's back to that $%@**&ing stencil…
Psst- You can check out July's superlatives here and August's here.
Pssssst- We're so excited about the curated collection that we put together for Joss & Main (it comes out this Tuesday!). Click here to sign up and get alerted when the sale goes live!
&nbsp&nbsp&nbsp
All week I imagined a big office stencil reveal post here. Sadly, it's not done yet. Oh DIY, why do you take such pleasure in toying with my emotions? Quit playing games with my heart, home improvement. But regardless of the fact that it's not exactly a quick project, it's looking awesome and totally going to be worth the blood, sweat, and tears (all three of which have occurred, incidentally). So hopefully by this weekend I'll be doing some celebratory Rocky laps around the house (yes, with music blaring and fists in the air) and I can share photos & deets of the whole shebang on Monday. Woot! Until then, here's a still-needs-to-be-finished wall (the bottom edge above the chair rail is still on the agenda):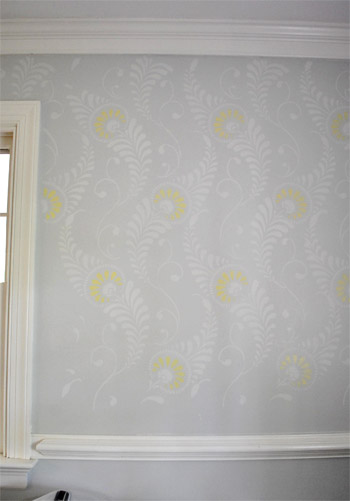 In the meantime, how about a bloodless-sweatless-and-tearless project in the "quick, easy, and free" vein? See, John had this genius idea that we should try to get an ombre effect on paper (that we could then frame) using food coloring. Namely soaking it in food-colored water and waiting for it to travel up the page and potentially upping the intensity by adding more color to the water and letting it soak a bit less for a two-toned effect.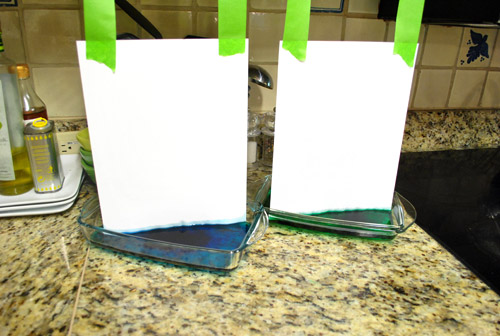 Yeah… that didn't work at all. Zero travel-age back up the paper. Just wetness. Haha. So…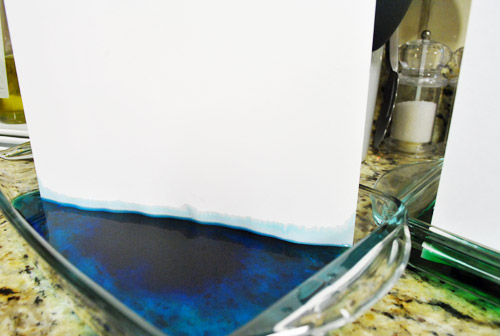 … fail!
But we had some fun messing around with drips and drops, just to see what we liked. First I made an ode to Dexter with a few drops of red food coloring.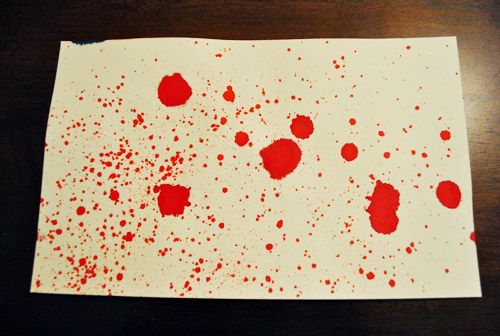 How fun would stuff like this look framed all over the house for a Halloween party? You could even take regular family photos and splash "blood" (aka: red food coloring spatters) over them to weird the observant people out at your little shindig (or use a red sharpie to create the effect on clear transparency paper and place it over them so as not to ruin the original prints/photos).
Anyway, then we started messing around with drips down the page but we really fell in love when we hit on this simple collection of dots (we were using regular old card stock by the way):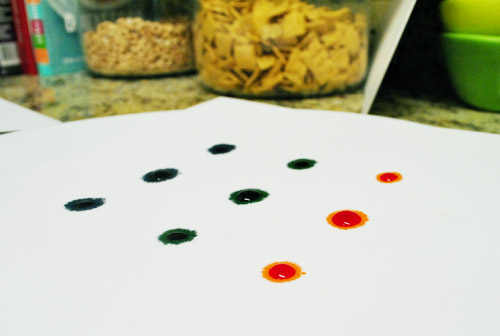 All we did was make three dots of each color next to each other (squeezing a bit harder on the middle one so it was a wee bit larger).  Then we just waited for it to dry…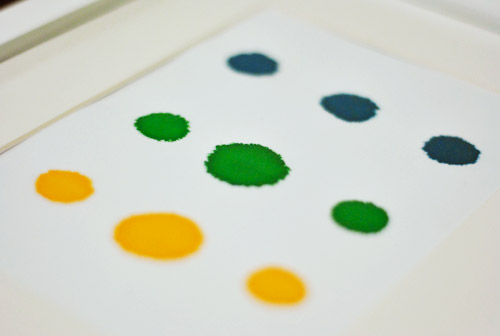 … and framed it…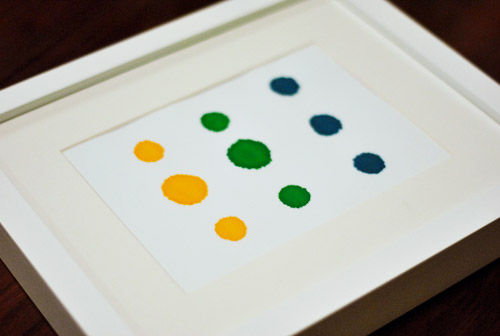 Bam, an instant zero dolla (holla!) "food coloring masterpiece" for our always-changing gallery frame wall: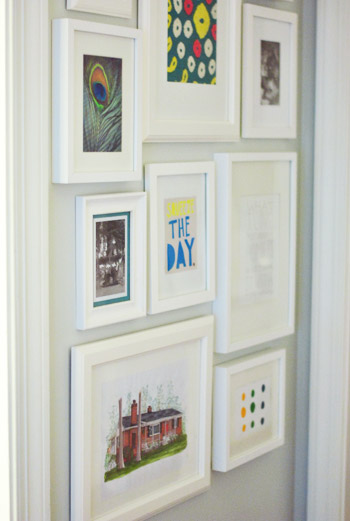 I actually love how it picks up on the circles in the fabric that we framed a few feet up (in the middle). And it's so fun to tell people who come over (and just stand in front of that wall for twenty minutes) that it's just drops of food coloring. I can't really explain why, but it looks kind of exotic and collector-ish. So it's always fun to see the look on their faces when they realize it was done in five minutes with cupcake baking supplies.
Anyone else going to try their hand at some food coloring art? Or throw a Dexter-themed Halloween party? If so, I would LOVE to see pics of any and all faux blood spatter that you use as decor! Geek for life.
In other news, that might be the shortest post I've written in about a year. Hootie hoo for trying to meet some recently mentioned goals. We've definitely had our share of long beefy posts this week, so sometimes a quickie here or there feels nice too. Wait, that didn't come out right.
&nbsp&nbsp&nbsp