All week I imagined a big office stencil reveal post here. Sadly, it's not done yet. Oh DIY, why do you take such pleasure in toying with my emotions? Quit playing games with my heart, home improvement. But regardless of the fact that it's not exactly a quick project, it's looking awesome and totally going to be worth the blood, sweat, and tears (all three of which have occurred, incidentally). So hopefully by this weekend I'll be doing some celebratory Rocky laps around the house (yes, with music blaring and fists in the air) and I can share photos & deets of the whole shebang on Monday. Woot! Until then, here's a still-needs-to-be-finished wall (the bottom edge above the chair rail is still on the agenda):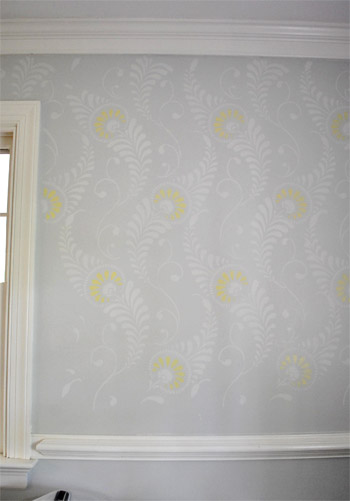 In the meantime, how about a bloodless-sweatless-and-tearless project in the "quick, easy, and free" vein? See, John had this genius idea that we should try to get an ombre effect on paper (that we could then frame) using food coloring. Namely soaking it in food-colored water and waiting for it to travel up the page and potentially upping the intensity by adding more color to the water and letting it soak a bit less for a two-toned effect.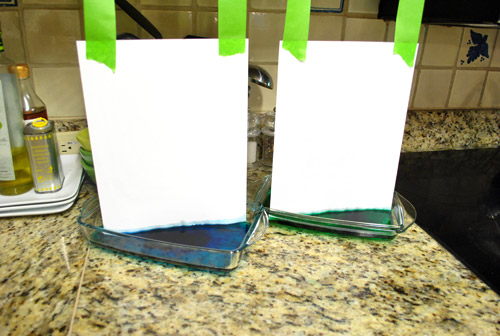 Yeah… that didn't work at all. Zero travel-age back up the paper. Just wetness. Haha. So…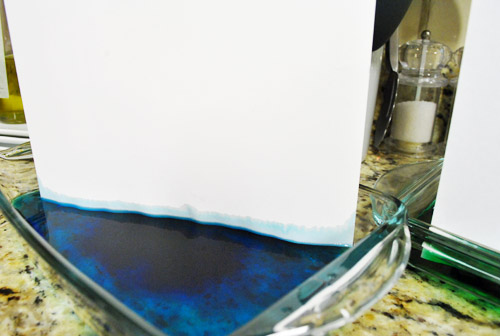 … fail!
But we had some fun messing around with drips and drops, just to see what we liked. First I made an ode to Dexter with a few drops of red food coloring.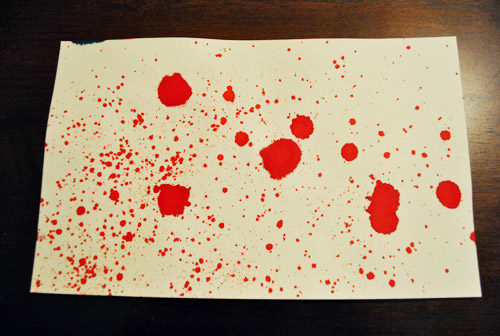 How fun would stuff like this look framed all over the house for a Halloween party? You could even take regular family photos and splash "blood" (aka: red food coloring spatters) over them to weird the observant people out at your little shindig (or use a red sharpie to create the effect on clear transparency paper and place it over them so as not to ruin the original prints/photos).
Anyway, then we started messing around with drips down the page but we really fell in love when we hit on this simple collection of dots (we were using regular old card stock by the way):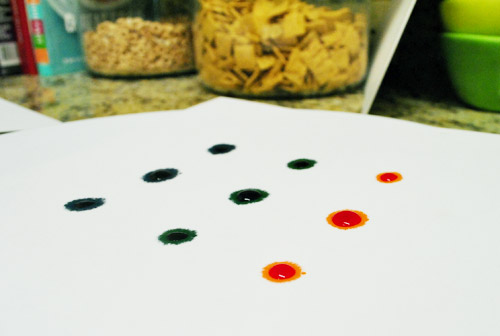 All we did was make three dots of each color next to each other (squeezing a bit harder on the middle one so it was a wee bit larger). Then we just waited for it to dry…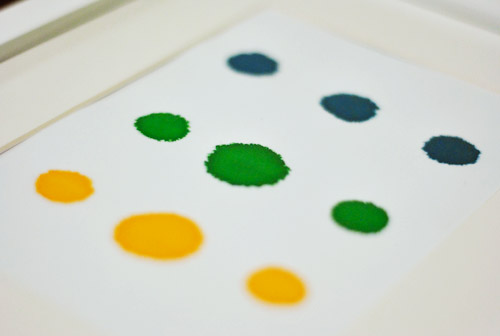 … and framed it…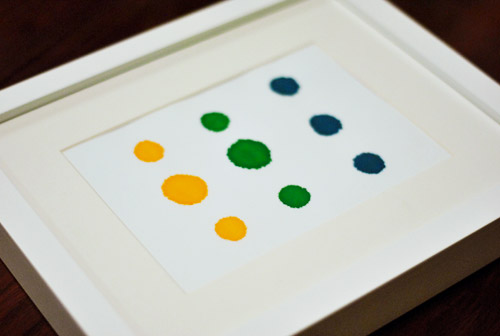 Bam, an instant zero dolla (holla!) "food coloring masterpiece" for our always-changing gallery frame wall: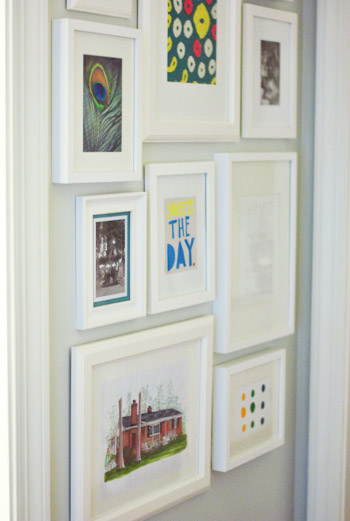 I actually love how it picks up on the circles in the fabric that we framed a few feet up (in the middle). And it's so fun to tell people who come over (and just stand in front of that wall for twenty minutes) that it's just drops of food coloring. I can't really explain why, but it looks kind of exotic and collector-ish. So it's always fun to see the look on their faces when they realize it was done in five minutes with cupcake baking supplies.
Anyone else going to try their hand at some food coloring art? Or throw a Dexter-themed Halloween party? If so, I would LOVE to see pics of any and all faux blood spatter that you use as decor! Geek for life.
In other news, that might be the shortest post I've written in about a year. Hootie hoo for trying to meet some recently mentioned goals. We've definitely had our share of long beefy posts this week, so sometimes a quickie here or there feels nice too. Wait, that didn't come out right.