Archive for November, 2010
Surprise! This was the scene at our house yesterday: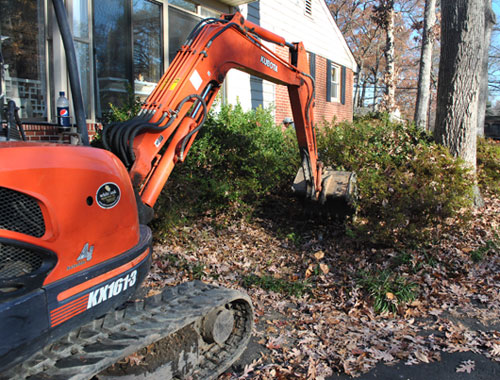 Allow me to explain. We decided to test the soil around our home's underground oil tank (we have oil heat) a few weeks back to assure any interested buyer that it's in tip top shape. Much to our horror, it wasn't. Soil tests came back indicating that we had a small leak. We felt like somebody punched us in the face. Here we are with our rain barrel and our compost bin along with all of our energy star appliances and our cloth diapers in an effort to be green while our oil tank has been oozing nastiness underground without our knowledge. Shudder.
Luckily we learned that it's something that the Virginia Department of Environmental Quality feels so strongly about fixing that they actually offer a credit to homeowners in our situation, so we only had to pay a $500 deductible for the removal of the old leaky underground tank (and the gross oil-riddled soil around it – hence the excavator pictured above) while the government covers the rest of the usually-around-$2,000 project. Nice right? But we did have to kick in about $1300 to install a new above ground tank (which will never secretly leak since it'll be visible instead of buried). The good news is that it's kind of like we're paying it forward since we're leaving a new tank for our home's next owners and our new house actually also just got a new above ground tank (so we'll inherit one that's just as new and shiny). Ain't she pretty all tucked quietly behind our azalea bushes?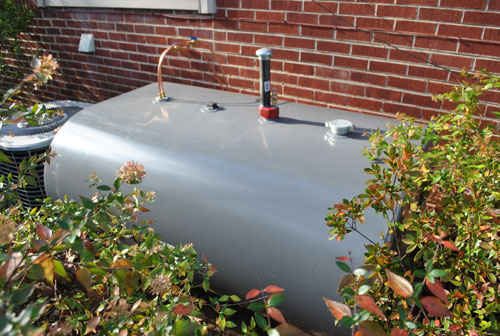 Especially when you compare her to ol' Rusty. They estimated that our tank was about 30 years old after unearthing it. Here's hoping 30 is kinder to me when I hit it next year.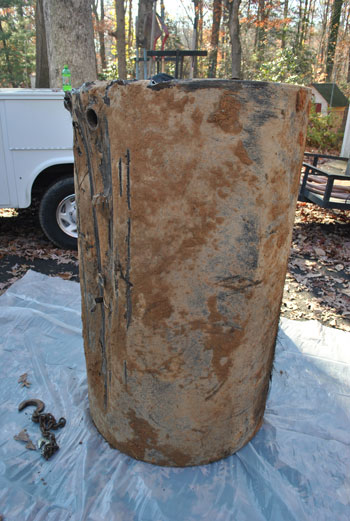 The funny thing is that as gross as that sucker looks, they could only find this dime-sized hole at the bottom (though they said others might be too dirt-clogged to see).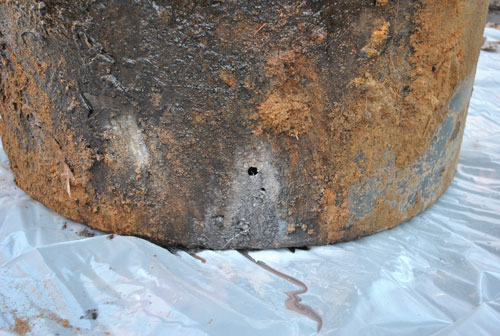 The good news of the whole oil-leakage incident is that since oil doesn't move very much through compacted dirt like ours, it's not believed to have traveled very far underground. So the Virginia DEQ just requires the removal of the tank and a bit of surrounding soil to rectify the situation. Okay, maybe a "bit of soil" is an understatement. This was the hole they dug: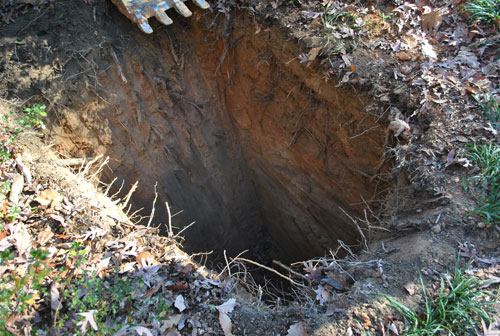 They had to dig up two azalea bushes to make that hole but luckily the process didn't disturb the driveway or any large trees. And they replanted the pristinely removed azaleas after filling the gorge with gravel and topsoil (though they were the first to say that they make no guarantees about their future survival). Cross your fingers, I guess?
Even though it's bittersweet to have sunk money into unsinking this leaky tank for our buyers (yay environment, boo spending) we're definitely comforted by the fact that we're getting a new shiny tank at our new house (how funny is it that the current owners ran into a similar situation with their underground tank and just upgraded to an above ground version too?). So I guess we could call it good house karma paying off. If you can count following government orders as karma.
Have you guys had oil issues? Or other appallingly ungreen discoveries in general? Nothing like a little unplanned spending around the holidays to get your blood pumping.
Psst- Holy amazingness. Check out this sweet DIY play kitchen that was made from an old TV unit over on BabyCenter.
&nbsp&nbsp&nbsp
You could call these tumblers titillating. That's right. I said titillating. Who doesn't love a good set of small glass cups that can be anything from charming votive candle holders to drinking glasses or even holiday candy serving dishes grouped en masse on a coffee table? I've always wanted to try my hand at glass paint (the kind that you apply with a pen and bake on in the oven) so I figured using it to create a cute little DIY holiday gift would be just the thing. Or it could be another epic fail- you never know when you start these things…
For this project I originally planned to go to a thrift store for cheap $1 glasses to paint, but when I stumbled across this matched set of four tumblers at Target for $2.50 (less than 65 cents a pop) I couldn't resist grabbing it. Oh and I got the paint pen – called Vitrea 160 in Scandalwood Green – from Michael's for just a few bucks (around $3 I think).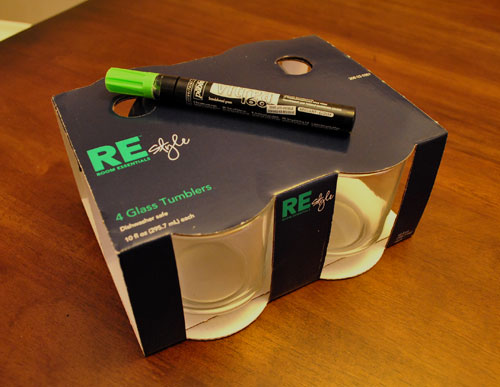 When it came to application, I just followed the directions and freehanded some seasonal designs on the outside of each tumbler (feathery spruce trees line one cup, pine needles are the chosen scheme for another glass, and wavy lines and straight stripes round out the other two cups). After allowing the cups to dry for 24 hours (according to the instructions on the ol' paint pen) it was time to bake them in the oven for 40 minutes at 325 degrees (instructions probably vary, so be sure to follow the ones on your pen when it's time to get your cook on). Tip: we didn't preheat the oven and we left them in there to cool for a while before removing them, which seemed to help keep the glass from cracking since major changes in temperature can cause that).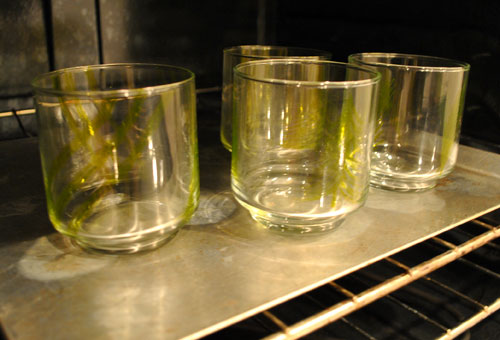 The result was a gorgeously sweet and subtle design that feels festive without looking too over the top. In other words, we figure as far as gifts go, these cups could probably live in nearly any house without feeling too out of place (since we opted for a pretty subtle season-appropriate color scheme, and avoided more kitchy illustrations like colorful snowmen or santas- although those could be really cute if you're sure your giftee would like them).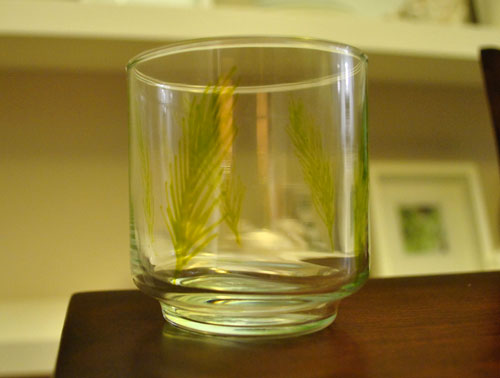 They're nearly impossible to take photos of (but are very charming and even semi "professional looking" in person):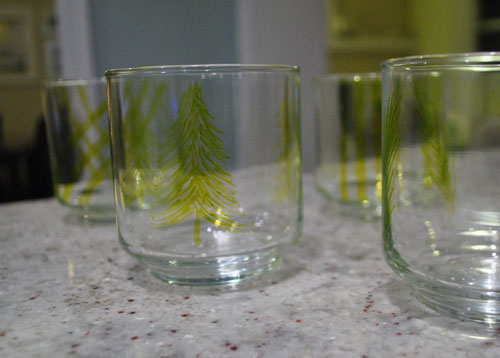 Wouldn't those look cute filled with candy and grouped on a table or even paired with small votive candles on someone's mantel? They could also be used to serve warm cider to guests on Christmas or even New Years (since once the ink is baked onto the outside of the glass, it's ready to use and can even be popped into the dishwasher). So I thought they made nice little versatile homemade gifts for around $5.50 (including the pen and all four glasses). And of course they could be personalized instead of seasonally decorated (with a scripty monogram, each family member's name, a favorite icon like a horseshoe or a heart, etc). Have any of you guys tried your hand at glass paint? Do you have any other cheap DIY gifts on your to-do list? Tell me all about it.
&nbsp&nbsp&nbsp