We're buckling down and making ourselves eat as much of the remaining food in our fridge as possible. We haven't gone grocery shopping for at least three weeks (except for the occasional under $30 run for milk, cereal, and some fresh fruits & veggies) and we don't plan to go at all for the next two weeks (since there's still plenty to nosh on before we move). We're concentrating mostly on eating things in the freezer and the fridge since there will be at least five hours between handing over the keys to our current house and getting the keys to our new one (we were luckily able to coordinate both closings on the same day, but the bank still needs a few hours to transfer funds in between). So we don't want to worry about keeping a bunch of things refrigerated or frozen in a cooler in the moving van (or over in John's sister's fridge) if we can help it. Here's what we're dealing with (MTV Cribs style):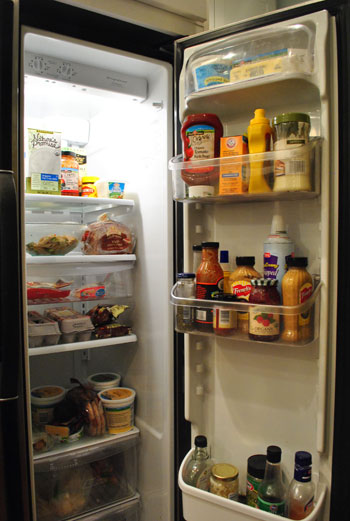 So I devised a little look-how-type-A-I-am system to keep us focused when it comes to strategically stuffing our faces. I'm a sucker for a list, what can I say? It actually took a little while to get the whole list thing figured out. I knew we needed a reminder about what we should eat, so first I made a list of all the random ingredients and items that we ideally should scarf before moving day. But it seemed like a chaotic little crammed piece of paper with too many things to actually absorb. So I decided to compartmentalize, grouping items that we could eat together and listing things in these categories: breakfast, lunch, dinner, snack/dessert. Worked like a charm. We now have this list staring us in the face every time we glance at the fridge:
Breakfast:
eggs
oatmeal

waffles

smoothies
Lunch:
peas and carrot sides (J)

broccoli soup (S)

grilled cheese (J & S)
turkey, cheese, & deli flats (J & S)

tuna on wasa crackers (S)

laughing cow cheese or almond butter on wasa crackers (S)
Dinner:
breakfast for dinner omelette w/ frozen veggies
pot stickers with frozen veggies
burritos and frozen veggies
pancakes

with mixed berries

spaghetti

frozen amy's pizza and alexa fries

sides to eat asap: brown rice & cous cous
Snack/Dessert:

pumpkin bread

ice cream
tea
mixed nuts & pistachios
We just cross things off when we finish them and then move onto other meals in that category. So far we're on track to eat right up until moving day (since we have a few servings of a few of the things on the list- like pasta, pot stickers, a truckload of wasa crackers, etc). Here's hoping we can get 'er done. Have you guys ever strategically planned meals (for moving or just money management or organizational purposes?). Do you have weekly meal plans (Macaroni Monday? Taco Tuesday?). Growing up we had a pretty predictable rotation but there was something strangely comforting about it. I still miss Wednesday night pizza dinners…
Psst- I know the last few posts haven't been very DIY focused (we blame our turkey coma) but soon we'll be sharing some fun homemade holiday gift ideas along with a free downloadable calendar for 2011 and another home-related video. So as they say on SNL, stick around…
Second pssst- Holy bananas. Who watched Dexter last night? Was it not the single best episode ever? John and I couldn't sleep from all the adrenaline rushing through our veins. Love that show.
UPDATE: See how we did when it came to cleaning out the fridge before our big move here.