Archive for May, 2010

When it comes to kitchen counters, which material do you like best? Are you a sucker for natural stone options like granite or marble? Or manmade materials like Corian and Silestone? Do you love the charming and rustic look of butcher block or tile? Or adore the eco-friendly stuff like recycled glass and sustainable bamboo? Is sleek stainless steel or industrial poured concrete more your speed? Or do you like the easy care and low cost of laminate? How about a combination (like a butcher block island with marble counters)? So many choices, so little time…
&nbsp&nbsp&nbsp
We hope you guys had fun playing around with the Design It tool in this week's giveaway from Lamps Plus. Between that and your run as pillow designers a few weeks back, you guys must be feeling pretty good about your product-creating skills (as you should be).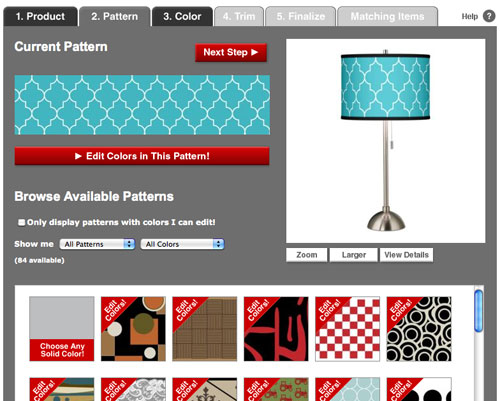 Before we announce the winner of the Brushed Nickel Contemporary Table Lamp with the choice of any pattern, color and trim for the shade, we should remind everyone that you can score $10 off any order of $129 or more on Lamps Plus with the code 37YHL now through June 7th. Just click here for the details.
And now for the big winner. After shining a light on random.org, it plucked out the name of one lucky reader… Heather H (who loves a dusty rosey pink). Congrats! We'd love to know which pattern you're planning on picking for your custom lamp. Can we expect some pink in there somewhere?
Oh and fret not if your name didn't float to the top this week. Monday's giveaway is gonna be another fun one. In fact it's taking us to a place we've never been before (and yes that's a clue as usual).
Find more freebie info on our Giveaway FAQs page. Pics courtesy of Lamps Plus.
&nbsp&nbsp&nbsp