By now you guys have probably grown accustomed to our random tours through places like Target, Ikea, Crate & Barrel and Anthropologie with our camera in tow. But this time we traipsed through HomeGoods and couldn't stop ourselves from snapping pictures of all the things that we loved (with fabulous prices to match). So without further ado, here's what's frying our bacon these days from the decor mecca that is HomeGoods…
This amazing white cut-out urn is nothing short of art when it's placed in the center of a large dining table or displayed on a console table or buffet. And although we've seen them in a few places for upwards of $100-150, this baby (which is nearly 2′ tall by the way) will run you just $55.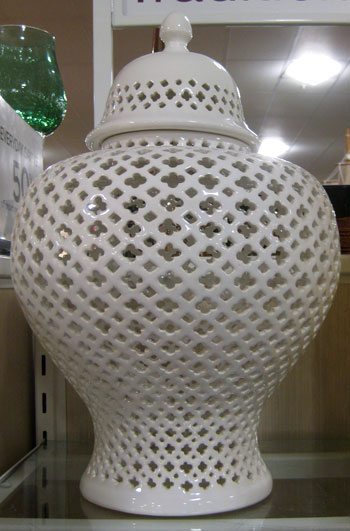 Here's another fun cut-out urn that came in a playful mustard color and was a bit smaller. This one's just $25 and we think it would look equally chic on any number of tables, shelves or bookcases. We love the exotic Moroccan vibe and can even picture it in a posh bathroom full of sea sponges.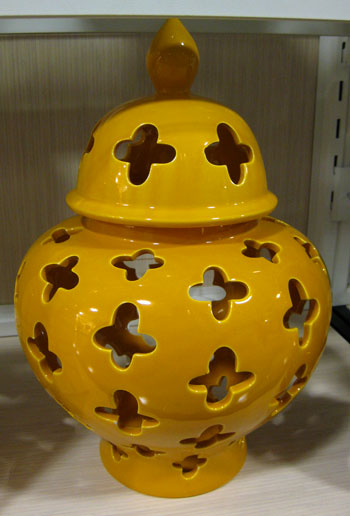 This $12 hot pink Buddha made us smile, and we can just see it lending a cool Domino-ish effect to any room when placed atop a large pile of hardcover books or displayed on a bookcase with some other eclectic accessories.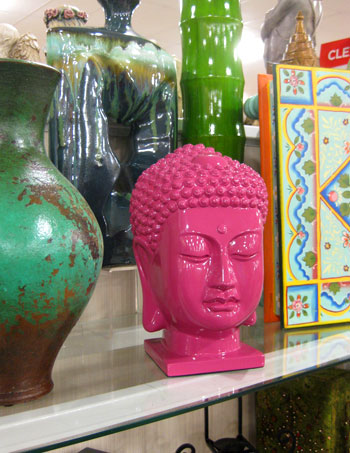 And although I know they're not everyone's cup of tea (John even declared that these guys were "straight up ugly") you know I was smitten with these gorgeous $39 oversized white lacquered greyhounds. I can't help it- my white ceramic animal menagerie always has room for one more (or ten…).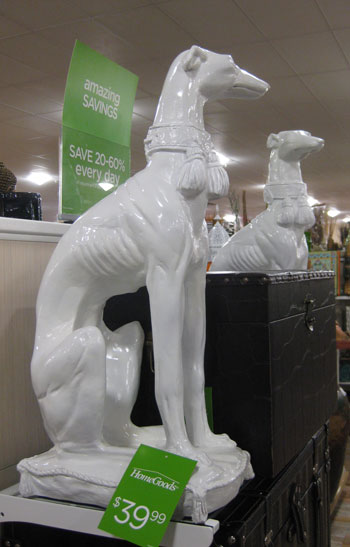 But don't get me wrong. Not all animal-related accents are created equal in my book. Some are just plain weird. Like this cat that is somehow holding a basket with a kitten in her mouth. But with so many treasures to be discovered you're bound to have to dig through some questionable things too. And we're always down for a laugh while we window shop so we welcome discoveries like this.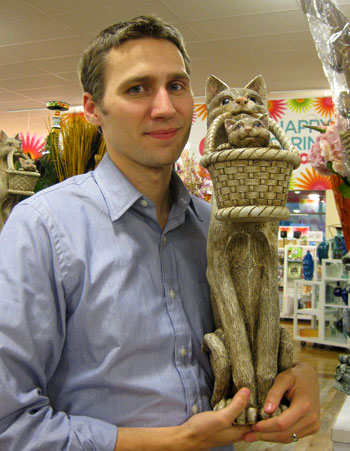 This large round mirror is a bit reminiscent of the one we painted for our nursery, but this one comes in crisp white and is a bit softer and less geometric when it comes to the frame. Oh and have we mentioned the $39 price tag? Not bad at all.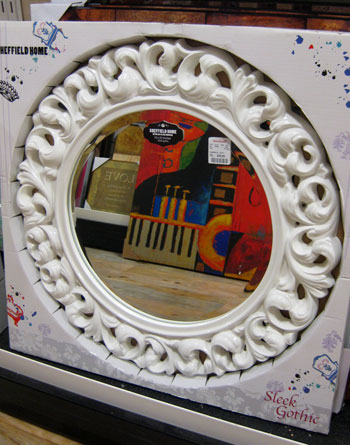 HomeGoods is also a great place to dig around for affordable art, and this giant ready-to-hang canvas is just $49.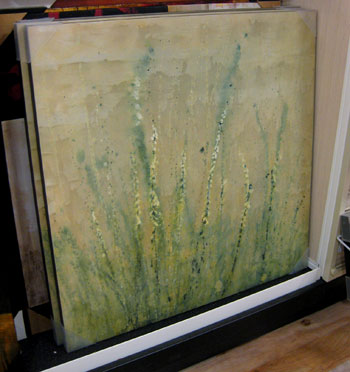 We also loved this frame with a beachy coral vibe. It'll only set you back $6.99 and we think it would look charming in nearly any environment, from a home office to a bedside table.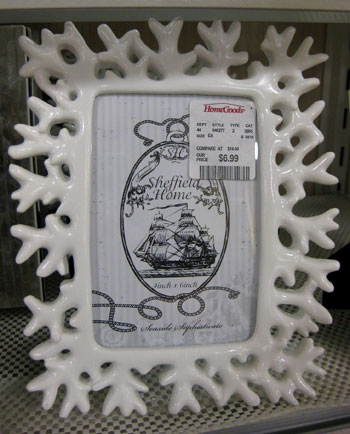 This romantic and ruffled pillow looked so high end in so many ways. From the raw silk embellishments to the so-hot-right-now greeny yellow tone, it had me drooling. And the price tag? Just $14 (it originally sold for upwards of $60). Score.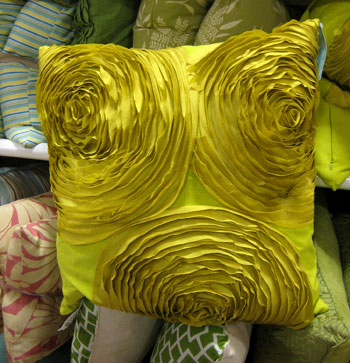 We actually have very similar chic little glasses with woven sleeves but ours were on clearance from Sur La Table. We haven't seen anything that's very cheap since, but these guys are just $2.99 a pop so they're definitely a do-able way to add texture and interest to any table setting (and they even look charming as vases, votive holder, pen holders, or even cotton ball and q-tip containers in a beachy bathroom).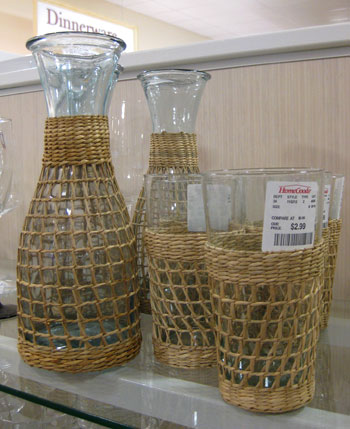 We thought these initial mugs were reminiscent of the ones sold at Anthropologie for $6 but these are just $3.99 a pop. They too would make such great pen holders on a desk and could even work as a monogrammed toothbrush holder of sorts in an elegant black and white bathroom.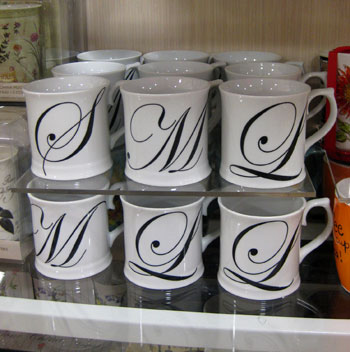 And these Chantal tea kettles came in so many glossy and fun colors (with $24 price tags) that we could totally picture someone snatching one up to add a bit of zip to any kitchen (just leave it on the stove full time for a dash of color- and of course use it to whip up tea for company).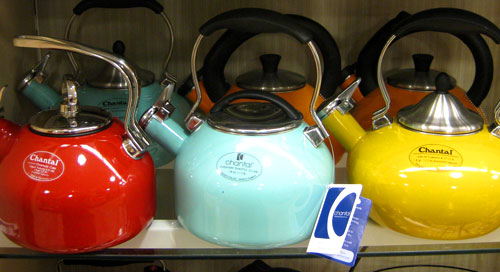 The towel selection was also pretty impressive this time around. Sometimes things like that are hit or miss but we were loving all the prints that resembled vintage hex-tile details from a bathroom. And the soft blue, white, tan and mocha color scheme was right up our alley.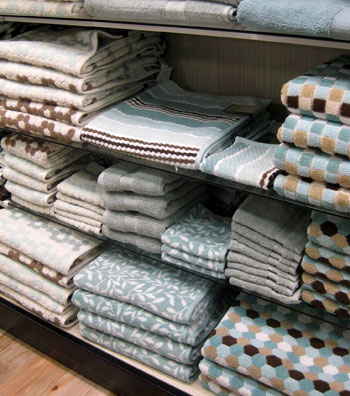 But if there's one thing HomeGoods has above all other stores, it's their amazing (and affordably priced) lamp selection. There are always at least two (if not many more) that I'm dying to buy on the spot. If only our house had ten more rooms that needed table lamps! This cheerful yellow guy was huge and bulbous (in the photo you can't really tell the scale, but it's gorgeously large and in charge). And the $49 price tag beats the pants off any other colorful ceramic lamps and shades that you can find (which usually can run you around $130+ at lighting stores and even places like Pottery Barn and Crate & Barrel).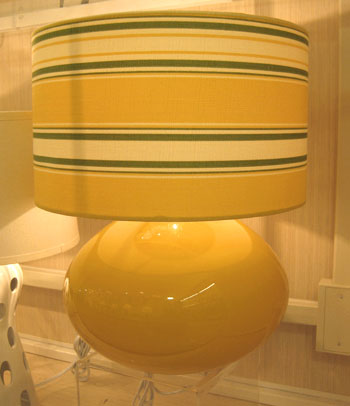 We also loved this curvy blue-based beauty. And the $39 price tag was the icing on the cake. Two of these babies on either side of a bed or couch could MAKE the room. And they're hundreds of dollars less than picking up two almost anywhere else.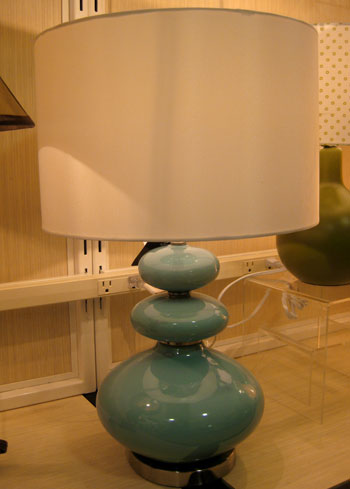 So that's what tickled our fancy when we took a stroll through HomeGoods. What do you guys think? Any favorite items among the bunch? Are there any other cheap-o home accessories (from there or anywhere else) that have you drooling these days? What colors are doing it for you these days? And what accessories are you currently on the prowl for? Do tell. Oh and check out Bryn's recent HomeGoods excursion (I'm obsessed with the green elephant at the end).