Archive for May, 2010
***This giveaway is no longer accepting entries***
It's a shame we can't take any major road trips right now (thanks to our wee one) since this week's giveaway has us itching to head north to Kennebunkport, Maine. That's because Spaces Kennebunkport- the shop behind today's prize- embodies just the type of comfortable seaside home accents that Sherry and I love. Never mind that we can barely spell the name… we still want to eat up everything in their store. Have no fear if you also can't make it out to K-town. Spaces Kennebunkport has an awesome online shop and one of you is gonna win a $150 gift certificate to spend there. Score.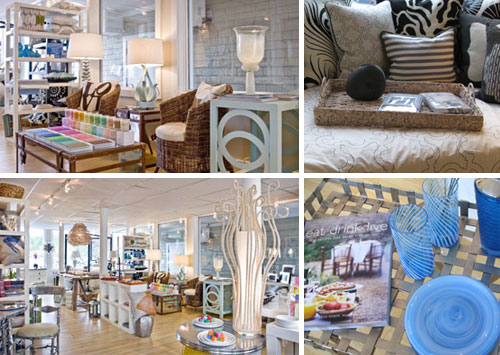 And not that we're in the business of telling people how to spend their prize money, but here are some things we would totally snag for ourselves: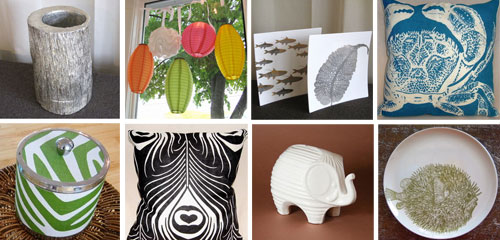 Wanna take home some of this beachy bliss? Here's how to enter this week's Fab Freebie (oh, and stay tuned for a discount code this Thursday):
PRIZE: $150 toward anything in Spaces Kennebunkport's shop
TO ENTER: Comment on this post with the words "MAINE ME!" and…
BONUS QUESTION: … since our giveaway sponsors reside in a fairly uniquely-named town, we'd love to know of any unique / weird / funny city names that you live in, have visited, or have noticed on a map (i.e. Love, VA; Bummerville, CA; Sweet Lips, TN)
GIVEAWAY CLOSES: Wednesday, June 2nd at 8pm EST
NUMBER OF WINNERS: One
PRIZE SHIPS: Anywhere in the USA
USUAL STUFF: One entry per e-mail address is permitted. The winner will be selected using random.org and announced on Thursday. Good luck!
Find more freebie info on our Giveaway FAQs page. Pics courtesy of Spaces Kennebunkport.
&nbsp&nbsp&nbsp
When Bonnie sent us her charming kitchen before and after pictures we just had to share the goods. Here's her letter:
I've been enjoying YHL for the last year. My husband and I bought my grandparents home this past November and have had so much fun renovating it! We turned the place upside down and within about five weeks we got this outcome. We were on a really tight budget, so most everything is from Ikea, thrifted or made by us. We drew tons of inspiration from Young House Love and referred to your 'how to's' quite often! My readers really enjoyed our kitchen before & afters, so I thought you might like to see them too! And you can find more info on my blog (and see more photos too). We live in Franklin, NC, somewhat close to Virginia! We love the south and we love all the inspiration you provide, so thank you! -Bonnie
Here's Bonnie's dated kitchen before: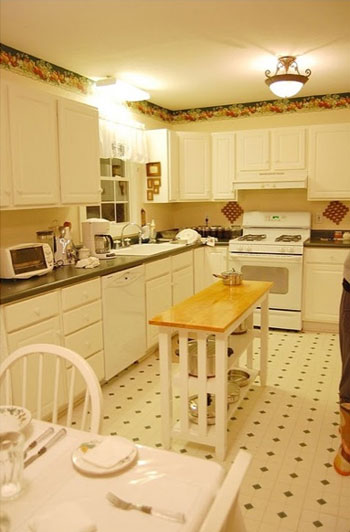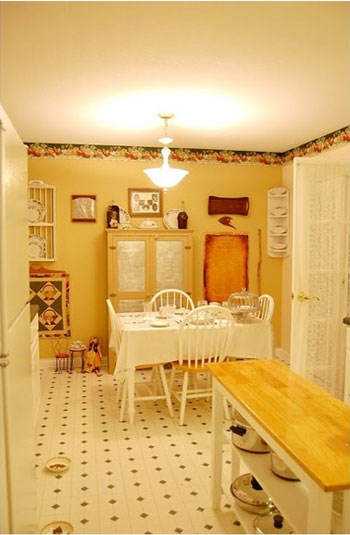 And here it is after her totally affordable DIY transformation: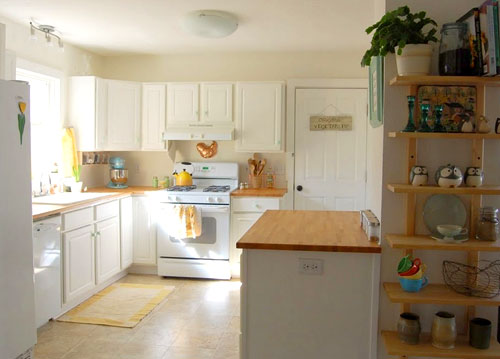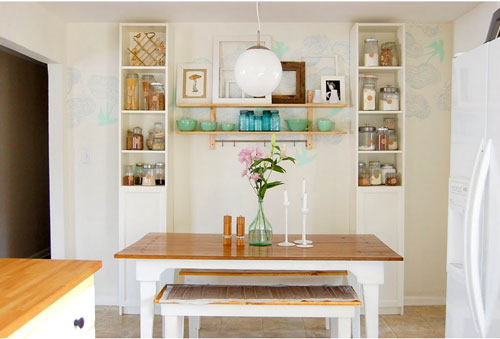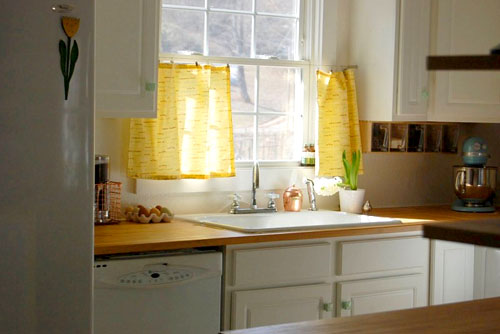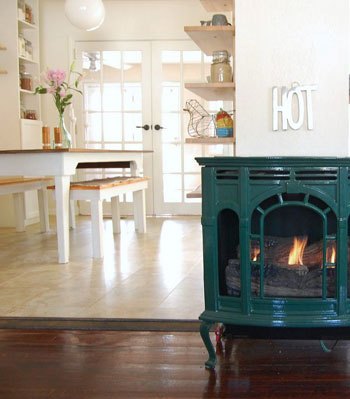 Isn't that lovely? We adore how light and airy it feels (even with the same appliances and cabinets). And that eating nook is fantastic- along with that heartstoppingly beautiful turquoise stove nearby. Plus all the charming touches like the art and accessories really make it feel even more inviting and airy in there. Oh and here's a handy source list from Bonnie:
Didn't Bonnie do a great job? We love her work-with-what-you've-got spirit. She certainly saved a pretty penny by keeping those cabinets and appliances while opting to switch out the counters (for affordable Ikea options). Plus all of her thoughtful accessorizing really took the entire space to the next level. Gotta love major makeovers like these that don't require tons of gutting and spending. What do you guys think? Any favorite items like that great round pendant above the table or those sweet homemade curtains above the sink? Do tell.
&nbsp&nbsp&nbsp