When Bonnie sent us her charming kitchen before and after pictures we just had to share the goods. Here's her letter:
I've been enjoying YHL for the last year. My husband and I bought my grandparents home this past November and have had so much fun renovating it! We turned the place upside down and within about five weeks we got this outcome. We were on a really tight budget, so most everything is from Ikea, thrifted or made by us. We drew tons of inspiration from Young House Love and referred to your 'how to's' quite often! My readers really enjoyed our kitchen before & afters, so I thought you might like to see them too! And you can find more info on my blog (and see more photos too). We live in Franklin, NC, somewhat close to Virginia! We love the south and we love all the inspiration you provide, so thank you! -Bonnie
Here's Bonnie's dated kitchen before: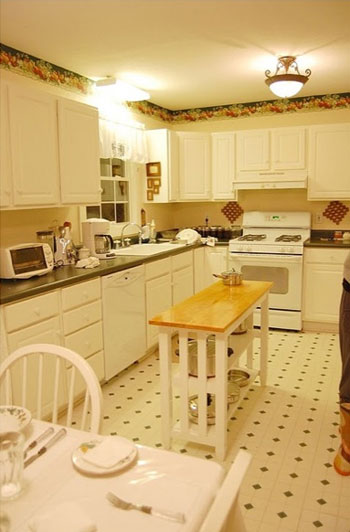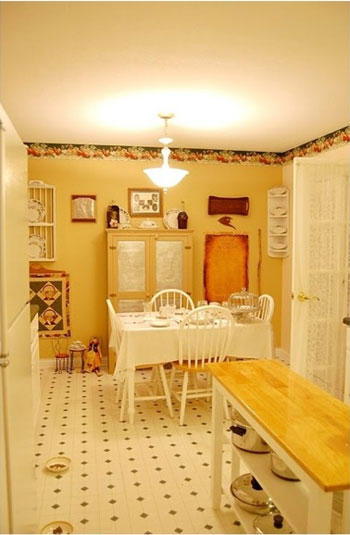 And here it is after her totally affordable DIY transformation: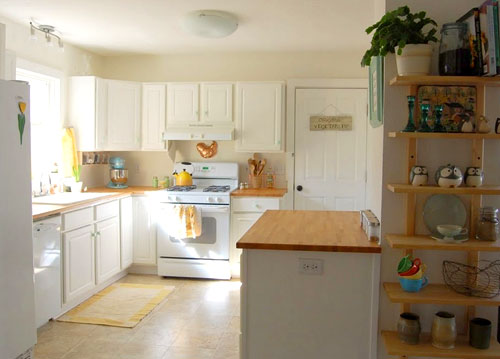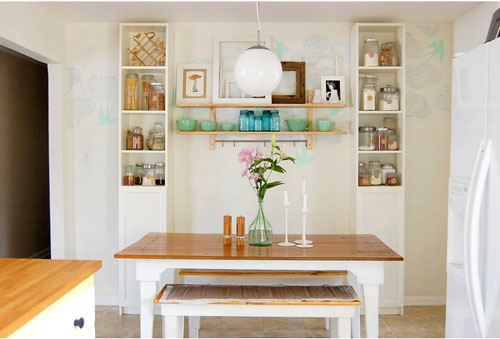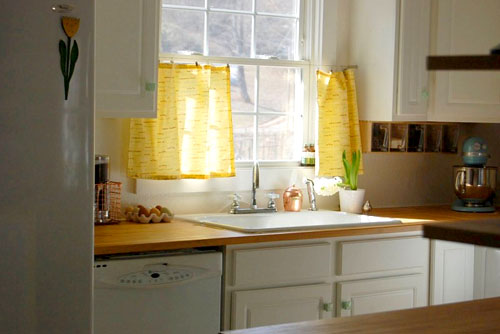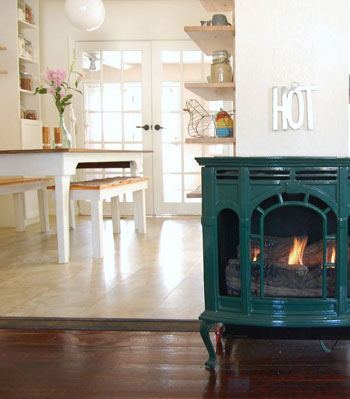 Isn't that lovely? We adore how light and airy it feels (even with the same appliances and cabinets). And that eating nook is fantastic- along with that heartstoppingly beautiful turquoise stove nearby. Plus all the charming touches like the art and accessories really make it feel even more inviting and airy in there. Oh and here's a handy source list from Bonnie:
Countertops: VÄRDE
Wall color: Valspar low-voc in 'swiss coffee' #7002-16
Fabric for the curtains: Tea Types Writing by Timeless Treasures
Curtain rod: DEKA curtain wire with clips
Lights: Fado pendant light & Calypso ceiling lamp
Shelving: FÖRHÖJA wall shelf & VÄRDE wall shelf with hooks & VÄRDE wall shelf & BESTÅ shelf unit
Accessories: egg crate & blomster candelsticks & SLOM jars & DROPPAR spice jars (seen here) & SEBASTIAN bar stool (seen here)
Thrifted: ball jars, fire king jadite green bowls, green glass vase, & frames
DIY: cabinet door knobs, frames, wall painting, bench cushions & curtains
Didn't Bonnie do a great job? We love her work-with-what-you've-got spirit. She certainly saved a pretty penny by keeping those cabinets and appliances while opting to switch out the counters (for affordable Ikea options). Plus all of her thoughtful accessorizing really took the entire space to the next level. Gotta love major makeovers like these that don't require tons of gutting and spending. What do you guys think? Any favorite items like that great round pendant above the table or those sweet homemade curtains above the sink? Do tell.