When Rachel sent us her recently DIYed kitchen makeover we had to share the goods. Here's her letter:
To say that there are touches of YHL in our newly renovated kitchen/dining room would be an understatement. I "borrowed" many of your ideas! First we removed the upper half of the wall separating the kitchen from the dining room. And after the dated wallpaper came down we painted both rooms with a 5 gallon bucket of Valspar paint to cut costs. We removed the upper kitchen cabinet doors to create an "open" look while the lower doors are original (we sanded, primed, & repainted them). We also added new hinges & hardware. Then we installed a beadboard backspash to take attention away from the original formica counters that we couldn't yet upgrade. We also got a cast iron sink from Craigslist for $30 which included a faucet. The dining room light as well as the shelves on the wall are both YHL steals (the light is a direct CB2 light copy of the one in your dining area and the Ikea shelves are like the ones you have next to your table). All in all, our project cost was under $1000 and we did it ALL ourselves with the help of my handy carpenter dad and amazing husband. I relied heavily on your advice & before/after pictures during the renovation and I couldn't have done it without you! Thanks for such a great site, and congrats on the little one!! There are more photos on my blog along with some pics of my two little helpers (we did this all with an almost 3 year old and an 8 month old!). – Rachel
Here are the before photos of Rachel's closed in kitchen and dining room: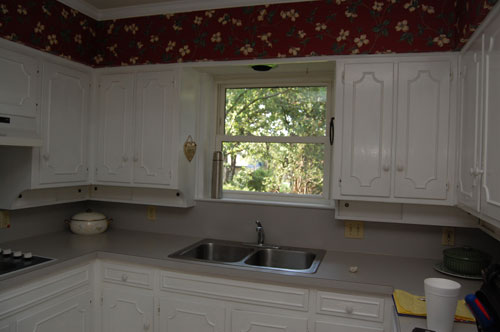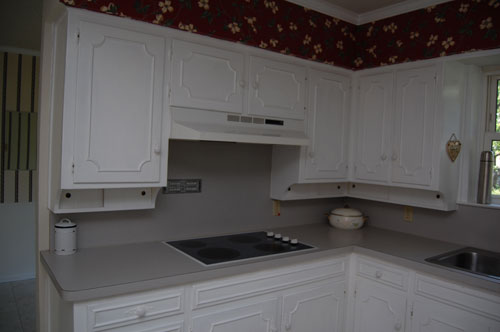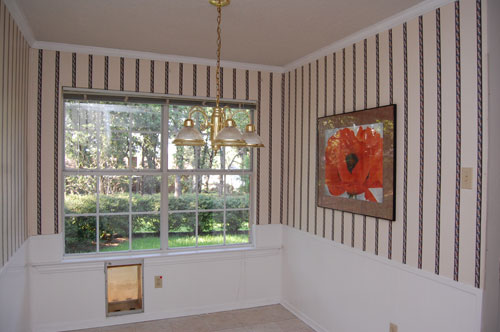 And here are the after photos of her amazingly open and updated kitchen and dining area: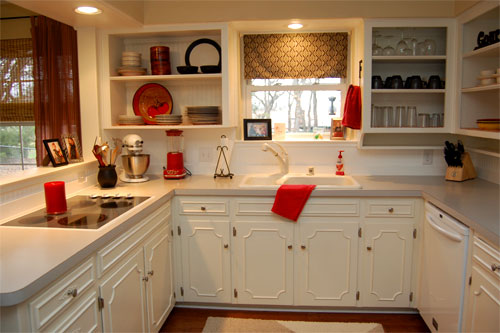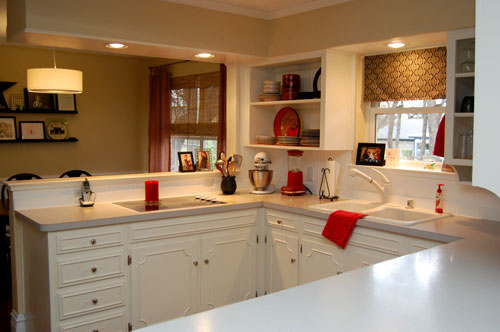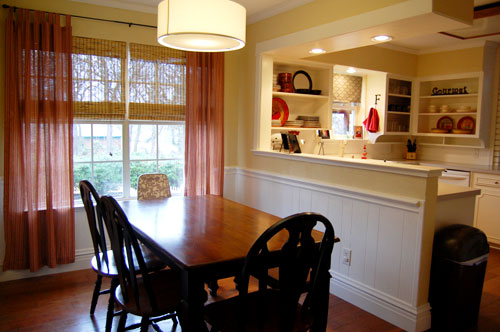 Isn't that fantastic? We love how Rachel wasn't afraid to knock out that wall for a much more airy and expansive feeling, and the fact that she was able to add a new backsplash, hinges, hardware, and even a new cast iron sink for under 1K is pretty amazing (thanks to budget saving methods like repainting her existing cabinets and removing the doors on the uppers). Plus we can't forget that figure also includes the work they did in the dining area (from creating the pass through and bringing in that new pendant light to the floating shelves and the window treatments). Isn't that a gorgeous two room makeover on the cheap? We love inspiring overhauls like this where it's all about creativity, elbow grease, and a bit of Craigslist and Ikea deal hunting.
What do you guys think? Didn't Rachel do an amazing job stretching her moolah and gaining an entirely new area in her home without doling out the big bucks? What's your favorite part? We're thinking we most adore the open feeling they created between both rooms, but all those fun red accents in the kitchen (along with those breezy red curtains in the dining room) are quite charming as well.