We first brought home a pair of white faux wood blinds back when were decorating the nursery (since a nice dark room sounded like a good idea when it came to encouraging some serious pee-wee shut eye). The ironic thing is that literally for years we've been dying to bring them into our very own bedroom. See, the window above the bed was never covered, and although the sun doesn't rise on that side of the house we knew it could definitely stand to get darker with the help of some sort of rolling or slatted blind. Plus the other window in the room had the original plastic roller shade that came with the house (it very well could have been 50+ years old- and it was yellowed and stained to prove it). Nasty.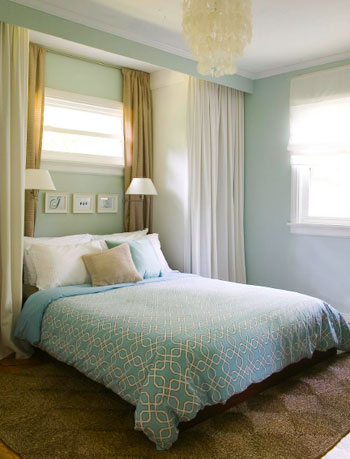 But there was one great thing about the grody old roller shade: it tucked up under our more eye-pleasing white roman shade from Ikea, so we got the benefit of some light blockage and privacy when it was pulled down, and during the day it was up and 100% invisible. However, as we mentioned, we wanted to cover that small window above the bed- just for a darker night's sleep. And we were also compelled to replace that crusty old roller shade on the other window while we were at it… which is where two more pairs of custom-cut-to-fit (it's a free service!) white faux wood blinds from Home Depot came in: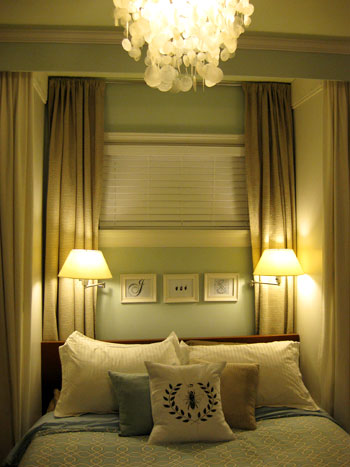 But let's rewind. Here's that crusty old pull-down roller shade that we mentioned (after we removed the fabric roman shade in order to work some blind-switcheroo magic):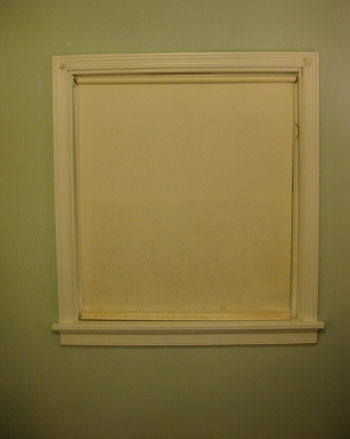 And here's the window once we removed that nasty old shade and popped our new custom cut faux wood blind in its place: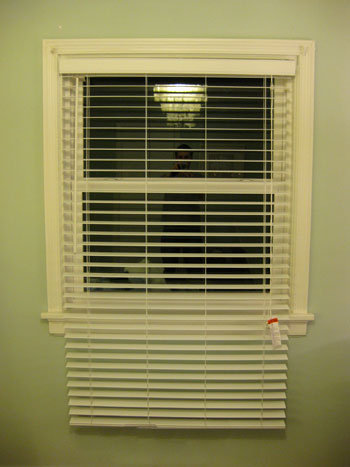 But you might notice they're a bit too long for the window, and any extra slats can make raising and lowering it a bit cumbersome since they add unnecessary weight and bulk. So John just followed the simple instructions that came with the blinds which indicated how to remove those extra slats for an even more custom fit: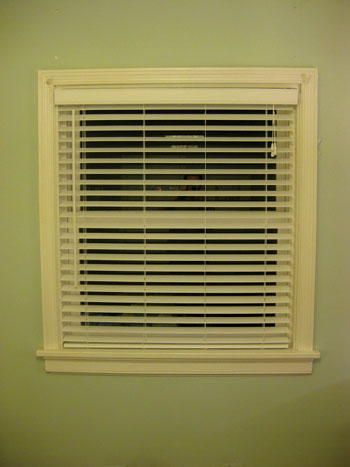 And then he rehung our cheap-o Ikea roman shade back in place (so we can pull up the faux wood blinds to completely hide them during the day and lower them at night for privacy and a darker night's sleep).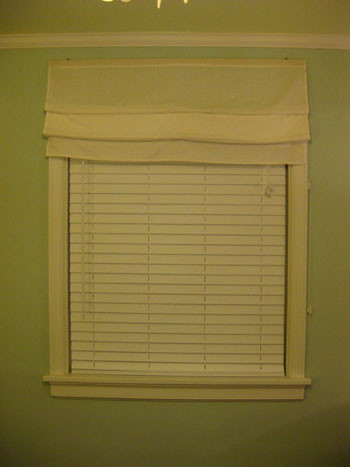 So that's how we added a ton of very welcome darkness to our bedroom that can be pulled up (and totally hidden) so no one's the wiser. It feels a whole lot more adult of us than the dirty old roller shade did, and we like bringing in common elements throughout our house (especially when it comes to the windows). So we love that we now have these babies in two out of three of our home's bedrooms.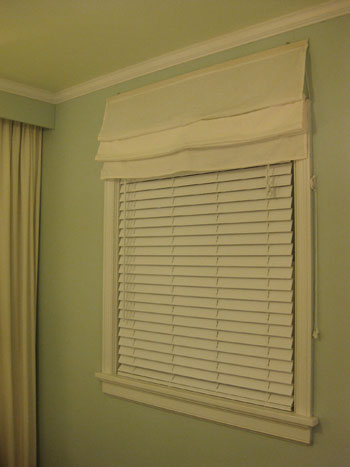 Oh and even though there's nothing that we can tuck the blinds behind on the smaller window behind the bed, we've found that when they're pulled up they're virtually undetectable since they're the same crisp white color as the molding around the window, so they really blend in. And of course we love how deliciously dark our bedroom is in the morning now. The difference really is night and day.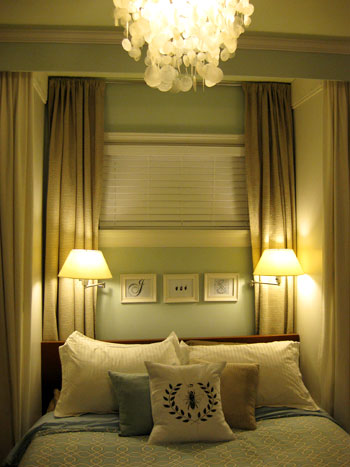 So that's our latest tiny tweak in the bedroom. Have you guys been doing anything to block light, dress windows, or otherwise add function to your sleeping spaces? Any other window makeovers that you're tackling around the house? Do tell.