Archive for November, 2009
When Michelle sent over her fab furniture makeover we had to share her mouthwatering before and after pics. Here's her letter:
About a month ago I found your site by accident and completely fell in love with it! You've even inspired me to start my own blog! I could go on and on but I don't wanna waste your precious time cuz you guys are busy little bees. I just wanted to show you a piece of eye candy that I re-designed! I bought this dresser off of craigslist.org for only $20! Then I painted it white, slapped some new hardware on it and replaced those bar looking things on the doors with glass. Isn't it amazing what a little updating can do? Hope you love it as much as I do! -Michelle
Here's Michelle's hutch straight from craigslist: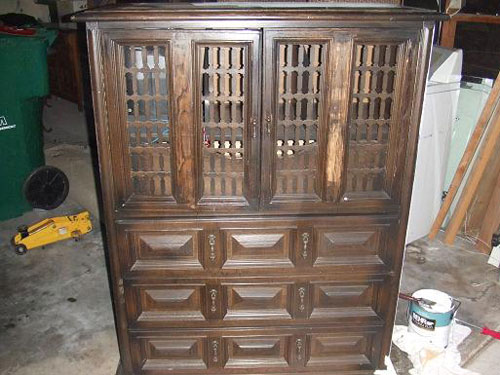 And here's the same piece after a bit of primer and paint (click here for a full furniture painting tutorial):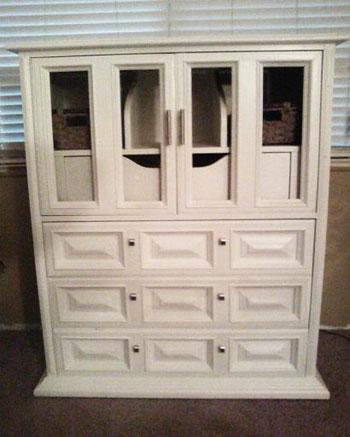 Isn't that amazing? Thanks so much for sending your photos our way Michelle! What do you guys think? Didn't she do a fantastic job? Paint never ceases to amaze us- and we love that she added those panes of glass to open everything up. It's like a whole new piece that could easily be sold at Pottery Barn or Crate & Barrel for at least 1k. Love it, love it, love it.
&nbsp&nbsp&nbsp
You might want to put down that turkey leg for a moment so we can tell you who won this week's giveaway courtesy of papernstitch. Ok, well first we're going to tell you that Rocky Top Studio, one of the many artists that papernstitch handpicked to be part of their online exhibit of handmade art, crafts and design, is generously offering a special discount to all YHL readers. Orders received through November 30th get 20% off just by mentioning Young House Love in the "message to seller" at checkout (not to mention Rocky Top's already giving free shipping on unmatted prints to the US and Canada). How's that for something to be thankful for?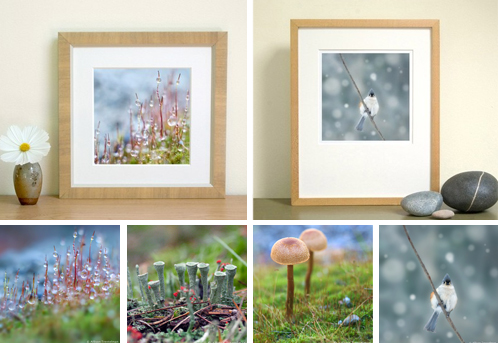 But here's something else to get the ol' gratitude train going – one of you is about to win these four 7″ x 7″ photography prints for free. All it took was offering random.org some stuffing and cranberry sauce to learn that our randomly selected winner is: Ali (who's 50/50 on the whole inside/outside debate). Congrats! We hope you'll send us a photo or two of your whimsical nature prints in your home.
And fret not if you didn't win this week. For everyone else who may be losing sleep tomorrow (to snag those Black Friday deals) we highly recommend checking out Monday's giveaway so you can catch up on your Zzzzz's. Yes, there's a hint in there…
Get more info about our freebies on our Giveaway FAQs page. Images courtesy of papernstitch and Rocky Top Studio.

&nbsp&nbsp&nbsp