This is old news for any of you who've already picked up the latest issue of Do It Yourself magazine, but our inaugural column is out and we couldn't be more excited (geeked out to be exact).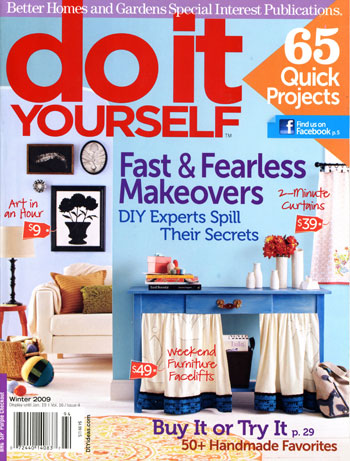 As you probably know, DIY asked us to pen a column answering decorating questions from both sides of the gender line. So we kicked things off by fielding a question from Nicole who was having trouble convincing her husband that they needed to upgrade their storage situation in their living room. Check out our response below (click to view it larger) and be sure to flip through the issue on newsstands for a bunch of other cool projects (like some festive bird's nest bowls) and a round-up of great handmade items (gift season is around the corner…). Plus Burger made it onto our page so we can die happy. We think his little mug makes the story.
And if you guys have a he said, she said question for our next issue, just submit it on our Facebook page under our call for entries (and include your email addy so we can contact you). We can't guarantee an answer to all the queries- our editor actually selects the ones that make the column- but you never know! And next month we're getting two whole pages so we'll be adding more graphics (like an illustration of the "after") and even answering more than one question! We're nerds, but this stuff just makes our month. Woo to the hoo.
Oh and speaking of decorating disputes, have you and your other half battled over something for what seems like decades only to reach the perfect compromise? We'd love to hear what situation had you heated and what compromise saved the day (from clashing styles to your hubby's odd obsession with a beat up La-Z-boy).
Images courtesy of Do It Yourself magazine.